Articles
March 22, 2016 11:21:13 EST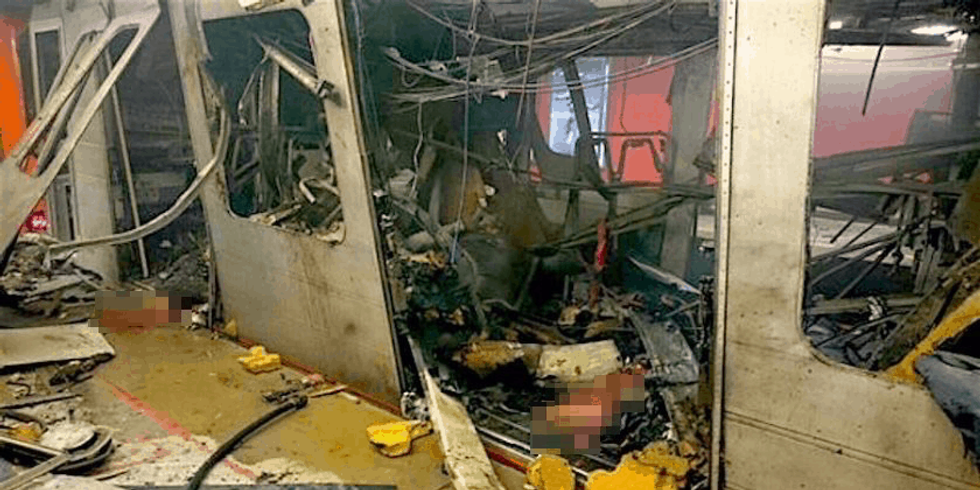 View from exterior of Zaventem Airport | Instagram
'Considerable planning and coordination'
Tuesday's attacks in Brussels bear a shocking similarity to the methods employed by ISIS in Paris on November 13, experts said. Those attacks are believed to have been coordinated by ISIS' external operations wing, using multiple attacks across the city to overwhelm the police and evade capture.
Just as the Paris attackers planned their assault for at least three months prior to the attack, experts believe the attacks that rocked Brussels on Tuesday morning were most likely months in the making, the timing driven more by a desire to act before being disrupted than by revenge for Abdeslam's arrest.
"Twin coordinated attacks on Belgian transport sites. Maybe revenge for Abdelslam, but planned and prepped ages ago," ISIS expert Michael Weiss, author of "ISIS: Inside the Army of Terror," tweeted on Tuesday.
Will McCants, author of "The ISIS Apocalypse," agreed.
"Plots like this take weeks or months to put in motion," McCants told Business Insider on Tuesday. "If the attackers are associates of Abdeslam, then they probably moved up the timetable of a preexisting plot to avoid capture."
Significantly, traces of explosives were found in a Brussels apartment rented by the terrorists weeks before they carried out the terrorist attacks, The New York Times reported, suggesting the existence of a makeshift bomb factory in the heart of Belgium's capital.
Terrorism expert Mia Bloom, professor of communication at Georgia State University and author of two books on terrorist-recruitment methods, told Business Insider "a plot of this caliber requires considerable planning and coordination."
"It is likely that Abdeslam's cell has been plotting this prior to his arrest (there was a substantial arms cache found)," Bloom said.
She added: "Coordinated attacks (multiple attacks in the same location, happening around the same time) tend to require the most planning. While it's impossible to know for certain, in my humble opinion, it is highly unlikely that these attacks took only a few days."
Geopolitical and security analyst Michael Horowitz largely echoed this sentiment in a statement to Business Insider.
"I think that more than a retaliation, the attacks (likely planned months ago), were in reaction to it: The cell was likely concerned that Abdeslam would talk and his capture eventually lead to dismantling of their own cell."
JM Berger, coauthor of "ISIS: The State of Terror," said in an email to Business Insider that while it was "very early to draw any major conclusions," it was "certainly possible this attack had already been planned and the timetable was moved up after the arrest."
A sophisticated 'foreign infrastructure'
Analysts say the terrorist network's ability to evade law enforcement after the Paris attacks long enough to plan and execute a major attack in the heart of the EU, even if its timeline was disrupted by Abdeslam's arrest, is testament to the deep networks jihadists have consolidated across Europe.
"The CT [counter-terrorism] federal police are actually very good," Ben Taub, freelance contributor for The New Yorker on jihadism in Europe, tweeted on Tuesday. "It's a numbers issue. Can't keep up. Networks too deep."