Articles
February 09, 2017 16:42:01 EST
In January 2017, the CIA release a large number of newly-declassified documents about information collected on the Soviet Union. One of those documents included two pages of Russian jokes about the Soviet Union.
---
Headed "Soviet Jokes for the DDCI" (Deputy Director of Central Intelligence), the jokes make reference to Mikhail Gorbachev, so they date from at least as late as the 1980s. The jokes are surprisingly directed at all Soviet leaders, from Lenin to Brezhnev.
It's good to know there were chances for levity behind the Iron Curtain. One thing's for sure, people didn't love Communism as much as the Russians led us to believe.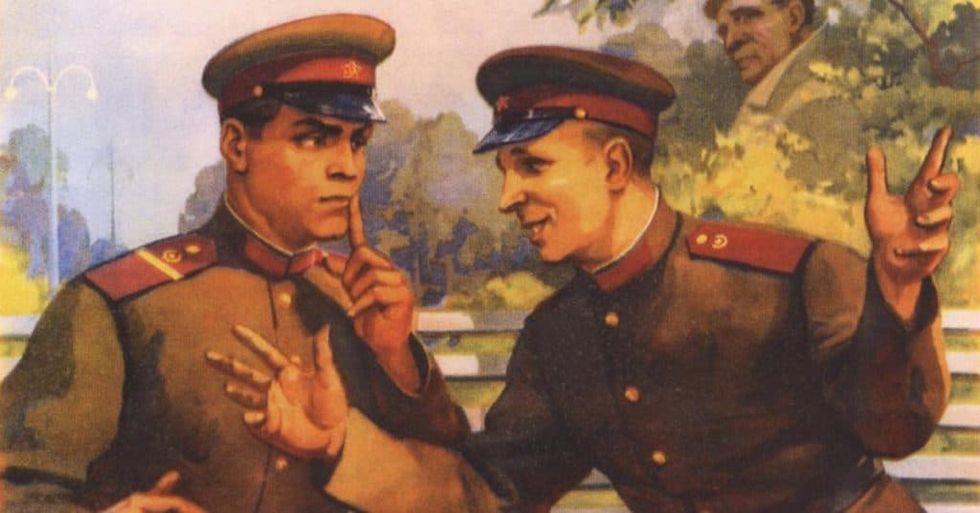 You try finding photos of Russians laughing.
Ivanov: Give me an example of perestroika*.

Sidorov: (Thinks) How about menopause?
* The literal meaning of perestroika is "restructuring" – usually referring to economic liberalization by Gorbachev.
An old lady goes to the Gorispolkom* with a question, but by the time she gets to the official's office she has forgotten the purpose of her visit. "Was it about your pension?" the official asks. "No, I get 20 Rubles a month, that's fine," she replies. "About your apartment?" "No, I live with three people in one room of a communal apartment, I'm fine," she replies. She suddenly remembers: "Who invented Communism? –– the Communists or scientists?" The official responds proudly, "Why the Communists of course!" "That's what I thought," the babushka** says. "If the scientists had invented it, they would have tested it first on dogs!"
* Gorispolkom is the local political authority of a Soviet city.
** A babushka is another term for older woman or grandmother.
An American tells a Russian that the United States is so free he can stand in front of the White House and yell "To hell with Ronald Reagan." The Russian replies: "That's nothing. I can stand in front of the Kremlin and yell, 'to hell with Ronald Reagan' too."
A man goes into a shop and asks "You don't have any meat?" "No," replies the sales lady. "We don't have any fish. It's the store across the street that doesn't have any meat."
A man is driving with his wife and small child. A militiaman pulls them over and makes the man take a breathalyzer test. "See," the militiaman says, "you're drunk." The man protests that the breathalyzer must be broken and invites the cop to test his wife. She also registers as drunk. Exasperated, the man invites the cop to test his child. When the child registers drunk as well, the cop shrugs and says "Yes, perhaps it is broken," and sends them on their way. Out of earshot the man tells his wife, "See, I told you is wouldn't hurt to give the kid five grams of vodka."