Articles
November 12, 2015 10:34:28 EST
"It's a kinetic place," Army Capt. Florent Groberg said Wednesday of Afghanistan's Kunar province, where his instinctive tackling of a suicide bomber in 2012 earned him the Medal of Honor.
---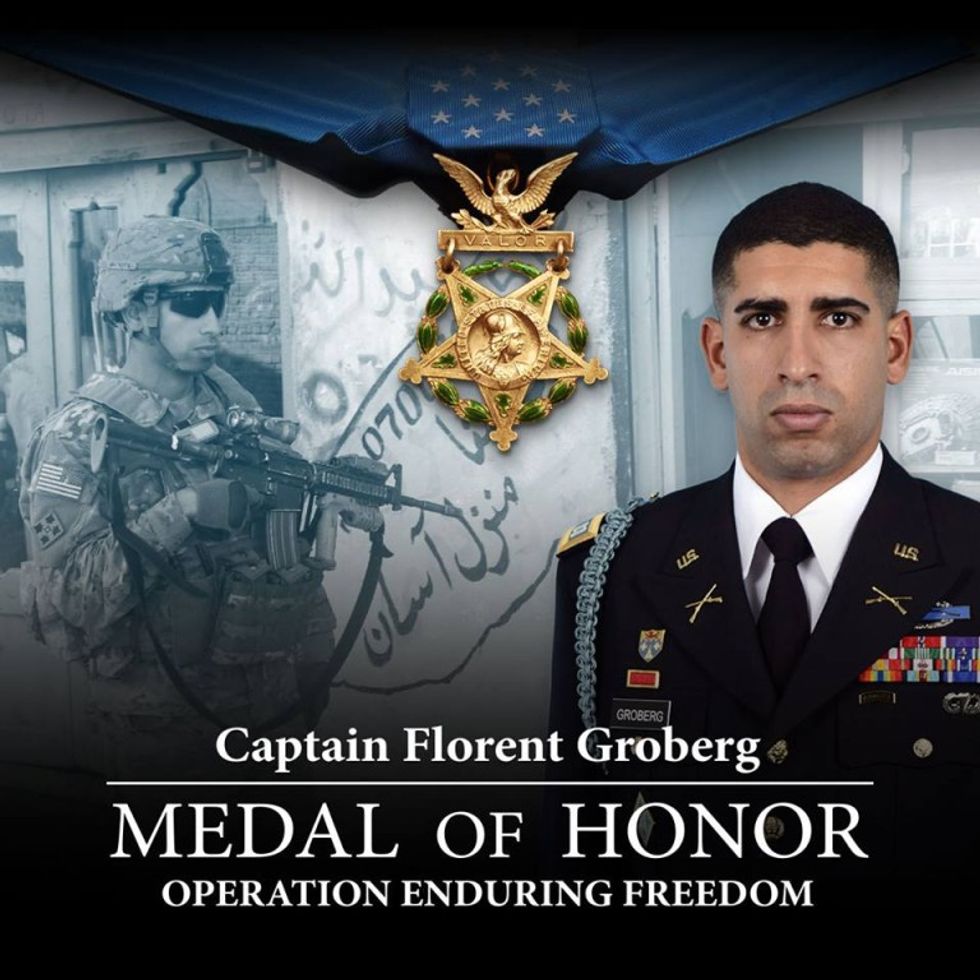 At a roundtable session with reporters Wednesday, Groberg was joined by three members of his unit who witnessed his sprint to get at the suicide bomber near a bridge in the Kunar village of Assadabad on Aug. 8, 2012 -- Staff Sgt. Brian Brink, the platoon Sergeant; Sgt. Andrew Mahoney, the communications specialist; and Spc. Daniel Balderrama, the medic.
All said they felt uneasy as they approached on foot along a paved road to a bridge as the personal security detail for then-Col. James Mingus, now a brigadier general assigned to Fort Carson, Colorado. Mingus was headed to a meeting with an Afghan provincial governor.
"That day, it just felt a little different when we got on the ground," Groberg said. Brink echoed him: "Everything felt a little different that day. It was a gut feeling. We all felt it. Nobody had to say it. Things just didn't set right with us."
In the rear, they heard a car revving its engine. Brink radioed back -- "Get him off us, get him off us." They later concluded that the revving engine was the signal for two men on motorcycles to approach from the front. Brink and others raised their weapons. The men dismounted and backed off.
The road narrowed near the bridge. To the right was a stone wall, to the left a drainage culvert.
Two other men appeared, walking backwards in parallel to the unit. Brink said the man closest to the unit had a bulge on his hip, with his right hand resting on the bulge. Brink raised his weapon again and just as he readied to pull the trigger, Groberg ran at the man, followed by Mahoney.
"You face a threat, you go towards the threat," Groberg said. For an instant, the man made eye contact. "He had a blank stare," Groberg said. "He did a 180 and cut directly toward the patrol. I hit him, then we grabbed him and threw him to the ground. He detonated at our feet."
The second man also set off his explosive device but the force of the blast mainly went into the stone wall.
Groberg was knocked unconscious. About half of his left calf had been torn away. He also suffered a blown eardrum and a mild traumatic brain injury.
Balderrama, the medic, had also been knocked unconscious and suffered shrapnel wounds to his legs. The force of the blast had thrown him into the culvert.
"The first thing when I woke up in that ditch, I was so thankful. He (Groberg) was calling for me, yelling 'Doc, Doc save my leg.' I remember seeing his boots covered in blood, his legs covered in blood," Balderrama said.
Balderrama tried to stand to get to his captain. He couldn't. "I recall trying to stand up and falling down. I couldn't put weight on my legs. I kind of shimmied over, I think on my knees or something," he said.
Balderrama managed to get a tourniquet on Groberg's leg. "I just wanted to get him to the next level of care," he said.
The suicide bomber had taken a heavy toll. In addition to the wounded, four had been killed -- Army Command Sgt. Maj. Kevin J. Griffin, 46; Army Maj. Thomas E. Kennedy, 35; Air Force Maj. Walter D. Gray, 38; and Ragaei Abdelfattah, 43, a Foreign Service officer with the U.S. Agency for International Development.
Thinking back on it, Brink said the enemy had planned well for that day. "As we approached the bridge, we were attacked just short of the bridge. It was an absolute choke point. There's no doubt in my mind, looking back in my mind, that it was well planned, coordinated.  They knew we would have to constrict our formation into a smaller group and they took advantage."
Groberg never stops thinking back on it. "We all fought those demons of 'why me.' Why not me? And in the end, you know, it's combat," he said. "All we can do now is honor those guys and their families. And make sure that we are better people, that we live our lives for them. And every day when we wake up, we remember. And when it gets tough, we remember."
"They made the ultimate sacrifice," he said of the four who were killed. "We're here to tell you this. I'm so blessed and honored for the medal, but it doesn't belong to me, it belongs to them."