Articles
December 20, 2016 15:22:29 EST
The AC-130 Spectre gets a lot of the headlines.
---
It should.
This is a plane that kicks a lot of butt. But the Marine Corps has its own version. And theirs is far more versatile than the Spectre.
Let's get a closer look at the AKC-130J Harvest HAWK.
Now, before AC-130 fans prepare the flames, we have nothing but respect for the AC-130. With a 25mm GAU-12, a 40mm Bofors, and a M102 105mm Howitzer, the AC-130 can blast the hell out of just about any target.
It is a circling angel of death. J.R.R. Tolkien's Nazgul have nothing on the Spectre — and would be advised to learn their lesson from the Fellowship of the Ring when Arwen called in that flash flood: Don't bother running, you'll just die tired.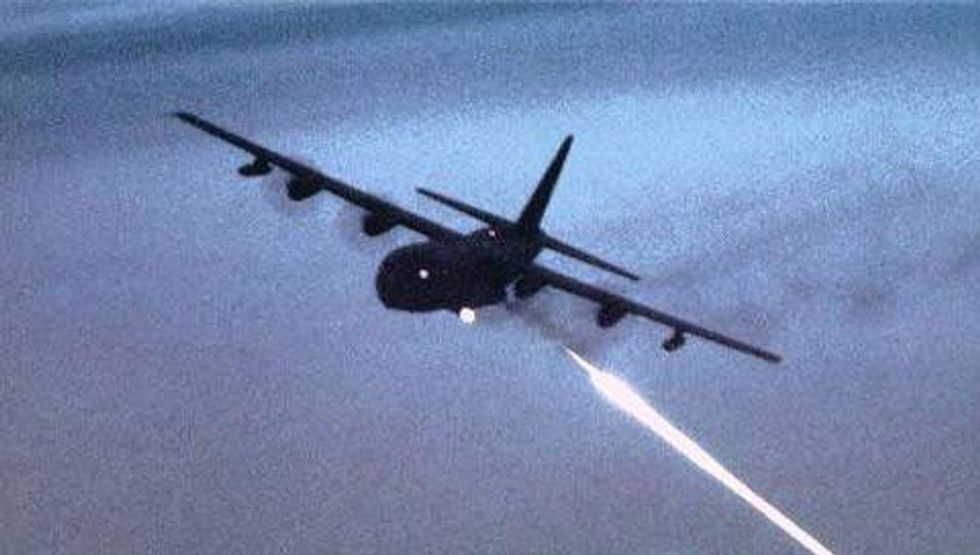 The Harvest Hawk equipped KC-130J rests on the runway at Camp Dwyer, Afghanistan, March 24. The one-of-a-kind Harvest Hawk system includes a version of the target sight sensor used on the AH-1Z Cobra attack helicopter as well as a complement of four AGM-114 Hellfire and 10 Griffin missiles. This unique variant of the KC-130J supports 2nd Marine Aircraft Wing (Forward) in providing closer air support and surveillance for coalition troops on the ground in southwestern Afghanistan. Plans for a 30mm chain gun are in the works. (USMC photo)
The Marines also say another weapon the Harvest HAWK uses to deadly effect is the AGM-176 Griffin. Designation-Systems.net describes the Griffin as a tube-launched missile that is smaller than the Hellfire (Predators can carry three Griffins for each Hellfire).
NAVAIR says that the Griffin can be fired through a modified cargo door. The is only about 13 pounds, though. But that can still do in a terrorist — or a tank, even.
The Harvest HAWK also can use the GBU-44 Viper Strike. Originally known as the Brilliant Anti-Tank submunition (or BAT), it had one problem: its missiles kept getting cancelled.
In 2007, Strategypage.com noted that the Army eventually put a modified BAT on the MQ-5 Hunter. With a 2.5-pound warhead, it can take out a target without damaging the structures nearby.
Oh, and the Harvest HAWK also is slated to get a 30mm cannon in the future, according to a Pentagon report. The likely choice will be the Mk 44 Bushmaster II used on the M1296 Dragoon, a modification of the M1126 Stryker.
With all that, the Harvest HAWK can still refuel the AV-8B, F/A-18, and F-35B jets the Marines use to support infantry. Firepower and fuel, in one airframe – now, that's awesome!