Articles
January 18, 2017 10:25:21 EST
For the first time since World War II, United States Marines have arrived in Norway. Their mission: to deter Russian aggression.
---
According to a report by the Daily Caller, the deployment has freaked out the Russians, even though the Marines are deploying to a base 900 miles from the Russian border. The deployment is slated to last a year, but the Marines will cycle out after six months.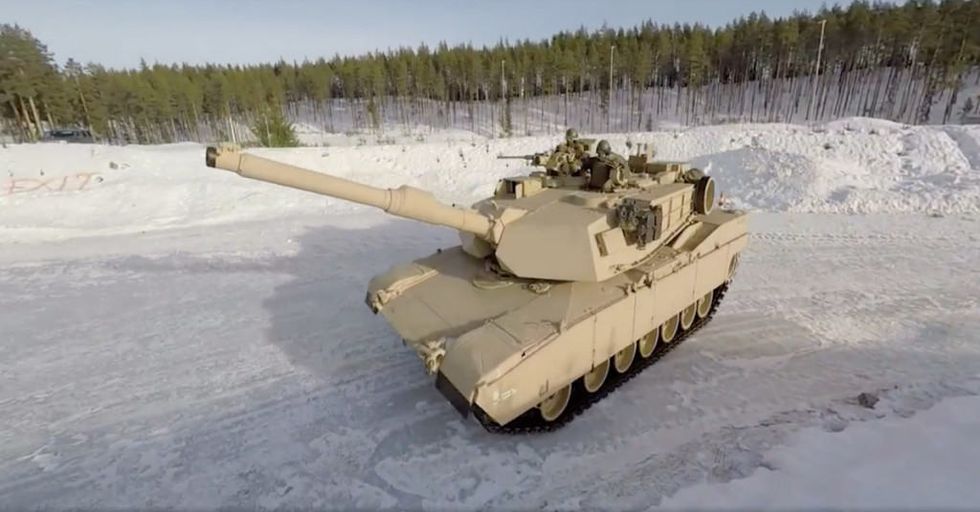 A U.S. Marine drifts a tank on ice during training in Norway. (Photo: YouTube/Marines)
"For the first four weeks they will have basic winter training, learn how to cope with skis and to survive in the Arctic environment," Norwegian Home Guard spokesman Rune Haarstad told the British news agency Reuters. "It has nothing to do with Russia or the current situation."
The Daily Caller also noted that the deployed Marines will participate in the Joint Viking military exercises with Norwegian and British forces. During the Cold War, the United States had plans to reinforce Norway in the event of a war with Russia. According to a NATO Order of Battle, the forces that would have been sent from the United States included the 10th Mountain Division based at Fort Drum, New York, and a Marine Expeditionary Brigade.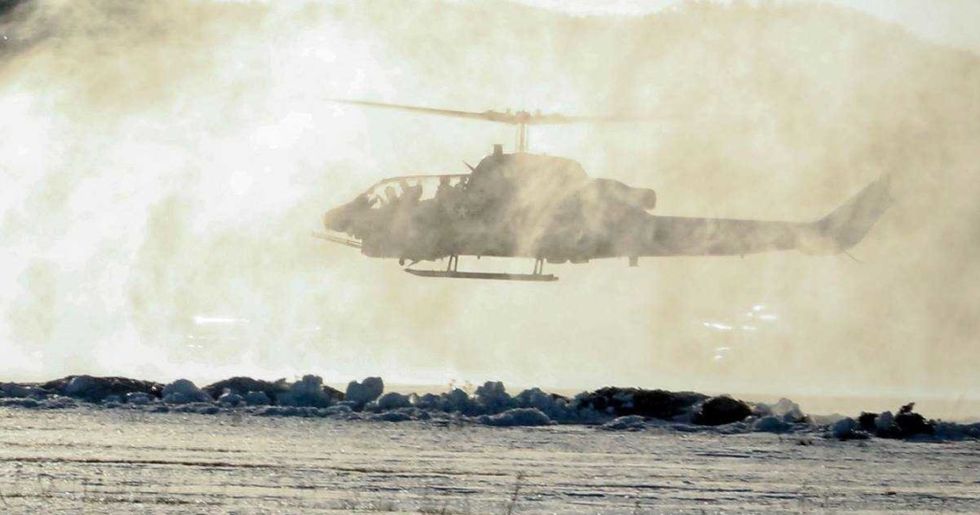 A U.S. Marine Corps AH-1W Super Cobra helicopter kicks up snow at Vaernes, Norway, Feb. 22, 2016, as 2nd Marine Expeditionary Brigade prepares for Exercise Cold Response. All aircraft with Marine Heavy Helicopter Squadron (-) Reinforced, the Air Combat Element of 2d MEB, were dismantled at Marine Corps Air Station Cherry Point, N.C., and flown to Norway in U.S. Air Force C-5 Galaxies to provide air support during the exercise. Cold Response 16 is a combined, joint exercise comprised of 12 NATO allies and partnered nations and approximately 16,000 troops. (U.S. Marine Corps photo by Cpl. Dalton A. Precht)
As noted by WATM this past November, Marine Expeditionary Brigade is centered around a reinforced regiment on the ground side (three battalions of infantry, an artillery battalion, an AAV company, a LAV company, and a tank company). The air component includes two squadrons of AV-8B Harriers, three squadrons of F/A-18 Hornets, a squadron of EA-6B Prowlers, and seven squadrons of helicopters.
British forces, centered around 3 Commando Brigade of the Royal Marines, were also slated to reinforce Norway during the Cold War. At the present, according to the Royal Marines' web site, it is centered around three commando battalions, along with support elements, including artillery and logistics units.