Articles
December 28, 2016 15:50:58 EST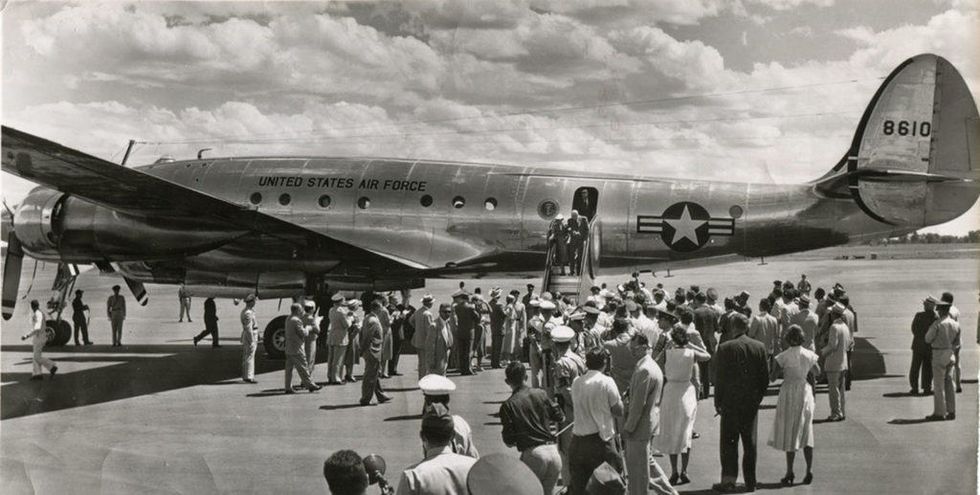 The Columbine II, which was the first aircraft to have the callsign "Air Force One", flying President Dwight D. Eisenhower from 1953-1954. The Lockheed Constellation is currently stored at Dynamic Aviations in Bridgewater, VA, waiting to be restored. It is the only Presidential aircraft ever sold to a private party. (U.S. Air Force photo/Staff Sgt. Andrew Lee)
When it's fully restored, Stoltzfus hopes to take the historic aircraft to air shows and display it for the public at the company's airport in Bridgewater. In the meantime, he's looking for anyone who might have aircraft parts or stories to share from the Connie's era.
Oliver is grateful that somebody was interested enough in saving the plane.
"When I started this project, I was 52 years old, and I'm 77 now," he said. "I don't have the energy to do it anymore, and I'm just glad that somebody does. It is a piece of history, and now it's going to be where people can see it, smell it and touch it."
Once the silver Connie with the purple flower on its nose is restored to its Air Force One glory, it will have three men to credit for saving this piece of American history for future generations.
Even though one of the three didn't live to see the Columbine II's restoration, his son thinks it would have made him proud.
"Oh, he's got a big smile on his face right now," Christler said. "I know he's proud that it has a great home where it's supposed to be. It's within a hundred miles of Washington, D.C, where it had some important flying to do."