Articles
October 03, 2015 07:00:02 EST
The military has very talented photographers in its ranks, and they constantly attempt to capture what life as a service member is like during training and at war. This is the best of what they shot this week:
---
AIR FORCE:
A sunset is seen through the nose of a B-25 Mitchell during a military tattoo held at Joint Base Anacostia-Bolling in Washington, Sept. 16, 2015. The "warbird flight" consisted of two B-25 Mitchells, two P-40 Warhawks and a P-51 Mustang.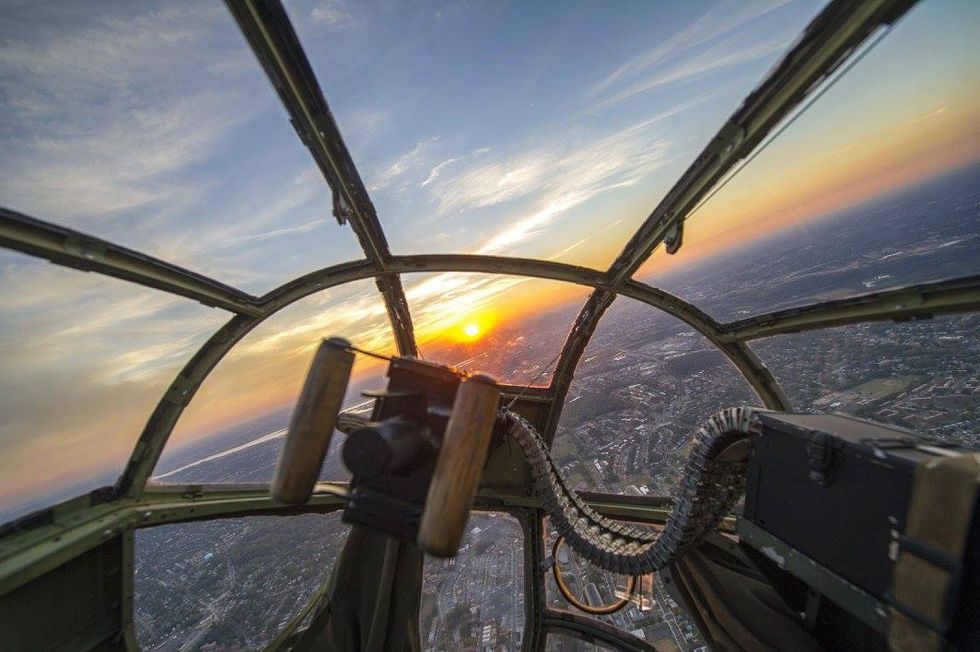 Photo by Airman 1st Class Ryan J. Sonnier/USAF
A P-51 Mustang flies over Joint Base Anacostia-Bolling, Washington, during a military tattoo Sept. 16, 2015.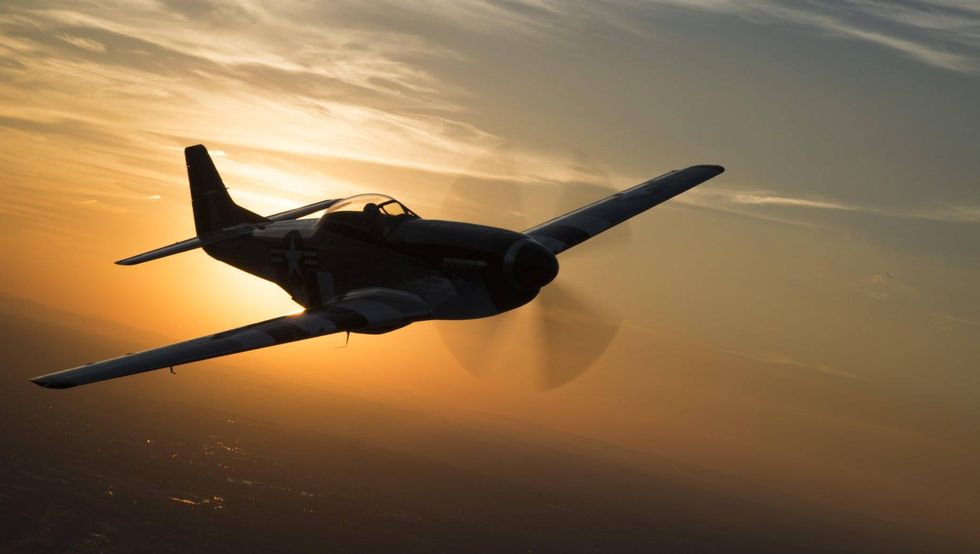 Photo by Airman 1st Class Philip Bryant/USAF
ARMY:
Soldiers in Basic Combat Training low crawl through the final obstacle during the Fit to Win endurance course at Fort Jackson, S.C., Oct. 1, 2015.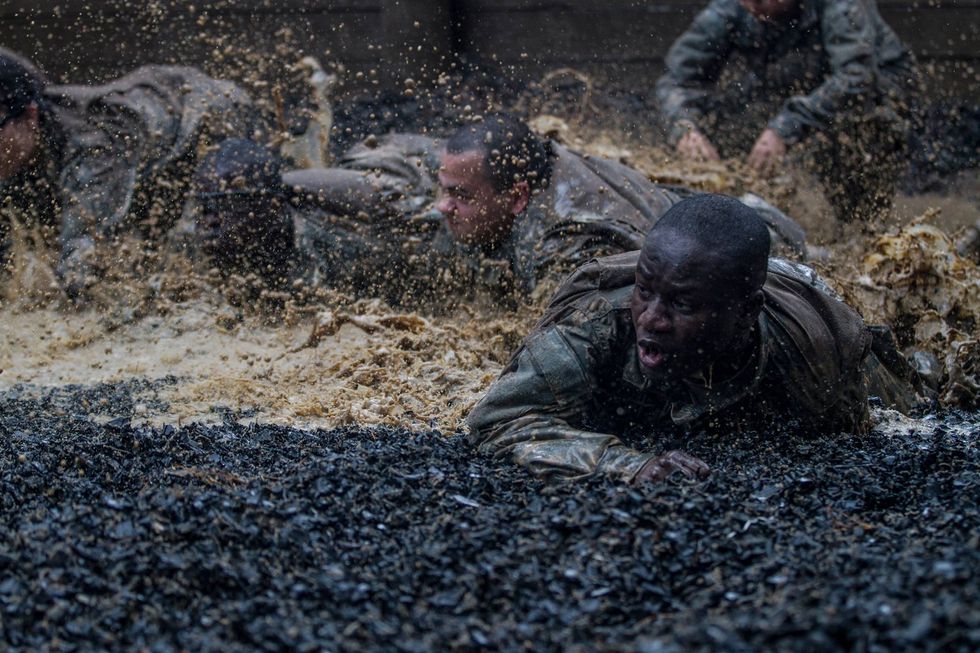 Photo by Sgt. 1st Class Brian Hamilton/US Army
A soldier, sets up a claymore mine during the JMRC's Expert Infantryman Badge Competition at the Hohenfels Training Area, Germany, Sept. 29, 2015.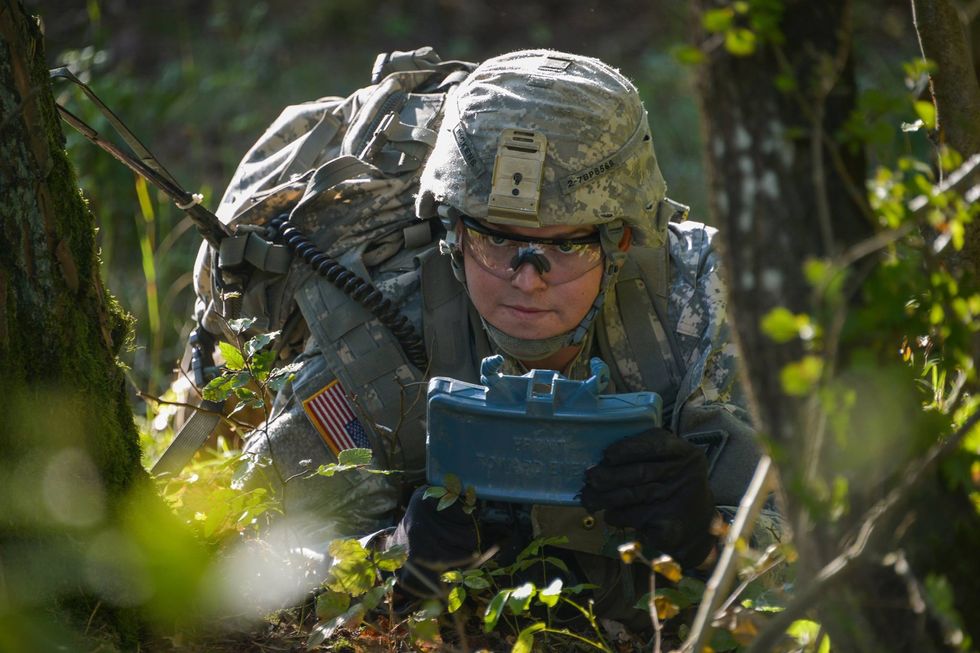 Photo by Visual Information Specialist Markus Rauchenberger/US Army
NAVY:
IWO TO, Japan (Sept. 29, 2015) Sailors assigned to Explosive Ordnance Disposal Mobile Unit (EODMU) 5 conduct a special patrol insertion/extraction exercise aboard the aircraft carrier USS Ronald Reagan (CVN 76). Ronald Reagan and its embarked air wing, Carrier Air Wing (CVW) 5, provide a combat-ready force that protects and defends the collective maritime interests of the U.S. and its allies and partners in the Indo-Asia-Pacific region.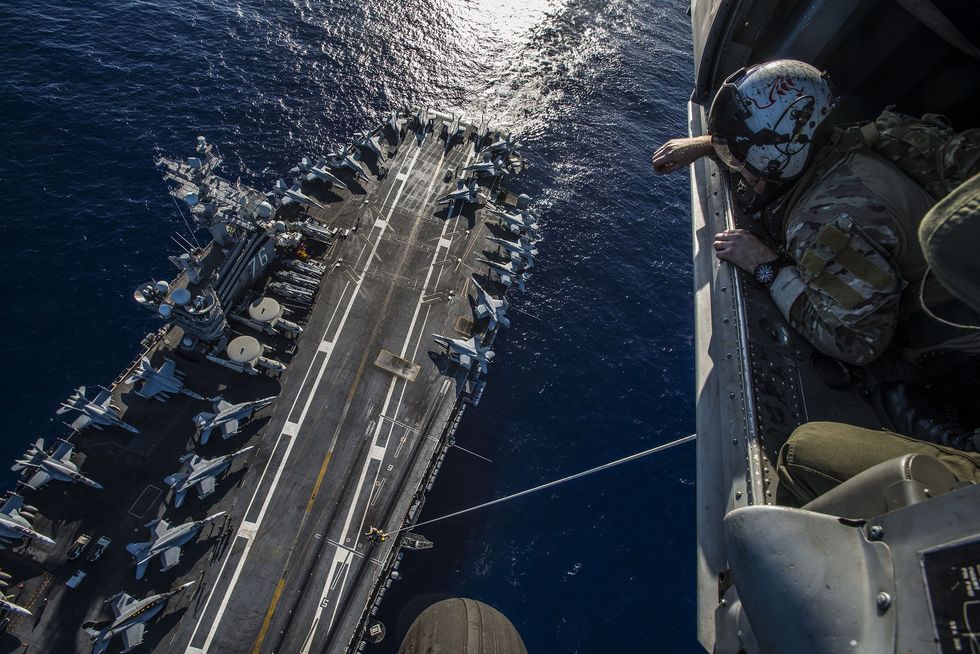 Photo by Mass Communication Specialist 2nd Class Paolo Bayas/USN
PACIFIC OCEAN (Sept. 28, 2015) An AV-8B Harrier II assigned to the Black Sheep of Marine Attack Squadron (VMA) 214 lands on the flight deck of the amphibious assault ship USS Boxer (LHD 4) during flight operations. Boxer is underway off the coast of Southern California conducting routine training exercises and maintenance in preparation for its upcoming deployment.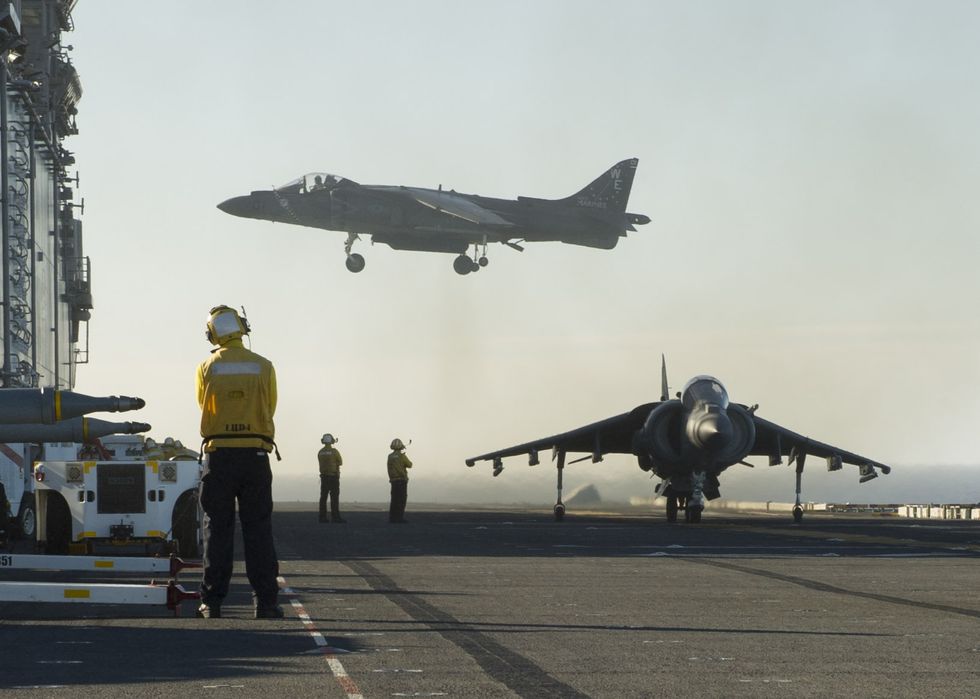 Photo by Mass Communication Specialist Seaman Michael T. Eckelbecker/USN
MARINE CORPS:
11th Marine Regiment works through the debris and fog in order to fire rounds during Supporting Arms Coordination Center Exercise on San Clemente Island, California, Sept. 25, 2015. The exercise is the first time these Marines and sailors will work together at sea in preparation for deployment.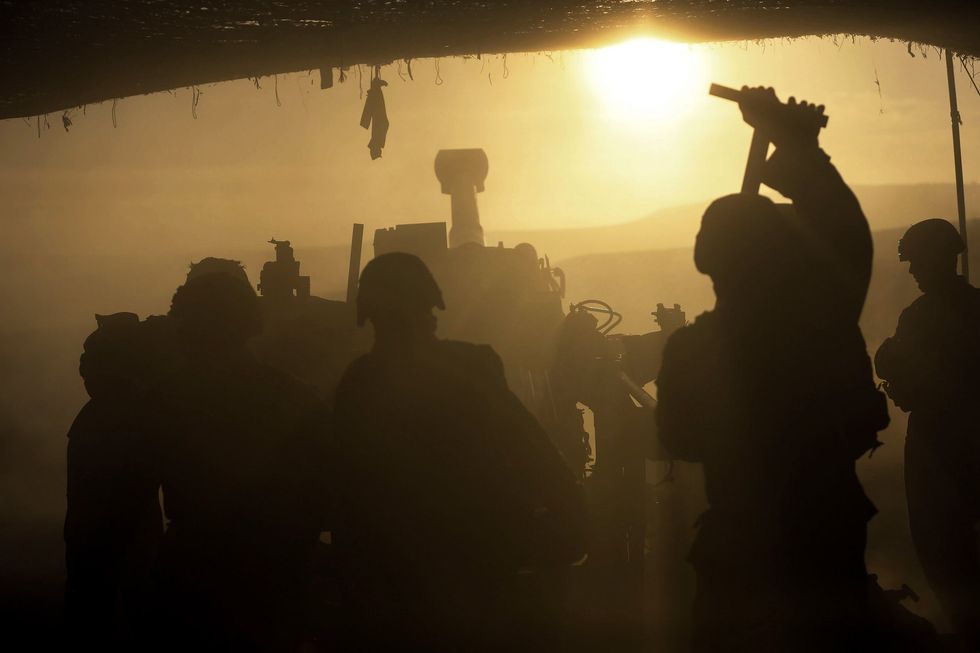 Photo by Lance Cpl. Alvin Pujols/USMC
A AH-1Z Cobra with 13th Marine Expeditionary Unit, 1st Marine Expeditionary Force lands aboard the USS New Orleans during the PHIBRON-MEU Integration exercise off the coast of San Clemente, California, Sept. 27, 2015. This marks the first at-sea exercise for the PHIBRON-MEU Marines and Sailors as they work together in preparation for deployment to the Pacific and Central Command areas of responsibility in early 2016.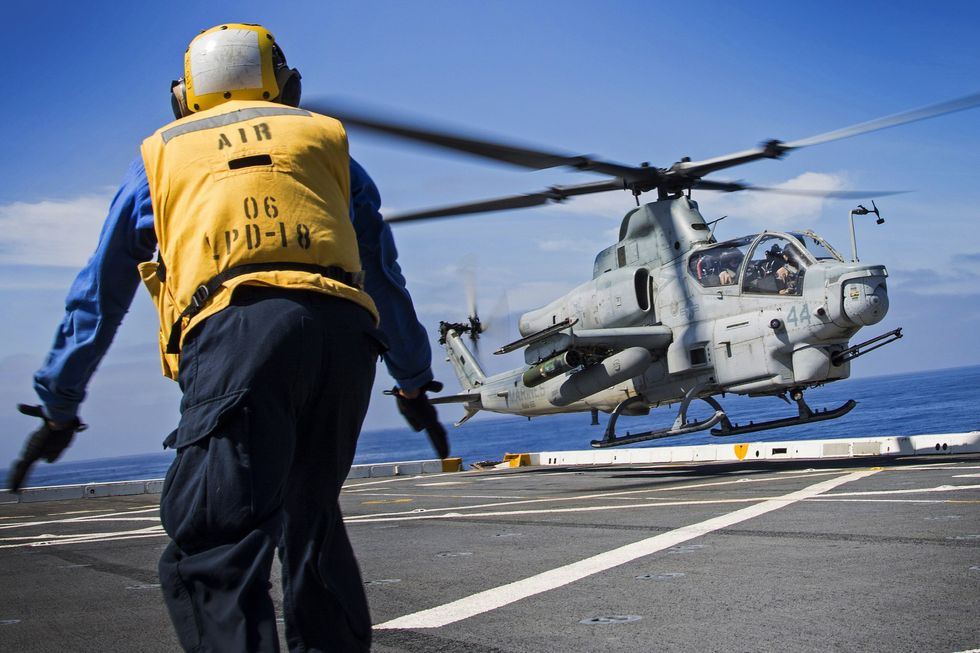 Photo by Sgt. Tyler C. Gregory/USMC
COAST GUARD:
USCG Cutter Healy uses spotlights while navigating through ice Sept. 20, 2015. The lights allow the helmsman to see pressure ridges and other obstacles, aiding in the completion of a safe night passage through the Arctic Ocean.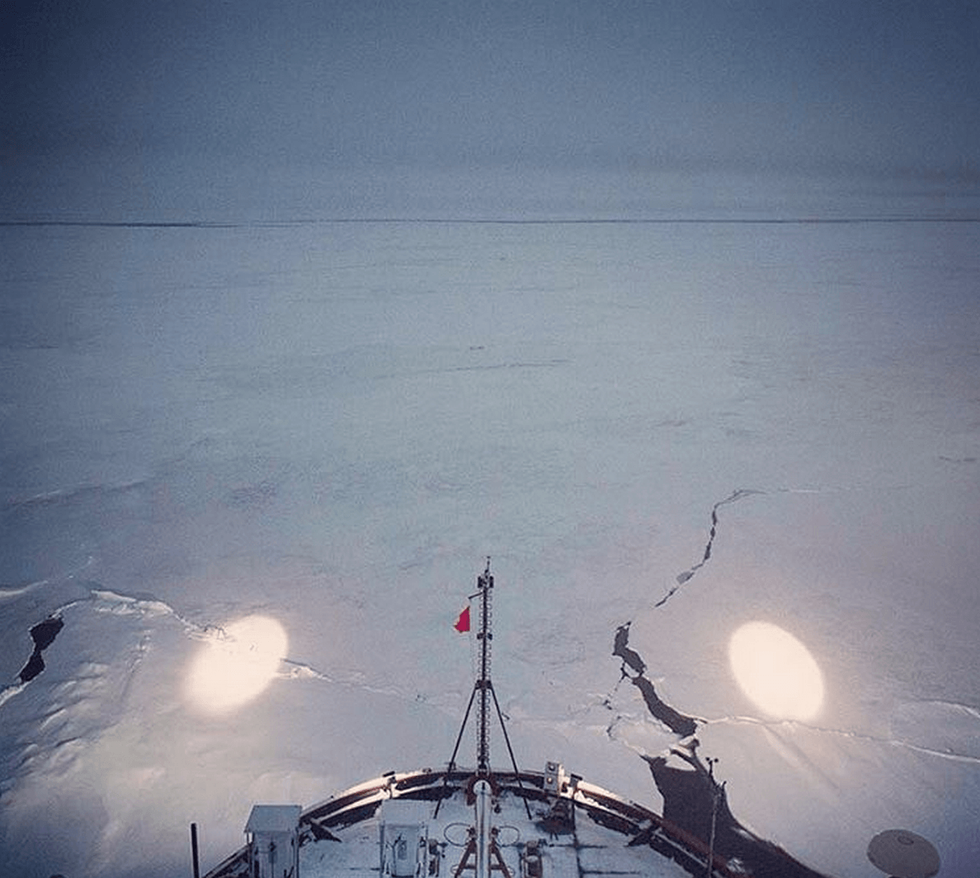 Photo by Petty Officer 2nd Class Cory J. Mendenhall/USCG
Time for some ice training USCG Cutter Healy crewmembers conduct ice rescue training Sept. 4, 2015, while underway in the Arctic Ocean. Qualified crewmembers stand ice rescue watch any time scientists or others are working on the ice.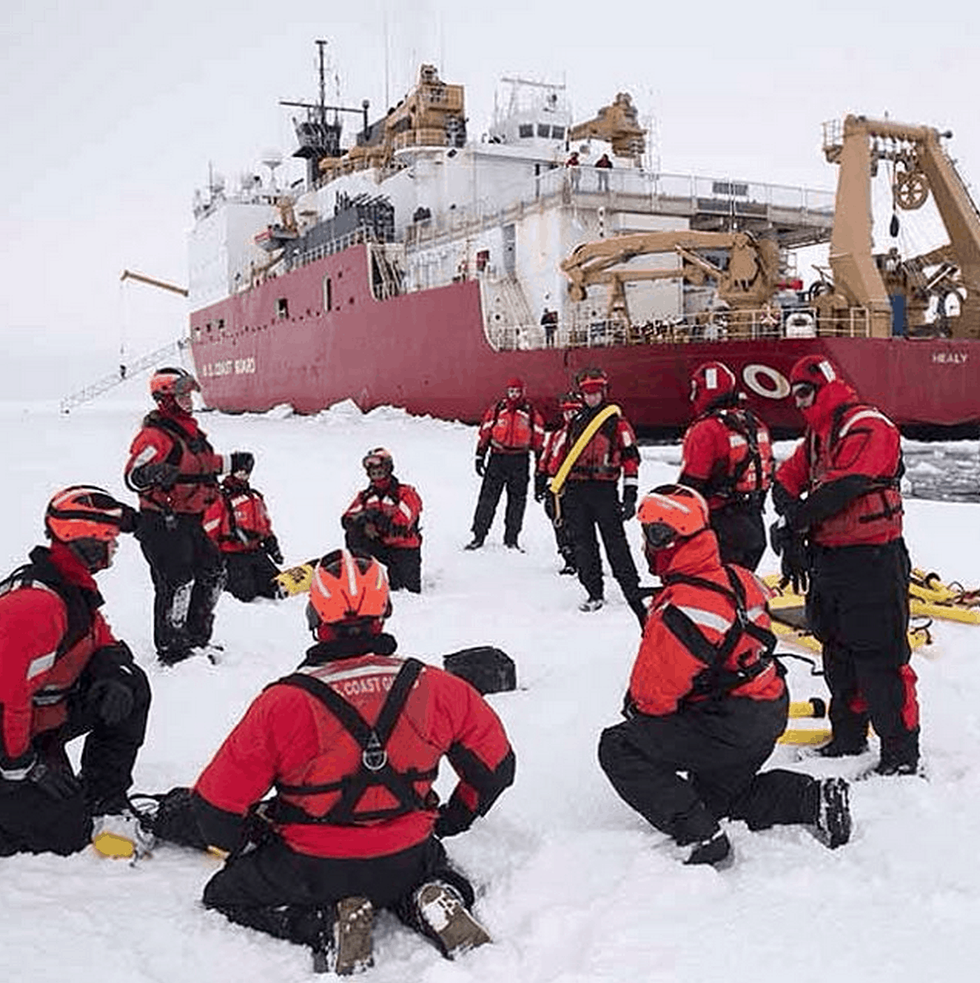 Photo by Petty Officer 2nd Class Cory J. Mendenhall