Articles
December 26, 2015 01:15:40 EST
The military has very talented photographers in its ranks, and they constantly attempt to capture what life as a service member is like during training and at war. This is the best of what they shot this week:
---
AIR FORCE:
A 77th Aircraft Maintenance Unit dedicated crew chief from Shaw Air Force Base, S.C. performs maintenance on an F-16 Fighting Falcon Dec. 15, 2015, on the flightline at Tyndall AFB, Fla. The F-16 is a compact, multi-role fighter aircraft. It is highly maneuverable and has proven itself in air-to-air combat and air-to- surface attack.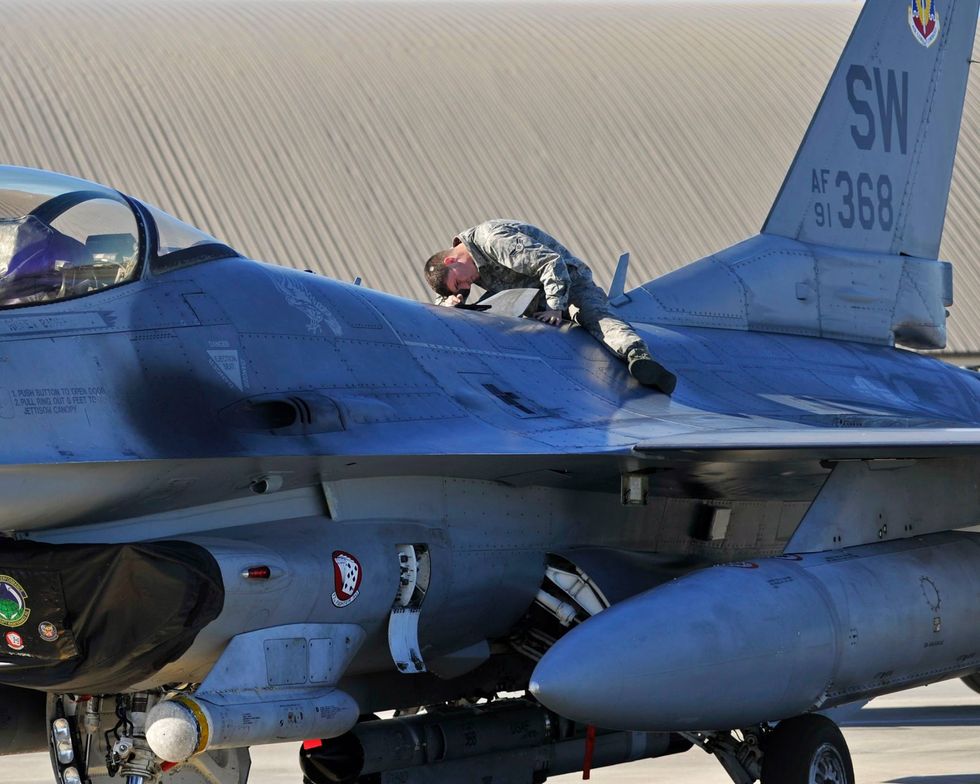 U.S. Air Force photo by Senior Airman Sergio A. Gamboa
Airmen deliver fuel to coalition bases in Iraq in support of Operation Inherent Resolve Dec. 16, 2015. OIR is the coalition intervention against the Islamic State of Iraq and the Levant.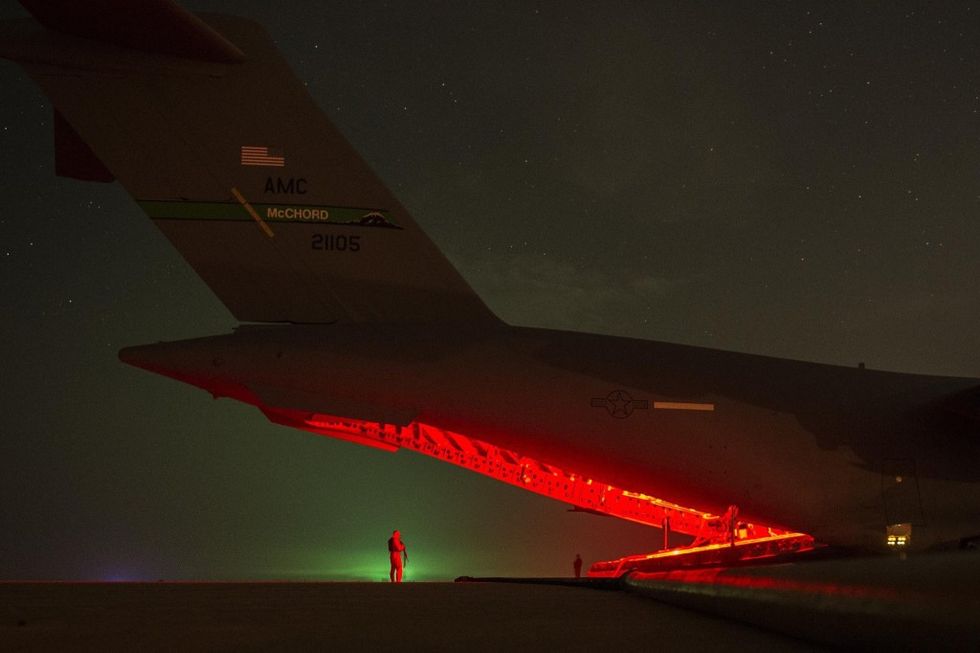 U.S. Air Force photo by Tech. Sgt. Nathan Lipscomb
ARMY:
A U.S. Army Soldier, assigned to 4th Brigade Combat Team (Airborne), 25th Infantry Division, conducts night airborne operations at Joint Base Elmendorf-Richardson, Alaska, Dec. 8, 2015.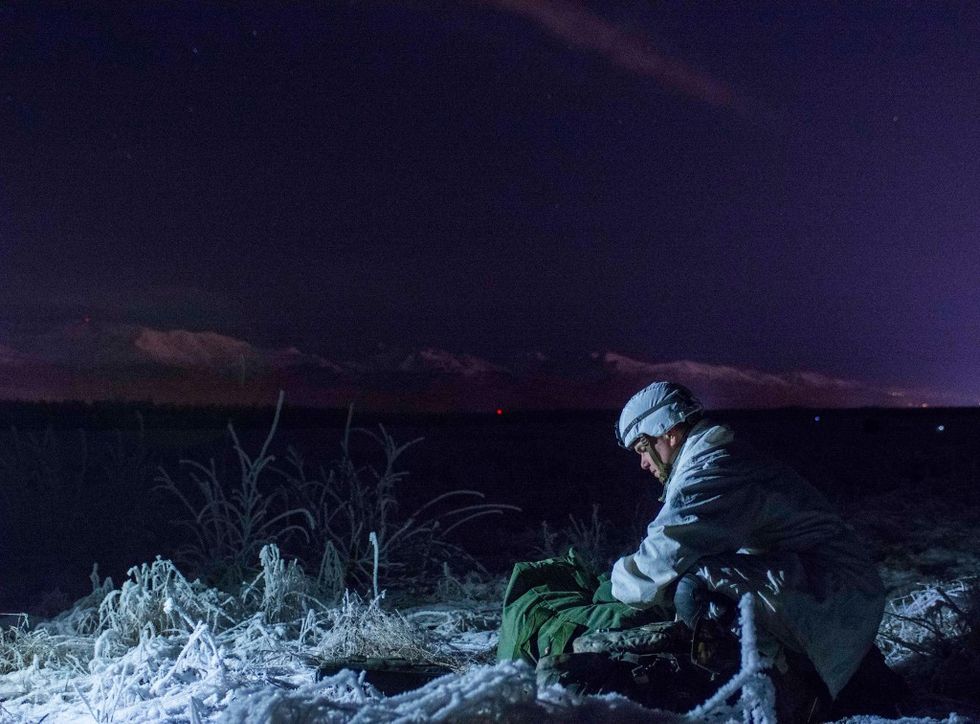 U.S. Army photo by Staff Sgt. Daniel Love
Soldiers, assigned to 1/25 SBCT "Arctic Wolves", U.S. Army Alaska, transport equipment using snowshoes and ahkio sleds during an arctic mobility squad competition in the Yukon Training Area, Fort Wainwright, Alaska, Dec. 10, 2015.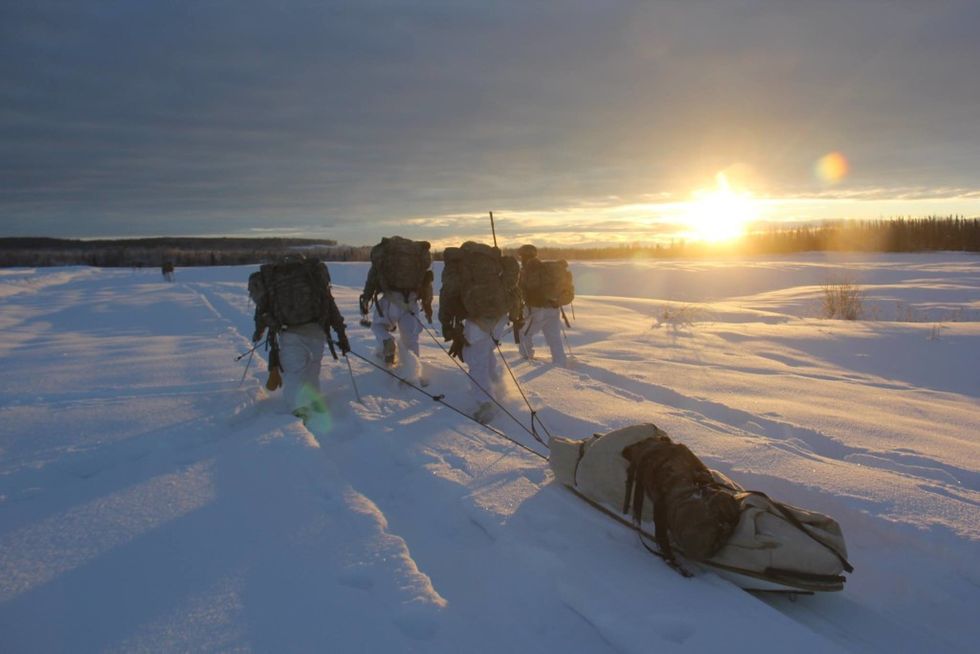 U.S. Army photo by 1st Lt. James Gallagher
NAVY:
YOKOSUKA, Japan (Dec. 17, 2015) Electrician's Mate 2nd Class Godson Bagnabana, from Gadsden, Alabama, erects an inflatable snowman on the flight deck of the U.S. Navy's only forward-deployed aircraft carrier USS Ronald Reagan (CVN 76). Ronald Reagan provides a combat-ready force that protects and defends the collective maritime interests of the U.S. and its allies and partners in the Indo-Asia-Pacific region.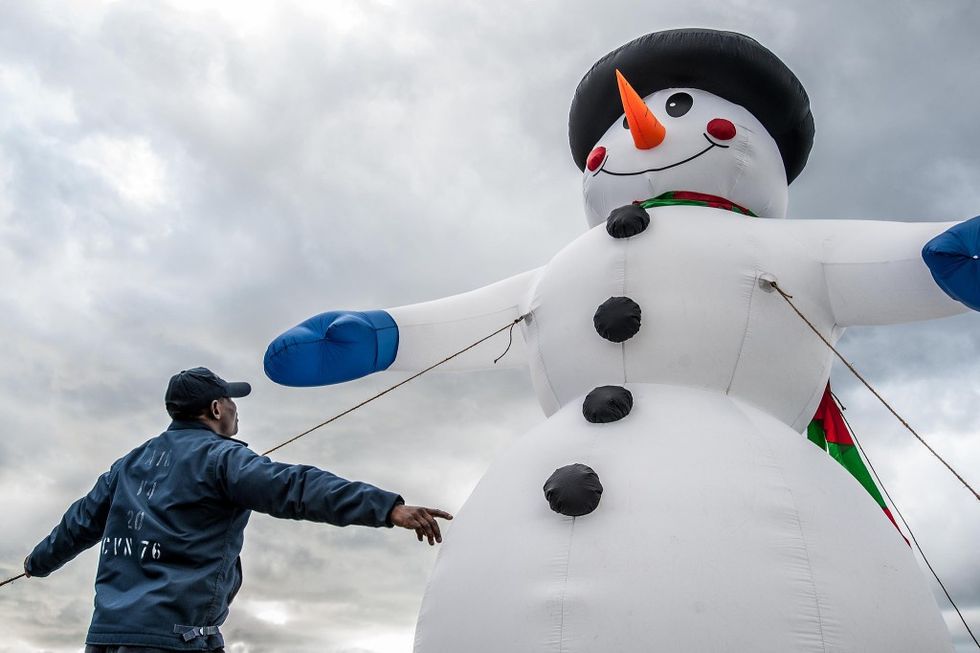 U.S. Navy photo by Mass Communication Specialist 3rd Class Nathan Burke
SASEBO, Japan (Dec. 18, 2015) Mass Communication Specialist 1st Class Ty Connors, forward-deployed amphibious assault ship USS Bonhomme Richard (LHD 6) public affairs officer (enlisted), explains the meaning behind the holiday wreath to Japan Maritime Self Defense Force (JMSDF) Chief Petty Officer Hirosahi Nishitani in the hangar bay aboard Shirane-class destroyer JDS Kurama (DDH 144). Bonhomme Richard is the lead ship of the Bonhomme Richard Amphibious Ready Group and is forward-deployed to Sasebo, Japan, in the U.S. 7th Fleet area of operations.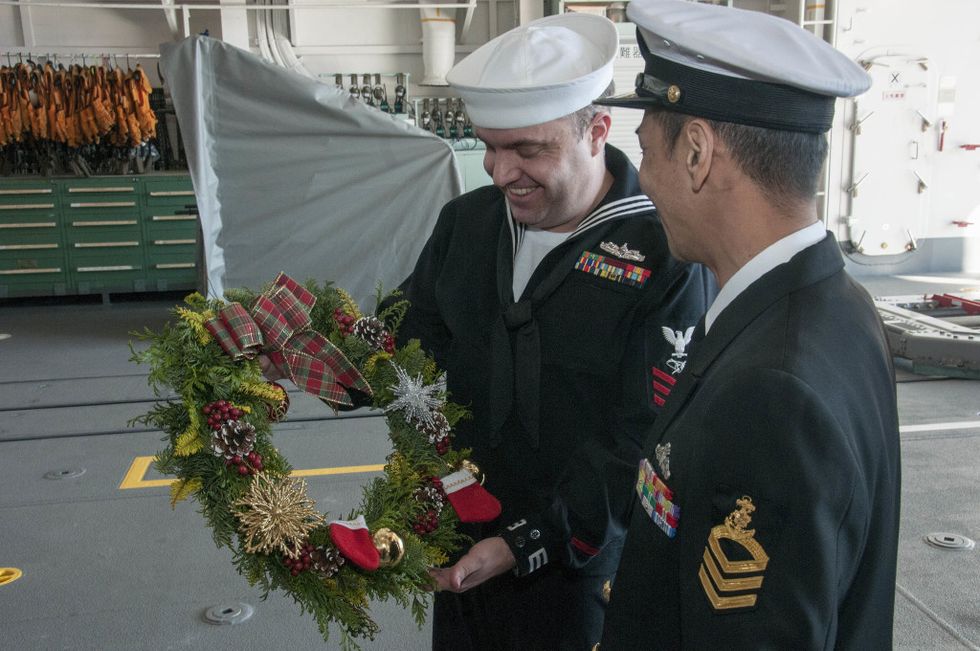 U.S. Navy Photo by Mass Communication Specialist 3rd Class Cameron McCulloch
MARINE CORPS:
Santa's got to work off those cookies somehow.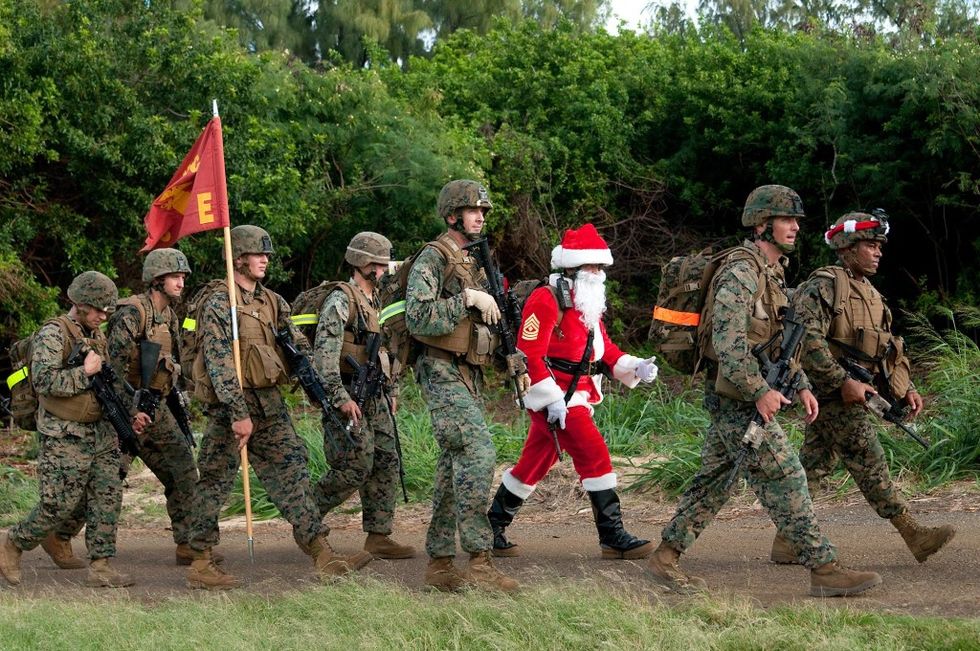 Photo: USMC
Marines with the Maritime Raid Force, 31st Marine Expeditionary Unit, prepare to jump from a UH-1Y Huey during helocast training at Kin Blue, Okinawa, Japan, Dec. 2, 2015. Once the Marines jumped into the water, they swam to the waiting Combat Rubber Raiding Craft which brought them to shore.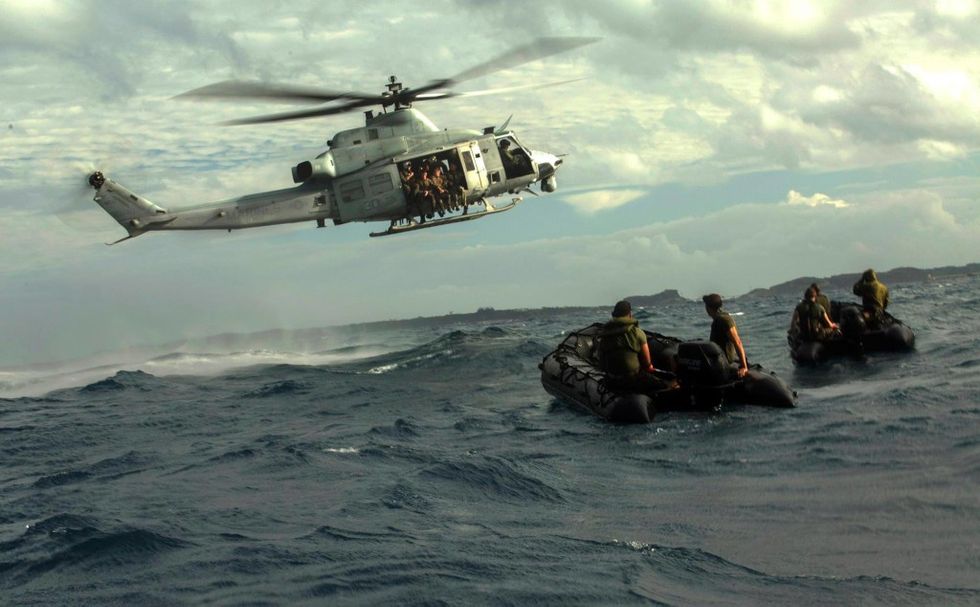 U.S. Marine Corps Photo by Cpl. Thor J. Larson
COAST GUARD:
The crew will be highlighting their recent efforts patrolling the Eastern Pacific to deter illegal maritime activity.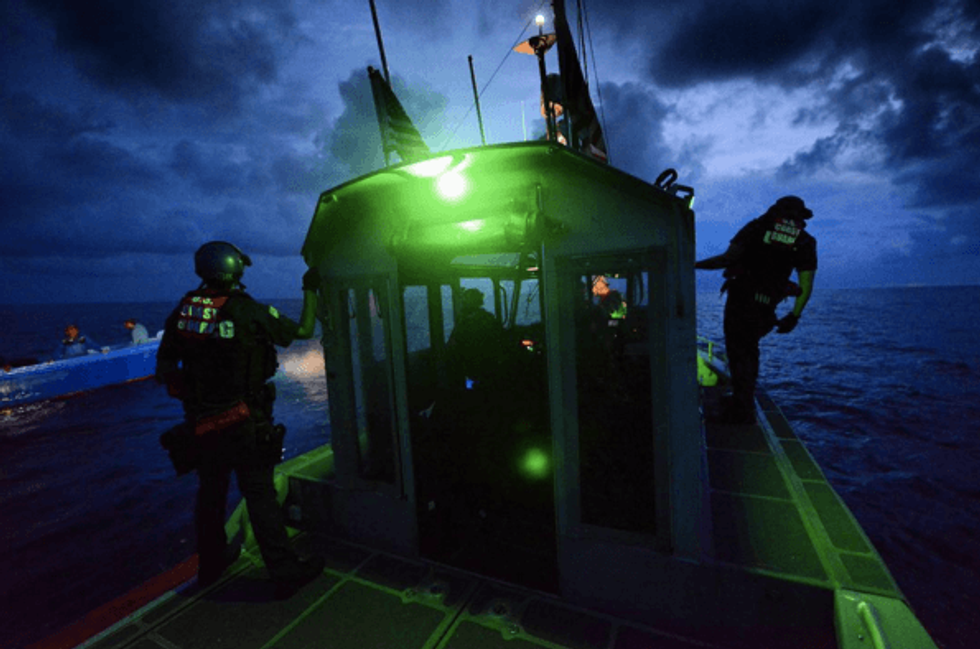 Photo: USCG
Cutter Stratton crews conducted pursuit boatcrew training while in the Eastern Pacific Ocean.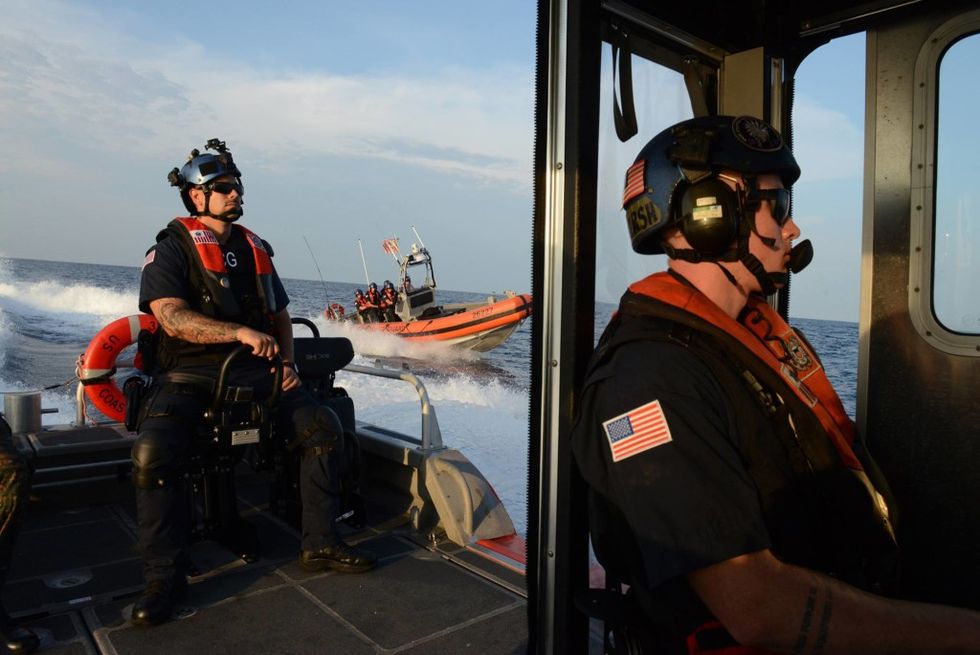 U.S. Coast Guardphoto by Petty Officer 3rd Class Lauren Steenson