Articles
August 03, 2017 14:43:41 EST
By now, many of us have seen the new Wonder Woman movie. If you haven't, you probably know the basics anyway: Amazon warrior-princess who braves the battlefields of 1918 to save humanity from the depredations of Ares, God of War. It's a fun movie, even if I had to set aside my critical military historian's eye for a couple of hours (not like that's a rare occurrence where Hollywood is concerned). You may also know that the title character is portrayed by one Gal Gadot, who served in the Israeli Defense Forces, so it has that going for it, too.
---
One thing I particularly liked about the movie was the theme that Diana (Wonder Woman's real name, in case you haven't seen the movie or ever read a comic book), though an elite, hard-ass warrior, only fought because she believed it was necessary. The Western Front in Belgium was represented fairly realistically as the muddy, bloody, ruinous Hell that it was. Diana fought not because she liked fighting, but to end that Hell once and for all.
I don't want to spoil the plot, so I won't go any further, but, like those who fought in the "War to End All Wars," Diana's outlook undergoes a change as the movie progresses. Significantly, though she is reluctant, Diana never loses her conviction that violence is sometimes necessary to prevent greater evil from wreaking havoc on the world.
One of the more humorous elements of the movie is the innate sexism Diana encounters as she moves forward. She is constantly forced to prove herself on and off the battlefield. Of course, being an immortal Amazon princess, with its attendant abilities, helps. But super powers are not required to be a warrior, whether one is male or female.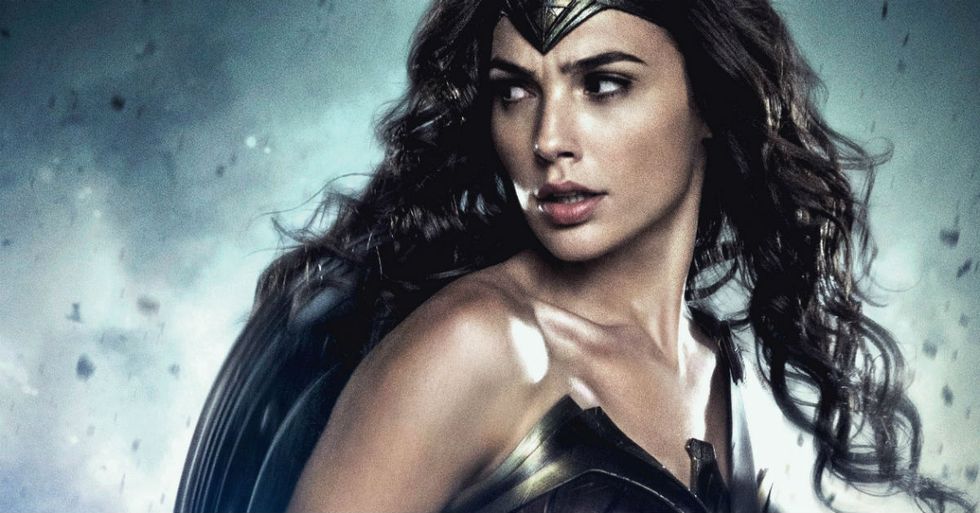 Gal Gadot as Wonder Woman (2017). Screengrab from YouTube.
There's a lot of controversy these days about the role of women in the US armed forces, specifically, whether women should serve in combat units. Recent months have witnessed the first two female graduates from Ranger School, and the nature of the wars in Afghanistan and Iraq have put females clearly in the line of fire for well over a decade.
Female warriors, however, are not a new phenomenon, nor are they only the stuff of legend or Hollywood fancy. They've been around for literally thousands of years. Without taking a position on the role of females in combat (other people here are far more qualified than I to speak on that subject), here's a look at some women who fought, and fought well, from the American Revolution through the Global War on Terror. This list is by no means complete, or even close to being so. It's merely intended to offer a glimpse of women in combat over the last 240-odd years.
The American Revolution
Records for female soldiers who fought in the Revolution are scarce. That many women, usually disguised as men, did fight is beyond question. Most of their names and deeds are lost to us thanks to their enforced anonymity, but a few records survive. The most common theme for the service of these women is that they followed their husbands to war, passing themselves as teenage boys, which were not uncommon in the ranks. Some women volunteered for the bounty paid to enlistees or just in the hope of steady meals. Some didn't like sitting at home and wanted to fight for their country, like the first soldier on our list.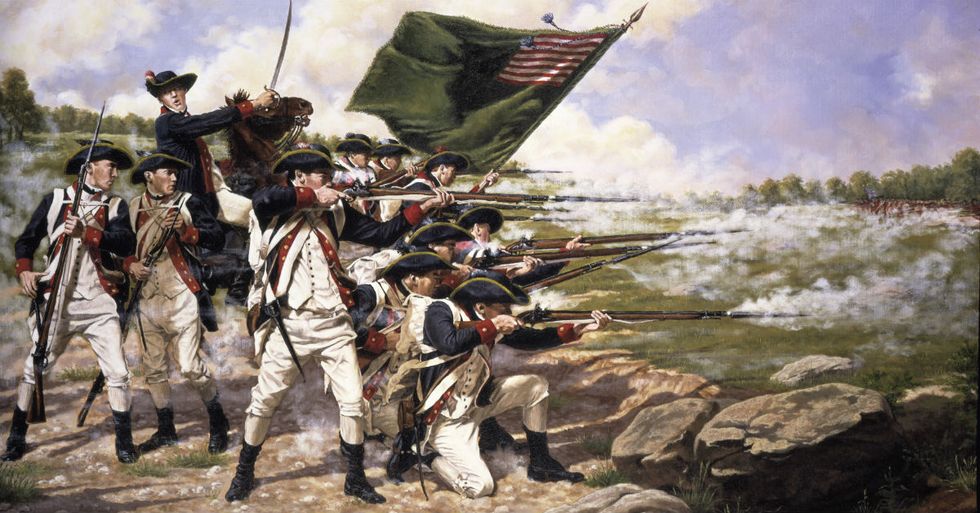 Battle of Long Island
Deborah Samson enlisted on 20 May, 1782, at age 22, in Captain George Webb's company of the 4th Massachusetts Regiment of Foot, a light infantry unit. She gave her name as Robert Shurtliff. Rising to the rank of corporal, she fought with the Continental Army in several engagements, including the Battle of White Plains.
Samson was wounded several times. In a skirmish near Tarrytown, she took a saber cut to the head. When her unit was ambushed by Loyalists near East Chester, Samson was hit by two musket balls in the thigh. Probably afraid of discovery if she sought medical aid, Samson crawled into the woods and removed one ball herself. The other was left in the leg while she soldiered on.
Samson was finally revealed as a female while serving as a clerk for General John Patterson in Philadelphia. She became sick and was treated by Dr. Barnabas Binney. Dr. Binney outed her to General Patterson, who recommended to General George Washington that Samson be discharged due to being a female. Deborah Samson was honorably discharged in October, 1783. In 1792, along with other veterans, Samson received back pay due her for her service. In 1805, Samson was awarded a veteran's pension by the Massachusetts legislature, which stated "that the Said Deborah exhibited an extraordinary instance of female heroism by discharging the duties of a faithful, gallant soldier." She received that pension until she died in 1827.
The legend of Molly Pitcher is hard to pin down. According to the story, she was carrying pitchers of water to the soldiers, one of whom was her husband, serving a cannon at the 1778 Battle of Monmouth. When her husband collapsed, Molly immediately took his place, swabbing the barrel and helping reload the gun.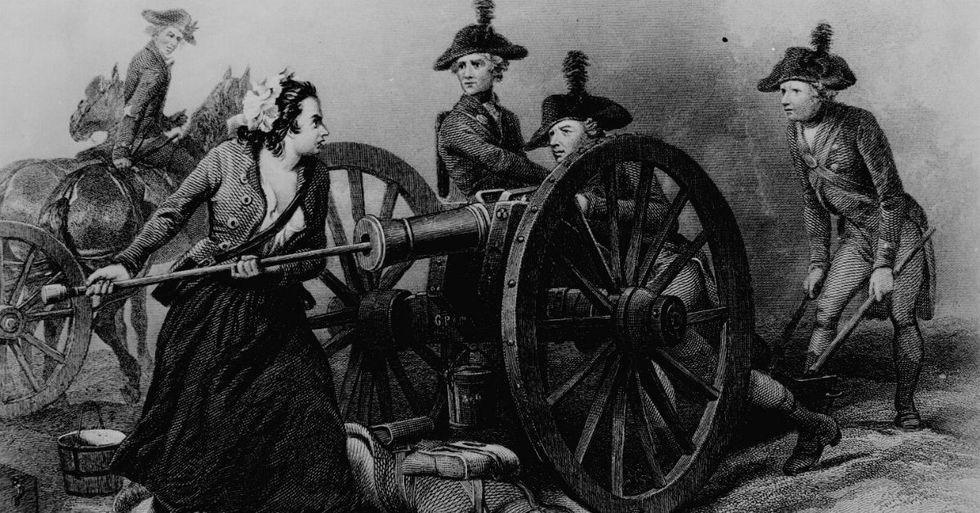 Monica Lin Brown. Photo from Breach Bang Clear.
Brown's platoon sergeant arrived, amazed to see Brown still alive. Seeing the danger from the engulfed HUMVEE and continuing enemy fire, he loaded Brown and the wounded onto an Afghan Army truck and moved them to a safer location. An enemy mortar shell impacted on Brown's former position just seconds later. All the while, Brown treated the wounded soldiers, continually shielding them from falling brass and enemy fire until the MEDEVACs arrived. Brown's actions earned her the Silver Star. They also resulted in her being removed from her assignment because of the ban on females in combat.
As I said, I'm not taking a position on women in combat. Honestly, I'm not qualified to offer an informed opinion on the subject. It is clear, however, that women have served, and served well, in combat environments throughout history. So, taking advantage of the publicity from the Wonder Woman movie, here's an opportunity to raise a glass to all the women who have answered the call and laid it on the line. Thanks for your service.