Articles
May 12, 2016 15:01:25 EST
Army infantry veteran Joshua D. Hardwick will make his professional MMA debut Sat., May 14 in Bellator 154 in San Jose, California. The 160-pound striker is facing off against Staff Sgt. Jorge Acosta, a California Army National Guardsman.
---
Interested in going to Bellator 154 in San Jose? Get half off your tickets by entering the promo code "MIGHTY" at checkout.
Acosta is 1-1 on the professional circuit. Hardwick is 5-2 on the amateur circuit (including three international fights in Thailand).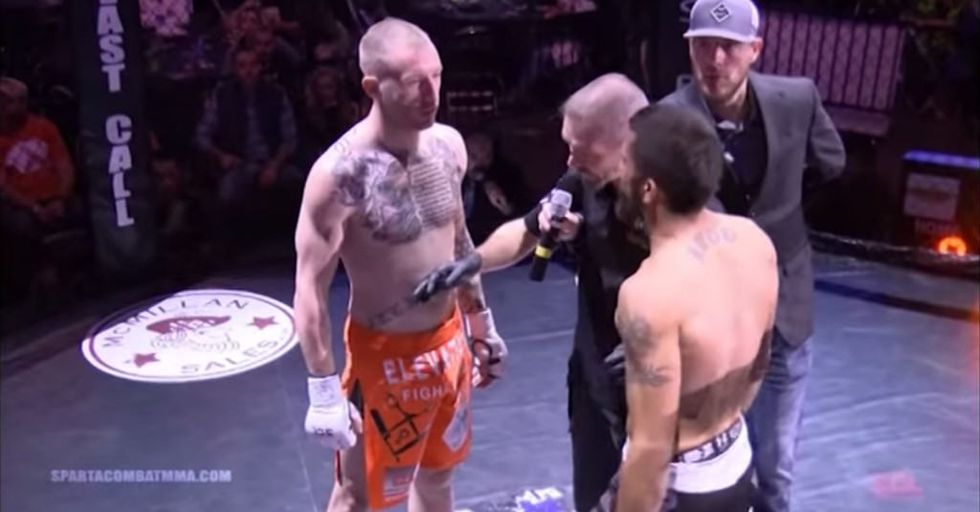 JD Hardwick checks on Ben Lugo after obtaining a first-round submission from Lugo. Screenshot: YouTube/Sparta Combat League
Hardwick has been out of the military for a few years but stays close with his former brothers-in-arms. Their support is part of why he fights.
"So many of them are like family," he said. "But even ones that I've lost touch with, they reach out and tell me that they're inspired by what I'm doing and how hard I'm working."
Inspiring other vets to go after the life they really want is important to Hardwick.
We all fought so hard for freedom, and when we get done fighting for it, we need to fight for our own dreams. Stop doing what society says we need to do and do the things that we think will make us happy.
He hopes that his own story will remind vets that they don't have to come home to desk jobs if they don't want to.
"Like me, I got out of the Army and I worked some jobs that made good money and I was going to go to school because I thought that was what I was supposed to do but that stuff didn't really make me happy," Hardwick said. "And, when I got the opportunity to give that all up and make zero money and move back in with my mom and start chasing me dream, and now it's kind of all coming together.
"This is just the beginning and there's a long, long road ahead but I couldn't be any happier than I am today being a poor MMA fighter."