Articles
August 25, 2016 04:42:43 EST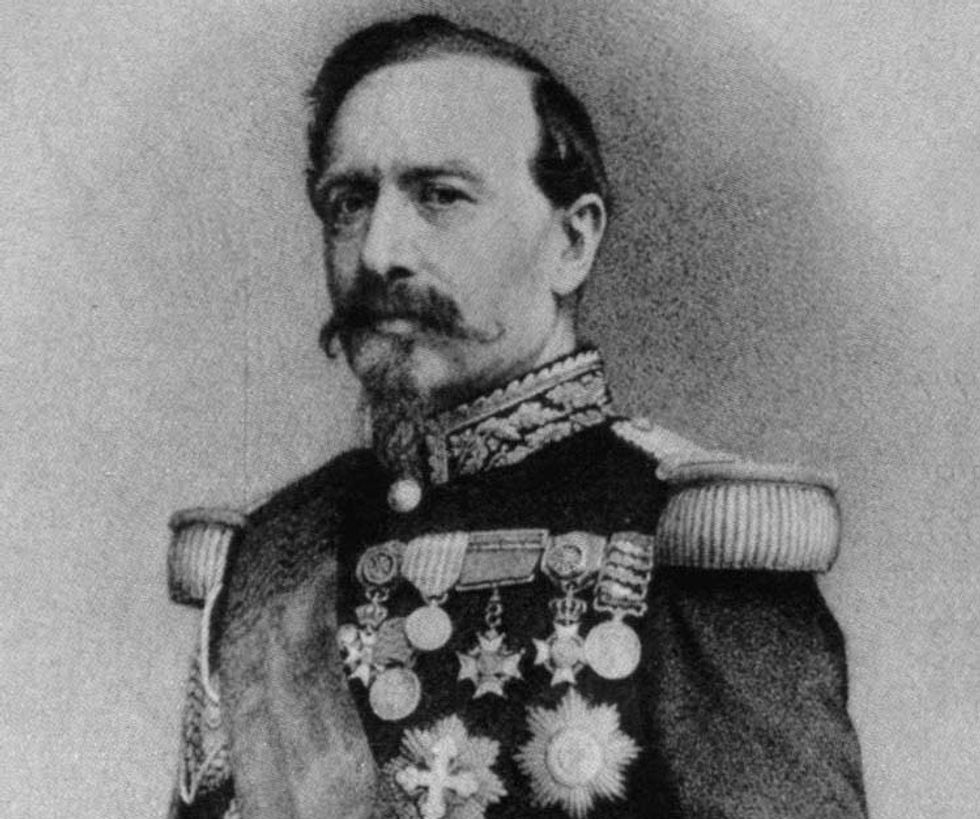 ---
General Charles Denis Bourbaki. (Don't let those medals fool you.)
General Charles Denis Bourbaki forged a long career fighting in the French Second Empire's wars in North Africa, the Crimea, and Italy. He served as a lieutenant with the Zouaves from 1836 to 1838 and received a promotion to captain in June of 1842. He quickly rose to the rank of Colonel by 1851 and received advancement to general of division in 1857. He served with distinction at the Battles of Alma, Inkerman, and the assault of Sebastopol during the Crimean War. He fought in the Franco-Austrian War of 1859 and in July of 1870, was nominated as aide-de-camp to Emperor Napoleon, earning renown as one of his most resourceful generals.
With the outbreak of the Franco-Prussian War, he took command of the First Army of the North. Like most of Napoleon III's most senior generals, he too proved to be unprepared and unqualified for the war. The Prussian superiority in modern firearms and tactics proved to be too much for the French, who at one time seemed to possess the best army in the world. The Franco-Prussian War ended the myth of French military superiority.
Famed Marxist philosopher and war correspondent Friedrich Engels called the January 1871 Battle of the Lisaine "Bourbaki's shipwreck." The battle and subsequent flight of Bourbaki and his army left most of his surviving soldiers without winter clothing, ammunition, or provisions.

Bourbaki likely used a weapon like this "Pistolet Cavaliere Modele 1822 TBIS" – the sidearm issued to French officers at the outbreak of the Franco-Prussian War.
One of Bourbaki's aides burst through the door of his room and discovered the general slumped over on his bed with his face and head covered with blood. He was miraculously still alive, still able to speak but unable to recall the names of his staff officers.
Two doctors rushed to perform immediate surgery. They discovered a 12mm ball lodged into his temporal muscle. No fracture of the skull was found and the general appeared to only suffer slight amnesia from the concussion of the bullet's impact.
Bourbaki attributed his attempted suicide to the fact that he was denied a glorious death in battle. But by June, the war was over and he resumed his duties in the French Army.
He lived another 26 years and died in Cambo-Les-Bains on September 22, 1897, well-established among the public as the French general whose failed suicide became his legacy.