Articles
December 09, 2015 12:55:01 EST
According to legend, a few actually reputable sources, the entire course of the American Revolution could have been different if one German colonel had just been way better at prioritizing (and for those of you who may be a little rusty on your American Revolution skillz, a number of German soldiers fought for Britain during the war, thus the reason for a German colonel being at the center of this tale).
---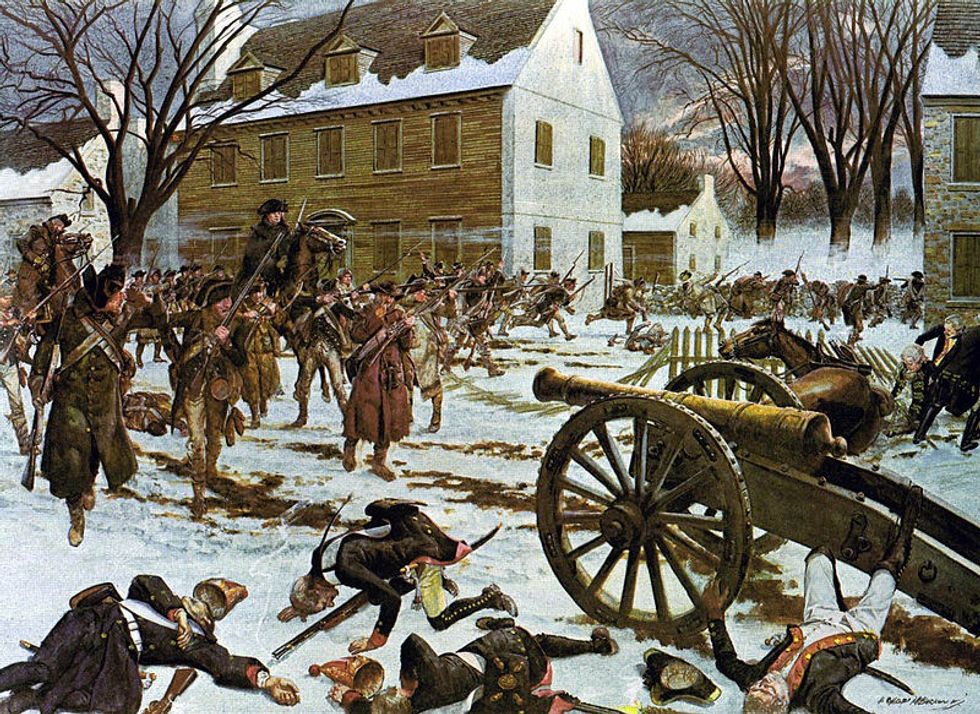 Painting: George Washington Crossing The Delaware by Emmanuel Leutze
However, the thing about crossing an icy river in the dark in the middle of winter is that it takes forever, and Washington's men were nowhere near where they thought they'd be by morning. They thus had to march towards the Germans in daylight. One local loyalist saw them coming, and frantically ran towards the German camp to warn Colonel Johann Rall.
Rumor has it that Rall was in the middle of a card game and refused to stop playing to listen to the English-speaking loyalist. The loyalist left him a note written in English that said something to the effect of "YOU'RE ABOUT TO BE ATTACKED, BRO," but Rall was apparently too lazy to go find a translator to read it to him. Washington attacked, won the pivotal Battle of Trenton, and the rest is history.
Meanwhile, Rall was killed that day, and its said that the unread note was found in his pocket. So let this be a lesson to us all: always read early morning messages from frantic English-speaking loyalists.
Also at HistoryBuff.com:
Ancient Romans Tried to Trap Tigers ... with Mirrors?
We Need to Talk About the Bonkers Toys in this 1955 Christmas Catalog
How the Hero of Hanukkah Influenced Generations of Christian Warfare