Articles
April 10, 2017 07:04:23 EST
The Tomahawk strike on Shayrat Air Base in western Syria was pretty potent – after all, 59 of the missiles hit the place. But the base still had aircraft taking off and landing within a day of the strike.
---
The Brits, though, had a weapon much better than the Tomahawk at shutting down air bases.
That system was called JP233, and while it doesn't sound very fearsome, if World War III broke out, this was to be a key weapon in shutting down the Warsaw Pact's air force.
The JP233 was quite a clever armament. According to the "Encyclopedia of Modern Air Weapons," the system came in two pods. One would be hung in the rear of the aircraft carrying 30 SG357 runway-cratering munitions. Now, President Trump's tweet that pointed out the ease of repairing runways is accurate. But this is where the second pod comes in.
The second pod, usually hung in front of the first one, carried 215 HB876 area-denial munitions. Or, in a more simple term: Land mines. These diabolical devices were designed to not only take out the trained runway-repair crews, they could also kill the vehicles that make runway repair a quick and simple task.
The Tornado would fly low and fast over the enemy airfield's runways with the sub-munitions from two sets of pods slung underneath the fuselage scattering all over the place. If the enemy planes were in the air, they had no place to land. If they were on the ground, they were staying there until follow-up strikes could take care of them.
JP233 wasn't just a one-trick pony. It could also be used on supply bases, highways, docks, railway yards… really just about any place where you wanted to create a bottleneck on land.
Thankfully, World War III never happened. But JP233 did see action in Operation Desert Storm on Iraqi runways. Press coverage at the time, such as a Jan. 23, 1991 article in the Los Angeles Times, blamed the Tornado's anti-runway mission and use of JP233 for several crashes.
The blog Defence of the Realm, though, notes that of the six RAF Tornados lost during Desert Storm, only one was on a mission using JP233, and its loss was due to a crash during a low-level turn after carrying out a successful strike, not enemy action.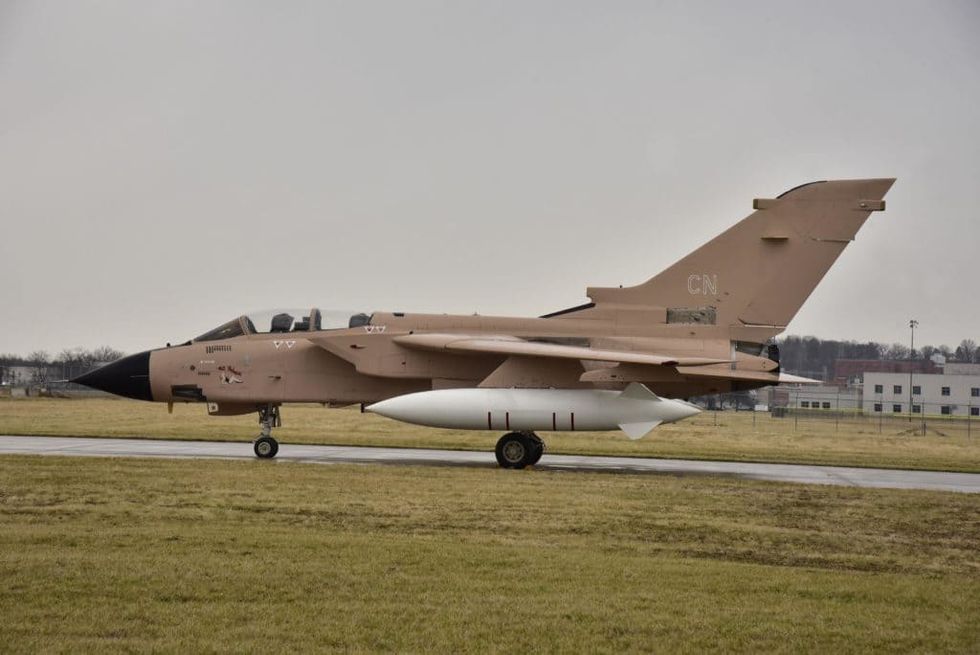 A Tornado GR.1 that was donated to the National Museum of the United States Air Force. The Tornado was the primary delivery system for the JP233.
(USAF photo)

Still, the JP233 took the blame, and between the public-relations black eye, and the 1999 Ottawa Treaty, it was retired. Under the terms of that agreement, all but a few examples sent to museums were destroyed.