Articles
January 12, 2016 16:11:47 EST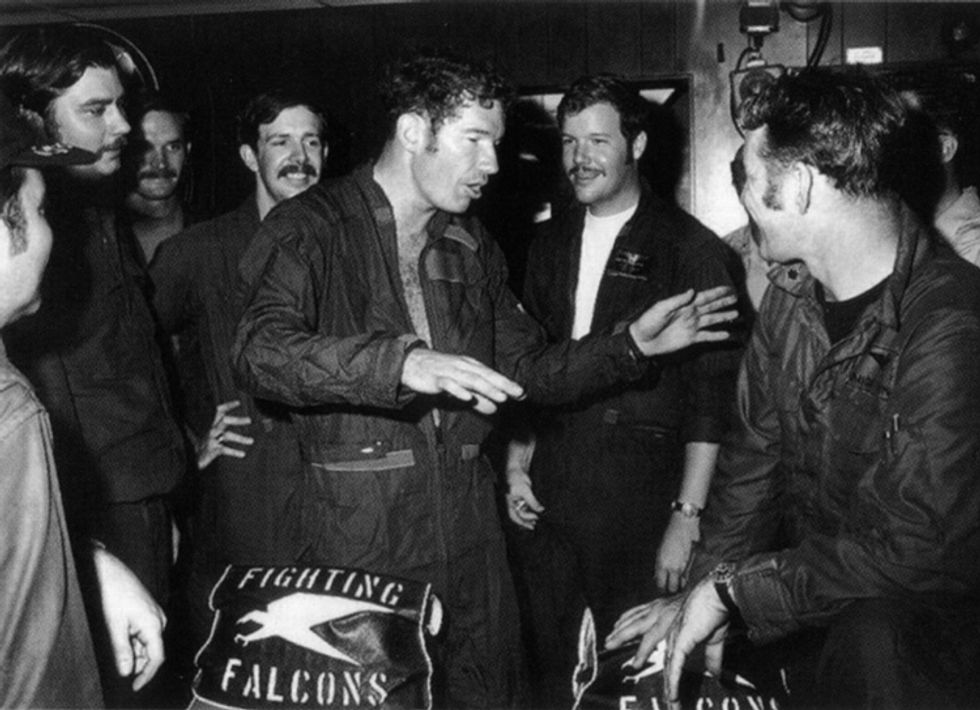 It worked. At first Cunningham thought the missile missed, but a few seconds later the MiG started to come apart. Cunningham was an ace, the first of the Vietnam War.
But his problems weren't over. Before Showtime 100 got "feet wet" it was hit by a North Vietnamese surface-to-air missile. He managed to coax the crippled fighter far enough over the Gulf of Tonkin to avoid falling into enemy hands and winding up a POW. After successfully ejecting, both Driscoll and he were picked up by an Air Force SAR helicopter.
For his efforts on that day, Cunningham received the Navy Cross.
Cunningham left the Navy at the 20-year mark, retiring at the rank of commander after serving as a Top Gun instructor and the commander officer of VF-126, the aggressor squadron based at Miramar. He became the dean of the National School of Aviation and started his own marketing company, Top Gun Enterprises.
Cunningham became one of CNN's go-to military experts in the late '80s and early '90s -- especially on the eve of Desert Storm, and that visibility brought him to the attention of Republican power brokers around San Diego, Cunningham's hometown. The Democratic incumbent of the 44th District, Jim Bates, was vulnerable in the upcoming election because of an ongoing sexual harassment scandal.
He wound up breezing to victory and took office in January of 1991. In short order he established himself as an outspoken conservative champion and in many cases just plain outspoken. He brought the same intemperate disposition that served him as a fighter pilot to the Washington arena, flipping off reporters and calling gay service members "homos" on the floor of the House while arguing with backers of a conservation amendment. That act played well with a majority of his constituents -- he was reelected with ease six times -- but it also earned him some enemies and the attention of the press.
In 1996 Cunningham criticized the Clinton Administration for being "soft on crime."
"We must get tough on drug dealers," he said, adding that "those who peddle destruction on our children must pay dearly." He voted for the death penalty for major drug dealers. Four months later his son Todd was arrested for helping to transport 400 pounds of marijuana from Texas to Indiana. Todd Cunningham pleaded guilty to possession and conspiracy to sell marijuana. Representative Cunningham broke down in court and pleaded with the judge for leniency in his son's case, which his critics found very hypocritical.
Then in June of 2005 the San Diego Union Tribune reported that a defense contractor named Mitchell Wade had purchased Cunningham's house in Del Mar in 2003 for $1,675,000 and put it back on the market a month later. (Cunningham was a member of the Defense Appropriations Subcommittee at the time.) Wade's company, MZM Inc., started receiving tens of millions of dollars of defense and intelligence contracts.
The Union Tribune later reported that Cunningham was living rent-free aboard one of Wade's yachts docked in a harbor in Washington DC and that he was throwing parties for young women aboard the yacht on a regular basis.
The FBI raided his home, Wade's home, and the MZM corporate offices on July 1, 2005. A few months later, Cunningham pleaded guilty to tax evasion, conspiracy to commit bribery, mail fraud and wire fraud. Among the many bribes Cunningham admitted receiving were the house sale at an inflated price, the free use of the yacht, a used Rolls-Royce, antique furniture, Persian rugs, jewelry, and a $2,000 contribution for his daughter's college graduation party.
Cunningham read the following statement at the press conference where he announced he was resigning from Congress:
When I announced several months ago that I would not seek re-election, I publicly declared my innocence because I was not strong enough to face the truth. So, I misled my family, staff, friends, colleagues, the public – even myself. For all of this, I am deeply sorry.

The truth is – I broke the law, concealed my conduct, and disgraced my high office. I know that I will forfeit my freedom, my reputation, my worldly possessions, and most importantly, the trust of my friends and family. ... In my life, I have known great joy and great sorrow. And now I know great shame. I learned in Vietnam that the true measure of a man is how he responds to adversity.

I cannot undo what I have done. But I can atone. I am now almost 65 years old and, as I enter the twilight of my life, I intend to use the remaining time that God grants me to make amends.
Cunningham wound up serving seven years in a minimum security satellite camp near Tucson, Arizona. He was released to a halfway house in New Orleans in February of 2013. He now lives in Arkansas and still receives his Navy retirement pay as well as a pension for 14-plus years as a Congressman. (Legislation introduced to prevent convicted lawmakers from receiving their pensions died in committee.)
The San Diego Union Tribune received the Pulitzer Prize for the reporting surrounding the takedown of Congressman Cunningham.