Articles
July 23, 2020 14:10:00 EST
When Batman v Superman: Dawn of Justice was released in March of 2016, the thought of two colossal superheroes clashing on the big screen brought out huge box office numbers for its opening weekend. But despite the initial hype, the pedestrian offering saw a huge drop-off in enthusiasm the following week, as poor word-of-mouth reviews plagued it: the final product, as usual, not living up to expectations
---
Batman versus Superman, on its face, seems such an intriguing construct though. We are unabashedly drawn to comparisons like Willie v The Mick, the US Government v John Gotti, et al, and iPhone v Android.
But what if we were to compare two REAL superhero castings? Let's say, the US Army's Rangers and the US Navy's SEALS. And just for sh*ts and giggles, what if we compared their individual crucibles — their selection processes — and attempted to discern which was the harbinger for guaranteed future toughness or success? Let's attempt to glean which selection program applied the most pain to its candidates. Is graduating from Ranger School a more daunting task than making it through the Navy's difficult Basic Underwater Demolition/SEAL training? And is earning a Ranger tab easier or more difficult than being awarded a SEAL Trident?
And, which course actually results in more drop on requests--a fancy term for quitting? And how can we compare completion rates?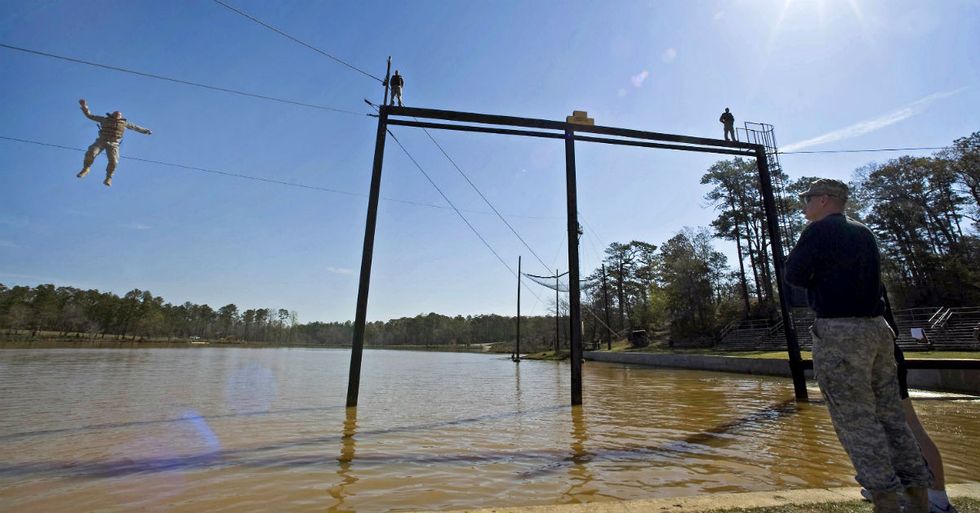 Ranger training. Photo courtesy of US Army.
The comparative analysis is difficult. To my knowledge, I haven't heard of any former Rangers or SEALS transferring service branches and then embarking on the pursuit of their new branch's most elite distinction. Maybe there does exist the unique American stud — or committed glutton for punishment — who chose this path of dual misery, and accomplishment. But I haven't come across any stories chronicling some. With this in mind, I am going to share my reflections on some unique experiences I was privileged to have been afforded during my thirty-three years of government service.
That professional service began when I graduated from West Point in 1987 and was branched as an officer into the Infantry. During the course of my four-year military career, I attended Army Ranger school and graduated with class 4-88. I turned 23 while incarcerated in the mountain phase, endlessly trekking up and down the formidable peaks of the Tennessee Valley Divide. While I wasn't the class Honor Graduate, I did fairly well throughout the demanding course of instruction and was lucky enough to graduate with my tab, on time, and without being recycled to repeat a phase.
I served during the Cold War Era and the American military buildup precipitated by President Reagan's stare-down of the Soviets. The 10th Mountain Division had just been reconstituted in 1985, following its long dormancy beginning when WWII ended. Officers and non-coms were selected for the unit's rebirth only if they possessed the coveted tab. Division brass was intent on modeling the 10th after the Ranger battalions. My assignment to the 10th was contingent on my graduation from Ranger School. Failure to graduate meant a reassignment to the 197th Infantry Brigade (Mechanized), and the embarrassing stigmatization that would assuredly follow that failure.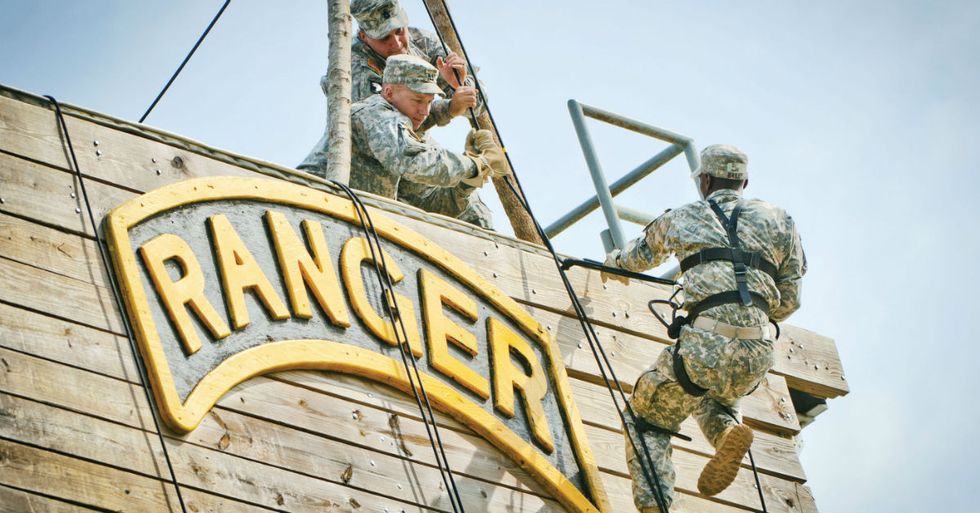 Photo courtesy of US Army
From those fledgling days of (re)existence, the 10th Mountain Division has now distinguished itself as a solid and repeatedly deployed war-fighting machine in the conflicts in Afghanistan and Iraq. But it's mid-1980's formation with Ranger leadership was critical to its early success and reestablished prestige as a unit. So, in mid-March of 1988, I arrived at 2-14 Infantry battalion headquarters in my starched BDU's with freshly attached Ranger tab.
The tab carries with it a certain distinction. And that respect for its woven black and gold threads stems from the hardship endured to earn it — the US military being one of the last bastions of meritocracy in this new 21st century era of everyone-gets-a-trophy.
Historically, the failure rate at the US Army Ranger School fluctuates between 50% – 65%. A portion of those failures, DORs, are self-inflicted. There doesn't appear to be available statistical data that highlights just how many of those failures are related to DORs.
So, after ETSing from the Army on February 1, 1991, I packed up my quarters at Ft. Drum, NY, loaded my then-wife, newborn son, and two rescue dogs into my '88 Chevy Blazer, and headed south to the FBI Academy at Quantico, VA, where I began the 20-week course to become an FBI Special Agent. In June of same year, I posted to the FBI's New York City Office's Brooklyn-Queens Metropolitan Resident Agency, and began a proud 25-year career as a Fed.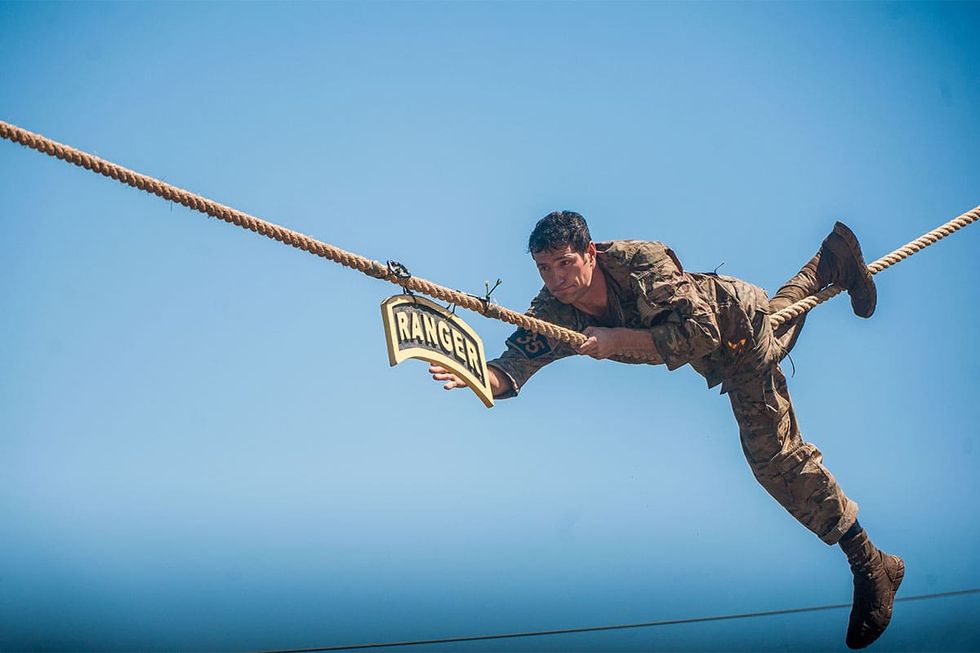 U.S. Army photo by Patrick A. Albright
Along the way, I was selected for the FBI's elite Hostage Rescue Team, where I served as a counter-terrorist operator on Echo Assault Team from 1997 – 2001.
And in the Fall of 1998, while serving as one of Echo Team's divers, and recently returned from deployments to Africa (US Embassy bombings) and North Carolina's Nantahala Forest (search for '96 Olympics bomber Eric Rudolph), I was suddenly tapped to deploy to Coronado, California, with three of my fellow HRT diver teammates, for a once in a lifetime experience.
I was an "old man," all of 33 years. And though I was in peak physical condition, having spent almost a year and a half lifting, and running, and training at a HIGH level … I was in for a rude awakening.
It was September of 1998, and Dave, Jeff, Matty, and I checked into the Naval Special Warfare Center at Naval Amphibious Base Coronado and were officially informed we'd be joining BUD/S class 220. We had just offloaded our rental cars and strode across the sand dunes separating the BUD/S compound from the Pacific Ocean. Worst thing we could have done was to time our arrival with the conduct of Hell Week for BUD/S class 221. Long before casual observers had been treated to Discovery Channel documentaries on the course of instruction to become a SEAL, the four of us took in the spectacle.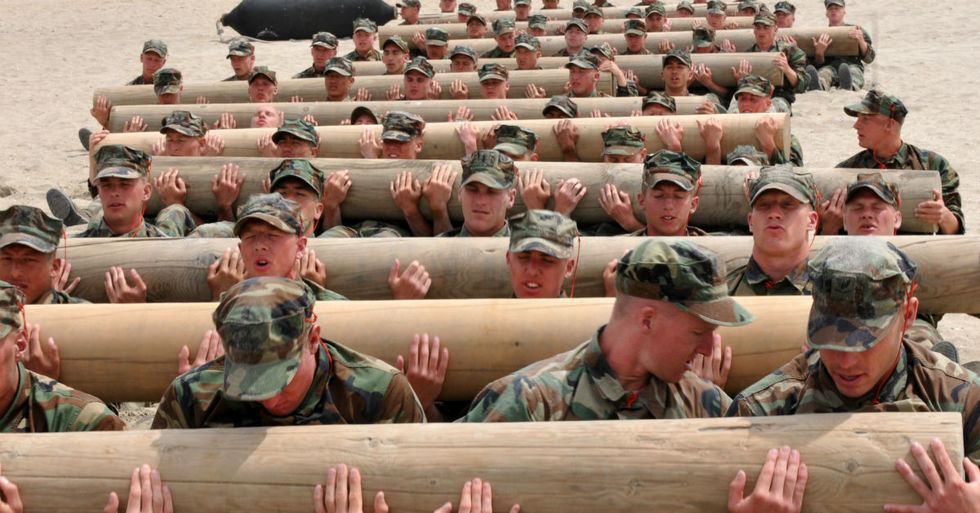 Navy photo by Mass Communication Specialist 2nd Class Shauntae Hinkle-Lymas
Exhausted youngsters — many between 18 – 20 years old — slogging along at the water's edge, ferrying inflatable RHIBs, lifting massive logs over their heads, performing a staggering amount of "corrective actions" — flutter kicks, crunches, push-ups, and bear crawls. All accompanied by the monotonous, annoying, and ever-present Instructor "motivationals" echoed through a hand-held loud-hailer.
After we'd ingested all the observed pain and misery we could and signed in at NWSC, my HRT colleagues and I made our way over to the Second Phase HQ, a low-profile, nondescript group of single-story military buildings, and introduced ourselves to the cadre.
"All good," the congenial class proctor stated. Get over to the BOQ on Mainside. Drop your gear off, change into UDT shorts and your yellow HRT PT shirts, and we'll meet you at the pool for your qualifying PT test — 500 meter swim, push-ups, sit-ups, pull-ups, and mile and a half run in Bates brand combat boots. We even rolled our wool socks down over our boots exactly the way the SEALs did.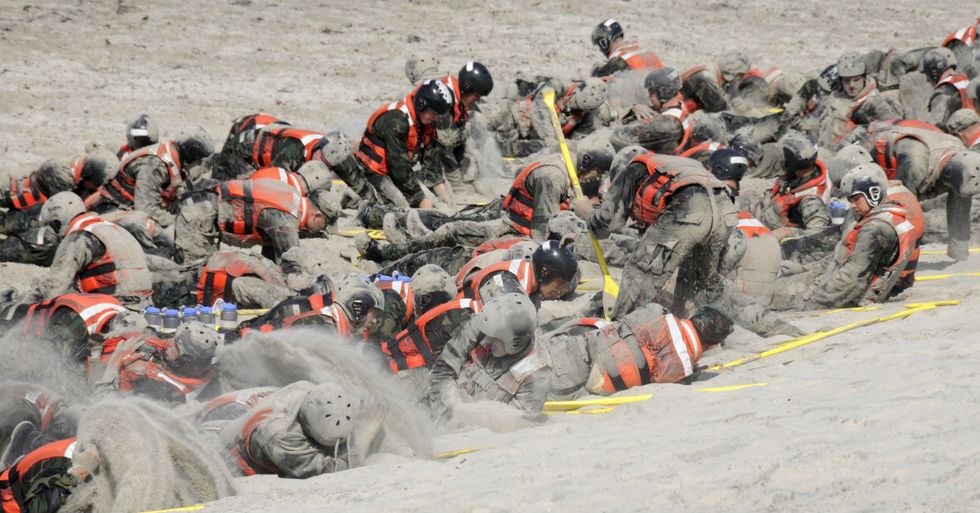 Navy photo by Petty Officer 1st Class Michael Russell
When in Rome…
And so it began. After easily completing the fit test required of all BUD/S aspirants, we joined class 220 as they began the initial stages of Phase Two. The classroom portions on Dive Physics weren't too daunting — the four of us had the benefit of college degrees — but the daily regimen of early morning PT was an eye-opener. Yes, the four of us were quite fit. But we were also in our thirties, and didn't take part in the same skill-specific training one receives in the BUD/S preparatory course the Navy offered its young sailors interested in becoming frogmen. And we didn't have the benefit of true youth. If we were professional athletes, we'd be desperately trying to find an organization to sign us, so we could come off the bench, with a head coach "managing our minutes."
We also didn't have the benefit of having taken part in the first phase of BUD/S; that unforgiving crucible that weeds out the weak and strengthens the committed. The relationship between the USN and HRT was a long and durable one. Many of the early generation FBI-HRT operators had been SEALs (as well as former Rangers, Green Berets, and Marines). Compared to the military's special operations units, HRT was an infant, having come on line in 1983, as a civilian counter-terrorist option for the 1984 Olympics in Los Angeles. The '72 debacle in Munich was a not-so-distant memory. And US law precluded the military from acting as law enforcement inside the United States.
So, here's the thing: While I was certainly younger and my body more resilient as a 23-year-old when I completed Ranger School, ten years later, when I attended the Dive Phase of BUD/S — open circuit (SCUBA) and closed circuit (LAR-V rebreather) — with my HRT colleagues, I was certainly more experienced, savvy, and skillful at my craft. But that didn't aid in the recovery time my body desperately needed between evolutions at BUD/S. Every night, the four of us limped back to our BOQ and attempted to "heal" before the fun began again the next morning, bright and early.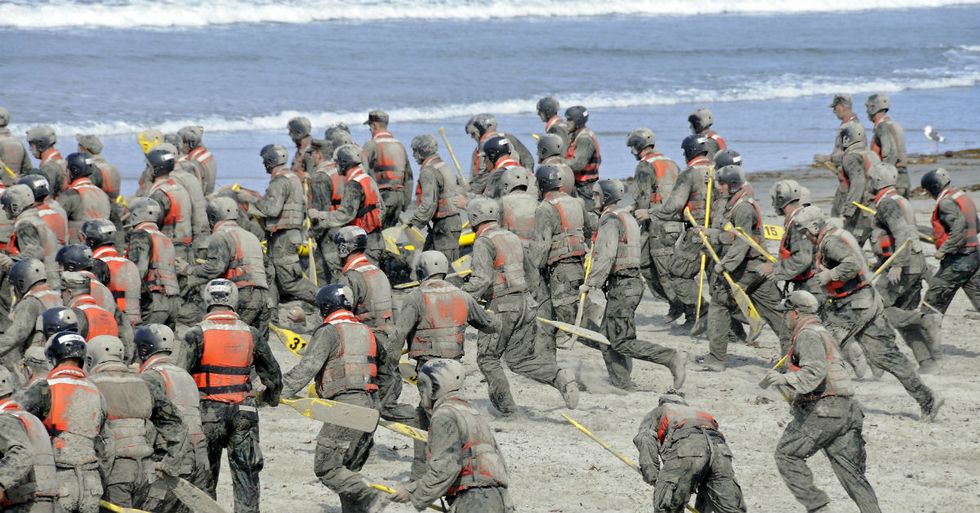 Navy photo by Petty Officer 1st Class Michael Russell
On the ground (or in the sand), we were the BUD/S students equals. We four were strong runners and could complete the grinders of push-ups, pull-ups, sit-ups, flutter kicks, and crunches as well as any of the kids in 220. On the beach, during timed four mile runs, we were more than their equals, often having to hold back so as not to bring the SEAL Instructors' wrath down upon our classmates, as in:
"Hey, you pathetic pieces of human filth and fecal matter, why are you letting these old-ass FBI-HRT guys beat you on a timed run? You'll all be 'paying the man' if you allow this to happen again!"
Yes, the typical SEAL Instructor was wicked smart and imbued with a great sense of wit and timing.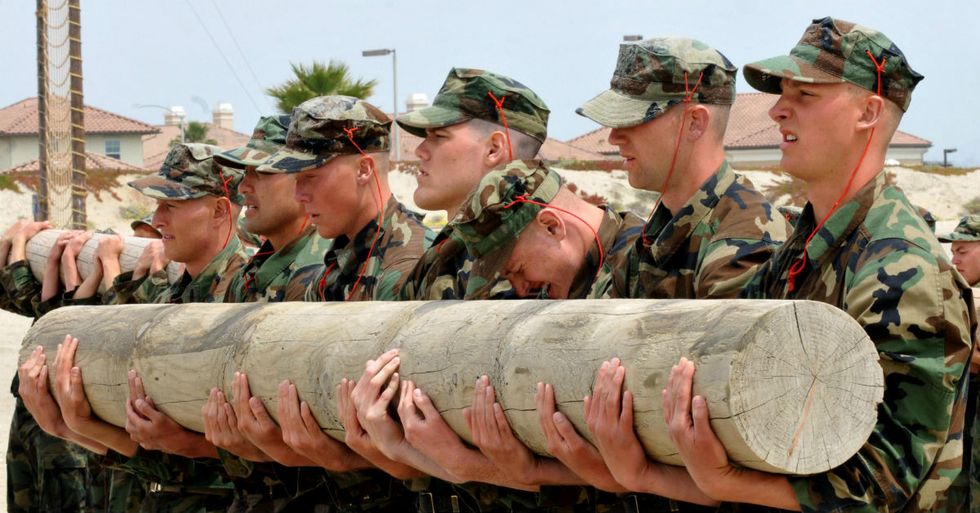 Navy photo by Petty Officer 2nd Class Shauntae Hinkle-Lymas
We reined in our run times, not wanting to cause any more pain to the young men who so graciously accepted us into their fraternity — despite the fact we hadn't shared the excruciating pain of First Phase and Hell Week with them.
One of the most special gifts I've ever received in the course of my life was to be afforded a Hell Week t-shirt from BUD/S class 220. This class-specific attire made us feel a part — if only for a moment — of their exclusive club. It was truly an honor and I cherish the now tattered shirt emblazoned with the class motto that borrowed from William Ernest Henley's short and powerful Victorian poem Invictus:
Beyond this place of wrath and tears

Looms but the Horror of the shade,

And yet the menace of the years

Finds and shall find me unafraid.
During the course of our "internment" at BUD/S, we also participated in the required weekly SEAL Obstacle Course completion. It was an ass-kicker. And again, as I reminisced about my days at Ranger School and tangling with the infamous Darby Queen Obstacle Course, I have to give this round to the SEALs, as well. In the summer of 1998, we HRT guys were fit, relatively young, nimble, agile, and strong. We had all the necessary tools required to excel at the SEAL Obstacle Course. But it was still a daunting task to make the required times. We did so, narrowly, and aided by the Instructor allowance for us to use a rope traversing technique that wasn't available to the BUD/S students in Second Phase. [Full disclosure: we were also permitted to discreetly utilize calculators for the long division and multiplication required in the classroom on the dive physics exams]
Well, as proficient as we HRT guys found ourselves in PT, on the sand dunes and while partaking in the dreaded "soft sand runs," we quickly ascertained that the water, however, was a different story altogether. Here's where those same young kids flat-out kicked our assess. On the weekly open-water two-mile swims, Dave, Jeff, Matty, and I were "competent." We were all notably strong swimmers who had been hand selected by HRT Dive Team cadre to "represent" at BUD/S.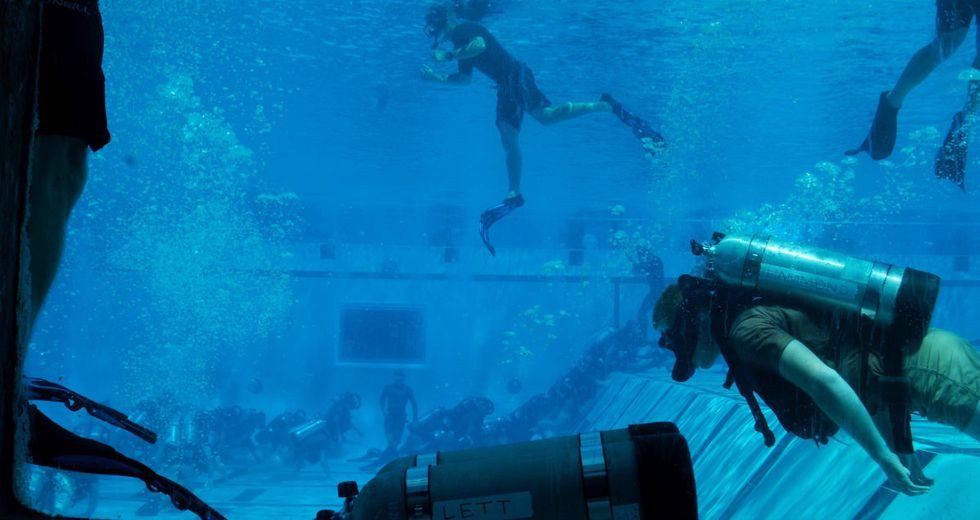 Navy photo by Mass Communication Specialist 3rd class Megan Anuci
While we consistently barely made the required times, we were often the last, or next to last teams to come in.
But we were in no condition to compete with the damn dolphins that BUD/S students typically morphed into by Second Phase. The water became our Waterloo of sorts.
But it was pool competition, or pool comp in SEAL shorthand, that really cemented for me what the BUD/S experience was about, and just why SEALs are a cut above all others in the Special Operations community.
And, yes, we four HRT guys participated in pool comp.
And, again, it was another eye-opener.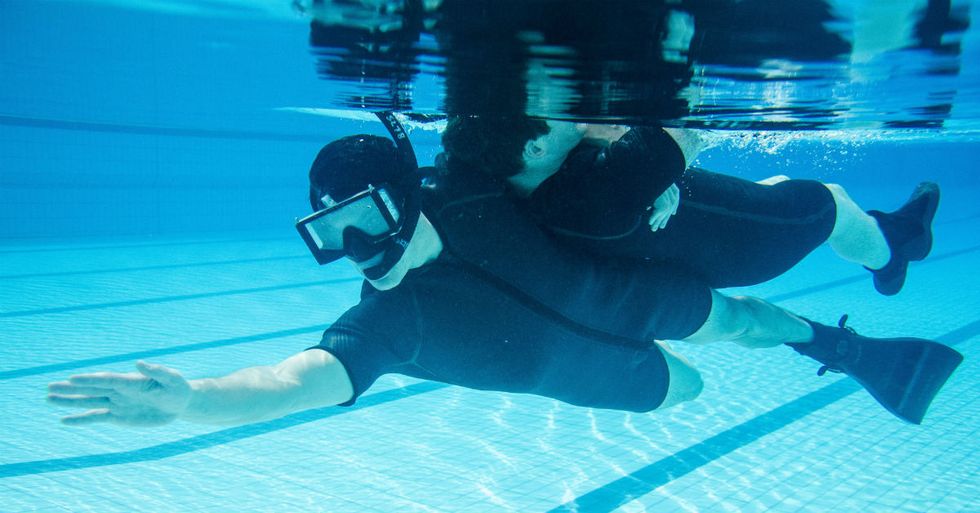 Navy photo by Mass Communication Specialist 2nd Class Antonio Turretto Ramos
SEAL Instructors had their own comically dreadful names for the knots they would tie in your hoses underwater. As a BUD/S student, your job was to diligently cycle through a sequence of trouble-shooting procedures to untangle the mess of knotted hoses and restore your air supply…while on a breath-hold. And you had to do so without exhibiting any signs of panic. We were treated to the Matlock and the Babilock — two impossibly difficult and deviously conceived knots named after two particular SEALs on the cadre. Failure to extricate your gear from the wicked devices of the seasoned knot-tying instructors OR failure to work through the prescribed sequence for trouble-shooting your crippled gear led to a failure. Two failures in the same event and you earned a rollback — just like the nefarious recycle at Ranger School — to the next class, if you were lucky not to be dropped from the course.
There's a reason that, as Rob O'Neill, former SEAL Team Six counter-terror operator — the man who killed Bin Laden — stated to Howard Stern recently, on his eponymous Sirius radio program, that some 85% of BUD/S attendees don't graduate.
BUD/S is tough — even the teensy-weensy taste of it that I experienced. It's REALLY tough. And it sucks.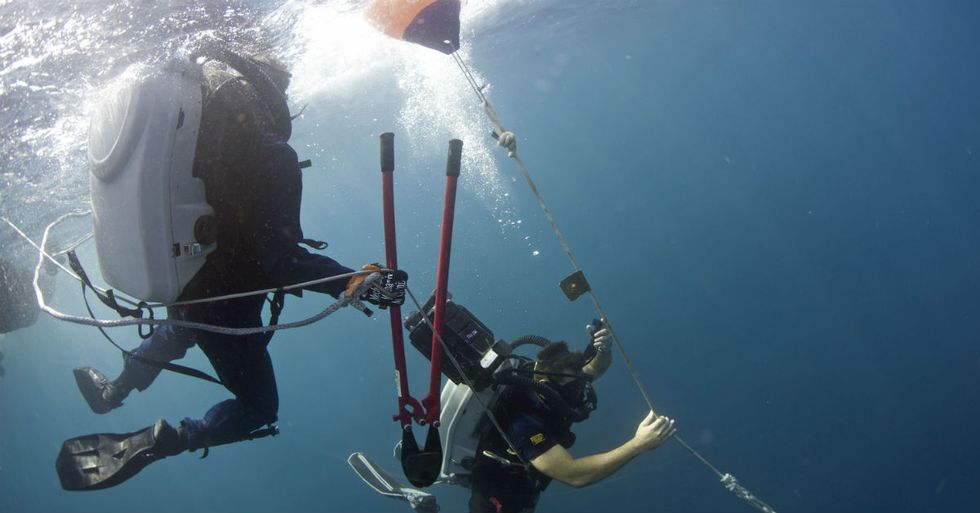 Navy photo by Mass Communication Specialist 3rd Class Jumar T. Balacy
Ranger School was "uncomfortable" and difficult for all the reasons that include sleep deprivation, starvation, and relentless physical overexertion. It was a grind. And reports from recent graduates confirm it's STILL a grind.
At BUD/S, however, they fed you lots of chow, and in Second Phase, getting eight solid hours of sleep was never an issue. But just as in Ranger School, you had to perform, to make sound decisions, to accomplish critical military tasks and objectives when your body was futilely attempting to heal, and always with the overzealous instructors omnipresent in your ear…
…but you did it at depth.
Whether at the bottom of the 15-foot pool, on the Coronado Bay side, or in the unforgiving waters of the Pacific Ocean, performing at depth takes special operations training to another level entirely. We were forced to conduct doff and don procedures, and buddy-breathing exercises — you know, like sharing the same oxygen supply at depth and while performing tasks like an equipment exchange. There were insanely long breath-holds, while enduring the Instructor-assaults associated with the dreaded pool comp. Then there was the archaic (by design) and cumbersome Jacques Cousteau era twin 80's tanks and leaky two-hose regulators which made for a purposeful panic-induced set of pass/fail evolutions. Yes, I believe the experiences to be the closest thing to waterboarding — sanctioned "almost-drowning" — that there is. And it's legal!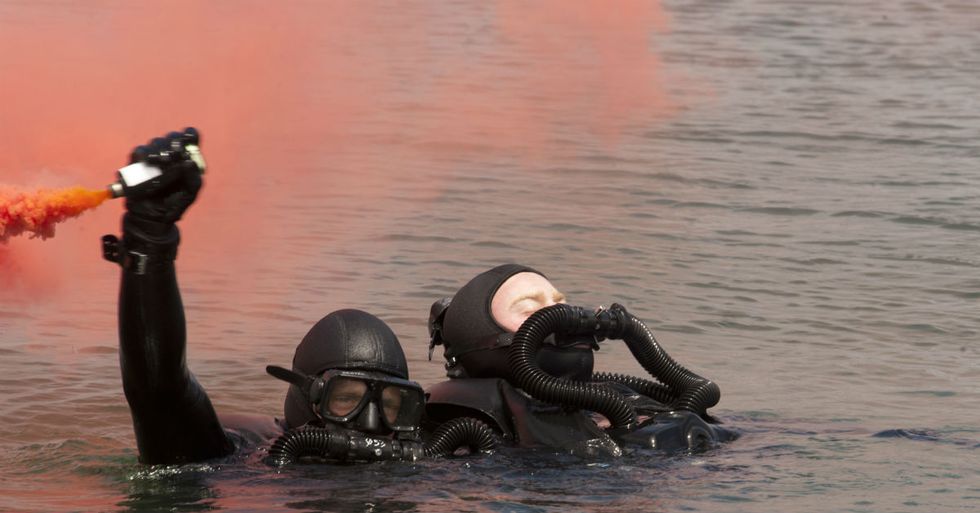 Navy photo by Mass Communication Specialist 2nd Class Dominique M. Canales
Learning to dive with the Dräger (or Draeger) closed circuit rebreather gear — the LAR-V — was the purpose behind sending HRT divers to BUD/S. So, no, in a civilian law enforcement capacity, there's no need to learn the craft of placing limpet mines on enemy ship hulls. However, learning the advanced system of transit-diving that allows an operator to approach a target underwater, bereft of telltale bubbles is a key skillset for HRT to have at its disposal. That was the purpose behind the relationship we had with the Navy and is how we ended up enrolled in the Second Phase of BUD/S.
The advanced dive skills we learned were necessary. The voluntary participation in PT and mild hazing — being dropped for push-ups or forced to become "wet and sandy" — the "sugar cookie" punishment — was part of earning our stripes and being accepted as outsiders within the close-knit SEAL and BUD/S community.
Make no mistake about it — we weren't to become SEALs and weren't subjected to a fraction of what the Navy candidates endured, but we certainly gained a modicum of appreciation for the process.
And again, as difficult as Ranger School was to complete, the 8 weeks I spent at BUD/S proved that there's a clear distinction between difficult and difficult-at-depth.
Navy photo by Mass Communication Specialist 3rd Class Adam Henderson
Apologies, fellow Rangers, but this round goes to the Navy's SEALs. I've been up close and personal with both Selection processes. 81 torturous days at Ranger School did not compare to the tiny portion of the year of misery available to BUD/S candidates that I experienced.
Rangers, can I get a Hooah!
And SEALs, while we're at it, how about a Hooyah!
And let's forever remember that we're ALL part of the same team!
God bless the United States of America and God bless and protect our brave Special Operators who continue to confidently stride into places full of wrath and tears, and do so bravely, selflessly and willingly.
Thank you.
Originally published July 2017.