Articles
July 31, 2020 11:27:00 EST
On Feb. 25, 1968, a patrol left the besieged Khe Sanh garrison — where U.S. Marines were outnumbered by North Vietnamese forces almost 4 to 1 — and was drawn into a well-executed ambush.
---
The patrol, conducted by two squads, was nearly wiped out and few survivors managed to crawl out of the jungle. It was later dubbed "The Ghost Patrol."
One of the Marines listed as lost in the battle, Pfc. Ronald L. Ridgeway, actually spent the next five years in solitary confinement in a North Vietnamese prison camp before returning to the family that had "buried" him months after his disappearance.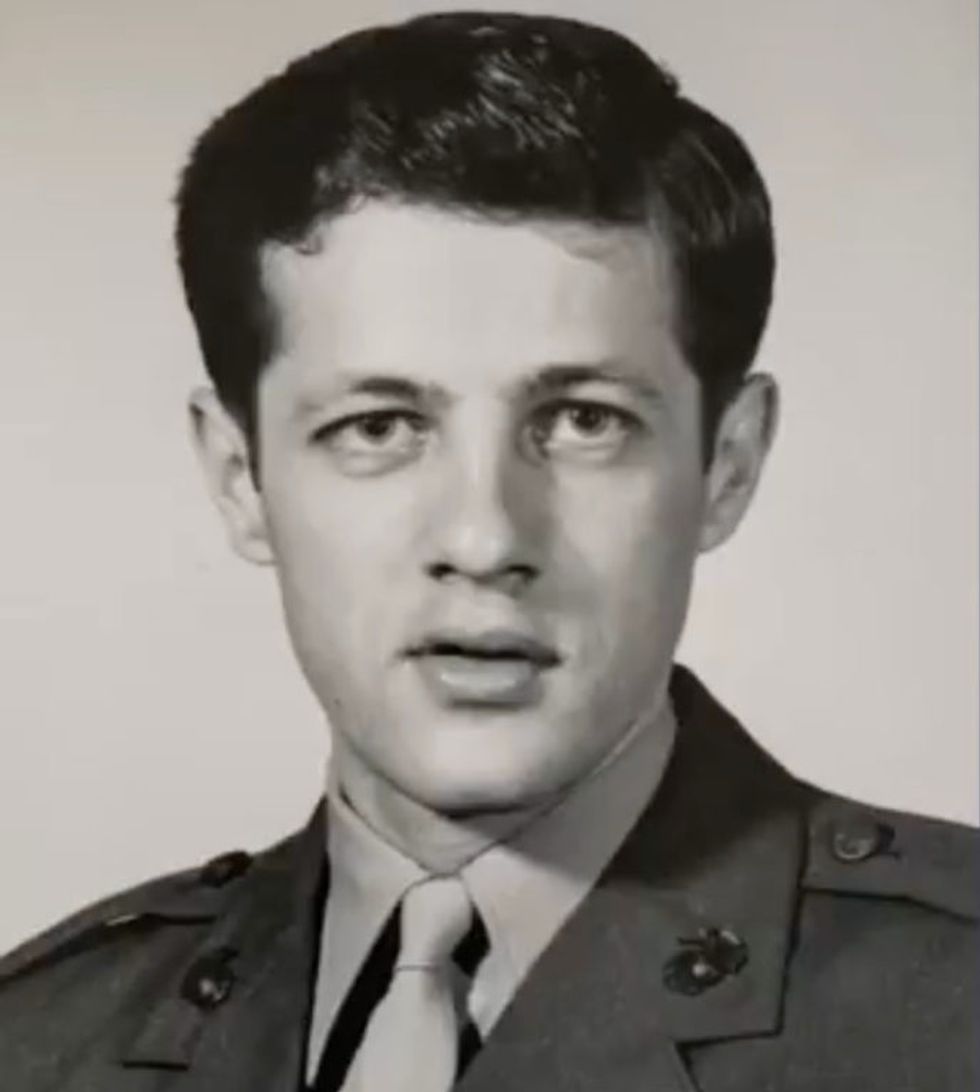 Marine Pfc. Ronald Ridgeway (Photo: YouTube/Vietnam Veteran News Podcast)
The Battle of Khe Sanh began when the North Vietnamese attacked one of America's northernmost garrisons near the border between Vietnam and Laos. Army Gen. William Westmoreland had predicted the attack months before and reinforced the base with additional men and munitions and ordered repairs and upgrades to the base's airfield.
When the North Vietnamese attacked on Jan. 21, 1968, it quickly became clear that the preparations weren't enough. The 6,000 troops were attacked by an enemy force that would eventually grow to an estimated 20,000 to 40,000 enemies, and the carefully hoarded supply of artillery and mortar rounds were 90 percent destroyed by an enemy artillery attack that hit the ammo dump.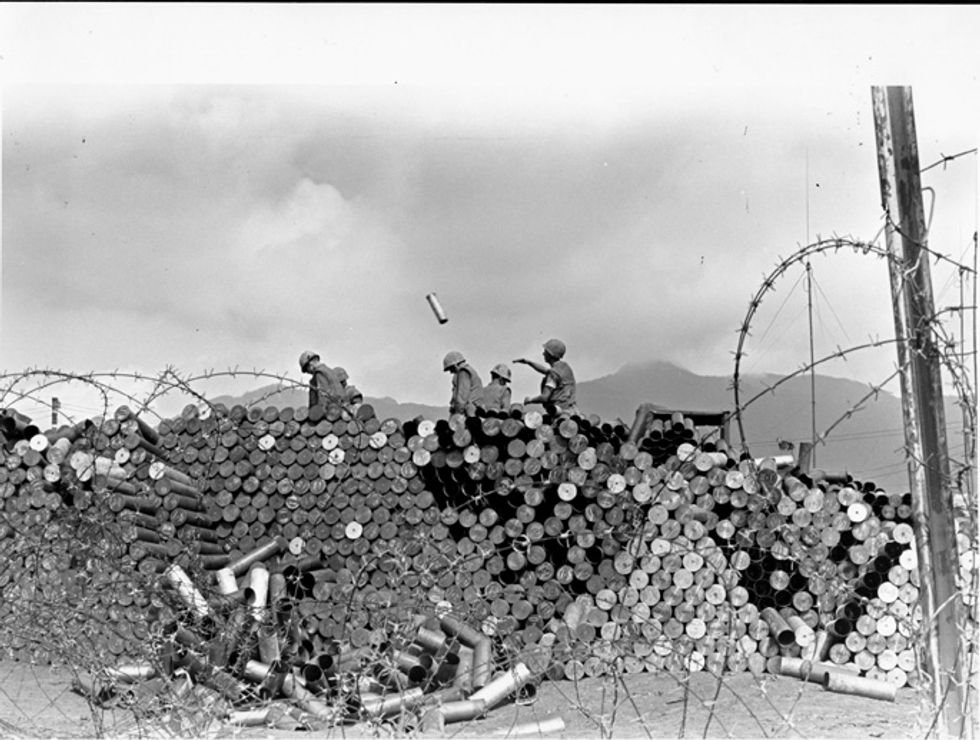 And the Marines needed that ammo. They went through it at a prodigious rate while trying to beat back the siege. (Photo: U.S. Marine Corps)
Westmoreland convinced President Lyndon B. Johnson that the base should be held at all costs, triggering a 77-day siege that required planes to constantly land supplies on the improved airfield.
The Marines and other troops on the base sought continuously to knock the North Vietnamese off balance and to relieve the pressure on the base. The February 25 patrol aimed to find North Vietnamese and either kill them or take them captive to collect intelligence.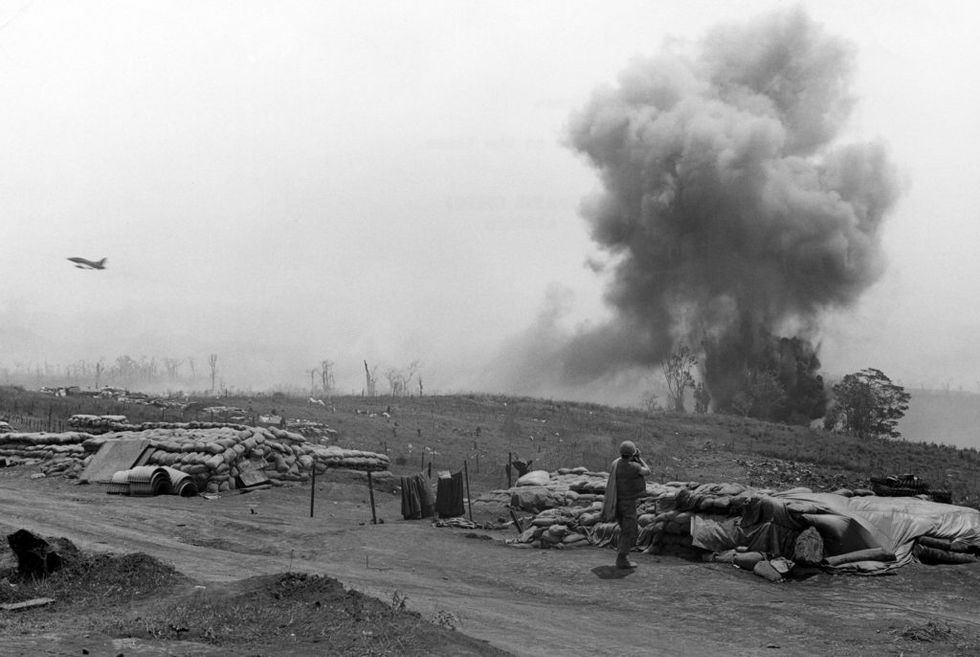 F-100 strikes close to the lines while supporting the Marines at Khe Sanh on March 15, 1968. (Photo: U.S. Marine Corps)
It was led by an inexperienced lieutenant who, after his men spotted three enemy fighters who quickly fled, ordered a full-speed chase to capture or kill them despite advice to the contrary from others.
The three enemies turned out to be bait, and they drew the Marines into a nearly perfect crescent-shaped ambush.
The Marines fought valiantly, but they were taking machine gun and other small arms fire from three sides mere moments after the fight began. Grenades rained down on their position as they sought cover, concealment, and fire superiority.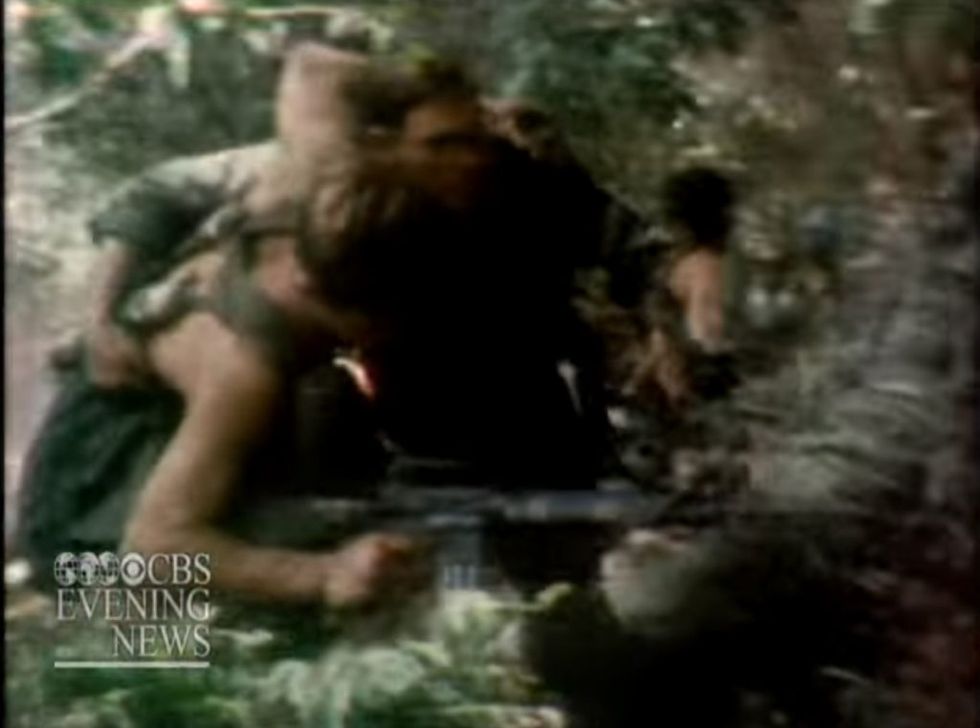 Infantry Sgt. Kregg Jorgenson is rushed behind friendly lines during a firefight in the Vietnamese jungle.
(Image: YouTube/CBS Evening News)

Under increasing fire, Ridgeway and another Marine attempted to break contact and return to the base, but they came across a wounded Marine on their way. Unwilling to leave an injured brother, they stopped to render aid and carry him out.
As they stopped, bursts of machine gun fire hit the three Marines, wounding all three. One was killed by a grenade moments later, another died of wounds that night, and only Ridgeway survived despite the enemy shooting him in the helmet and shoulder. He was later captured when a Vietnamese soldier tried to steal his wristwatch and realized the body was still breathing.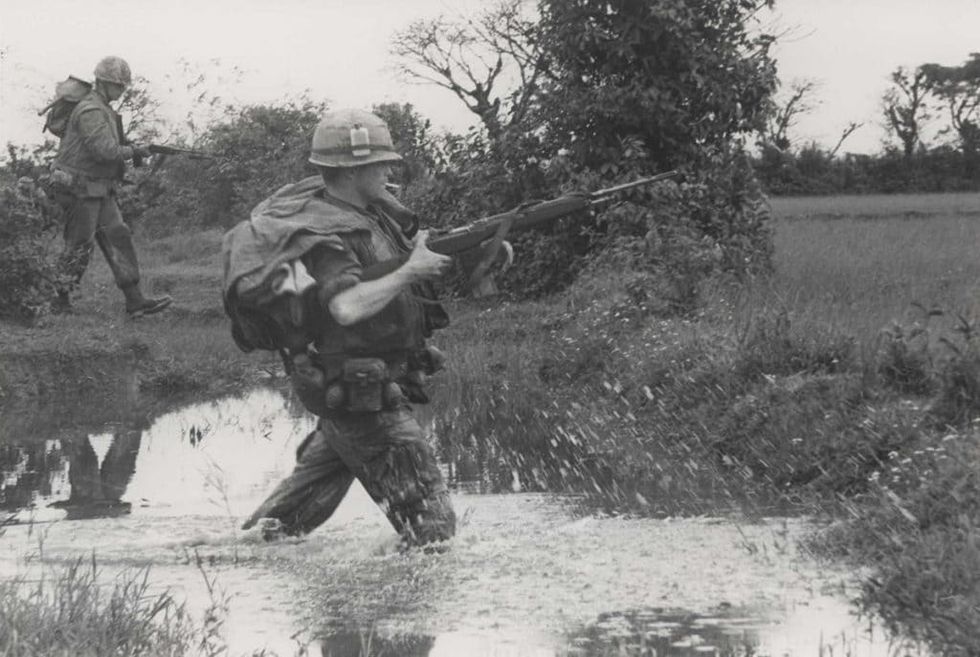 A "Walking Dead" Marine crosses a river under fire in Vietnam. (Photo: U.S. Marine Corps Lance Corporal E. L. Cole)
That September, his family was part of a ceremony to bury unidentified remains from the battle and memorialize the nine Marines presumed dead whose bodies were only partially recovered.
But for five years after the battle, Ridgeway was an unidentified resident of the Hanoi Hilton, undergoing regular torture at the hands of his captors.
It wasn't until the North Vietnamese agreed to a prisoner transfer as part of the peace process in 1973 that they released his name to American authorities, leading to Ridgeway's mother getting an alert that her son was alive.
Five years after the battle and four years after his burial, Ridgeway returned to America and was reunited with his family. He later visited the grave and mourned the eight Marines whose names shared the list with his. A new memorial was later raised with Ridgeway's name removed.