Articles
December 06, 2016 09:00:47 EST
CLEMSON, S.C. -- Expect to be impressed when you meet a Marine, but when that Marine is a 96 year-old Pearl Harbor survivor who challenges you to a pull-up contest, prepare to be blown away.This is one of many things Clemson University student Will Hines of Spartanburg has learned in conducting the Veterans Project, an ongoing undergraduate research project to collect and preserve the personal accounts of American war veterans so that future generations can hear those stories directly from the men and women who lived them.
---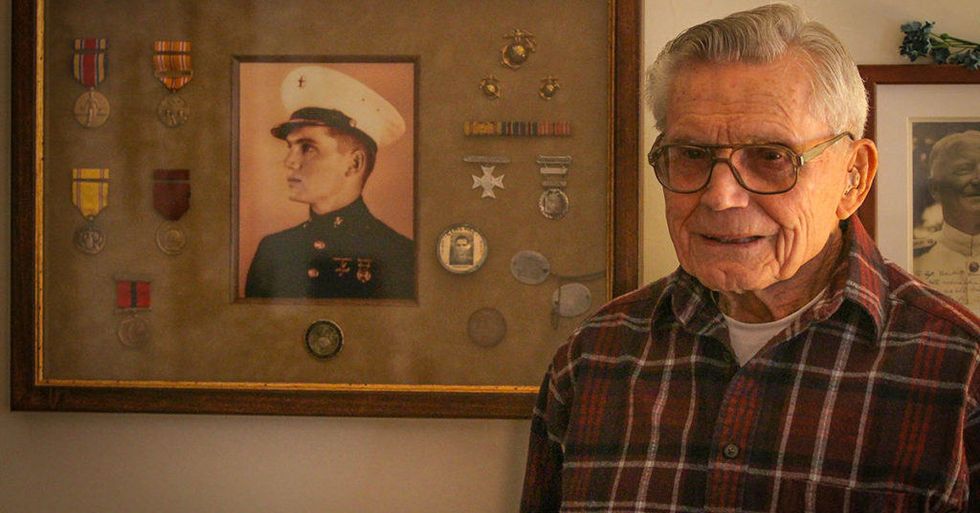 Retired U.S. Marine Staff Sgt. Robert A. Henderson, 96, a Pearl Harbor survivor, does pullups in his home gym May 28, 2015. He attributes his longevity and health to discipline, integrity, faith in God, and being faithful in marriage (he and his wife will celebrate 70 years together this year). He works out three times a week, rain or shine, doing pullups, curls, bench presses, rowers and running on his treadmill. "Living this long is no accident," he said. "It takes work." Henderson served the duration of WWII, culminating at the Battle of Okinawa. "I was in the first and last battles of the war." (U.S. Army photo by Sgt. Ken Scar)
Interactions with truly amazing veterans like this are just some of the fringe benefits students who participate in the project enjoy. The Veterans Project is an example of community-engaged learning at Clemson, which has a military history dating back to its founding in 1889.
Hines, a junior business management major from Spartanburg, became involved in the project because of his life-long fascination with history.
"I've been interested in veterans since I was little. I met my great uncle when I was about 7 years old. I found out he landed on five islands in the Pacific, and I asked him a ton of questions," he explained. "I was able to interview him in high school -- for fun, not for anything specific -- which helped me become closer to him. He was wounded twice -- once on Okinawa from a grenade rolled down a mountain. Meeting him really influenced how I became interested in studying the history of America' s conflicts."