Articles
August 27, 2020 11:31:00 EST
Allied troops on the beaches of Normandy got a shocking view of the future of warfare in 1944 when, as they were moving supplies from ships to the shore, a jet-powered, Nazi bomber ripped past at approximately 460 mph.
---
The Arado Ar 234 was the first operational jet bomber and flew at up to 540 miles per hour, so quick that no Allied fighter could match it without going into a dive.
In fact, one flight of P47 Thunderbolts spotted a flight of three Ar 234s 10,000 feet below them in 1945 and attempted to use the Thunderbolt's high dive speeds for an attack run. The Nazi pilots waited until the Americans had almost reached them and then tore away at full speed as the P-47s coughed on their smoke.
For the air crews assigned to protect the American forces landing supplies in Normandy in August 1944, attacking the Arado was essentially impossible. Loaded with reconnaissance gear, it flew over the beaches at 460 mph while taking a photo every 11 seconds.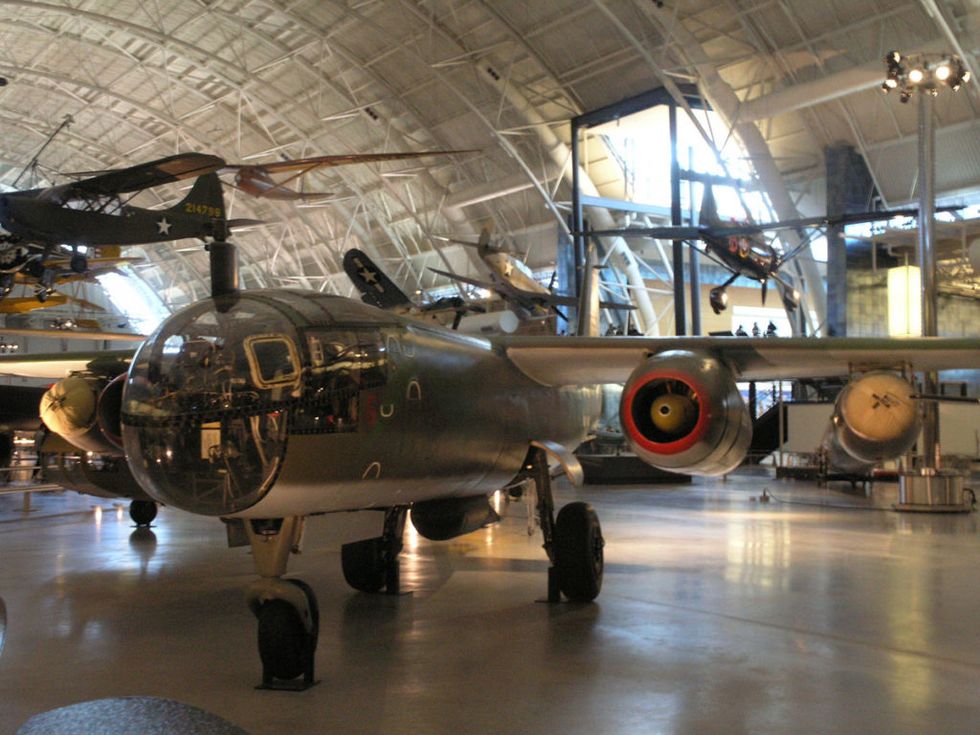 The only known surviving Arado Ar 234 Blitz aircraft now rests at the Smithsonian Air and Space Museum. (Photo: Michael Yew CC BY 2.0)
At that speed, it could fly over all five original D-Day beaches in less than eight minutes. By the time that fighter aircraft made it into the air to hunt the Arado down, it would already be long gone.
That didn't quite make the Arado invincible, though. Like the slightly slower British de Havilland Mosquito, a prop-driven British bomber and reconnaissance aircraft that go its speed from its light weight, the Ar 234 was left vulnerable when it was forced to maneuver or slow down for bombing runs.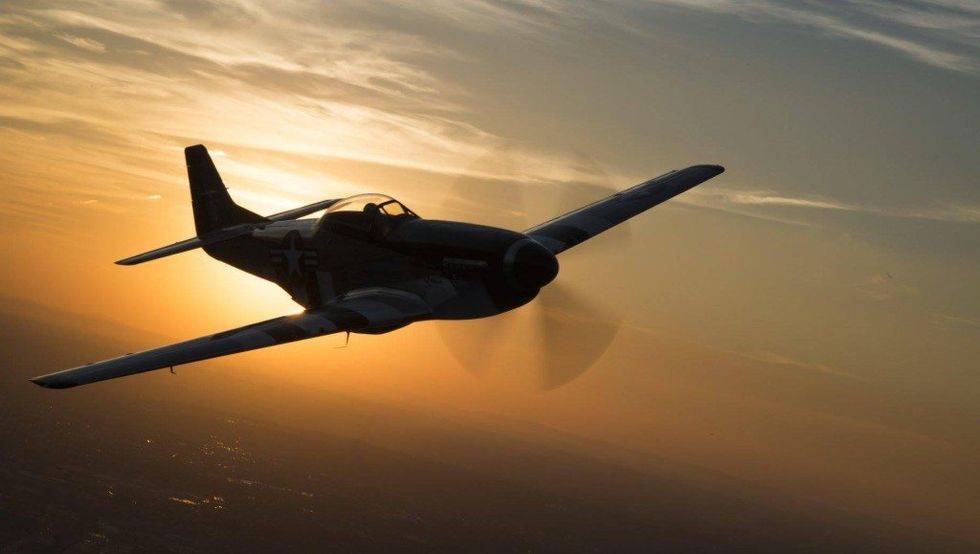 The P-51 is one of the only aircraft to shoot down an Arado Ar 234 in flight. It did so thanks to a group of P-47 Thunderbolts that forced the jet-powered bomber into a speed-bleeding turn. (Photo: U.S. Air Force Airman 1st Class Philip Bryant)
One of the only Ar 234s ever shot down was caught because it was forced into a sharp turn while coming out of a bombing run.
A group of German jets were bombing Allied bridges on the Rhine when a group of American P-47s came at them. The German jets took a tight turn to avoid the P-47s, losing so much speed that they were left vulnerable. American Capt. Don Bryan was in a P-51 nearby and was able to position himself so that the turning German planes had to fly just underneath him.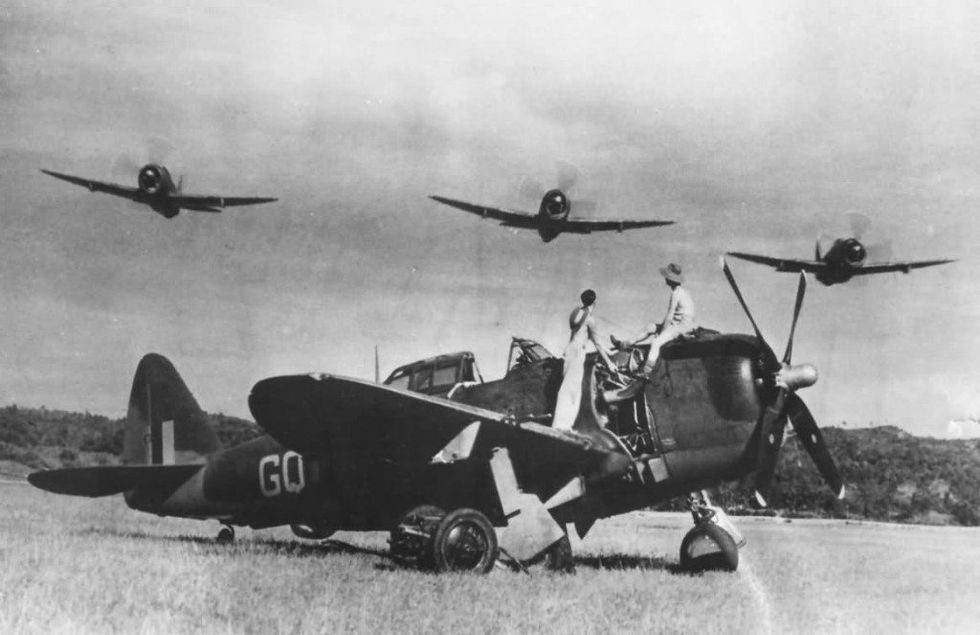 Republic P-47C-2-RE Thunderbolts of the 61st Fighter Squadron, 56th Fighter Group. (Photo: U.S. Army Air Force)
Bryan made his attack in a dive which allowed his Mustang to keep up with the German jet while his .50-cal machine guns chewed through the Arado's right engine. The German pilot was left without momentum, without adequate engine power, and with too little altitude. He went down with his jet.
Adolf Hitler considered the Ar 234 one of his wonder weapons that would save Germany, but it suffered from a number of shortcomings. First, the fragile engines needed an overhaul after every ten hours of flight and were replaced after 25. The jet also needed long runways and large amounts of fuel, two things that were hard for a Luftwaffe on the retreat to provide with regularity.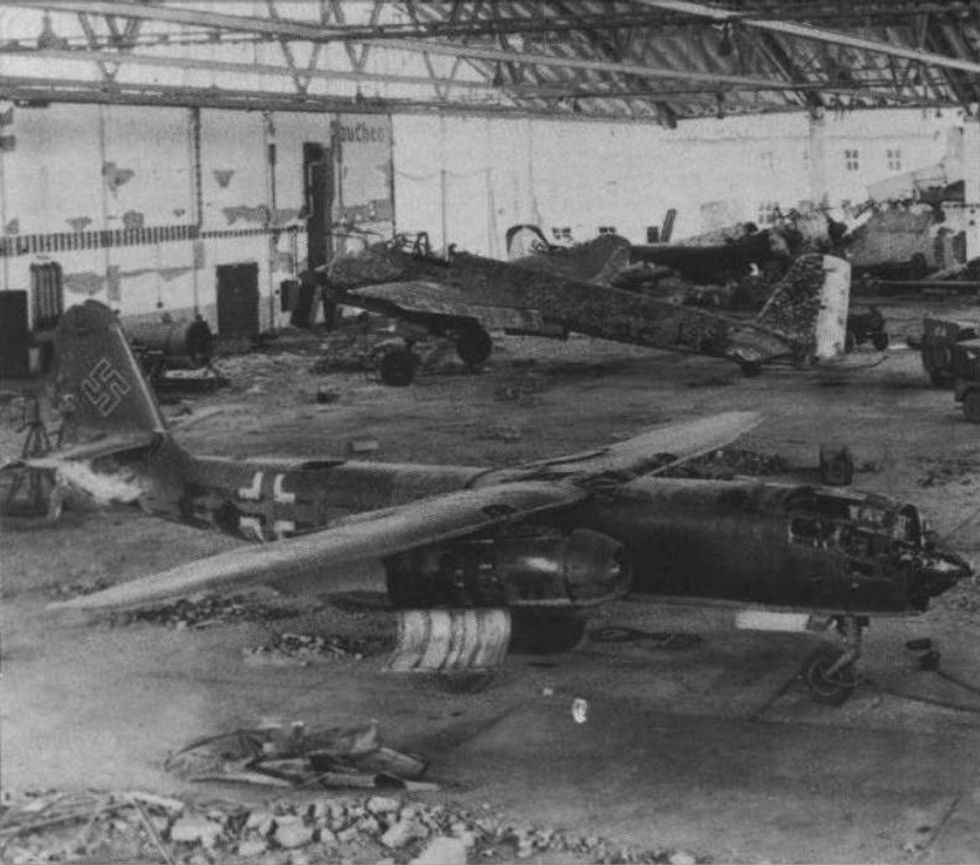 An Arado Ar 234B bomber sits in a captured hangar with Junkers Ju 88G. (Photo: U.S. Army)
In the end, the jets were sent on just a few operational missions. The Normandy reconnaissance was the first, and they also did duty over the Ardennes during the Battle of the Bulge and in the final defense of Germany, flying first against the bridges over the Rhine and later against Soviet troop concentrations.
The only surviving Ar 234 is in the Smithsonian's National Air and Space Museum.