Articles
May 14, 2015 15:52:24 EST
It's always fun to sit around and war game which country could beat up which, and it's even better when you have hard facts to back up your decisions.
---
Below is a summary of the top ten militaries in the world, according to Global Firepower, which tracks military power through publicly-available sources. We've scrapped Global Firepower naval comparisons since they track naval strength by number of ships, making a patrol boat equal to a supercarrier. This list of the largest navies by weight is being used instead.
Below the spreadsheet we've added a breakdown of each military power.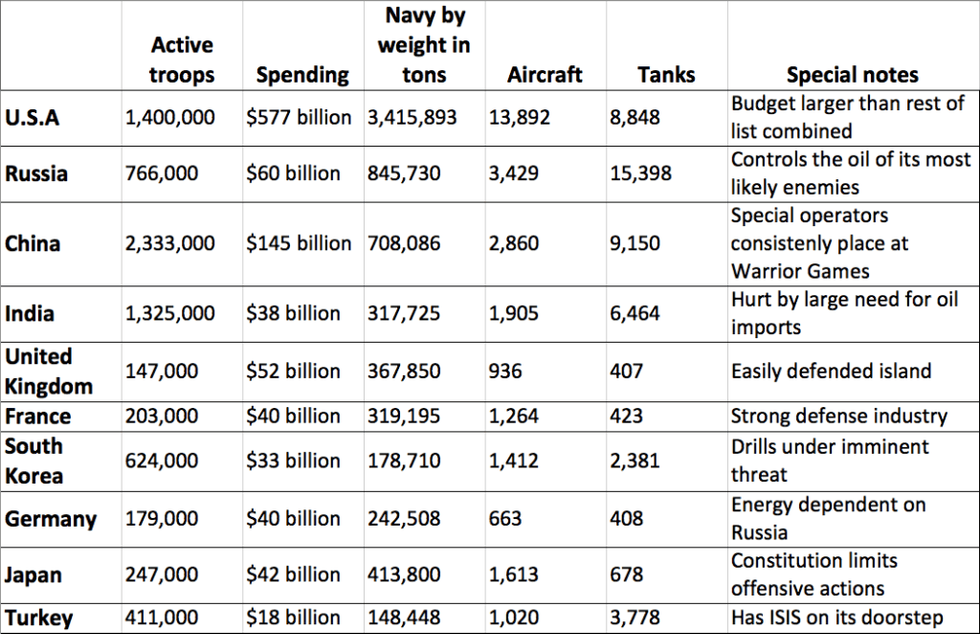 Photo: US Army Visual Information Specialist Markus Rauchenberger
Germany got a decent rank on Global Firepower and a great one at National Interest due to a strong economy, military spending, and good training. However, news coming out of Germany suggests its position may be weaker than it appears on paper. It consumes much more oil than it produces, and imports come from Russia, its most likely adversary. Germany's ability to weather an oil shortage is also decreasing as it moves away from coal and nuclear power. Also, it's facing a major problem with its standard rifle.
9. Japan
Japan would be ranked higher if its people had a greater appetite for war. The sixth largest military spender, it has the fifth largest air fleet and the fourth largest navy. Still, a lackluster ground game drags it down and its constitution limits the military's ability to project force worldwide.
10. Turkey
An expanded military industry bodes of good things to come for Turkey's military. It has a large military population and tank force. It is upgrading its navy. The Turkish preparations for war are becoming more urgent as ISIS stands at its doorstep.
Related Articles Around the Web