Articles
December 29, 2015 07:43:57 EST
It was a dynamic, often turbulent, year around the military community. 2015 saw domestic terrorism, growing aggression from former Cold War adversaries, and the Pentagon dealing with unprecedented budgetary and cultural challenges. Here are WATM's picks for the top 15 stories of the year:
---
1. The "American Sniper" controversy
The Clint Eastwood-helmed biopic from real-life American sniper Chris Kyle divided the U.S. like a red Starbucks cup. The film earned a whopping $100 million during its opening weekend, but inconsistencies from the book and the depictions of certain onscreen combat actions (like taking aim at a child in Iraq, for example) sparked a few anti-war tweets from actor Seth Rogen and filmmaker Michael Moore. The movie also caused  a backlash about how much of a hero Kyle really was, bringing into question whether the all of the events Kyle wrote about really happened.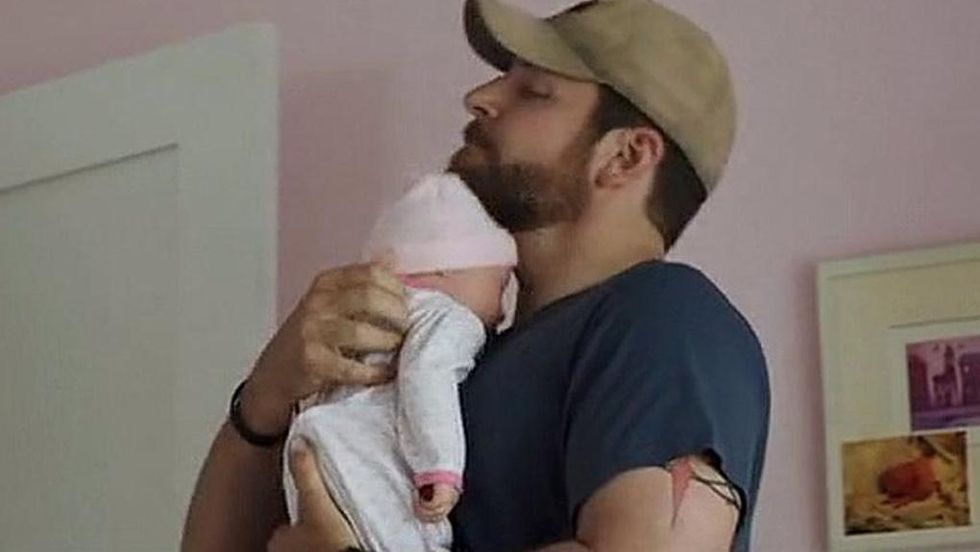 As much as military experts lauded the film for "getting it right" in terms of technical detail and overall atmospherics (including the challenges of reintegration) "American Sniper" also exposed that the civilian-military divide is alive and well.
2. Troops deployed to fight Ebola outbreak return from West Africa
In 2014, President Obama ordered 2,800 U.S. troops and Department of Defense personnel to West Africa to help combat the Ebola epidemic there. Liberia, Sierra Leone, and Guinea were the hardest hit, with more than 22,000 reported cases and more than 8,000 confirmed deaths from the virus. U.S. troops were vital to the mission to contain the victims and maintain the quarantines. In February 2015, all but 100 of those troops deployed returned home, not a single one infected by the virus.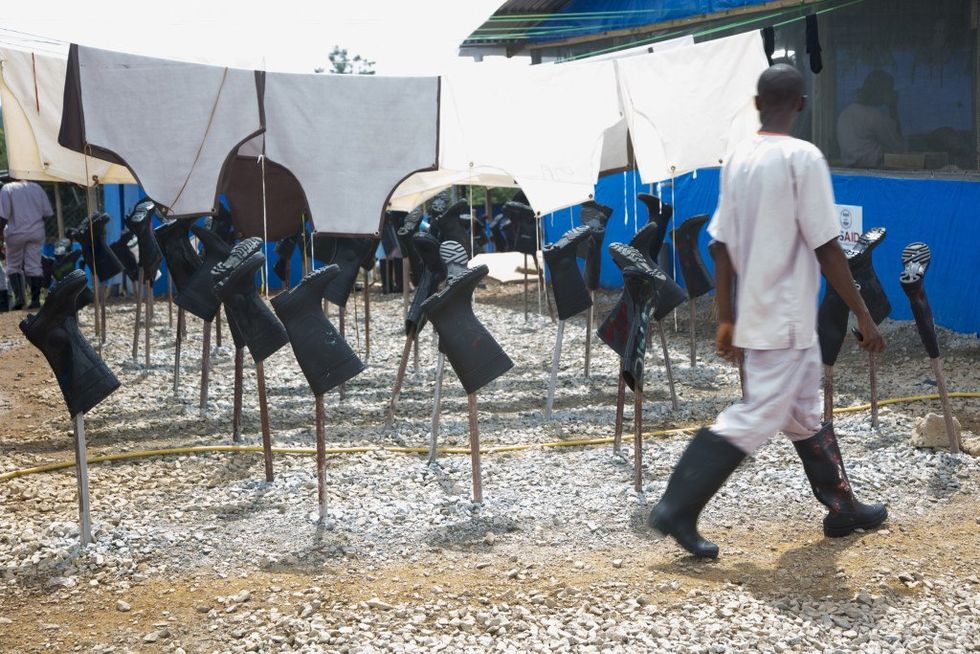 A local worker walks past rows of boots and aprons drying in the sun after being decontaminated at an active Ebola treatment unit built as part of Operation United Assistance in Suakoko, Liberia. United Assistance is a Department of Defense operation to provide command and control, logistics, training and engineering support to U.S. Agency for International Development-led efforts to contain the Ebola virus outbreak in West African nations. (U.S. Army Photo by Sgt. 1st Class Brien Vorhees)
"Military engineers oversaw the building of new Ebola Treatment Units; military logisticians directed the deployment of life-saving resources from across the globe; and military doctors supported the brave men and women who treated patients every day," said Rajiv Shah, then-head of the U.S. Agency for International Development.
3. Bowe Bergdahl faces general court martial
The Army, for more than a year, deliberated on just how to deal with the aftermath of the Bowe Bergdahl incident. Though it is clear Bergdahl walked away from his post during his last deployment to Afghanistan in June 2009 and was held until his release in a prisoner exchange with the Taliban in 2014, the Army stated its belief that there is no evidence Bergdahl engaged in any misconduct while held captive by the Taliban and Haqqani Network. The matter was sent before a four-star general to review the facts for a possible court martial.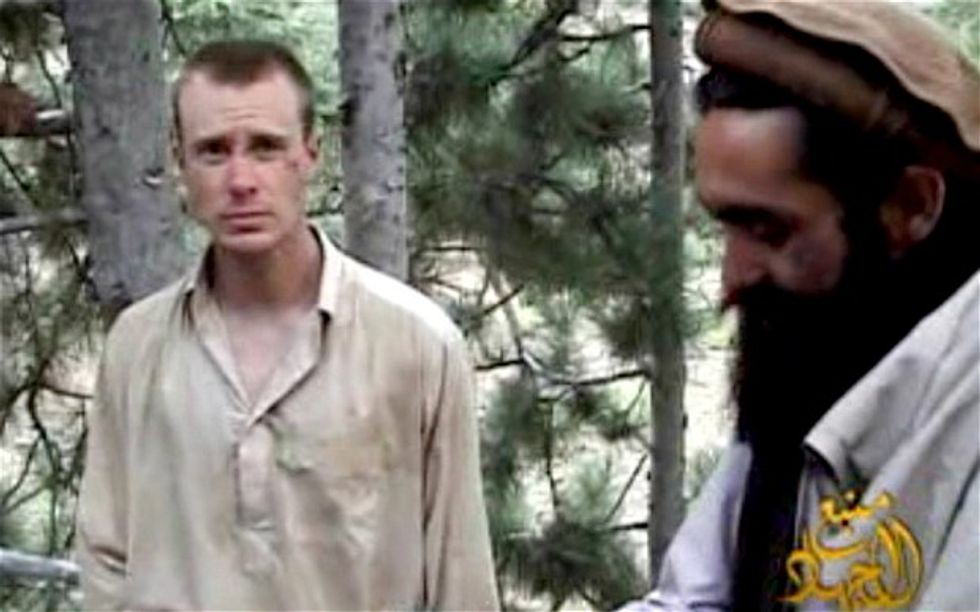 A clip from a video released during Bergdahl's captivity.
In March, the Army charged Bergdahl with "desertion with intent to shirk important or hazardous duty" and one count of "misbehavior before the enemy by endangering the safety of a command, unit or place." Sgt. Bergdahl's story is now the subject of the wildly popular "Serial" podcast, featuring interviews with those for Bergdahl's unit, as well as his Taliban captors.
4. Donald Trump blasts Sen. John McCain's service record
Trump was speaking at the Family Leadership Summit in Iowa in July when moderator Frank Luntz asked the Presidential candidate about an incident where McCain referred to Trump's supporters as "the crazies." Luntz referred to the Arizona Senator as a "war hero."
"He's a war hero because he was captured... I like people who weren't captured," Trump replied and then told the audience that McCain "graduated last in his class at Annapolis (Naval Academy)." After the event, Trump released a statement:
"I am not a fan John McCain because he has done so little for our veterans... I have great respect for all those who serve in our military including those that weren't captured and are also heroes."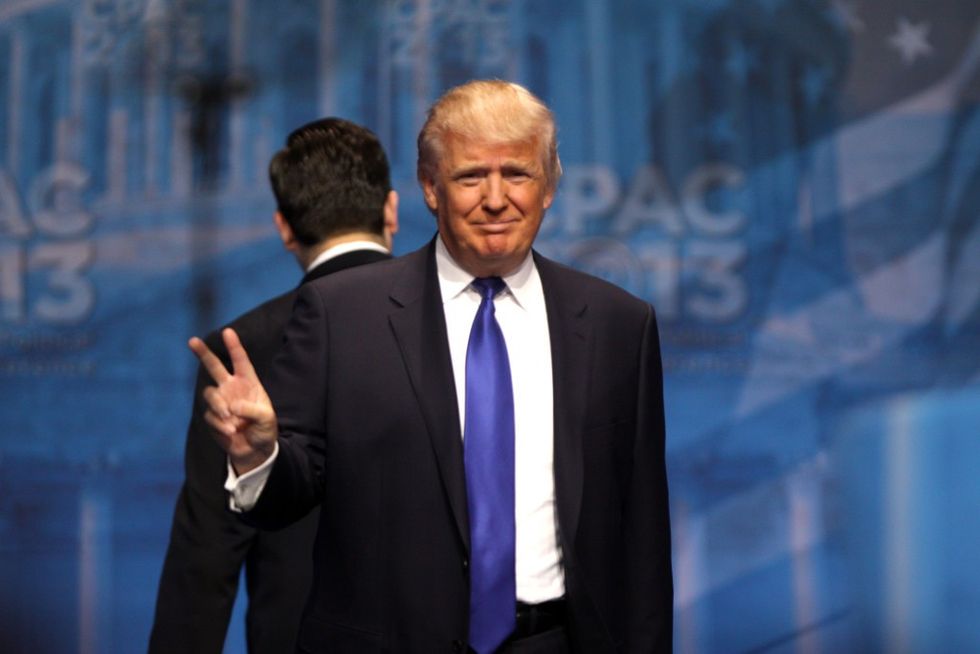 The statement was condemned by the Republican Party, other GOP hopefuls, and much of the American media. Sen. McCain did not immediately comment. McCain, who was shot down over North Vietnam in 1967, spent the next six years being beaten and tortured as a POW in the infamous "Hanoi Hilton." He appeared on MSNBC's Morning Joe shortly after Trump's remarks, but did not demand an apology.
"I'm not a hero," the 78-year-old senator said. "But those who were my senior ranking officers ... those that inspired us to do things we otherwise wouldn't be capable of doing, those are the people I think he owes an apology to."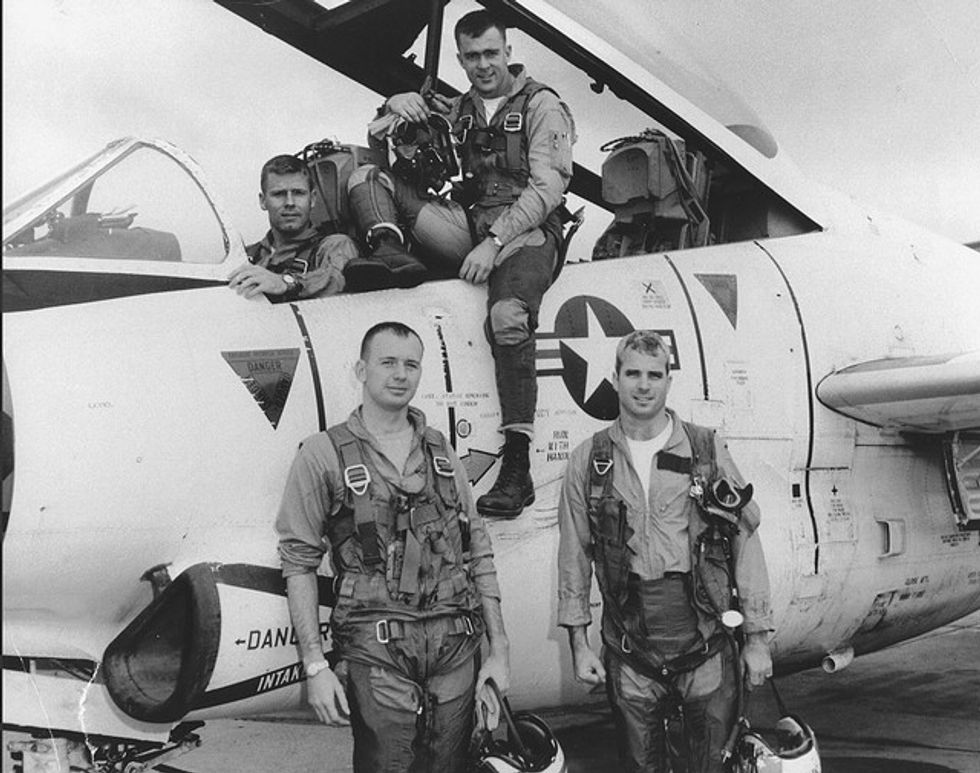 McCain in Vietnam (Library of Congress photo)
"I think he may owe an apology to the families of those who have sacrificed in conflict and those who have undergone the prison experience in serving their country," McCain added. "When Mr. Trump says he prefers to be with people who are not captured, the great honor of my life was to be in the company of heroes."
5. Marines who lowered the American Flag in Havana raise it again
In January 1961, three U.S. Marines in Havana, Cuba lowered the U.S. embassy  flag for the last time. The day before, President Eisenhower severed diplomatic relations with Cuba after a coup brought dictator Fidel Castro to power. Castro ordered all but 11 U.S. diplomats to leave Cuba.
One of the Marines, then-Master Gunnery Sergeant James Tracy told CNN he thought the freeze would last only three years. It lasted for 54. In August 2015, Tracy and the two other Marines, then Gunnery Sgt. Francis East and Cpl. Larry Morris, who lowered Old Glory from its Havana post, returned to the site to raise it up again after a thaw in U.S.-Cuba relations saw the two nations exchange diplomats again for the first time in decades.
6. U.S. troops Spencer Stone and Alek Skarlatos prevent terror attacks on a Paris train
In August 2015, a heavily armed Moroccan national was set to shoot up a Paris-bound train, killing as many people as possible. As he exited the bathroom, two Frenchmen attempted to wrest the would-be shooter's AKM rifle away. One was shot through the neck, the other fell to the floor. At that point three Americans -- a civilian named Anthony Sadler, U.S. Air Force Airman 1st Class Spencer Stone and U.S. Army Specialist Alek Skarlatos -- jumped the gunman. Stone put the man in a choke hold, taking repeated stab wounds from a box cutter, while Skarlatos took the attacker's rifle, beating him in the head until the man lost consciousness.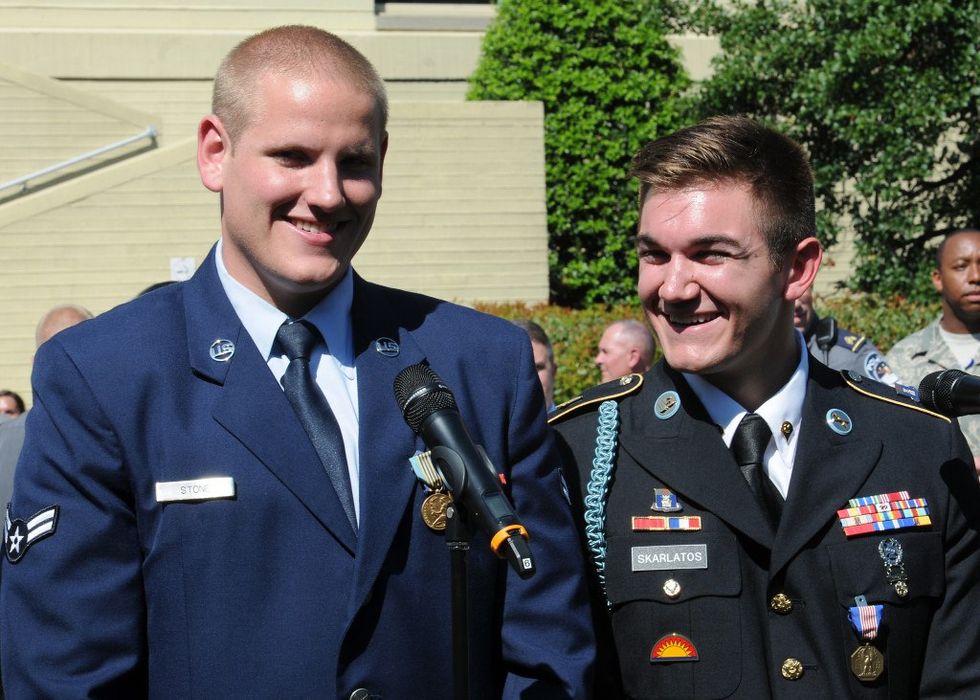 Defense Secretary Ash Carter awards the Soldier's Medal to Spc. Alek Skarlatos, Oregon National Guard, the Airman's Medal to Airman 1st Class Spencer Stone and the Defense Department Medal for Valor to Anthony Sadler, at a ceremony in the Pentagon courtyard Sept. 17, 2015. (U.S. Army National Guard photo by Staff Sgt. Michelle Gonzalez)
As others restrained the attacker, Stone (who is an Air Force medic) tended to the wounds of the first passenger, pushing his finger on the neck artery to stop the bleeding. All survived. Sadler, Skarlatos, and Stone were named Knights of the Legion d'Honneur by French President Francois Hollande. Sadler received the Secretary of Defense Medal for Valor (civilian equivalent of the Distinguished Service Cross). Skarlatos received the Soldier's Medal (the highest non-combat award). And Stone was awarded the Airman's Medal, and Purple Heart. Stone also received a STEP promotion to staff sergeant after his regular promotion to senior airman.
7. First female soldiers earn Ranger Tabs
The two female officers, Capt. Kristen Griest and 1st Lt. Shaye Haver, became the first women to complete the U.S. Army's grueling Ranger school at Fort Benning, Georgia amid the ongoing debate about the roles of women fighting in combat. Griest is a military police officer and Haver is an Apache helicopter pilot. Both are graduates of the U.S. Military Academy at West Point. The two were among 19 women who started the course. A third woman graduated in October.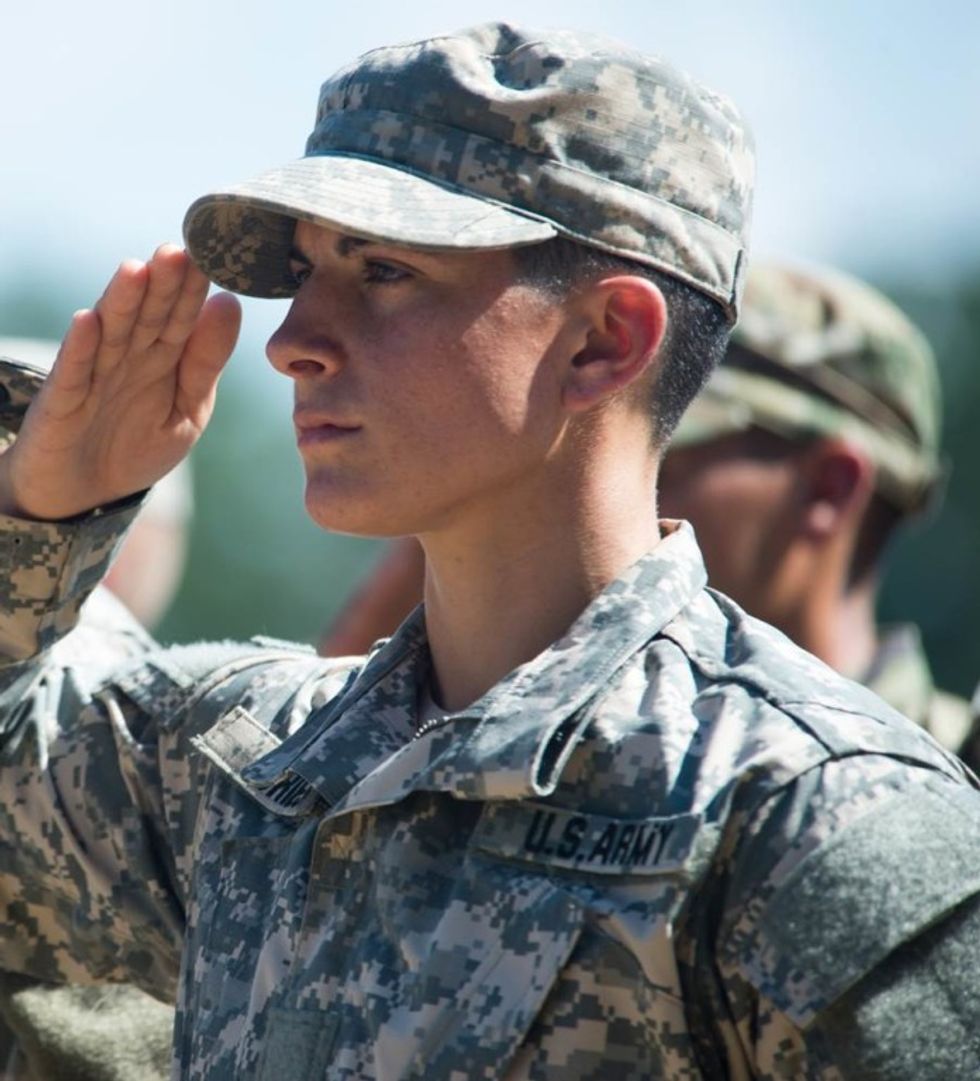 Cpt. Kristen Griest and U.S. Army Ranger School Class 08-15 render a salute during their graduation at Fort Benning, GA, Aug. 21, 2015. (U.S. Army photo by Staff Sgt. Steve Cortez)
8. Russia enters the Syrian Civil War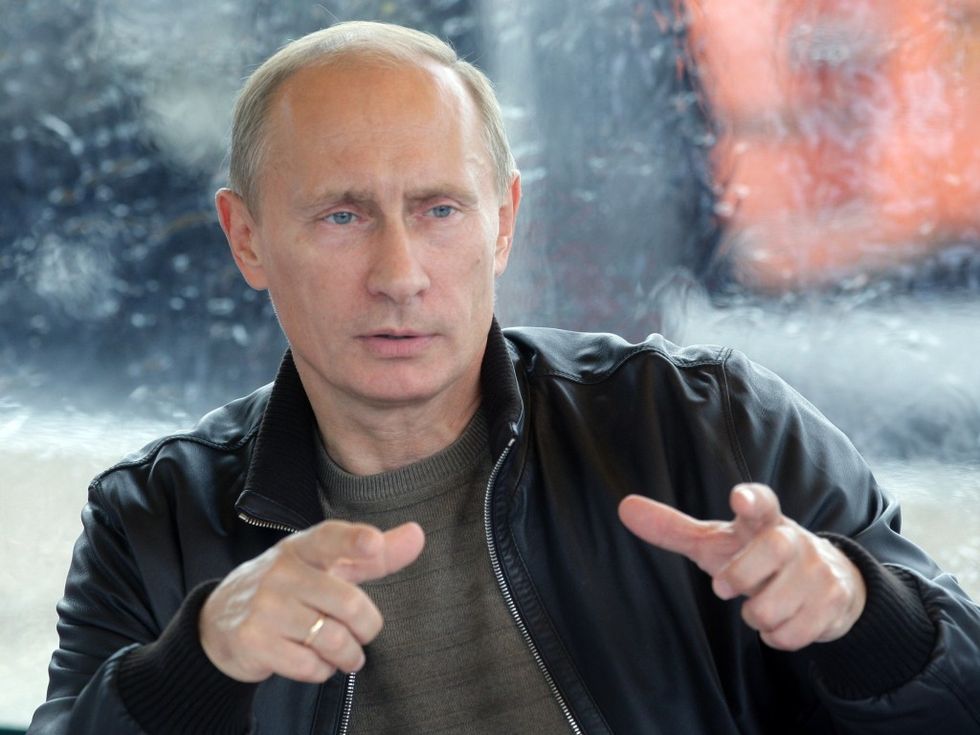 Pew Pew! (Photo from Russian Presidential Press and Information Office)
In September, Russian military aircraft carried out the country's first airstrikes in support of President Bashar al-Asad's regime in Syria. Russian President Vladimir Putin maintained his forces were attacking ISIS positions, but there were many reports of Russian forces attacking anti-regime positions. Russia's support for Syria goes back to the Cold War and the Soviet Union's support for Asad's father, Hafez al-Asad who ruled Syria for almost 30 years before his death in 2000. The issue was made even more complicated after Turkey shot down a Russian aircraft for violating Turkish airspace.
9. Marine Corps publishes a study about gender-integrated units
The Marine Corps released a summary of results in September 2015 based on a nine-month study of gender-integrated units in combat situations. Called "Ground Combat Element Integrated Task Force," the four-page summary described how all-male units performed significantly better on 69 percent of tactical tasks and how female Marines were injured at twice the rate of men. The study also claimed that all-male units were faster, stronger, had less body fat, and were more accurate with every standard individual weapon like M4 carbines and M203 grenade launchers.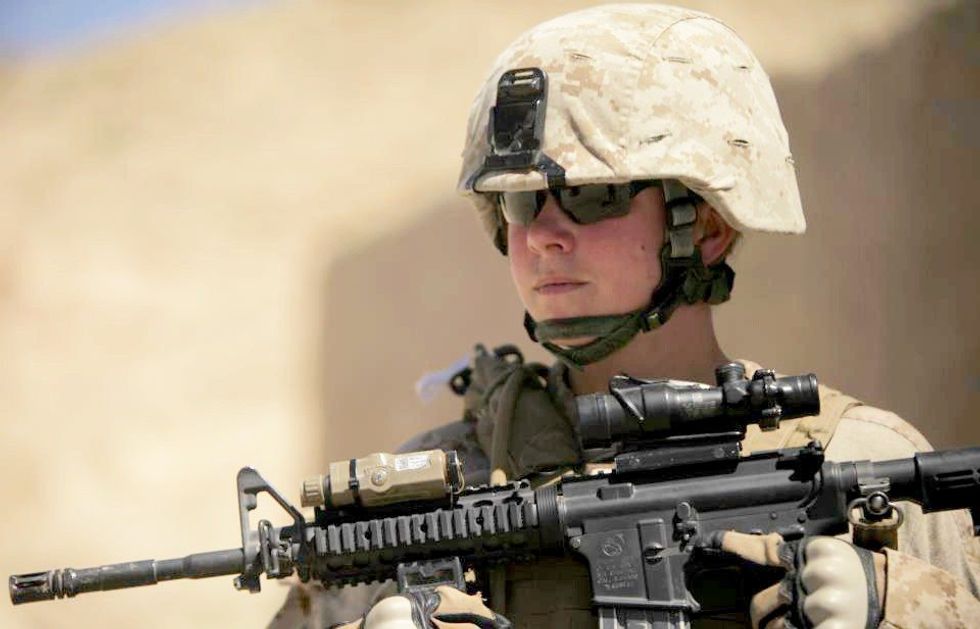 Sgt. Julie Nicholson, Female Engagement Team leader, Marine Headquarters Group, I Marine Expeditionary Force, works with infantry units and coalitions forces to work with Afghan women throughout Helmand Province, Afghanistan. Nicholson is on her second combat tour here and searches women and children for contraband during missions. (U.S. Marine Corps photo)
The study's summary did note the performance of female Marines in individual combat situations and in current overall combat operations, saying: "Female Marines have performed superbly in the combat environments of Iraq and Afghanistan and are fully part of the fabric of a combat-hardened Marine Corps after the longest period of continuous combat operations in the Corps' history."
10. Training "Moderate" Syrian rebels falls apart
The first round of American-trained "moderate" Syrian fighters made their way into Syria in September 2015. They were quickly routed by or defected to the al-Qaeda affiliated Jabhat al-Nusra Front, a Sunni Islamist group. Al-Nusra stormed the rebel headquarters and took some of the fighters hostage. Later the same month, 75 more American-trained Syrian rebels entered the country via Turkey, where the majority of the training takes place. Almost immediately, those U.S.-backed fighters surrendered to the al-Nusra front. The "vetted" U.S.-backed leader, Anas Obaid, told al-Nusra he intentionally deceived the U.S. to get the weapons.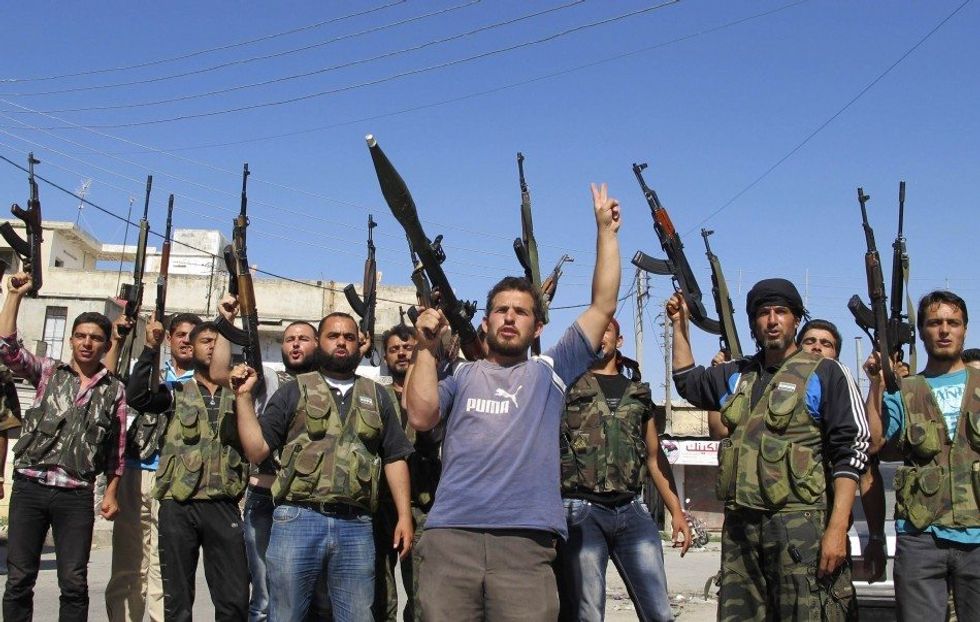 The U.S.' $500 million dollar plan to arm and train "moderate" Syrian rebels was a disaster. CENTCOM, which oversees U.S. military operations in the Middle East, reported of the 5,400 rebels planned to be in Syria fighting ISIS this year, there were only "four or five" active fighters in country. The CENTCOM spokesman went on to say there is no way the goal could be reached in 2015. The Obama Administration nixed the plan to train rebels by October 9th.
11. Congress saves A-10 from the Air Force
The A-10 Thunderbolt II is the only aircraft built specifically for a close-air support mission. The signature feature is its 30mm gatling gun, the GAU-8 Avenger. The distinctive sound made by the weapon (the BRRRRRT – created as rounds fire faster than the speed of sound), has been music to the ears of the troops on the ground, so much so that the plane has earned the nickname of "the grunt in the air." The Air Force wanted to retire the slow-moving but stout plane to make room in their budget for the F-35 Joint Strike Fighter, which Air Force Chief of Staff Gen. Mark Welsh III says is "designed for the whole battlespace." But critics claim the F-35 ill-suited for the close air support mission.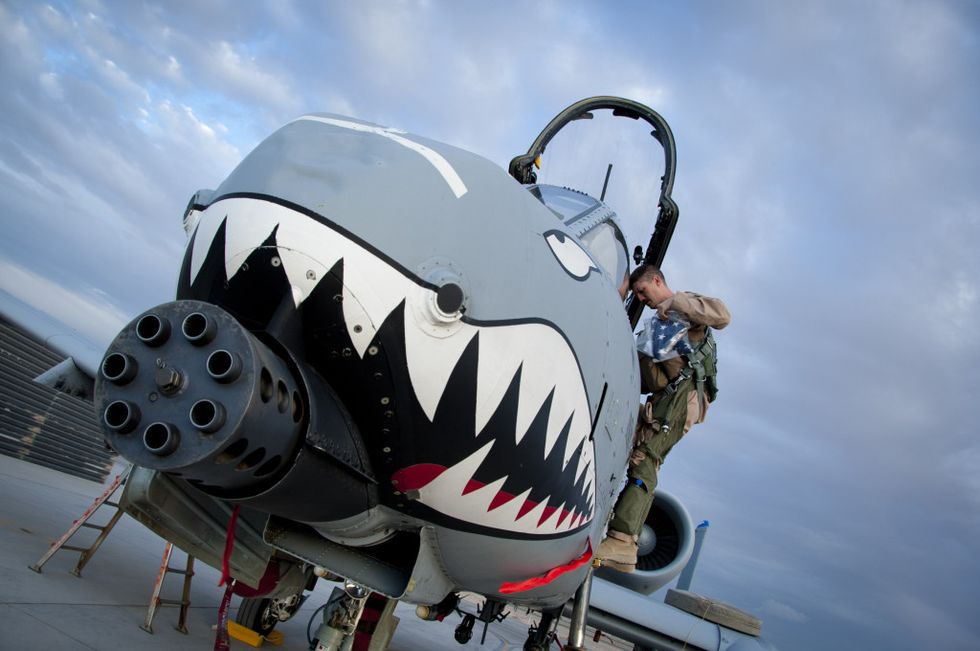 Capt. Richard Olson gets off an A-10 Warthog at Kandahar Airfield, Afghanistan, (U.S. Air Force photo)
In the 2016 National Defense Authorization Act, Congress ordered the Air Force to produce a reliable, independent study on how they will replace the A-10's CAS mission while providing the necessary funds to keep the Warthog flying.
12. President Obama extended U.S. military's Afghan mission into 2017
They won't have a direct combat role, but U.S. troops will remain in Afghanistan through 2017.  When President Obama leaves office in 2017, 5,500 troops will remain in Afghanistan. A resurgent Taliban and a growing ISIS threat will keep the U.S. forces busy as they work to keep the Afghan government in power.
The Obama Administration announced the extension in October. The War in Afghanistan is almost 15 years old and claimed the lives of 2,230 service members and cost more than $1 trillion. The new yearly plan costs upwards of $15 billion per year.
13. ISIS and China hack DoD computers, stealing troops' personal data
In mid-October, a native of Kosovo was detained in Malaysia and alleged to be the hacker who had forced his way into the U.S. government software that held the personal information of U.S. troops and federal workers. The Kosovar, said to have ties to ISIS, stole data belonging to 1,300 people and gave it to the terror group's hacking division.
One month prior, Chinese hackers forced their way into the systems of the Office of Personnel Management, and stole 5.6 million fingerprints, which, in turn, affected the compromised the records of 21.5 million Federal employees and applicants. The personal data also potentially contained information about intelligence agents posted overseas. The data included the employees' biographical forms used when applying for sensitive or classified jobs.
14. All Combat Jobs are opened to women
Secretary of Defense Ash Carter ordered the Pentagon to open all military combat roles to women, rejecting limitations on the most dangerous military jobs. The secretary's orders gave the branches until January 1st to plan their changes and force those combat roles open to women by April 1st, including infantry, reconnaissance, and special operations forces.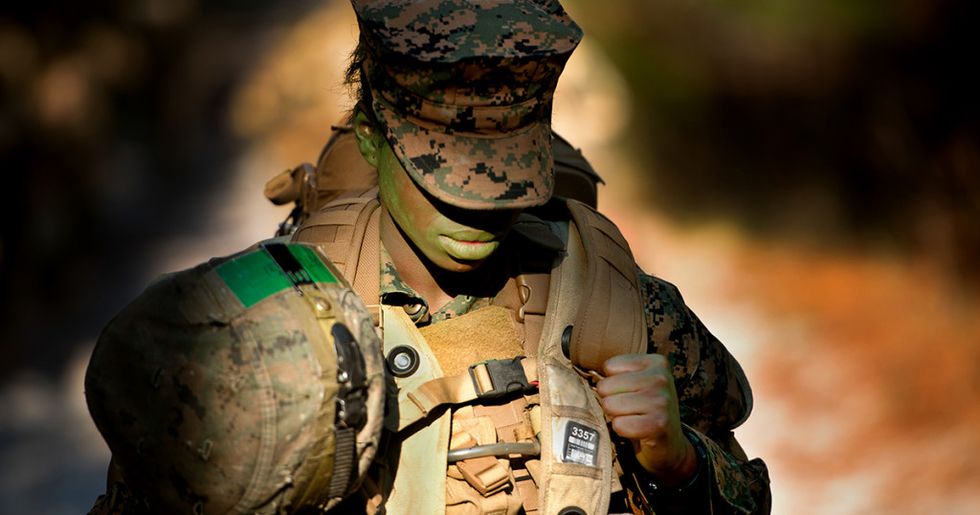 Women already have access to most front-line roles in the Army, Navy and Air Force. Earlier in 2015, women were integrated into the Navy's Submarine Service. Women have been serving as fighter pilots in the Air Force and Navy since 1993, and the Army has been fighting to open its infantry positions to women since September 2015. The defense secretary's rationale was simply that any qualified candidate should be allowed to compete for the jobs.
15. U.S. deploys special forces ground troops to fight ISIS
In a departure from the U.S. military's policy of providing air support and "advisors" to support Iraqi and Kurdish ground forces fighting ISIS (Daesh) in Iraq and Syria, Defense Secretary Ash Carter authorized the deployment of additional special operations forces in Iraq to conduct raids to free hostages, capture Daesh leaders, and gather intelligence.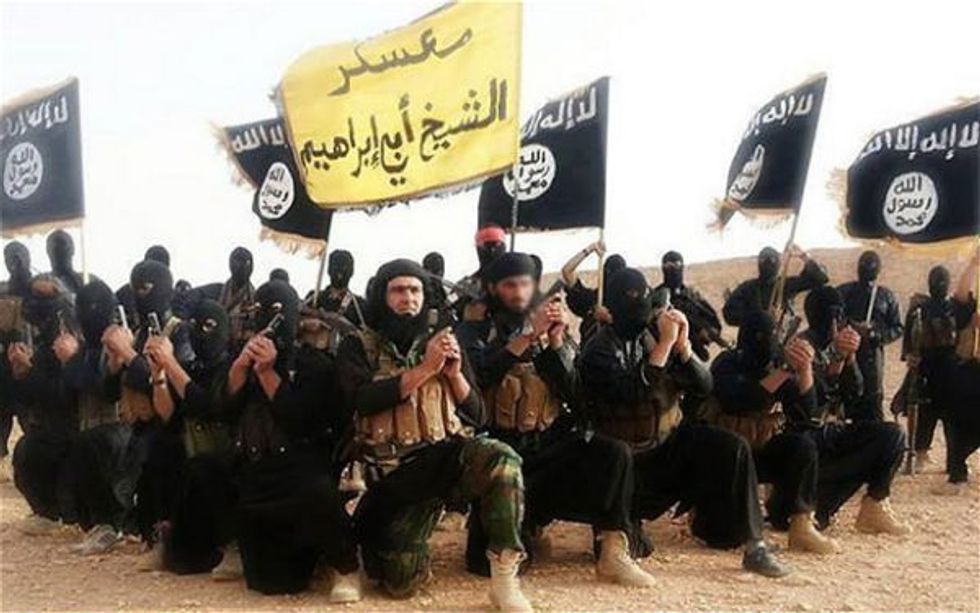 It's really weird that they pose like this.
Earlier in the year, the U.S. deployed 3,300 troops to Iraq in training and advisory capacities, as well as support for air operations. The new standing force will be based in Iraq but conduct operations in Iraq and in Syria. The total special force could number up in the hundreds. In October, U.S. special forces and Iraqi troops conducted a raid on an ISIS compound to free 70 Iraqi prisoners, resulting in the first U.S. castualty in the war against ISIS.