Articles
February 17, 2017 17:05:15 EST
President Donald Trump again teased the prospect of placing a "big order" of F/A-18 Super Hornets to a cheering crowd at Boeing's South Carolina factory on Friday.
---
"We are looking seriously at a big order" of F-18s said Trump to applause from the crowd at Boeing, the company that builds the F/A-18.
Trump's Secretary of Defense Jim Mattis announced in January that the military would "review" the F-35 program and possibly opt for more "advanced Super Hornets" instead of the F-35C, the Navy's carrier-based variant of the Joint Strike Fighter that continues to struggle.
Also read: World's most-advanced aircraft carrier one step closer to completion
Trump continues to seriously explore the idea despite backers of the F-35 program have protested the notion that an updated F-18 can do the F-35's job.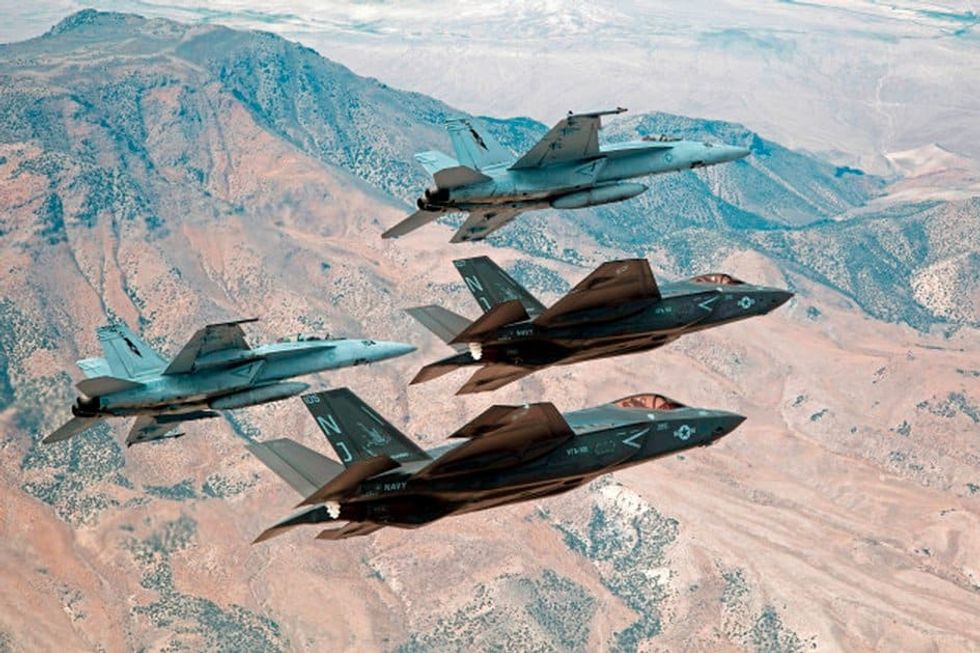 F-35C Lightning IIs, attached to the Grim Reapers of Strike Fighter Squadron (VFA) 101, and an F/A-18E/F Super Hornets attached to the Naval Aviation Warfighter Development Center (NAWDC) fly over Naval Air Station Fallon's (NASF) Range Training Complex. U.S. Navy photo by Lt. Cmdr. Darin Russell/Released
The advanced Super Hornet package offered by Boeing builds on the company's reputation for delivering upgrades to the F-18, first built in the 1970s, on time and on cost.
This contrasts heavily with the Navy's F-35C, made by Boeing rival Lockheed Martin, which has faced significant difficulties achieving readiness in the military.
Dan Gillian, Boeing's vice president of F/A-18 and EA-18 programs, told Business Insider that even with the coming F-35C naval variant, US carrier air wings would consist of a majority of F/A-18s into the 2040s. In fact, Boeing has contracts currently underway to update the F/A-18s.