Articles
July 17, 2020 14:40:00 EST
Hussein Farrah Aidid left the United States Marine Corps and attempted to be a warlord like his father, Mohamed Farrah Aidid, who is a central figure in the story of Black Hawk Down.
---
Mohamed Aidid was the leader of the Habr Gidr clan, who vied for power in the wake of the fall of dictator Mohamed Siad Barre's Somali regime. Aidid not only diverted food aid and relief supplies, his fighters ambushed 24 Pakistani peacekeepers. The United Nations offered a $25,000 reward for his capture, and he was targeted by Task Force Ranger. TF Ranger's hunt for Aidid led to the ill-fated Battle of Mogadishu that resulted in the death of 18 American troops.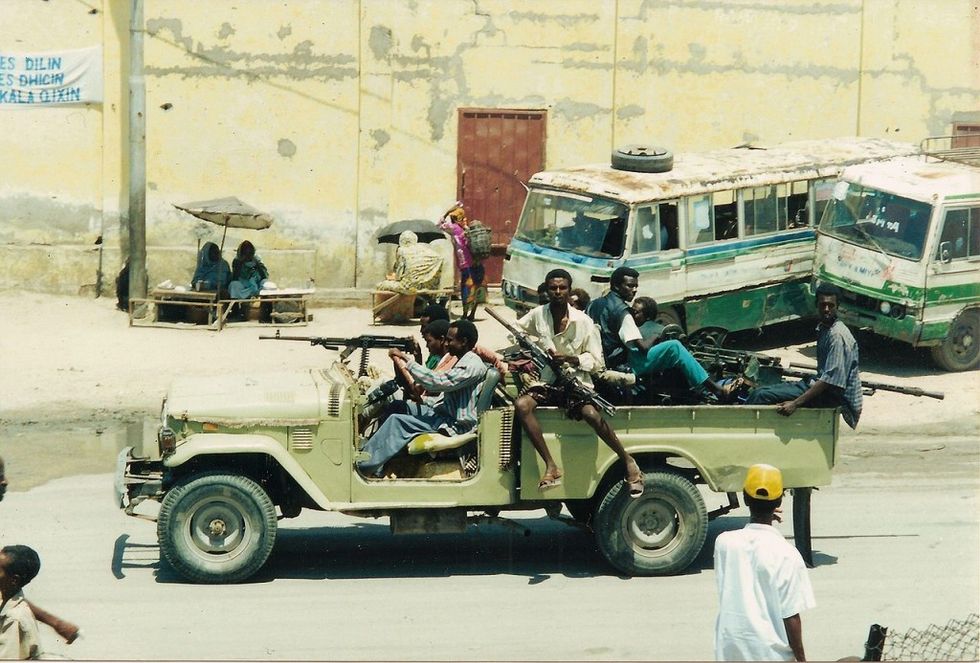 A "technical" in Mogadishu at the time of the UNOSOM mission (wikimedia commons photo)
Aidid had four wives. His first wife, Asli Dhubad, gave birth to five children. Hussein Farrah Aidid was the first of those five. He was born in a remote area of Somalia in 1962. At the age of 14, he emigrated to the United States at a time when Somalia was ruled by the dictator Barre whose authoritarian government was enjoying a brief thaw in relations with the U.S. Hussein graduated from high school in Covina, California two years later before enlisting in the U.S. Marine Corps.
Aidid was an artilleryman, assigned to Battery B, 14th Marines at the Marine Corps Reserve base in Pico Rivera, California. He deployed in support of Operation Restore Hope, the U.S.-led task force in Somalia whose aim was to disrupt the personal army of Mohamed Farrah Aidid. The elder Aidid controlled the strongest faction in the ongoing power struggle in the country.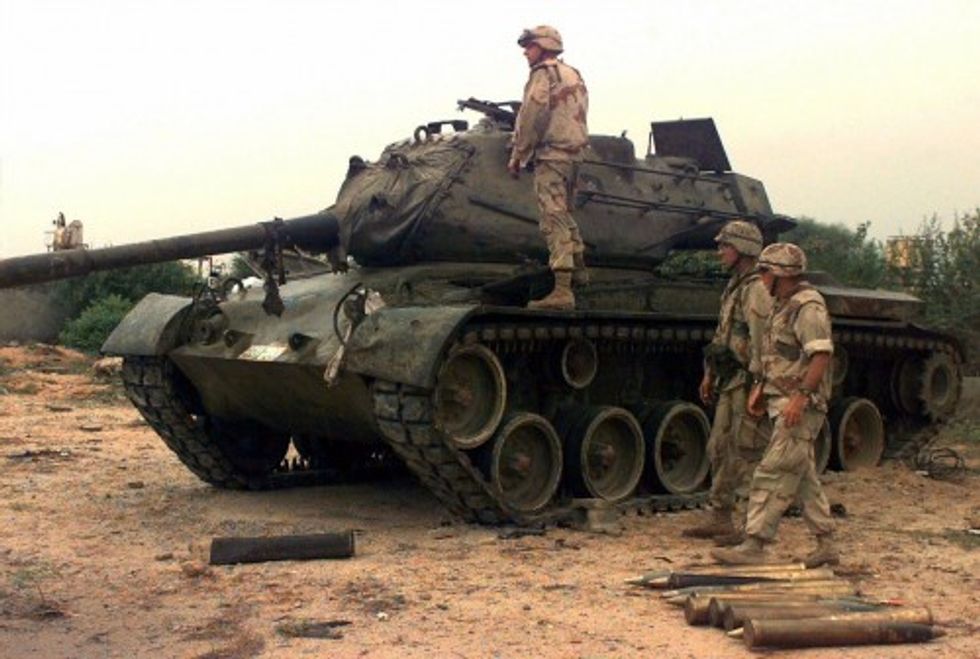 Three US Marines, from an Explosive Ordnance Disposal unit, examine a Somali tank, a US made M47, that was captured in the raid of Somali Warlord General Aideed's weapons cantonment area. This mission is in direct support of Operation Restore Hope. (U.S. Navy photo by PHCM Terry Mitchell)
The UN mandate was to "establish as soon as possible a secure environment for humanitarian relief operations in Somalia." Essentially, Restore Hope aimed to protect the delivery of food and other humanitarian aid, keeping it from falling into the hands of Aidid's personal army. The Marines deployed the younger Aidid because he was the only one in the ranks who could speak Somali.
He returned to the U.S. and became a naturalized citizen. In 1995, Aidid told his command he would miss drill for a while because he was traveling outside the U.S. He returned to Somalia and began preparing for his role in the Habr Gidr militia.
The elder Mohamed Farrah Aidid continued his struggle for power, even declaring himself President of Somalia in 1995, a declaration no country recognized. He was shot in a battle against former allied warlords in July 1996 and died of a heart attack during surgery.
Hussein was declared his father's successor at age 33. The man who left the Marines as a corporal was suddenly a general.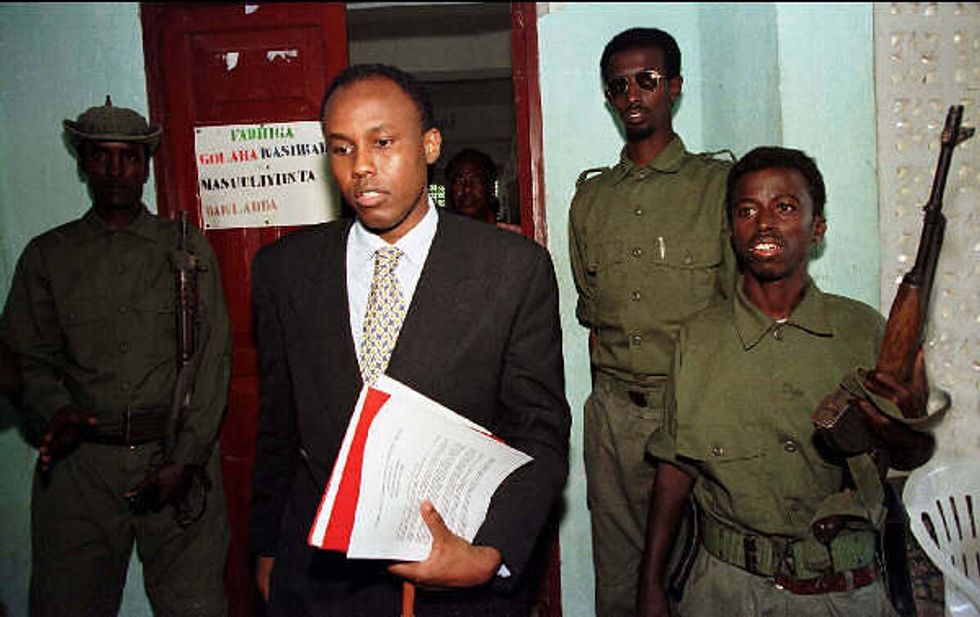 The younger Aidid vacillated between being more conciliatory than his father to being as warlike as his father. Initially he vowed to crush and kill his enemies at home and overseas. He continued his father's policies, especially the pacification of the countryside, which most saw as an authoritarian power grab. Forces loyal to Aidid were known to rob and kill civilians in their controlled territories. Other allied factions left the young leader's camp because they did not see dedication to the peace process.
The younger Aidid eventually softened, renouncing his claim to the presidency and agreeing to UN-brokered peace agreements in 1997. An ardent anti-Islamist, he assisted the Bush Administration in tracking down the flow of arms and money through Mogadishu, gave up the sale and use of landmines, and helped Somali government forces capture the capital from the al-Qaeda-allied Islamic Courts Union in 2006. He was hired and fired as deputy Prime Minister, Minister of the Interior, and Minister of Public Works. He defected to Eritrea in 2007.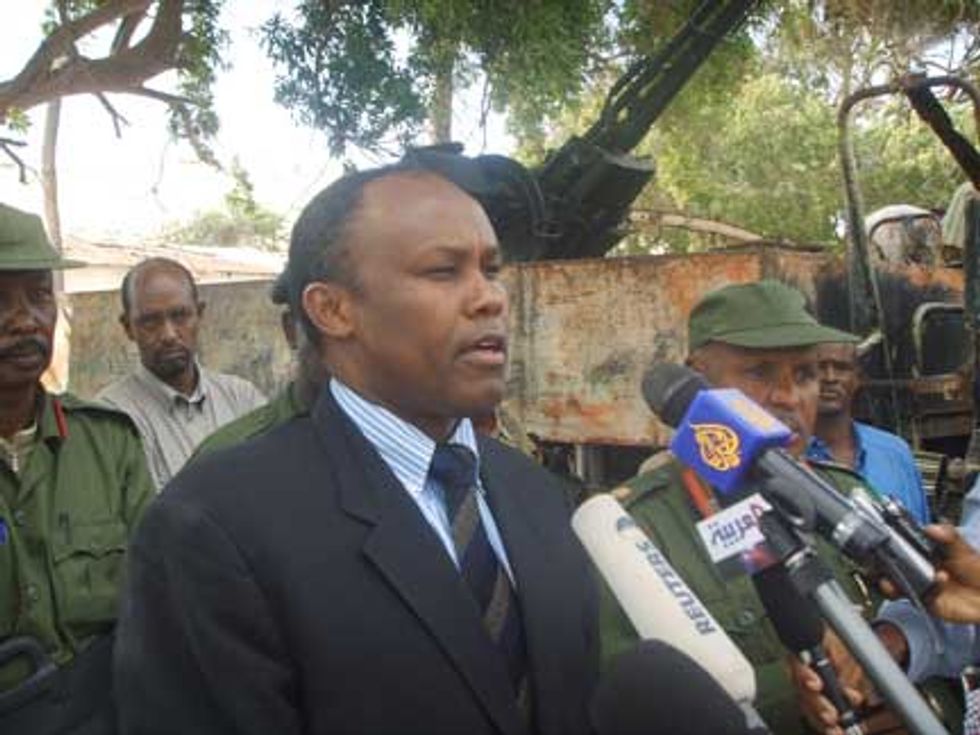 Hussein Farrah Aidid as Deputy Prime Minister of the Somali Transitional Government
''I always wanted to be a Marine,'' he told The Associated Press. ''I'm proud of my background and military discipline. Once a Marine, always a Marine.''
Related Articles Around the Web