Articles
May 05, 2017 07:18:22 EST
UPDATED: The Pentagon has named Chief Special Warfare Operator Kyle Milliken, 38, of Falmouth, Maine, as the commando killed in a May 5 raid near Mogadishu, Somalia. The raid reportedly targeted a propaganda radio operation run by the terrorist al-Shabaab organization. The release said Milliken was a member of an East Coast-based Navy special warfare unit, and many sources report he was a member of SEAL Team 6.
---
The U.S. military said May 5 a service member has been killed in during an operation against the extremist group al-Shabab as the United States steps up its fight against the al-Qaida-linked organization.
A statement from the U.S. Africa Command said the service member was killed Thursday during the operation near Barii, about 40 miles west of the capital, Mogadishu.
The statement said U.S. forces were conducting an advise-and-assist mission with military.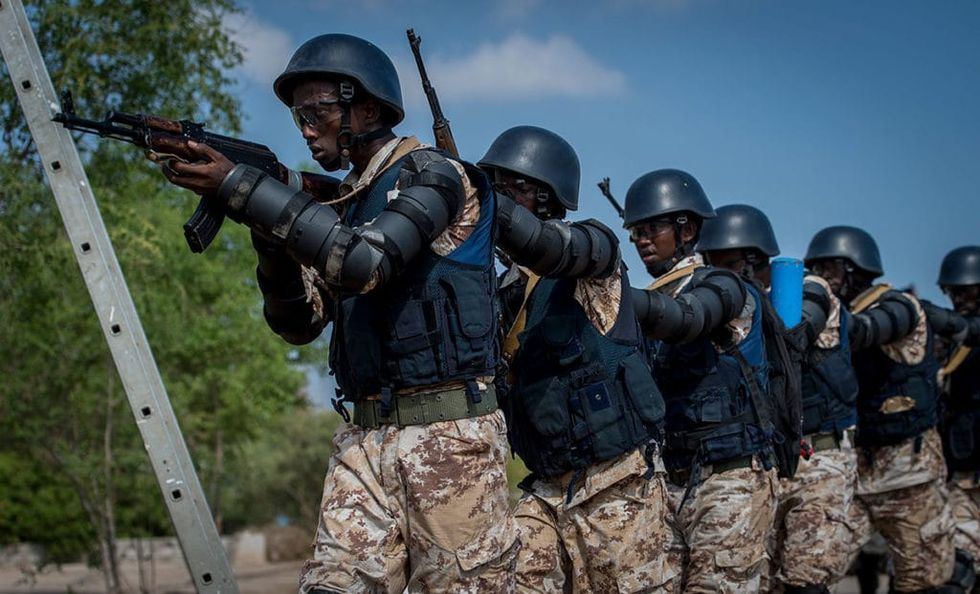 Members of the Somali Police Force, train with the Carabinieri at the Djibouti Police Academy in Djibouti, Djibouti, Nov. 07, 2016. The Carabinieri is in charge of training mission MAIDIT Somalia 6, which is the mission of training the Somali Police Force in order to promote the stability and security of the entire region of the Horn of Africa. (U.S. Air Force photo by Staff Sgt. Kenneth W. Norman)
A CNN report said the service member was part of a special operations task force deployed to the African nation, adding two more U.S. troops were wounded by small arms fire.
"Senior Chief Kyle Milliken embodied the warrior spirit and toughness infused in our very best SEALs," said Rear Adm. Timothy Szymanski, commander of the Special Warfare Command. "We grieve his death, but we celebrate his life and many accomplishments. He is irreplaceable as a husband, father, son, friend and teammate - and our thoughts and prayers go out to his family and teammates."
Both the United States and in recent weeks have declared new efforts against the extremist group. President Donald Trump has approved expanded military operations against al-Shabab, including more aggressive airstrikes and considering parts of southern areas of active hostilities.
A Somali intelligence official confirmed the U.S. military operation, saying U.S. forces in helicopters raided an al-Shabab hideout near the Somali capital on Thursday night and engaged with fighters.
The official, who spoke on condition of anonymity because he was not authorized to speak to the media, said the helicopters dropped soldiers near Dare Salaam village in an attempt to capture or kill extremists in the area.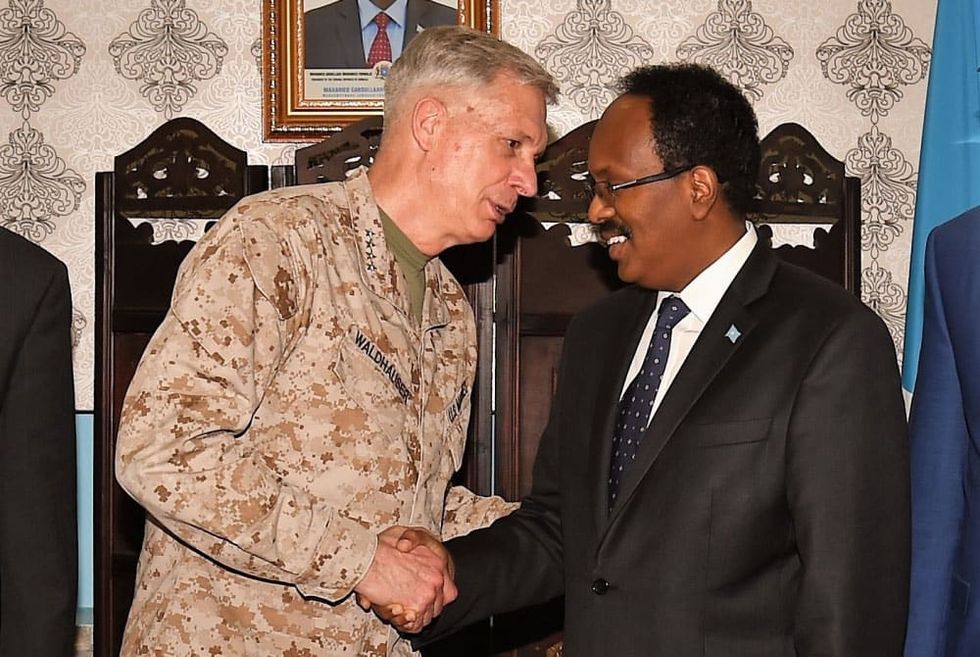 U.S. Africa Command commander U.S. Marine Corps Gen. Thomas D. Waldhauser, and President of Somalia Mohamed Abdullahi Mohamed, known by his nickname "Farmajo," shake hands after their meeting held at Mogadishu International Airport, Somalia, April 29, 2017. With its partners, USAFRICOM works to neutralize transnational threats, protect U.S. personnel and facilities, prevent and mitigate conflict, and build defense capability to promote regional stability and prosperity. (U.S. Air National Guard photo by Tech. Sgt. Andria Allmond)
The official said the fighters mounted a stiff resistance against the soldiers.
new Somali-American president, Mohamed Abdullahi Mohamed, last month declared a new offensive against al-Shabab, which is based in but has claimed responsibility for major attacks elsewhere in East Africa.
Also last month, the U.S. military announced it was sending dozens of regular troops to in the largest such deployment to the Horn of Africa country in roughly two decades. The U.S. Africa Command said the deployment was for logistics training of army.
The U.S. in recent years has sent a small number of special operations forces and counter-terror advisers to and has carried out a number of airstrikes, including drone strikes, against al-Shabab.
The extremist group, which was chased out of Mogadishu years ago but continues to carry out deadly attacks there, has vowed to step up the violence in response to the moves by Trump and Mohamed.
Pressure is growing on military to assume full security for the country as the 22,000-strong African Union multinational force that has been supporting the fragile central government plans to leave by the end of 2020.
The U.S. military has acknowledged the problem. The AU force will begin withdrawing in 2018, and head of the U.S. Africa Command, Commander General Thomas Waldhauser, has said that if it leaves before security forces are capable, "large portions of are at risk of returning to al-Shabab control or potentially allowing ISIS to gain a stronger foothold."
Fighters linked to the Islamic State group are a relatively new and growing challenge in the north of the country, which has seen a quarter-century of chaos since dictator Siad Barre fell in 1991.
The United States pulled out of after 1993, when two helicopters were shot down in Mogadishu and bodies of Americans were dragged through the streets.