Articles
August 23, 2017 06:25:46 EST
Indian and Chinese troops clashed in a melee high in the western Himalayas on Aug. 15, adding to simmering tensions along the two countries' shared border.
---
Chinese troops reportedly tried to enter Indian territory twice that day, according to an Indian defense official.
They were pushed back both times but threw stones at Indian troops during the exchange, which took place near Pangong Lake, a tourist attraction in the mountain region of Ladakh.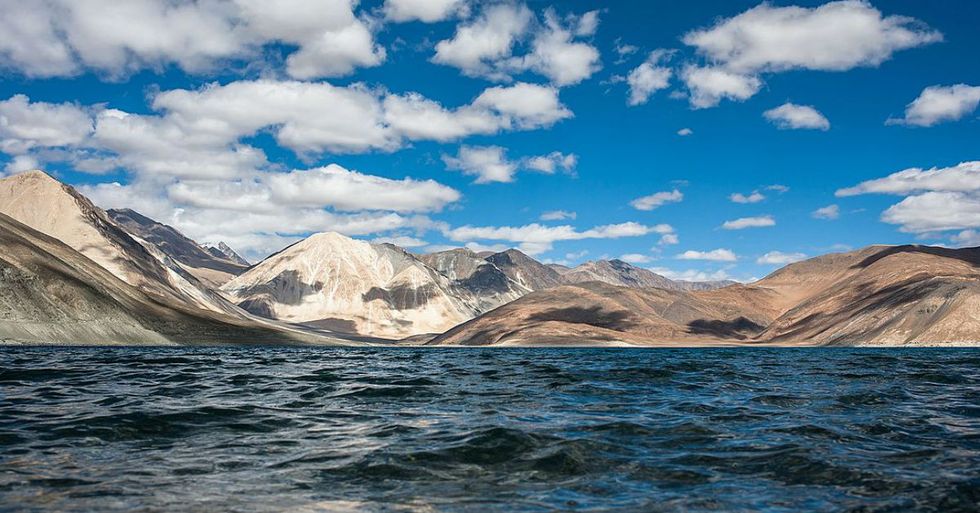 Pangong Lake. Image from Wikimedia Commons.
"There was a minor incident. There was some stone pelting from the Chinese side but the situation was quickly brought under control," the official told AFP.
The early-morning confrontation lasted about 30 minutes and was resolved after both sides conducted banner drills and retreated to their respective outposts.
Indian media outlet The Print obtained footage of the incident, which took place just yards from the shoreline. Both sides reported injuries.
#FirstOnThePrint Video of Indian & Chinese soldiers clashing at Pangong lake in Ladakh on August 15. @manupubby pic.twitter.com/qzZvVYFfjX

— ThePrint (@ThePrintIndia) August 19, 2017
The lake — of which India claims about one-third and China the rest — is more than 13,000 feet high on the Tibetan plateau and lies in the northern Indian state of Jammu and Kashmir, at the eastern extent of China and India's 2,175-mile mountain border.
A police official in the state said that confrontations along the de facto border, called the Line of Actual Control, were relatively common.
"These things happen every summer, but this one was slightly prolonged and more serious but no weapons were used," a police source in the state capital, Srinagar, told AFP.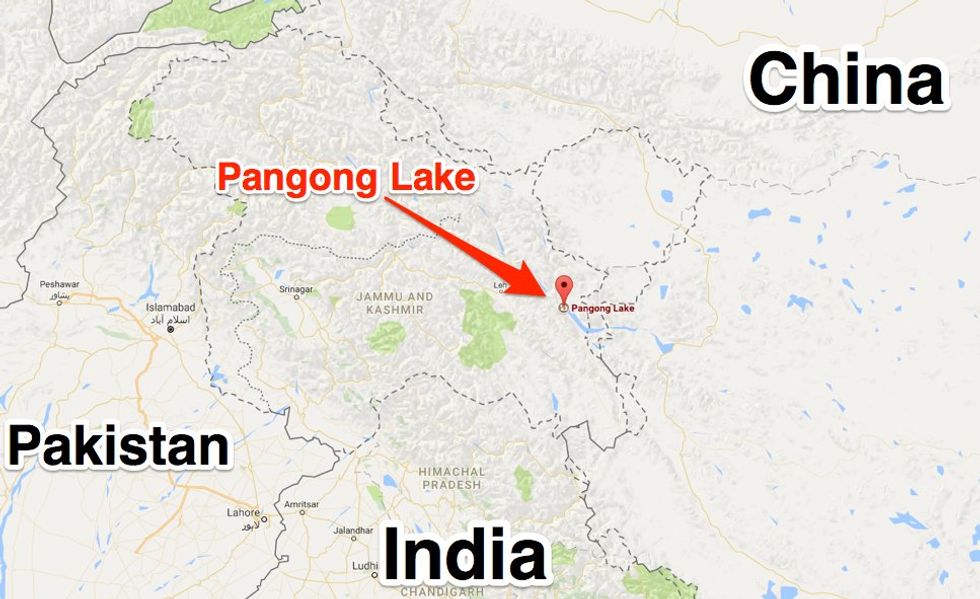 Image courtesy of Google Maps
The clash took place on India's independence day, and an early assessment by Indian intelligence sources called the encounter "not at all unusual" due to the "non-delineation" of the border in the area. Indian and Chinese patrols have crossed into areas claimed by the other in the past; more than 300 such crossings have been reported through mid-August this year.
But the confrontation comes two months into a dispute between China and India near their shared border with Bhutan in the eastern Himalayas, and, the assessment added, the "use of force appears to be part of a considered design."
"Use of stones unprecedented and unusual. Appears to be deliberate attempt to provoke and heighten tension without use of lethal weapons," the assessment said. Steel bars and rifle butts were also used during the tussle.
On August 16, a previously scheduled border-personnel meeting was held between brigadier-rank officers from the Indian and Chinese armies. (Such meetings are usually held between colonel-rank officers).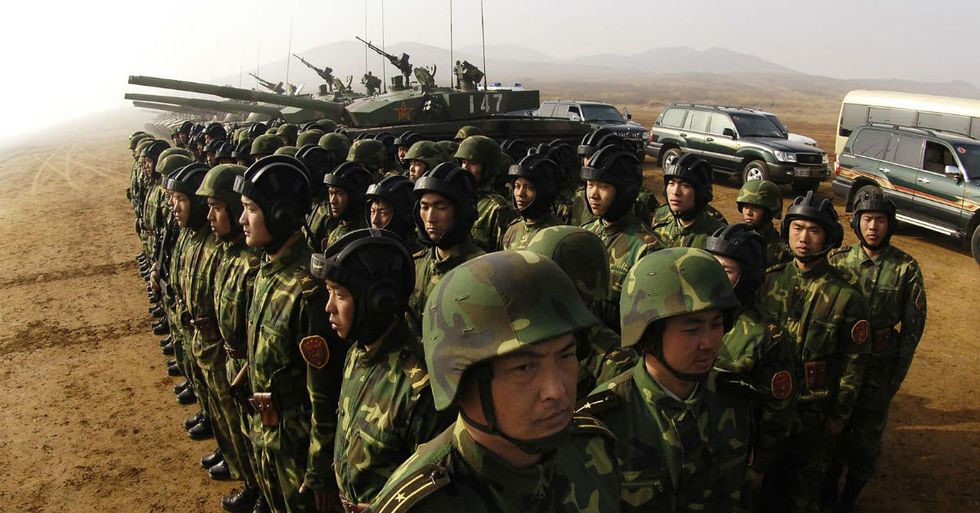 Soldiers with the People's Liberation Army at Shenyang training base in China, March 24, 2007. DoD photo by Staff Sgt. D. Myles Cullen, US Air Force.
But China's People's Liberation Army also declined an invitation to take part in ceremonial meetings on the border to mark India's independence day this year — the first time the joint meetings haven't been held since 2005, according to The Express. Another meeting usually held on the Chinese side of the border on August 1 was not held this year.
The contentious but nonviolent confrontation in the Doklam territory — known as Donglang in Chinese — near the two countries' border with Bhutan started in mid-June, when New Delhi dispatched troops to stop Chinese construction of a road in the area, which is claimed by both China and Bhutan.
India viewed the construction as a threat because it brought Chinese personnel close to the "chicken's neck" that connects India's northeast territory to the rest of the country.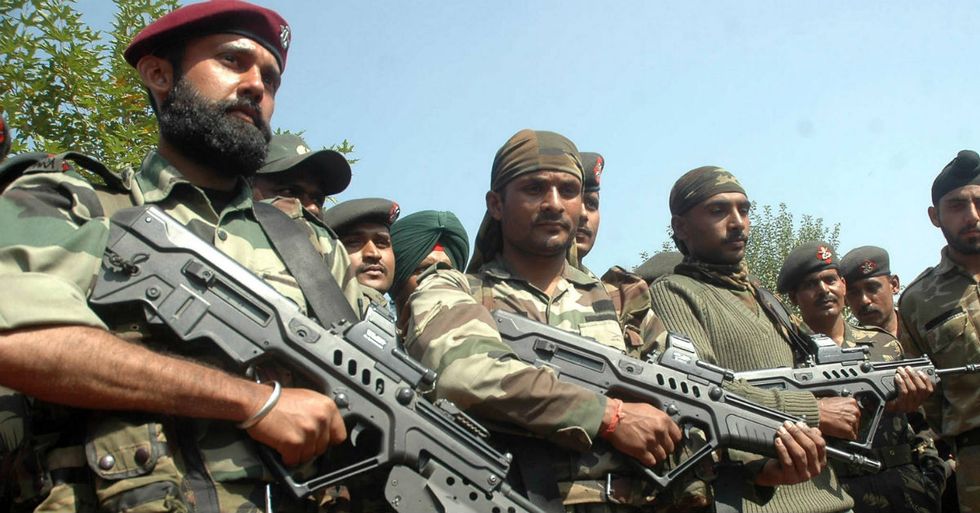 Indian Army's Para Special Forces. Photo from Wikimedia Commons.
An Indian official said New Delhi had no choice but to act, as Chinese activity had come too close for comfort. New Delhi has also said both sides should withdraw their forces before any proper negotiation.
Beijing — which has said India is massing troops and building roads in its territory east of Doklam — has said India has no role to play in the region and that Indian personnel illegally crossed into Chinese territory. It has repeatedly asked for their unilateral withdrawal.
Chinese state media has warned India of a fate worse than its decisive defeat during a month-long border war in 1962 in India's northeast Arunachal Pradesh state.
Chinese officials later admitted the war was launched to teach a lesson to India, which had granted asylum to the Dalai Lama and criticized China's occupation of Tibet.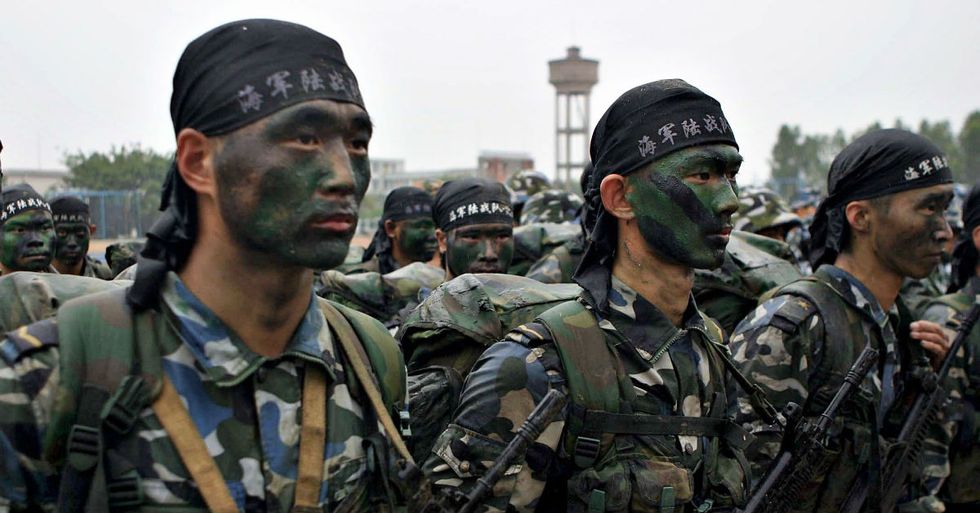 Marines of the People's Liberation Army. Photo from Wikimedia Commons.
The 1962 war was brief in duration, but the political concerns that sparked it remain.
The Indian intelligence assessment issued in the hours after the August 15 incident said the skirmish at Pangong Lake could be related to the standoff in the eastern Himalayas.
"Both nations recognize that there are big differences in perception about the Line of Actual Control, but these have been managed well and troops have quickly gone back to the respective positions," Ashok K. Kantha, former Indian ambassador to China, wrote for The Print, noting that calm along the border has endured despite past incidents.
"Ensuring that these old modalities hold is extremely important," he added. "The alternative is not good."