Articles
August 09, 2017 12:14:26 EST
The United States Navy will be sending an aircraft carrier to visit Vietnam in 2018, part of a series of steps to promote "regional and global security" in Asia. This will mark the first time an aircraft carrier has visited the Southeast Asian country in more than 50 years.
---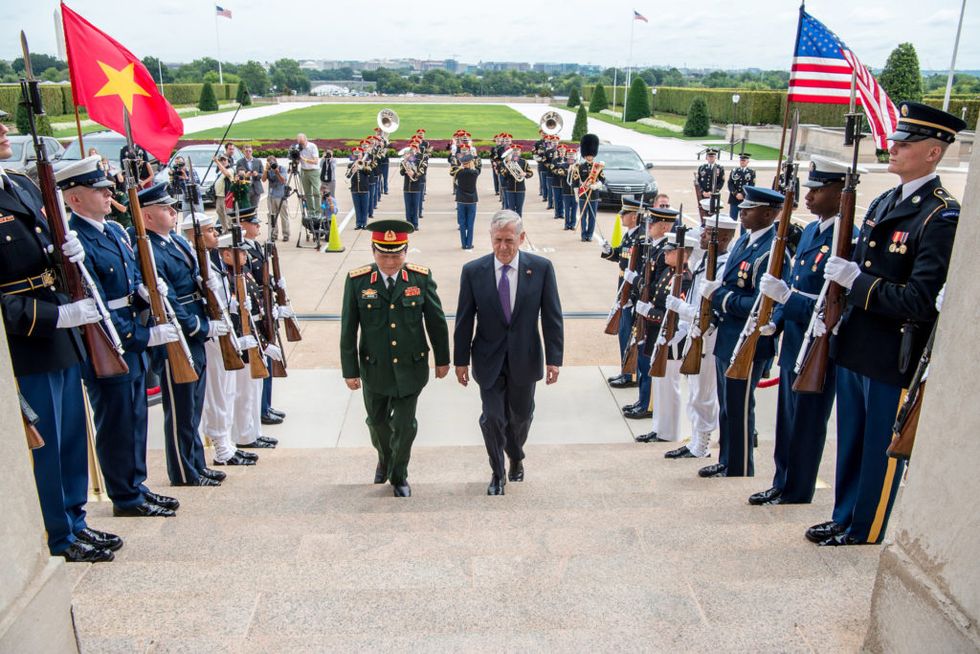 Defense Secretary Jim Mattis hosts an honor cordon for Vietnamese Defense Minister Gen. Ngo Xuan Lich at the Pentagon in Washington, D.C., Aug. 8, 2017. (DoD photo)
According to a Defense Department readout of a meeting between Secretary of Defense James Mattis and Vietnamese Minister of National Defense Ngo Xuan Lich, the carrier visit is part of a series of steps to "deepen defense cooperation," which included the transfer of a decommissioned Hamilton-class Coast Guard high-endurance cutter to the Vietnamese Navy.
The South China Sea has been a longstanding maritime flashpoint between China, Vietnam, Malaysia, Brunei, Taiwan, and the Philippines.
The Bangkok Post reported that President Donald Trump and Vietnamese Prime Minister Nguyen Xuan Phuc had discussed having a carrier visit Vietnam when the two met in May during a visit from Phuc to the U.S. The Thai media outlet also reported that Vietnam has been taking a hard line among the Association of South East Asian Nations regarding China' construction of artificial islands in the South China Sea.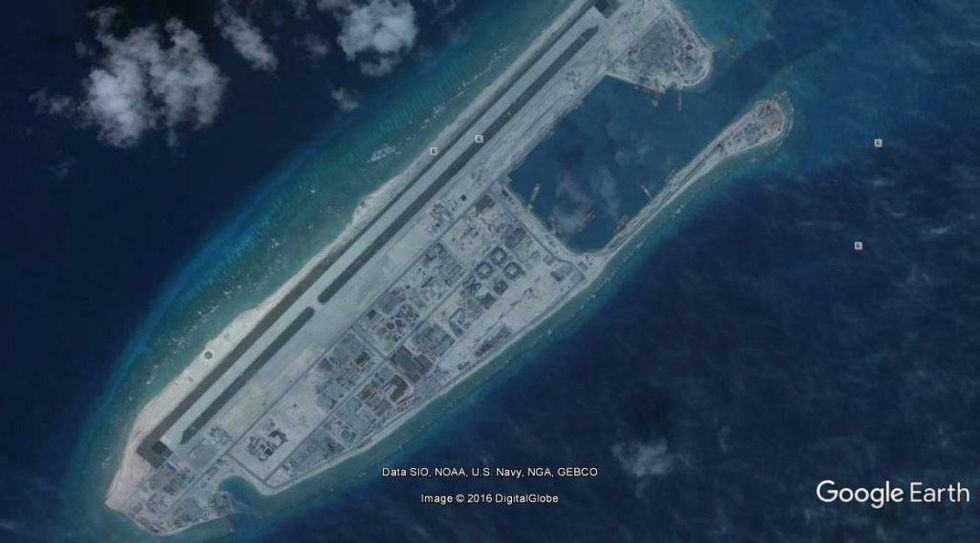 Fiery Cross Reef air base. This air base and others could help bolster China's aircraft carrier, the Liaonang. (Image taken from Google Earth)
China has long claimed dominion over the entire South China Sea, marking its claims with a so-called "nine-dash line." The claims have been disputed and were rejected by an international tribunal in 2016. China, though, boycotted the process.
The U.S. has conducted a number of freedom of navigation exercises in the South China Sea. American and Chinese units have also had a number of close encounters in the maritime flash point, and in other regions where China has made territorial claims.