Articles
April 08, 2015 07:00:48 EST
The Defense Advanced Research Projects Agency (DARPA) works on some very outlandish projects. One of its stated mission goals is to cause "technological surprise" for America's enemies. Basically, they want enemy fighters to get to the battlefield, look at what they're facing off against, and go, "What the hell?"
---
These are the DARPA projects that make that a reality.
1. Airships that can haul 2 million pounds of gear
Yeah, they're back. DARPA's attempt at new airships was scrapped in 2006 due to technology shortcomings, but the project was revived in 2013. The goal is for a craft that can carry up to two million pounds halfway around the world in five days. This would allow units to quickly deploy with all of their gear. Tank units would be left out though, unless they suddenly had a ...
2. A super-fast lightweight vehicle that drives itself
The Ground X-Vehicle looks like a spider mated with a four-wheeler. Troops could directly control it or simply select a destination and focus on the intel the vehicle provides. Either way, the vehicle would decide how to deal with incoming attacks, ducking, sidestepping, or absorbing them as necessary.
3. Aerial platforms that allow drones to land and refuel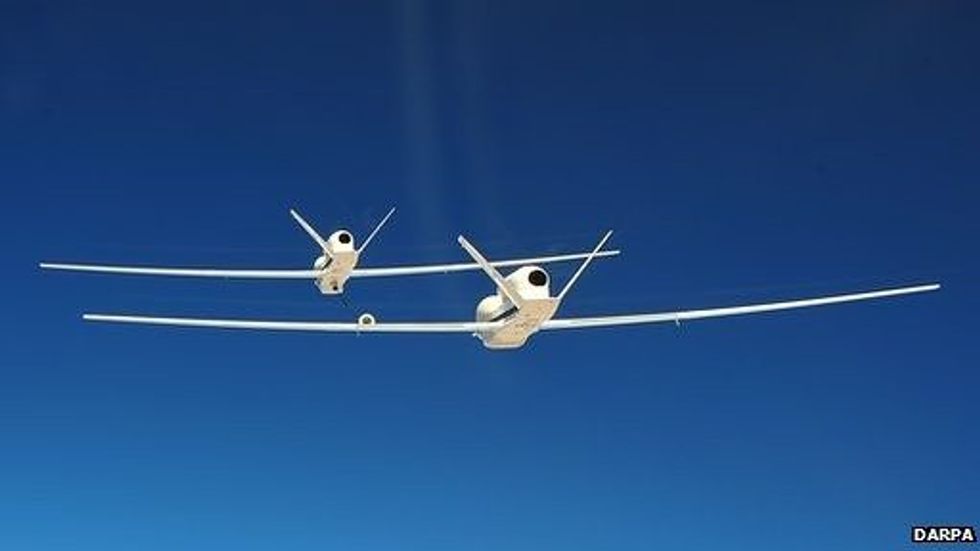 Photo: Wikimedia Commons by Bruce Wetzel
One of the emerging threats to U.S. operations is biological weapons using antibiotic resistant bacteria. DARPA wants to nip it in the bud before an enemy can cause massive infections to American forces or civilians. To do so, they're investigating pathogens that could be cultured and deployed in victims of attacks. These killers would seek out the bacteria wreaking havoc and murder it on a microscopic level.
Related Articles Around the Web