Articles
September 30, 2016 17:26:04 EST
While Army National Guardsman Dennis Singleton was getting ready to deploy to Afghanistan, Wells Fargo suddenly repossessed his car. Now Singleton is getting some retribution.
---
The Justice Department says the repossession was illegal under the Servicemembers Civil Relief Act, which requires Wells Fargo to get a court order before repossessing a military member's vehicle. DOJ also says the bank didn't stop there. According to the Los Angeles Times' Jim Puzzanghera, Wells Fargo charged Singleton and his family a $10,000 balance and then reported the repossession to credit agencies.
Wells Fargo allegedly did the same thing 413 times, according to the Justice Department -- more in a series of misdeeds and misuses of customer information that now has the bank and its CEO in hot water, especially with the U.S. Congress.
CNN's Jackie Wattles reports the bank will pay $10,000 to each service member, with interest. They will also pay for the lost equity on the cars and repair their credit for a total of $4.1 million.
Wattles' report says the Office of the Comptroller of the Currency also fined Wells Fargo $20 million for denying federally mandated protections for active duty military members, which includes capping interest rates at 6 percent.

This is Wells Fargo making off with your credit rating.
"In those instances where some service members did not receive the appropriate benefits and protections, we did not live up to our commitment and we apologize," the company said in a statement. "We have been notifying and fully compensating customers and will complete this work in 60 days."
Aside from its infractions against military members, Wells Fargo is also accused of creating millions of fake bank and credit card accounts over five years. The bank allegedly set up an incentive system for its employees who falsified customer accounts to reach sales targets.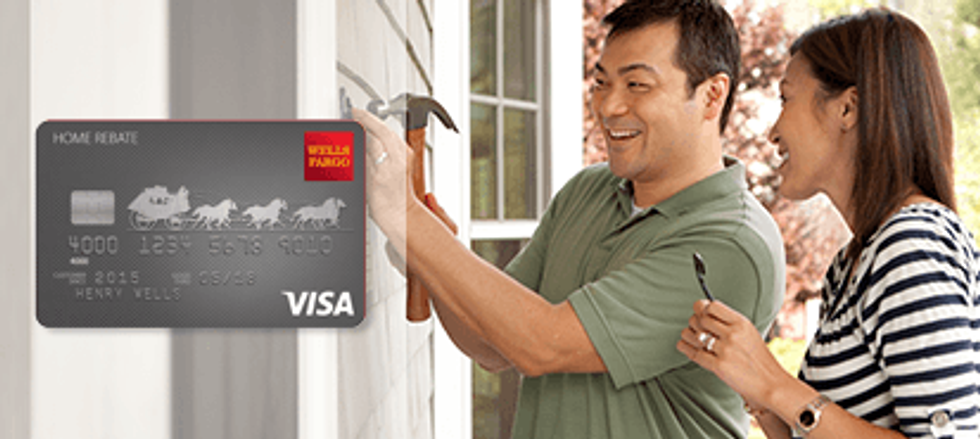 "Look Honey, we have the new Wells Fargo 'Like It Or Not' Visa Card"
In its largest fine to date, the Consumer Finance Protection Bureau fined Wells Fargo $185 million for opening 1.5 million fraudulent deposit accounts and more than 560,000 credit card accounts in its customers' names. The bank repaid $5 million to its affected customers.
Since the story broke, Wells Fargo fired 5,300 of its employees, withheld $41 million of CEO John Stumpf's unvested stock awards, and denied him an annual bonus as well as a chunk of his $2.8 million salary.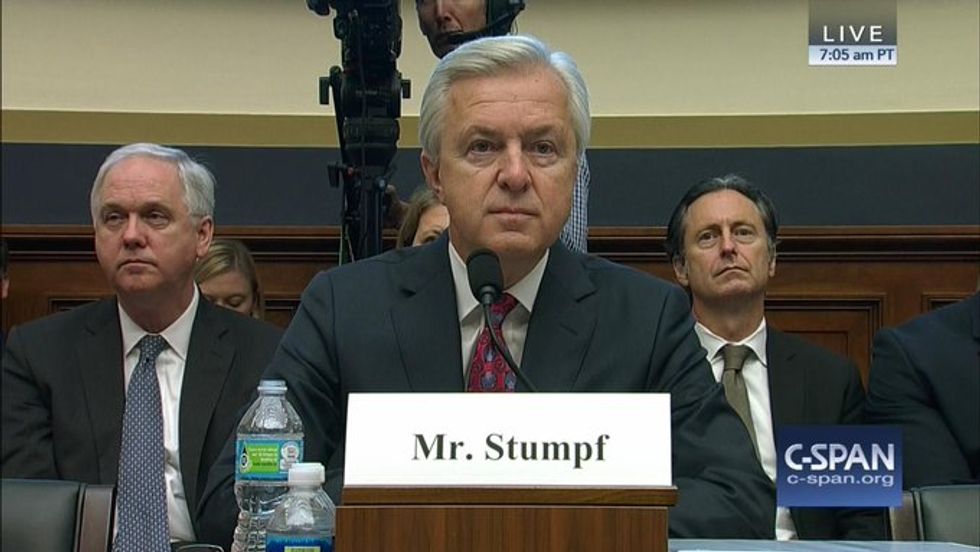 Wells Fargo CEO John Stumpf testifies before the House Financial Services Committee. (Photo: CSPAN)
The New York Times reports that in recent years, the bank has paid $10 billion in fines for violations like subprime loan abuses, discrimination against African-American and Latino mortgage borrowers, and various home foreclosure violations.