Articles
February 13, 2016 15:50:56 EST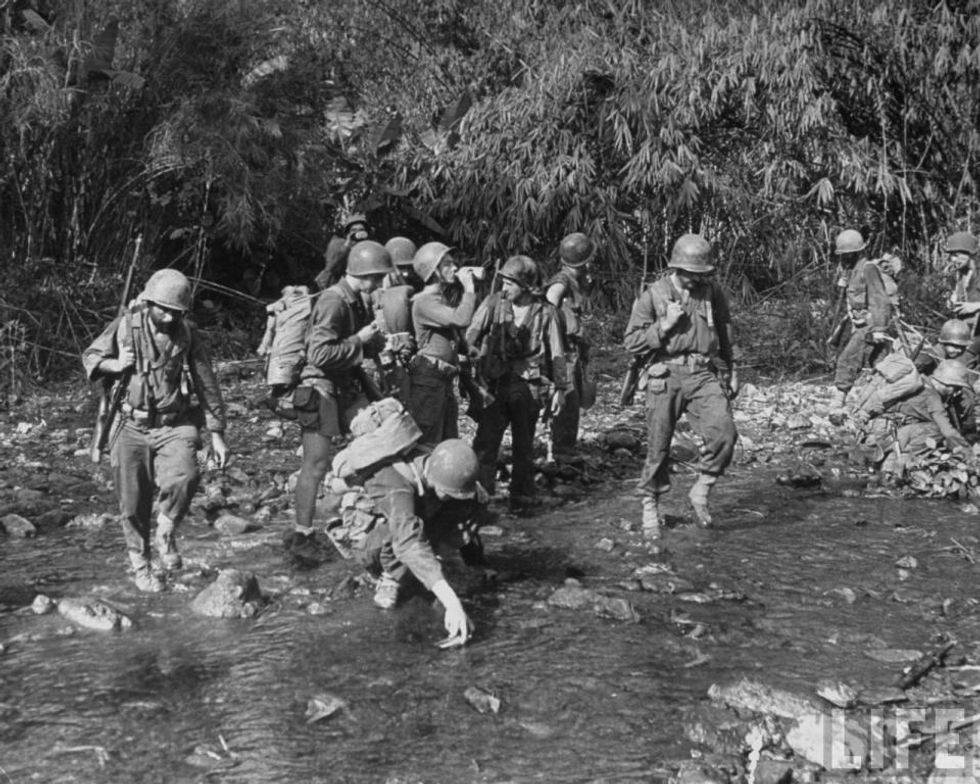 Brig. Gen. Merrill accepts a goat from village elders. (Photo: Nat'l WW2 Museum)
The Marauders were almost always outnumbered and outgunned by the Japanese 18th Division, which formed their primary opposition. Lacking artillery and out of range of any serious air support, they had to rely on surprise, training, and mobility to outfight the Japanese regulars, and they often found themselves on the defense because they were ill-equipped for fighting against larger forces.
But their greatest enemy, which inflicted more damage than even superior Japanese forces could, was the jungle. Malaria, amoebic dysentery, and typhus took an awful toll, inflicting more casualties than Japanese fire did. Soldiers shaking from fever and tormented by diarrhea had to force themselves through dense jungle and intense close quarters combat. Torrential rains, stinging insects, and snakes only added to their misery.
The issued K-rations were relatively light and compact, but at 2,900 calories per day were wholly inadequate for heavily loaded men marching, sweating, and fighting in the jungle. Even for men facing hunger, many components of the rations were so widely detested that they were often thrown away, and failed air drops only made the situation worse. Malnourishment and its accompanying weakness and exhaustion made the troops more vulnerable to already endemic diseases, and many of them were reduced to little more than walking skeletons.
Despite the enormous challenges, the Marauders managed to inflict far greater casualties on the Japanese then they suffered, and used their mobility and seeming ability to strike anywhere to throw Japanese forces into confusion. After dozens of skirmishes and several major actions, the 5307th managed to take the airfield at Myitkynia in August 1944 alongside elements of the Chinese Army, and the town itself after reinforcements arrived.
So decimated were the Marauders by disease and combat that only 200 men of the original task force were still present at the end of the campaign. Frank Merrill, who suffered a heart attack before being stricken with malaria by the end of the mission. Every last member was evacuated to hospitals to recuperate from months of hunger, disease, and exhaustion.
The 5307th was disbanded shortly thereafter, and in a very rare distinction every single member of the commando force received the Bronze Star for staying and fighting. They fought five major actions and dozens of smaller ones while marching over 750 miles through enemy territory, all the while fighting a different but even more deadly battle against hunger and disease. The unit was eventually redesignated as the 75th Infantry Regiment, from which today's 75th Ranger Regiment descended.