Articles
September 10, 2015 10:14:39 EST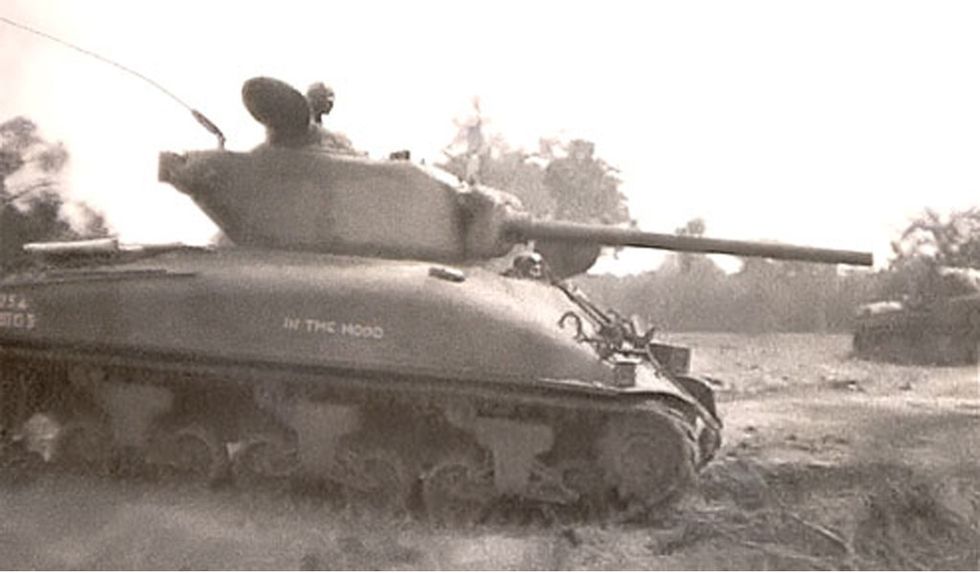 In the Mood first saw combat at Villers-Fossard on June 29, 1944. 3rd AD was ordered to attack German positions to give the nearby XIX Corps a chance to straighten out their front lines. During the battle, In the Mood was credited with killing 70 German soldiers and three armored vehicles before it was destroyed by Panzer fire. The crew survived and christened a new Sherman as "In the Mood."
In another engagement, In the Mood and the rest of 32nd Armored Division stumbled into a group of tanks from the 2nd Panzer Division and were forced to defend themselves at close range. When the rounds stopped flying, the tank crew had successfully killed two armored cars and two enemy tanks as well as a number of German dismounts.
In the Mood took its own hits in the fighting and was destroyed three times. The first tank to bear the name was destroyed at Villers-Fossard. The second was destroyed by friendly fire from a P-38 on August 17, 1944. Finally, the third was destroyed on September 15.
Just south Aachen, Germany, the 3rd AD was attempting to cross over the German border. In the Mood took a hit from a German Panther tank. Pool tried to maneuver the tank out of trouble, but the tank was struck by another shot from the Panther and flipped over into a ditch. Pool was blown out of the commander's hatch and suffered a massive cut in his leg from shrapnel.
Pool's leg was amputated and his service in the war was over. He returned to the U.S. for nearly two years of rehabilitation followed by a short period of civilian life. He eventually rejoined the Army and fought his way back to 3rd Armored Division where he became an instructor. He retired from the Army on September 19, 1960.
For his service in Europe, Pool was awarded the Distinguished Service Cross, the Legion of Merit, and the French Croix de Guerre with gold star. His nickname, "Wardaddy," was used for Brad Pitt's character in the 2014 movie "Fury."