The Royal Navy has spent a lot of money on the Queen Elizabeth-class carriers, HMS Queen Elizabeth, which will enter service this year, and HMS Prince of Wales, slated to enter service in 2020. But these vessels, with the billions of pounds spent on their construction, may have a serious flaw that could have fatal consequences.
---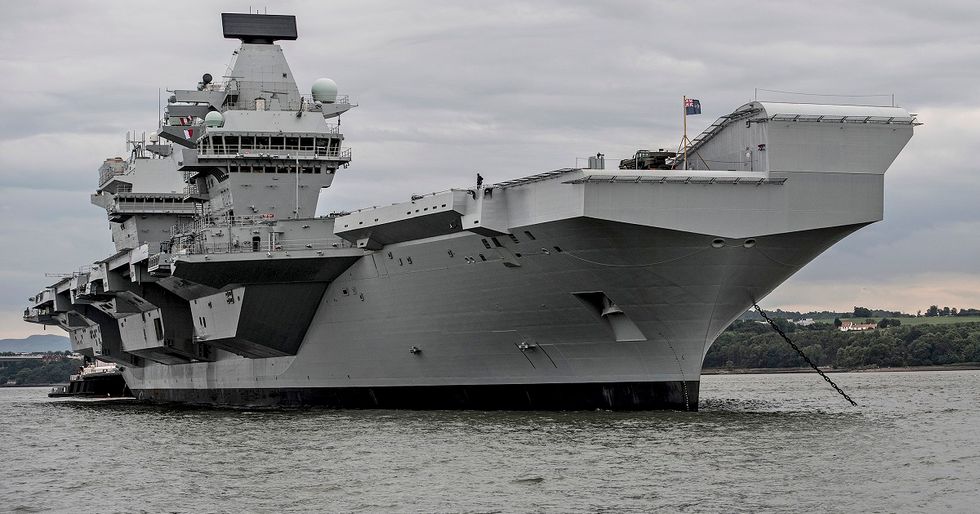 Pictured is HMS Queen Elizabeth under anchor. (UK Ministry of Defense Photo)
Let's acknowledge some basic Aircraft Carrier 101: The primary weapon of an aircraft carrier is the aircraft on board. For the Queen Elizabeth class, this will likely be at least two dozen V/STOL version of the Joint Strike Fighter, what America calls the F-35B, along with Merlin HM.2 helicopters. This is a very potent air wing, arguably the most potent the Royal Navy has deployed on a carrier.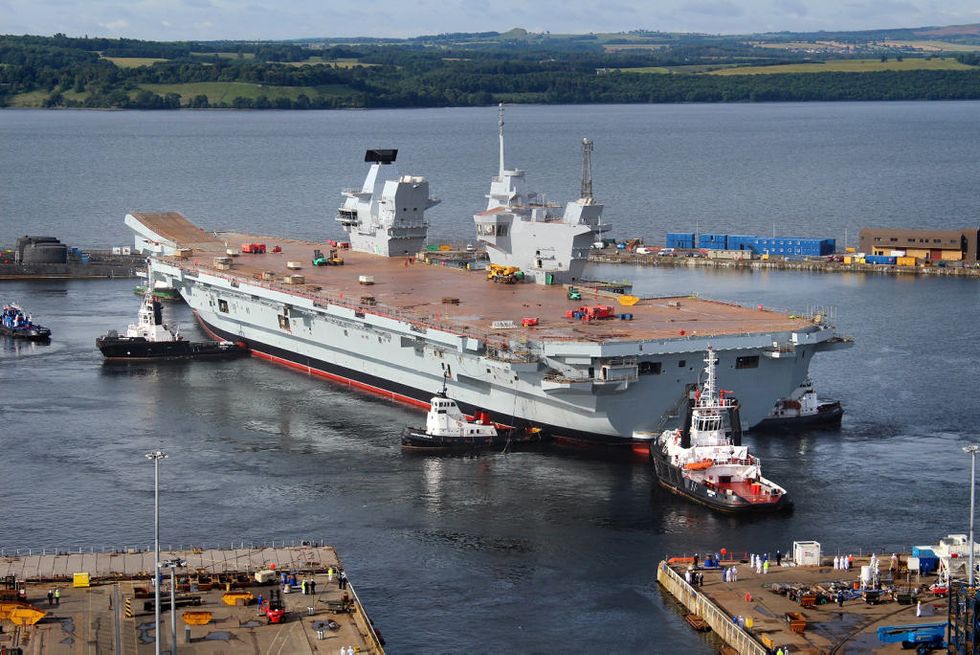 The Royal Navy's largest ever warship HMS Queen Elizabeth is gently floated out of her dock for the first time in Rosyth, Scotland in July 2014. (Photo from U.K. MOD)
But take a look at America's newest entry in that class: The nuclear-powered aircraft carrier USS Gerald R. Ford (CVN 78). Yes, it has an air wing with four squadrons of multi-role fighters, plus others of helicopters, electronic warfare planes, and airborne radars. But it also has self-defense systems.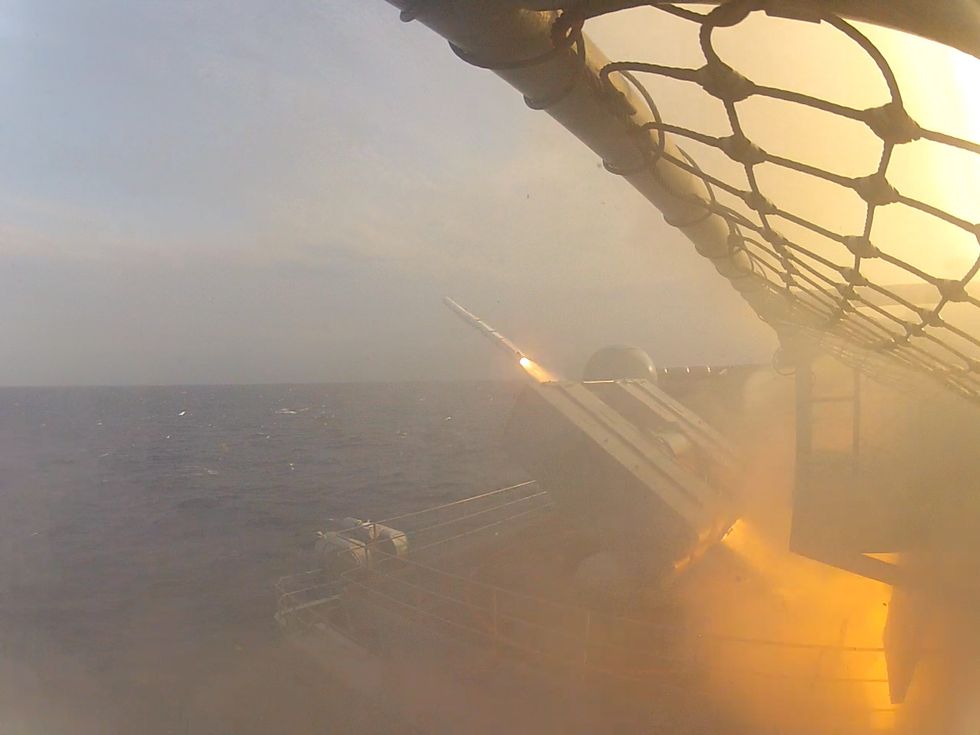 The aircraft carrier USS Theodore Roosevelt (CVN 71) test fires its NATO Evolved Sea Sparrow Missile System during a combat system ship qualification trial. Theodore Roosevelt is underway preparing for future deployments. (U.S. Navy photo/Released)
The Sixteenth Edition of the Naval Institute Guide to Combat Fleets of the World reports that the Ford has RIM-162 Evolved Sea Sparrow Missiles, RIM-116 Rolling Airframe Missiles, and Mk 15 Phalanx Close-In Weapon Systems. This provides three layers of defense against incoming missiles that the escorts don't shoot down first.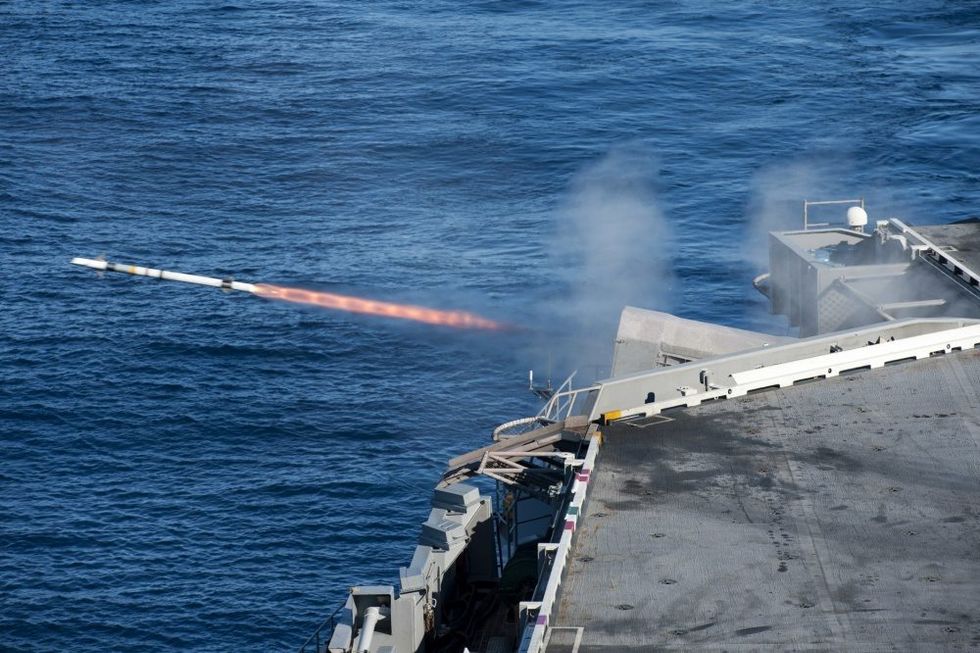 The aircraft carrier USS Harry S. Truman (CVN 75) launches a RIM-116B missile from a rolling airframe missile launcher during a live-fire exercise. Harry S. Truman has successfully completed a tailored shipboard test availability and final evaluation problem and is underway preparing for future operations. (U.S. Navy photo by Mass Communication Specialist 2nd Class Anthony Flynn)
The Queen Elizabeth-class carriers will be equipped with three Mk 15 Phalanx Close-In Weapon Systems. There are four 30mm autocannon for use against small boats. That's it. Only one layer of defense – and that one layer isn't quite the state of the art. Naval-Technology.com reports that the Queen Elizabeth is fitted for the ASTER 15 missile (now called the Sea Viper), but actual installation depends on finds being made available.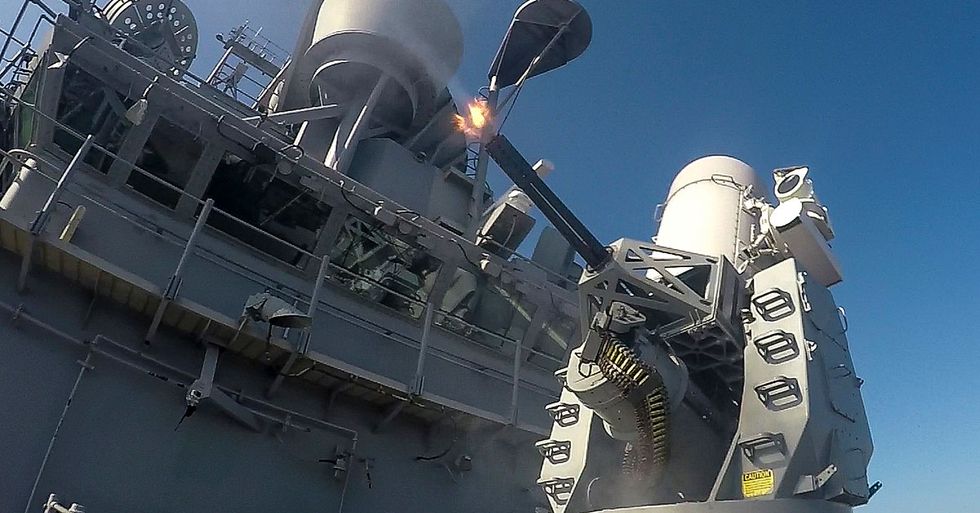 An MK15 Phalanx close-in weapons system (CWIS) fires during a live-fire exercise aboard the amphibious assault ship USS WASP (LHD 1). (U.S. Navy photo by Mass Communication Specialist 3rd Class Michael Molina/Released)
This is a glaring omission. The United Kingdom lost eight aircraft carriers in World War II. Unless this armament issue is resolved, HMS Queen Elizabeth could be the ninth. You can see more about this potential Achilles Heel in the video below.