On Sept. 11, 2012, a retired SEAL sniper took a small team to Blackwater's former facility in the swamps of Virginia where he shot at a target from 911 yards 79 times — once for every Naval Special Warfare casualty since 9-11, those killed in both combat and training.
---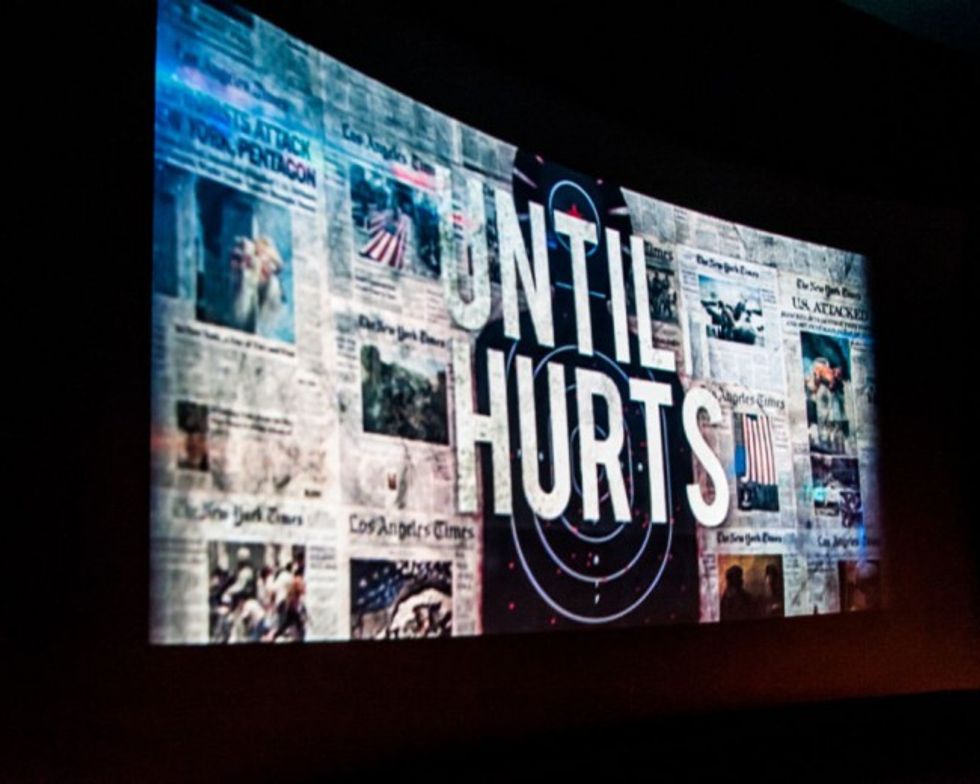 Until It Hurts features the target with the 79 bullet holes highlighted in red. (Photo: Eric Wickham)
He sent the first round downrange at 8:46 AM, the time the first airliner hit the North Tower of the World Trade Center, in honor of Petty Officer First Class Neil Roberts — the first SEAL killed during the war in Afghanistan. The shot found the target, and the bullet hole was labeled with Roberts' name by a volunteer spotter downrange.
"I'd take the shot, and they'd find the bullet hole," the sniper recalled. "They'd write the name down next to the hole. I'd hand the brass to my wife who had the list of names and she'd label it. It was kind of a sacred process."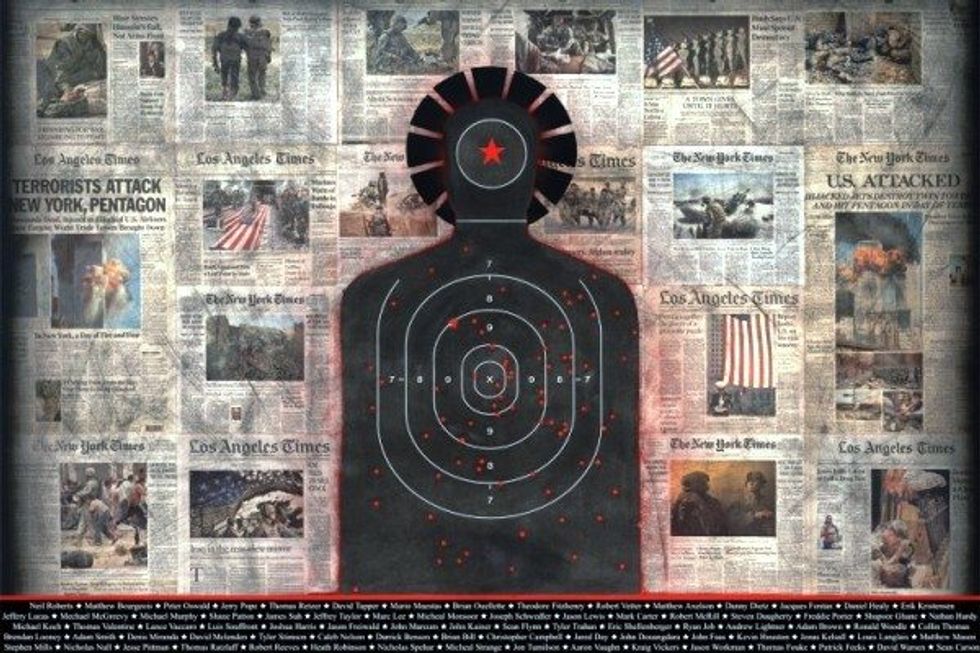 Former Navy SEAL and vet entrepreneur Jason Redman addresses the audience following the premiere of Until It Hurts in Norfolk, Virginia. (Photo: Eric Wickham)
Among Grubbs' business concerns is film production, so naturally he thought of turning the artwork and the events surrounding it into a film. He enlisted the help of director Scott Hanson and together they created Until It Hurts, which premiered in Norfolk, Virginia on Feb. 21.
"Doing this documentary gave me the chance to work with SEALs and learn more about their families and what they do," Hanson said following the premiere. "It makes me way more appreciative that I can do what I do."
"It hits everybody in different ways," Redman said. "A wounded warrior sees one thing, a Gold Star family member sees something else, and a civilian sees something else. And that's what's so great about it."
"This was the first showing to a civilian audience," Jake Healy, son of Senior Chief Dan Healy who was killed when the Chinook attempting to extract four SEALs trapped on a mountain was hit by an RPG — a tragedy well-documented in Marcus Luttrell's book Lone Survivor and the associated major motion picture. "Their response to the movie tonight was powerful and reassuring."
"I hope it will...highlight the sacrifice of Americans who understand what it took to make this country." Redman said.
You can watch the full documentary right here:
WATM field correspondent Briggs Carroll contributed to this article.