Air Force pararescuemen are among the elite when it comes to special operations. Their main task is to rescue pilots who have been shot down behind enemy lines. It's never been an easy task, but at least the tech has improved since World War II. Back then, a pilot had to walk back to friendly lines – a very long walk.
---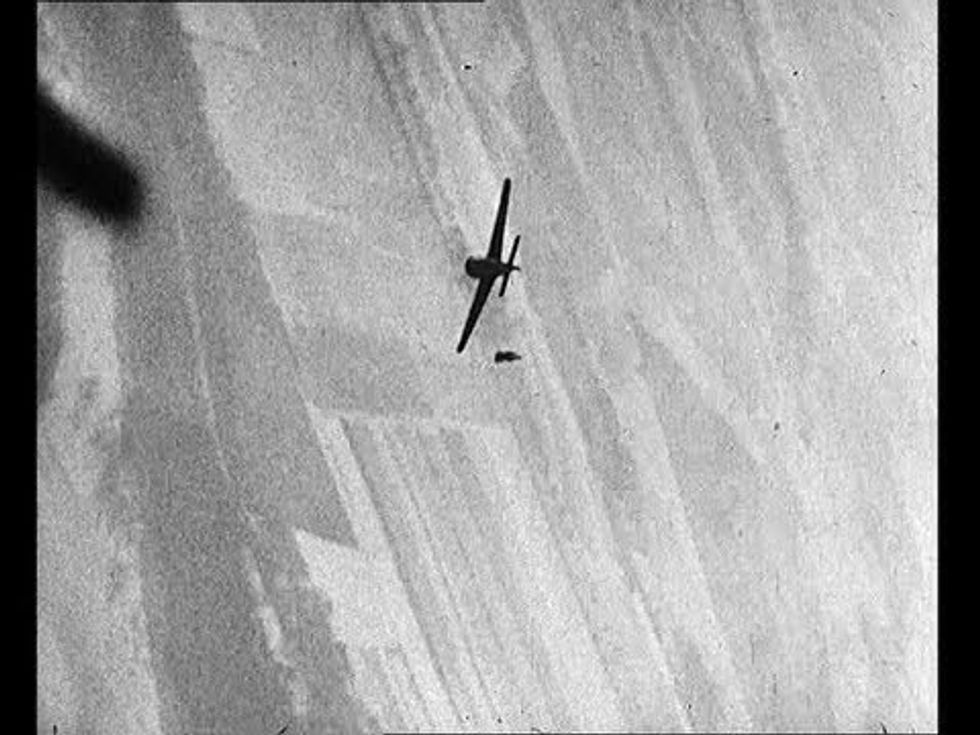 A pilot ejects from his P-51 Mustang in the skies over Normandy. Not ideal.
Amphibious planes, like the PBY Catalina and HU-16 made rescue possible, but you needed enough water – or a strip of land – for them to land and take off. The same went for other planes, even the L-5, the military designation for the Piper Cub.
Insert the helicopter. They first appeared in a small capacity during the Korean War before they really came of age during Vietnam, proving to be the search-and-rescue asset America needed.
Here's a look some legendary choppers that carried out that mission.
1. Sikorsky HH-3 Jolly Green Giant
The first helicopter to become a legend for search and rescue was the Sikorsky HH-3. The H-3 airframe was first designed for the Navy to carry out anti-submarine warfare, and was called the Sea King. But the size of the chopper lead the Air Force to buy some as heavy transports. They were eventually equipped with 7.62mm Miniguns and used to rescue pilots, with some seeing service in Desert Storm and the last ones serving until 1995.
According to an Air Force fact sheet, the HH-3 has a top speed of 177 miles per hour, and could carry up to 25 passengers or 15 litters, plus a crew of four and two attendants.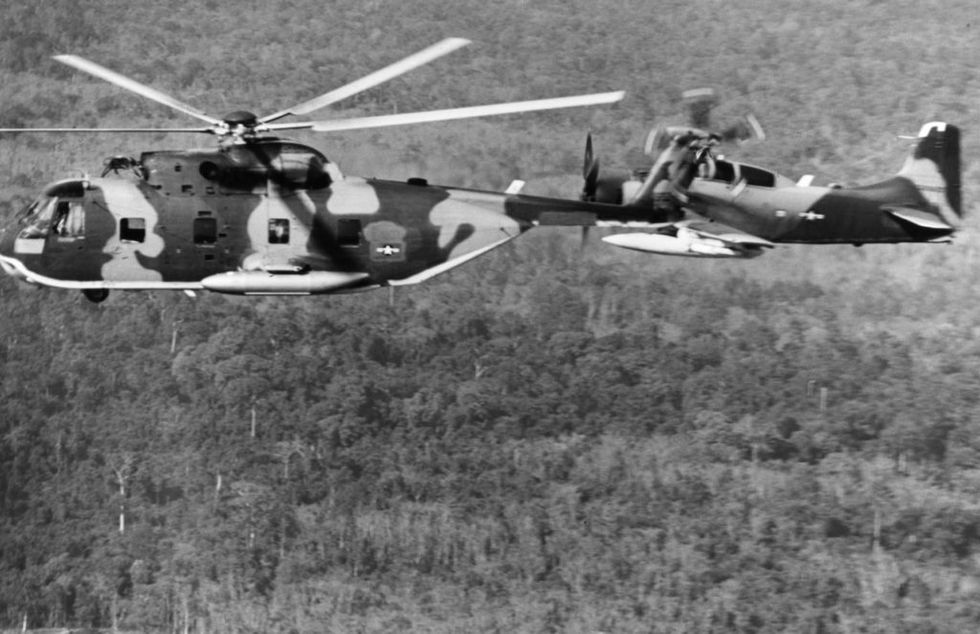 An A-1 Skyraider escorts an HH-3C rescue helicopter as it goes in to pick up a downed pilot in Vietnam. (National Museum of the USAF Photo)
2. Sikorsky HH-53 Super Jolly/Pave Low
The Air Force didn't stop with the Jolly Green. Eventually, the even larger HH-53 was procured, and called the Super Jolly Green Giant. They also took part in search-and-rescue missions during the Vietnam War, but after that war, the HH-53s were upgraded into the Pave Low configuration, making them capable of operating at night and bad weather. They also became used as special operations transports. The last Pave Lows were retired in 2008.
According to an Air Force fact sheet, the latest version of the Pave Low has a top speed of 165 miles per hour, an un-refueled range of 690 miles, and a crew of six.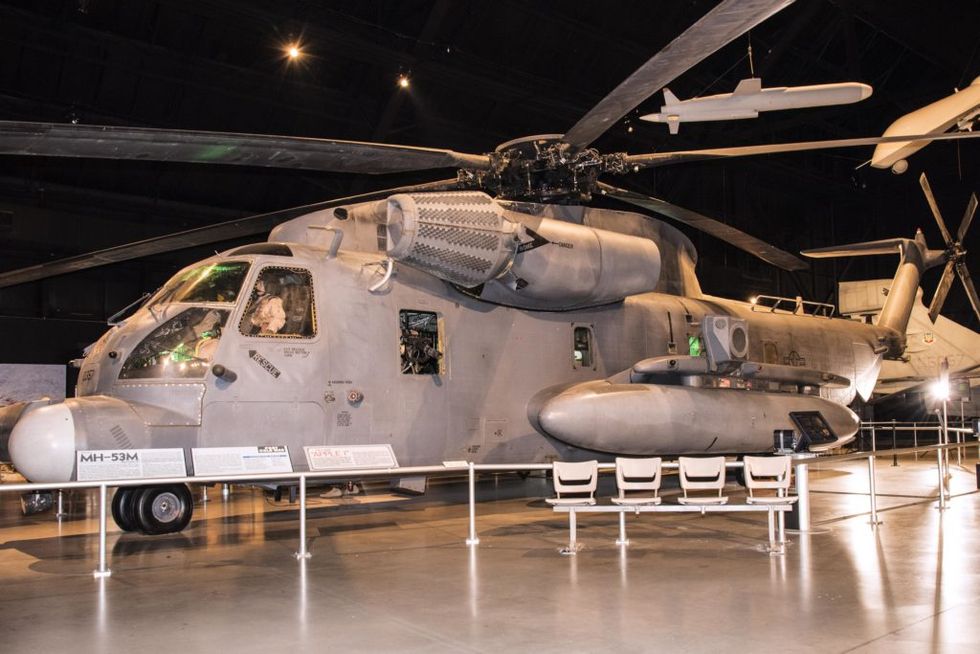 Sikorsky MH-53M Pave Low IV on display in the Cold War Gallery at the National Museum of the U.S. Air Force. (U.S. Air Force photo)
3. Sikorsky HH-60G Pave Hawk
The Air Force though, was looking for more search-and-rescue assets – mostly because they only bought 41 of the Super Jolly Green Giants. The HH-60G is primarily tasked with the combat search and rescue role, and it usually carries .50-caliber machine guns to protect itself. Like the Pave Low, the Pave Hawk can carry out missions at night or day. The HH-60G is currently serving.
An Air Force fact sheet notes that a total of 99 Pave Hawks serve in the active Air Force, the Air National Guard, and Air Force Reserve. The Pave Hawk has a top speed of 184 miles per hour, an unrefueled range of 504 nautical miles, and can carry a crew of four.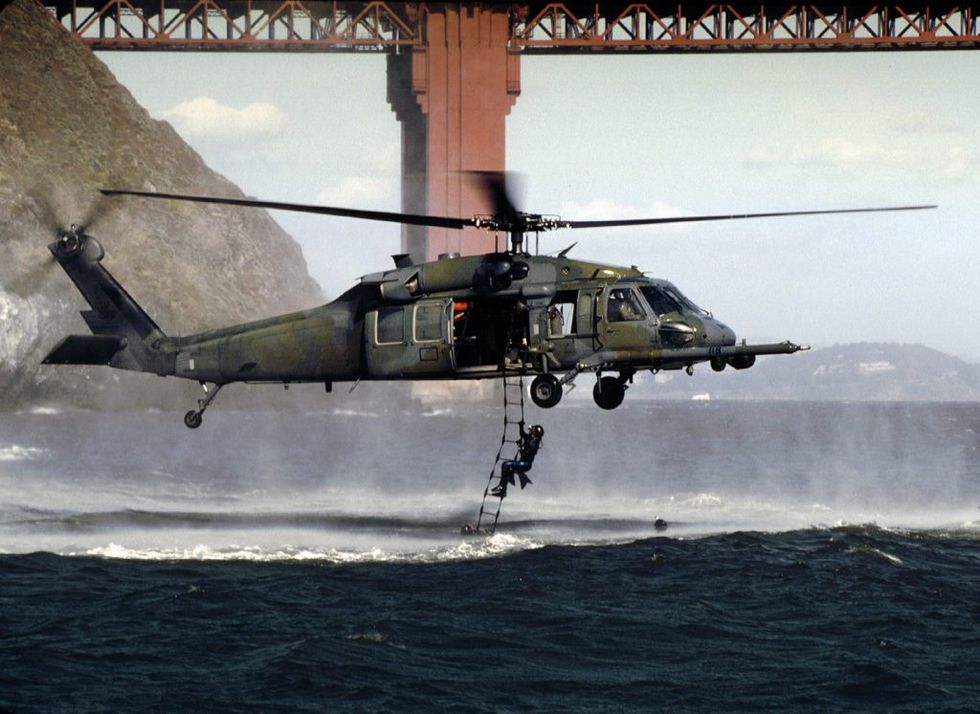 The HH-60G's primary wartime mission is combat search and rescue, infiltration, exfiltration and resupply of special operations forces in day, night or marginal weather conditions. (U.S. Air Force photo by Tech. Sgt. Lance Cheung)
4. Sikorsky HH-60W Combat Rescue Helicopter
The H-60 airframe has been a mainstay of all five armed services, so much so that the replacement for the HH-60G is another H-60. In this case, the HH-60W is a modified version of the Army's UH-60M Blackhawk.
According to materials provided by Sikorsky, a division of Lockheed Martin, the HH-60W has a combat radius of 195 nautical miles, and is equipped with new displays to reduce the air crew's workload, and to help the pararescue jumpers do their job more efficiently. The Air Force plans to buy 112 HH-60Ws to replace the 99 HH-60Gs currently in service.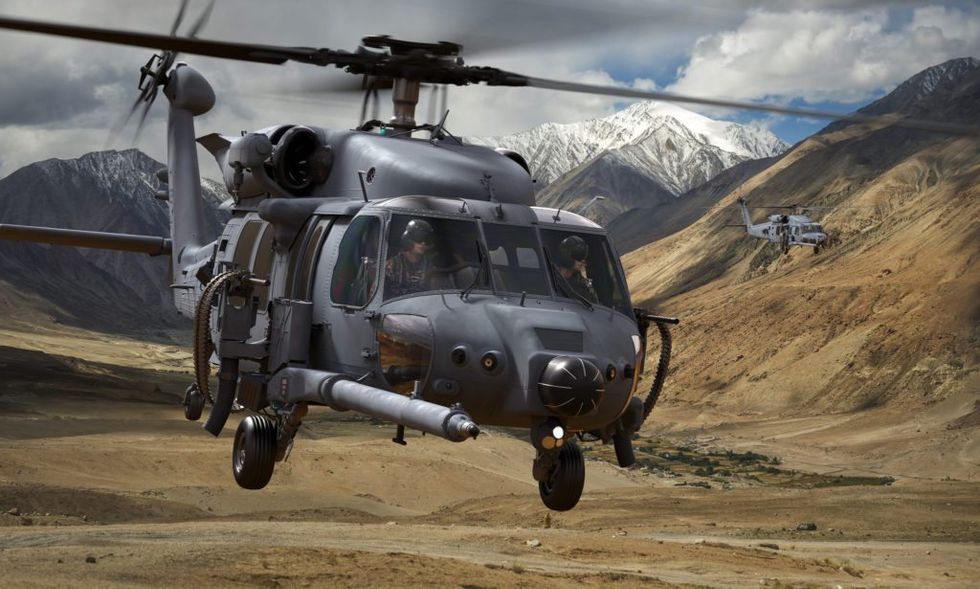 Artist's impression of Sikorsky's HH-60W Combat Rescue Helicopter (Graphic from Lockheed Martin)
In short, when a pilot goes down, the assets are now there to pull him out, and to keep him from becoming a guest in a 21st century Hanoi Hilton.