The A-10 Thunderbolt II is a single-seat, twin turbofan-powered aircraft designed specifically for close air support and ground attack missions against armored vehicles.
---
The aircraft's sub-sonic speed and large straight-wing design allows for extreme maneuverability at low altitudes and extended time on target or to loiter above the battlefield.
The airframe was designed from the very start as a short takeoff and landing aerial platform for the 30mm GAU-8 Avenger rotary cannon, which can fire 3,900 depleted uranium shells per minute. When combined with the ability to carry the AGM-65 Maverick air-to-surface missile and laser-guided bombs, the A-10 can destroy enemy armor at close range or from a standoff position.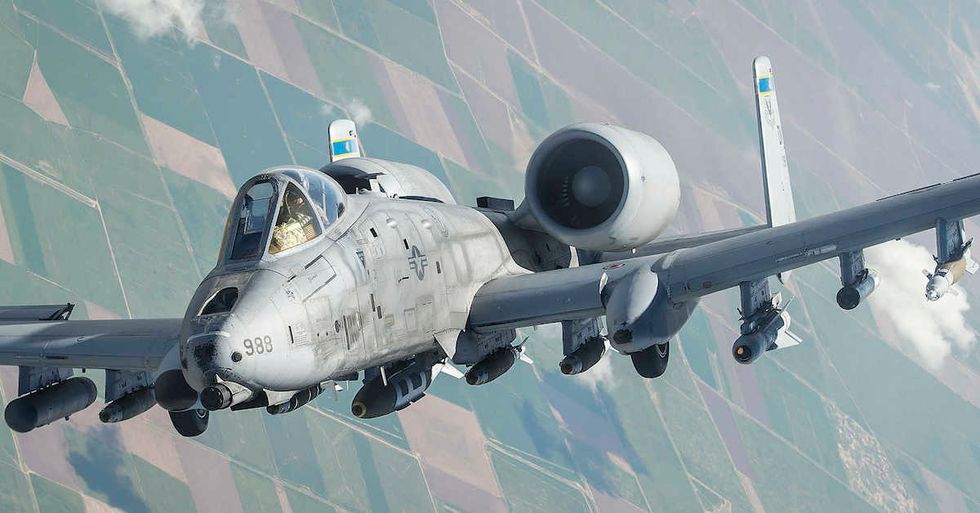 The A-10 Thunderbolt "Warthog." USAF photo by Senior Airman Trevor T. McBride.
Redundant control surfaces and hydraulic systems combined with titanium armor protecting the pilot, control systems, and ammunition make the A-10 highly survivable in combat.
When performing forward air control missions, the A-10 changes its designation to OA-10, although it remains just as combat capable as the A-10.
Its lethal effect on the battlefield combined with the toughness to return its pilot to base even after suffering extensive damage has led pilots and crew to nickname the aircraft the "Warthog."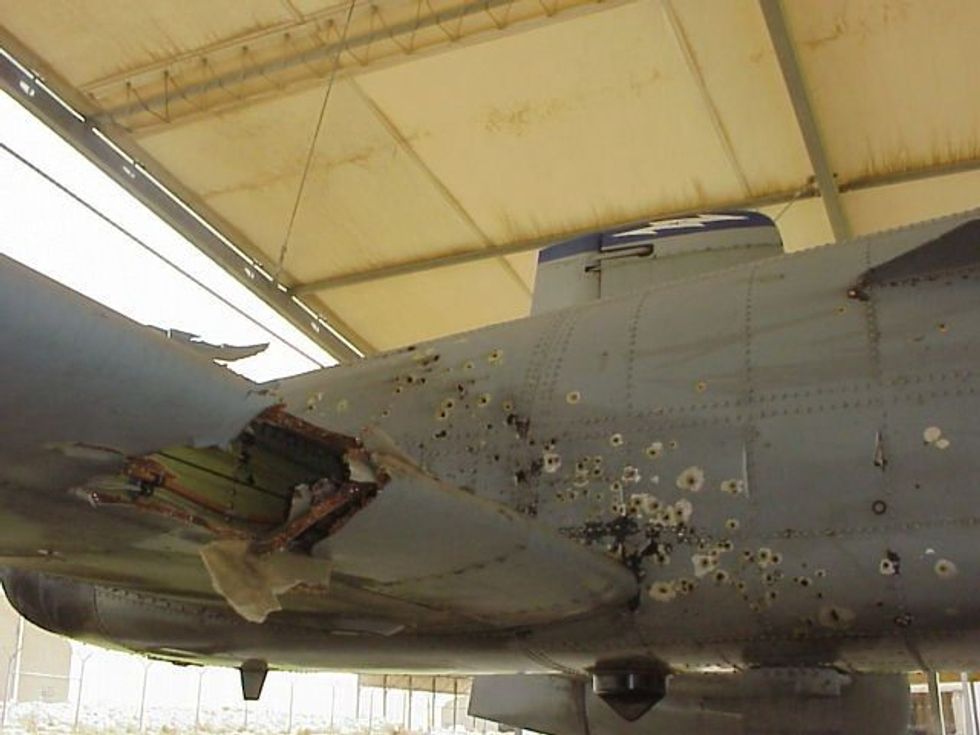 The A-10 Thunderbolt II piloted by Captain Kim Campbell suffered extensive damage during Operation Iraqi Freedom in 2003. Campbell flew it safely back to base on manual reversion mode after taking damage to the hydraulic system. (Photo courtesy of U.S. Air Force)
Development and Design
The A-10 was born of the Attack-Experimental (A-X) program office, which launched in 1966 to develop a ground-attack aircraft to replace the Douglas A-1 Skyraider.
In 1970, the threat posed by the Soviet Union's overwhelming number of tanks along the borders of Western Europe led the Air Force to request contractor proposals for an airframe specifically designed to conduct the CAS mission and destroy enemy armor.
The call for designs stipulated a low-cost aerial weapons platform – less than $3 million per unit – capable of loitering above the battlefield and engaging enemy targets at low altitude and speed with a high-speed rotary cannon, while providing extreme crew and aircraft survivability.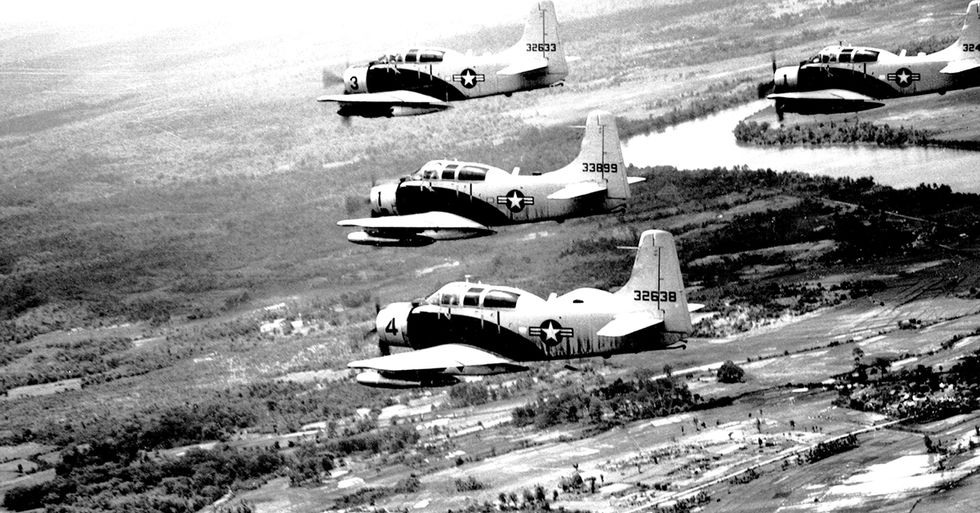 A-1E Skyraider aircraft of the 34th Tactical Group, based at Bien Hoa, South Vietnam, fly in formation over South Vietnam June 25, 1965. In the 1960s, the USAF requested proposals from aviation contractors for a subsonic jet-powered aircraft designed exclusively for the a ground attack and close air support role which would replace the A-1 which served with the USAF during wars in Korea and Vietnam. The result was the Fairchild Republic A-10. (U.S. Air Force photo)
Later, the requirements would be further specified to include a maximum speed of 450 mph and a normal operating speed of 300 mph in combat to enable easier engagement of slow moving ground targets.
Furthermore, the new aircraft was required to take off in less than 4,000 feet, enabling operations from small airfields close to the front lines, carry an external load of 16,000 pounds and have a mission radius of 285 miles, all for a final cost of $1.4 million per aircraft.
Of the six proposals submitted to the Air Force, Northrop and Fairchild Republic were selected to build prototypes.
In 1973, Fairchild Republic's YF-10 was the winner of a fly-off against Northrup's YF-9 and full production began in 1976, with the first A-10 being delivered to Air Force Tactical Air Command that March.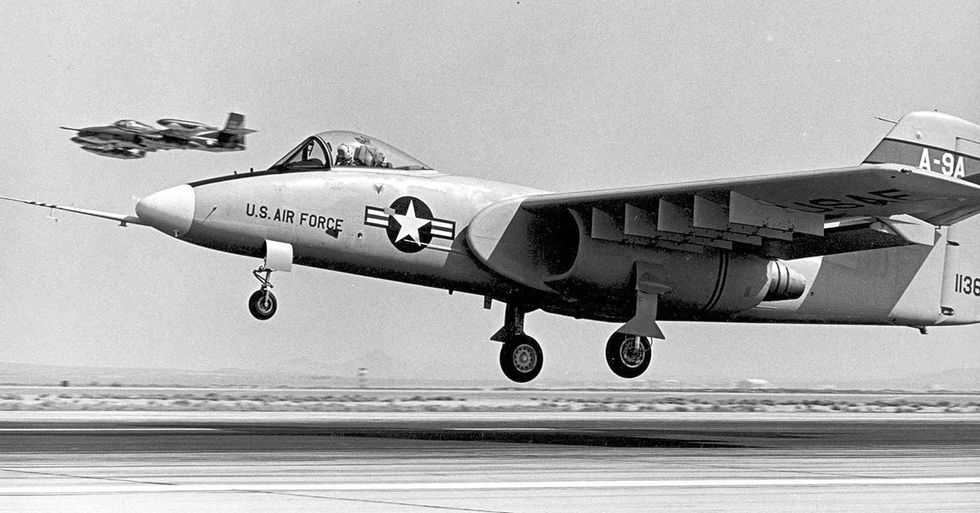 A Northrop A-9A before touchdown on its first flight. The aircraft was one of two prototypes built to the requirements of the U.S. Air Force's Attack-Experimental Program. Ultimately, the Fairchild Republic design for a dedicated ground attack aircraft, the YF-10, would be chosen by the Air Force over the Northrop design, leading to the production of the A-10. (U.S. Air Force photo)
Features and Deployment
Fairchild Republic's WWII fighter, the P-47 Thunderbolt, had begun its service in Europe as fighter and bomber escort, but soon earned a reputation as a relentless and tough ground-attack aircraft that dispatched Nazi armor and artillery in close proximity to friendly troops, while creating havoc in enemy assembly areas and along rail and road supply routes. It was a natural choice for the company to name its new CAS-dedicated aircraft after its WWII-era forefather: "Thunderbolt II."
The entire design of the aircraft revolved around the high-speed 30mm Avenger cannon. The weapon gives the A-10 its up-close tank-busting capabilities announced by the long "buuuuurp" sound that has saved and encouraged many an infantryman in dire straits on the battlefield.
Although developed initially to provide an aerial counterpunch to the mass of Soviet tanks poised along the borders of Western Europe, the A-10 did not see combat until the Gulf War in 1991.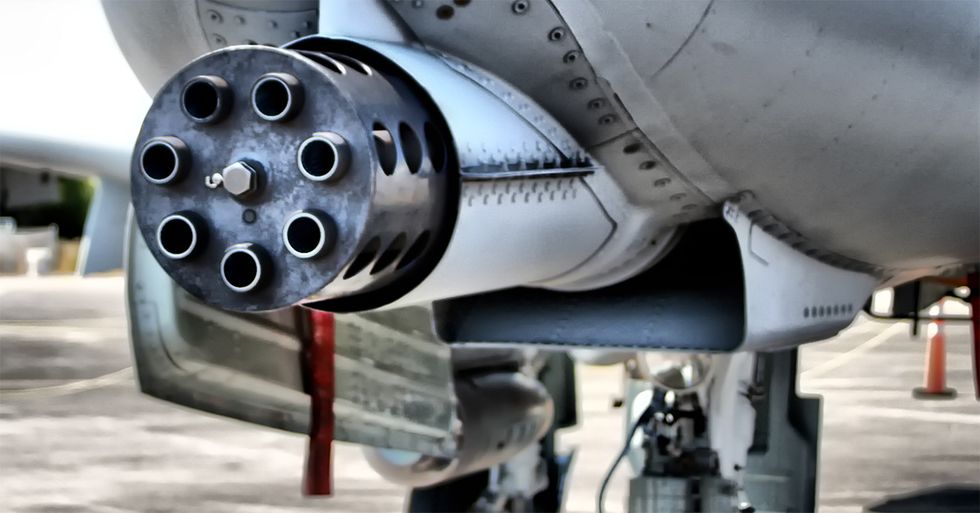 The business end of the 30mm GAU-8 Avenger rotary cannon extends from the nose of an A-10. The cannon, which can fire 3,900 depleted uranium shells per minute, was the anti-armor weapon around which the A-10 platform was designed. (U.S. Air Force photo)
There the "Warthog" earned its nickname, getting pilots back to base despite heavy damage from ground fire, while destroying 900 Iraqi tanks, 2,000 armored vehicles and trucks and over 1,200 artillery pieces. Just four A-10s were lost to Iraqi surface-to-air missiles in over 8,000 sorties.
The A-10 next saw combat and search and rescue missions in the Balkans in 1994-95 and again in 1999, before being deployed to Afghanistan in 2002 and participating in the entirety of Operation Iraqi Freedom.
It still currently conducts operations against ISIS targets.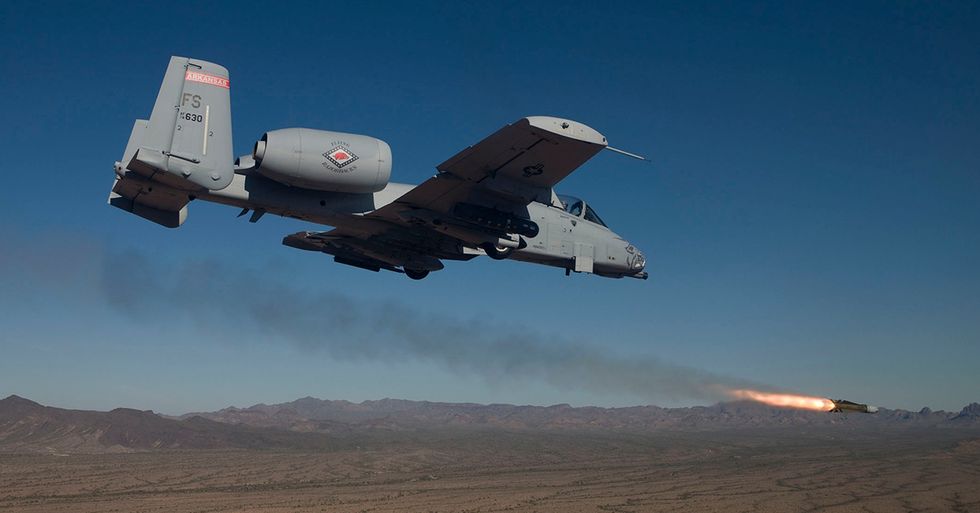 An A-10 launches an AGM-65 Maverick air-to-surface missile during a training mission. The missile enables the A-10 to destroy armored vehicles and other targets from a standoff position. (Photo from U.S. Air Force)
Did You Know?
Many of the A-10's parts, such as engines, main landing gear and vertical stabilizers are interchangeable on both sides of the aircraft, greatly increasing ease of maintenance and decreasing operational and maintenance costs.
The A-10's ailerons constitute nearly 50 percent of the total wing surface, giving it an astonishing rate of roll and maneuverability at low altitudes and speeds.
If the redundant hydraulic systems and backup mechanical system are all disabled, the pilot can still lock landing gear into place using a combination of gravity and aerodynamic drag. The main gear does not fully retract leaving the wheels exposed decreasing damage in an emergency belly landing.
The A-10 gained its first air-to-air victory during the Gulf War in 1991 when Capt. Robert Swain shot down an Iraqi helicopter with 30mm cannon fire.
In 2010, the A-10 was the first Air Force aircraft to fly powered by biofuels.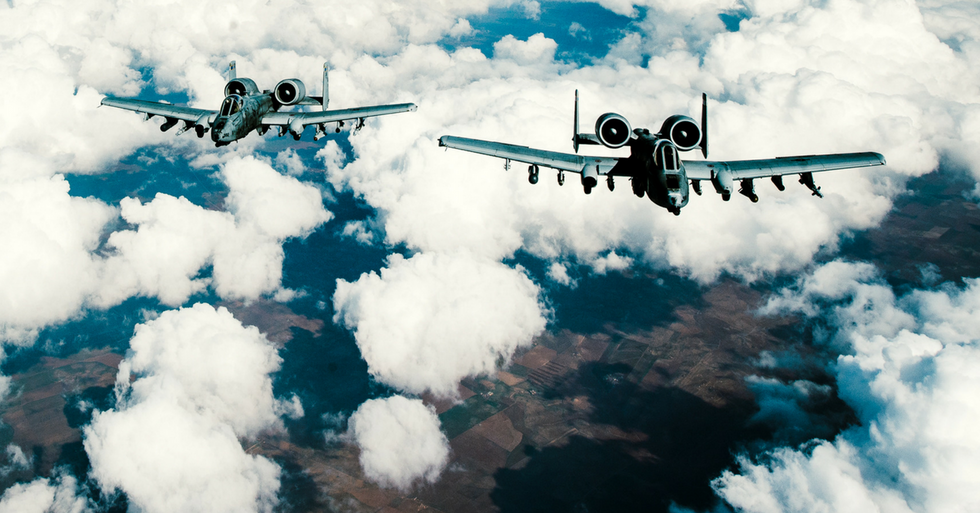 Two U.S. Air Force A-10 Thunderbolt IIs fly in a wingtip formation after refueling from a 340th Expeditionary Air Refueling Squadron KC-135 Stratotanker in support of Operation Inherent Resolve, Feb. 15, 2017. (U.S. Air Force photo by Senior Airman Jordan Castelan)
FACT SHEET: A-10 Thunderbolt II
Primary function: close air support, airborne forward air control, combat search and rescue
Contractor: Fairchild Republic Co.
Power plant: two General Electric TF34-GE-100 turbofans
Thrust: 9,065 pounds each engine
Wingspan: 57 feet, 6 inches (17.42 meters)
Length: 53 feet, 4 inches (16.16 meters)
Height: 14 feet, 8 inches (4.42 meters)
Weight: 29,000 pounds (13,154 kilograms)
Maximum Takeoff Weight: 51,000 pounds (22,950 kilograms)
Fuel Capacity: 11,000 pounds (7,257 kilograms)
Payload: 16,000 pounds (7,257 kilograms)
Speed: 450 nautical miles per hour (Mach 0.75)
Range: 2580 miles (2240 nautical miles)
Ceiling: 45,000 feet (13,636 meters)
Armament: one 30 mm GAU-8/A seven-barrel Gatling gun; up to 16,000 pounds (7,200 kilograms) of mixed ordnance on eight under-wing and three under-fuselage pylon stations, including 500 pound (225 kilograms) Mk-82 and 2,000 pounds (900 kilograms) Mk-84 series low/high drag bombs, incendiary cluster bombs, combined effects munitions, mine dispensing munitions, AGM-65 Maverick missiles and laser-guided/electro-optically guided bombs; infrared countermeasure flares; electronic countermeasure chaff; jammer pods; 2.75-inch (6.99 centimeters) rockets; illumination flares and AIM-9 Sidewinder missiles.
Crew: one
Unit cost: $18.8 million
Originally published in Airman Magazine November 2017.