Let's face it, when the Army bought the Stryker, in one sense, they were really just catching up with the Marines, who were making an 8x8 wheeled, armored vehicle work for quite a while. Now, though, the Marines are getting a new system for one variant of their Light Armored Vehicles, the LAV-AT, which will make them even deadlier and easier to maintain.
---
According to a release by Marine Corps Systems Command, the LAV-ATM project gives this version of the LAV a new turret. The LAV will still be firing the BGM-71 Tube-launched, Optically-tracked, Wire-guided missile.
Don't be surprised that the TOW is still around – the BGM-71's latest versions could be lethal against Russia's Armata main battle tank.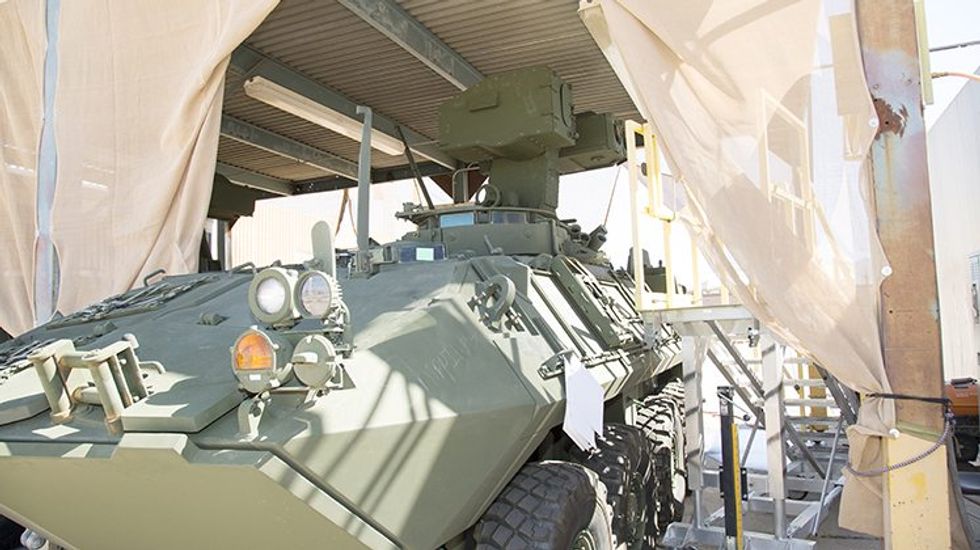 A Light Armored Vehicle Anti-Tank Modernization A2 model sits under an awning at Production Plant Barstow, Marine Depot Maintenance Command, aboard the Yermo Annex of Marine Corps Logistics Base Barstow, Calif., June 15. The turret atop the LAV-ATM is a Modified Target Acquisition System, MTAS, containing a state of the art rocket launcher designed to be more quickly deployed on target with fewer mechanical parts. The MTAS replaces the more than 30 year old Emerson 901 turret. (U.S. Marine Corps photo)
"Compared to the legacy version, the new turret is unmanned, it fires both wire-guided and radio frequency TOW missiles, and it can acquire targets while on-the-move with an improved thermal sight," said Jim Forkin, Program Manager's Office LAV-ATM team lead.
"The turret is important because it protects Marines and gives them an enhanced capability that they didn't have before," Chief Warrant Officer 4 Michael S. Lovell, Ordinance Vehicle Maintenance officer, PM LAV team, explained.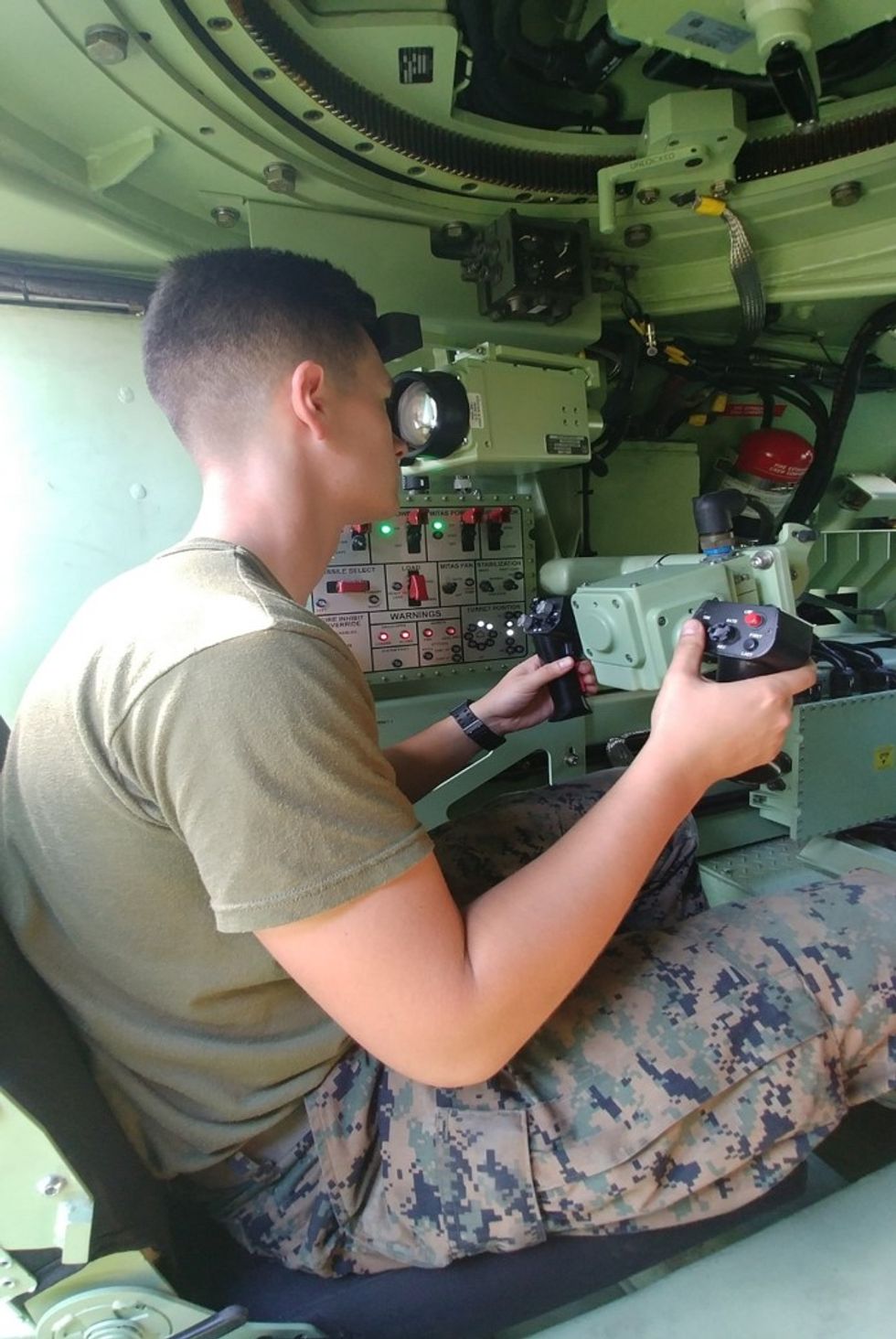 A Marine tests the enhanced vision capability—part of an upgrade to the Light Armored Vehicle's Anti-Tank Weapon System—during new equipment training Sept. 18-29, at Camp Pendleton, Calif. Marine Corps Systems Command completed its first fielding of four upgraded ATWS in September. (United States Marine Corps photo)
The new LAV also makes maintenance easier with an on-board trouble-shooting system that allows operators and maintenance personnel conduct checks on the systems involved with the vehicle and turret. Learning how to use the new turret takes about one week each for operators and maintainers. The Marines have also acquired 3D computer technology to enhance the training on the new LAV-AT.
But the real benefit of the turret is that "Marines who serve as anti-tank gunners will be able to do their job better," according to Chief Warrant Officer Lovell. "We're providing a product that gives Marines an enhanced anti-tank capability improving their forward reconnaissance and combined arms fire power on the battlefield."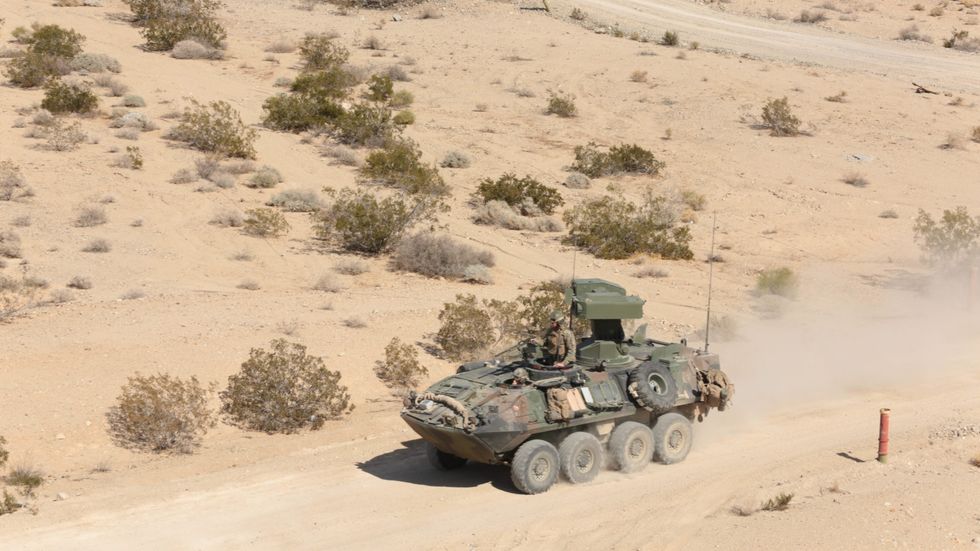 3rd Light Armored Reconnaissance Battalion Marines operate a Light-Armored Vehicle equipped with a new Anti-Tank weapons system to their next objective during testing at range 500 aboard the Combat Center, Feb. 16, 2015. The testing of the new system began Feb. 9 and is scheduled to end March 8. (Official Marine Corps photo by Lance Cpl. Medina Ayala-Lo)
Enemy tanks will hopefully be unavailable for comment on these enhancements.