This past summer, four planes took to the air in a fly-off run by the United States Air Force. This flyoff was part of the OA-X program, intended to provide a replacement for the Fairchild-Republic A-10 Thunderbolt II close-air support aircraft.
---
This program has a tall order. According to an Air Force fact sheet, the A-10 Thunderbolt packs a 30mm GAU-8 "Avenger" Gatling gun with at least 1,174 rounds of ammo. The Warthog can also carry up to 16,000 pounds of ordnance, including AGM-65 Maverick missiles, Paveway laser-guided bombs, Joint Direct Attack Munitions, dumb bombs, rocket pods, and even AIM-9 Sidewinder missiles.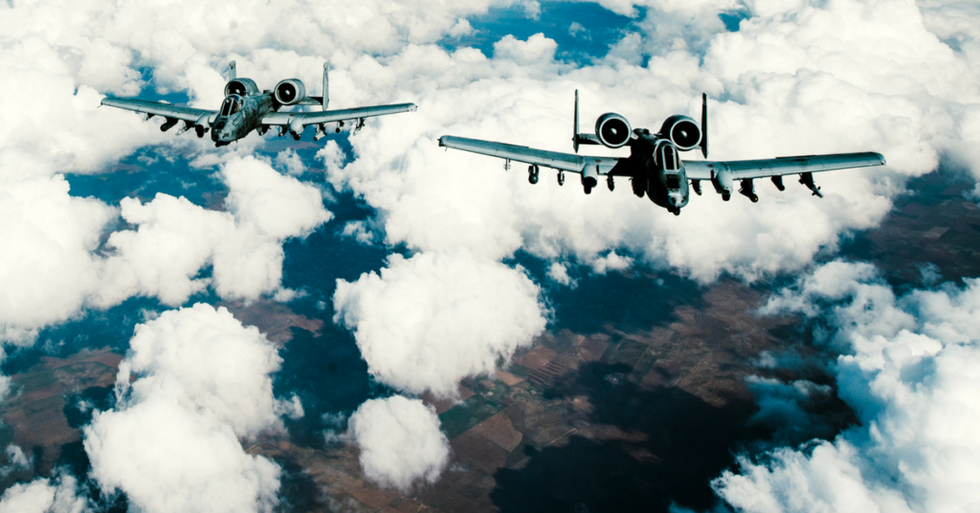 Two U.S. Air Force A-10 Thunderbolt IIs fly in a wingtip formation after refueling from a 340th Expeditionary Air Refueling Squadron KC-135 Stratotanker in support of Operation Inherent Resolve, Feb. 15, 2017. (U.S. Air Force photo by Senior Airman Jordan Castelan)
So, what are these contenders? According to an August report by Popular Mechanics, they are the Beechcraft AT-6 Wolverine, the Embraer AT-29 Super Tucano, the Textron Scorpion, and the Air Tractor AT-802U.
According to MilitaryFactory.com, the AT-6 Wolverine is a variant of the T-6 Texan II used by the United States Air Force and United States Navy. The Wolverine can carry gun pods with .50-caliber machine guns or 20mm cannon, rockets, AGM-114 Hellfire missiles, and 500-pound bombs, including JDAMs and Paveway laser-guided bombs.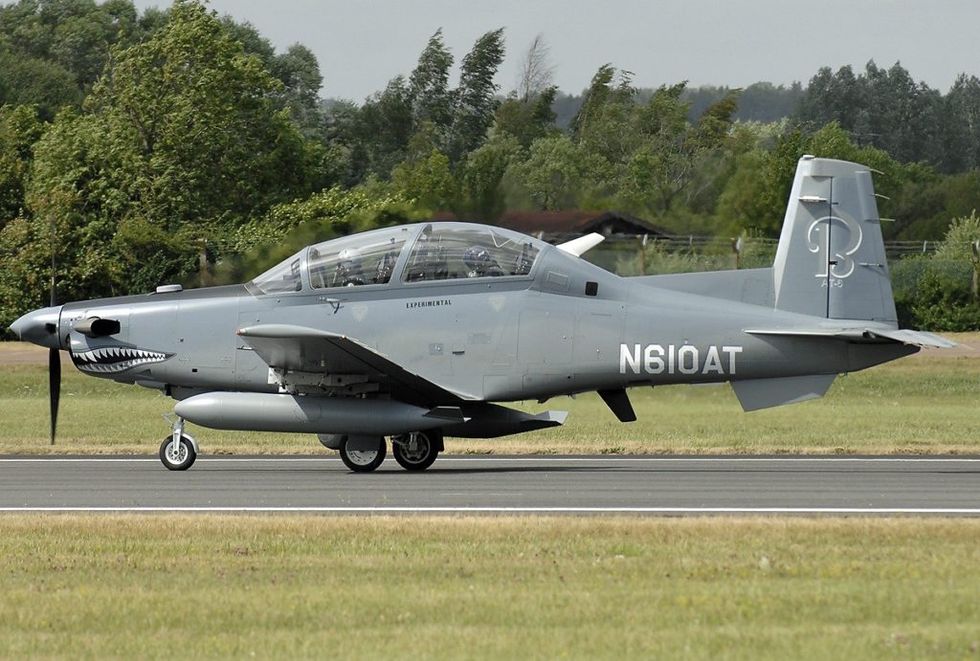 AT-6B Wolverine. (Wikimedia Commons)
The Embraer AT-29 Super Tucano is also based on a primary trainer. Globalsecurity.org notes that the Super Tucano has wing-mounted machine guns, and can also drop 500-pound and 750-pound bombs, fire rockets, and even tow targets.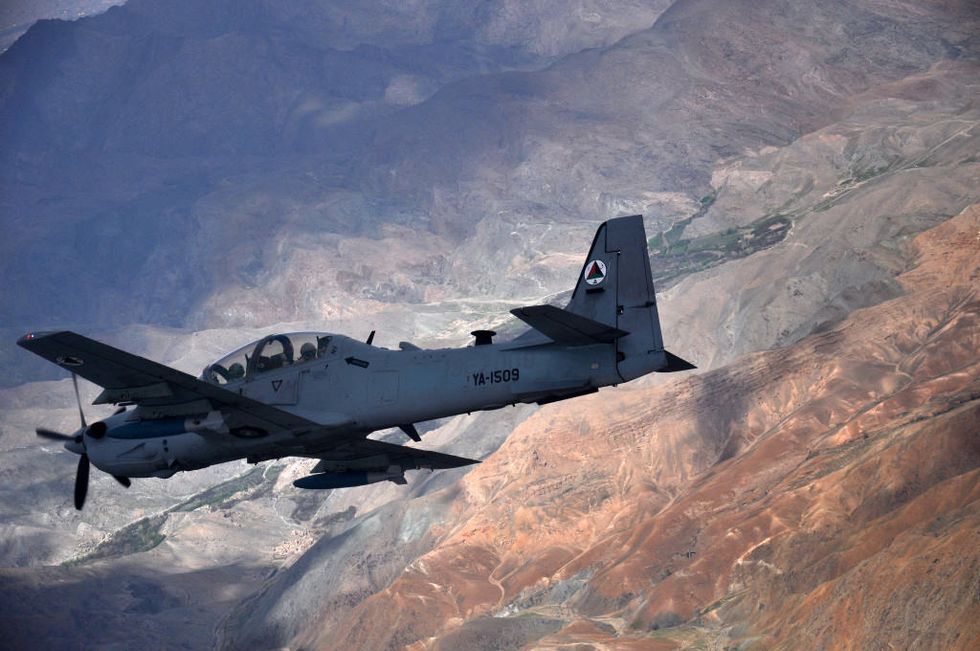 An Afghan air force A-29 Super Tucano aircraft flies over Afghanistan during a training mission April 6, 2016. NATO Train, Advise, Assist Command-Air worked daily with the Afghan air force to help build a professional, sustainable and capable air force. (U.S. Air Force photo by Capt. Eydie Sakura)
One late entry to the flyoff is the AT-802U Longsword. This is based not on a trainer, but a cropduster. According to MilitaryEdge.com, this cropduster carries just over 8,100 pounds of ordnance, and comes with two GAU-19 .50-caliber Gatling guns, so it can bring some BRRRRRT to the table.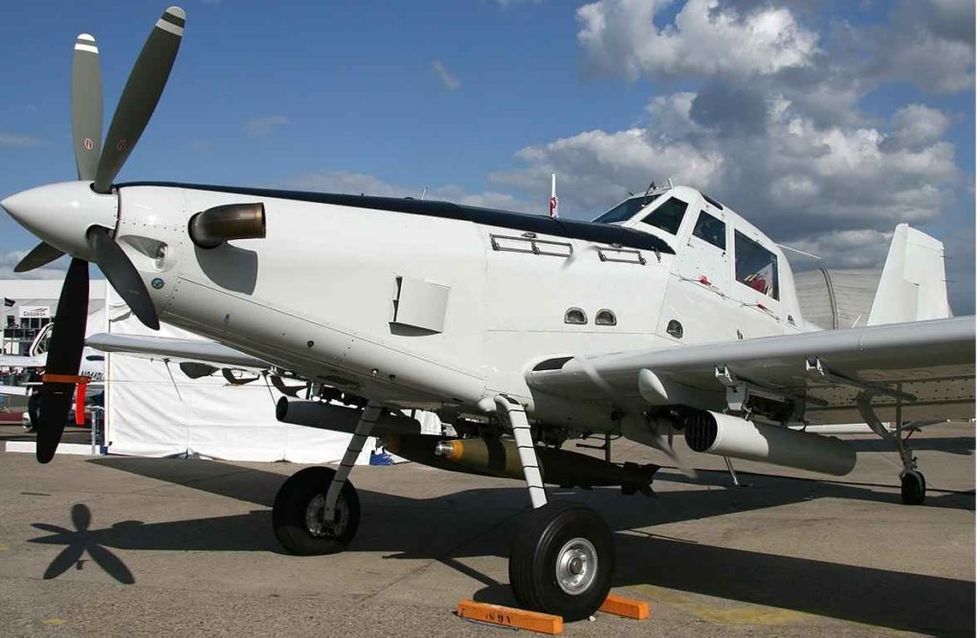 Air Tractor AT-802U Longsword. (Wikimedia Commons)
Last, but not least, there is the Textron Scorpion. According to MilitaryFactory.com, this plane can carry 9,100 pounds of ordnance, and it is also capable of reaching a top speed of 518 miles per hour, and has a range of 2,761 miles. This plane is a bit more complex than its propeller-driven competitors, but it does offer performance.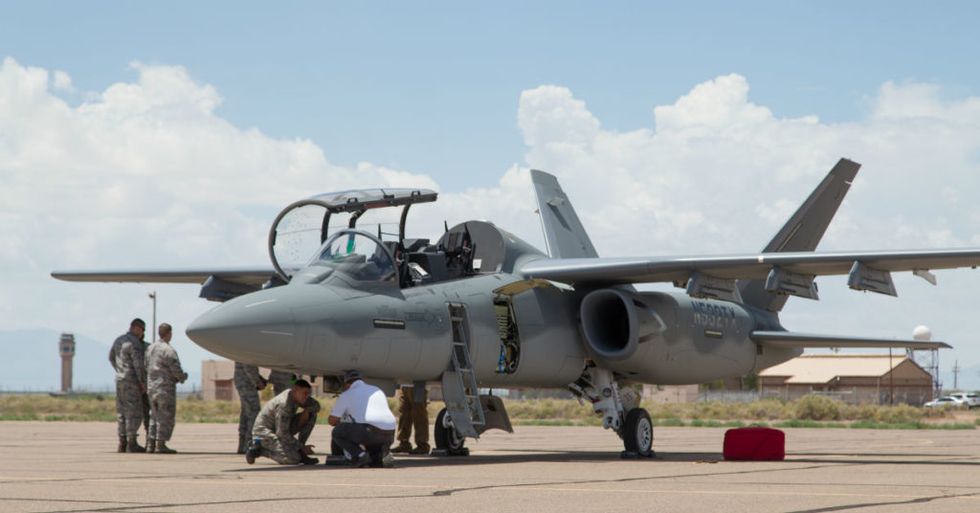 A Textron Scorpion experimental aircraft sits at Holloman AFB. (U.S. Air Force photo by Christopher Okula)
In any case, though, it seems that these planes still don't do what the A-10 can. Perhaps the only replacement for the Warthog will be… another Warthog. In the meantime, check out a video on the OA-X program below.