South Korea is in the news for hosting the 2018 Winter Olympics in the mountain town of Pyeongchang. However, these Olympics are not the only area where South Korea is showcasing its remarkable progress as a country. The nation's military aviation is making radical progress, demonstrated by their latest, potentially game-changing trainer.
---
That trainer is the Korea Aerospace Industries T-50, and it's arguably a frontrunner for the United States Air Force's T-X competition. In showing how South Korea has been able to develop a world-class air force, this plane is arguably the centerpiece.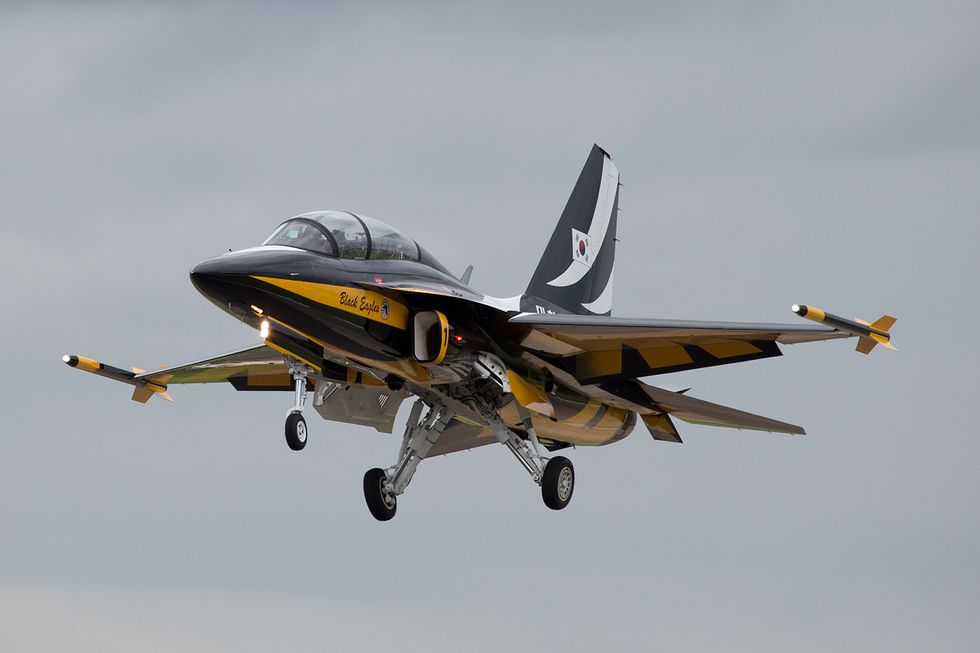 The KAI T-50 as part of the Black Eagles demonstration team. This plane has taken a lot of flight hours from F-16s. (Wikimedia Commons photo by Adrian)
As reported by MilitaryFactory.com, this plane was developed when South Korea was seeking to replace earlier trainers. However, in the process, South Korea developed a plane that was so good at training fighter pilots that it became a light multi-role fighter itself — a poor man's Gripen.
How good is it for training pilots? According to the Lockheed website, a Republic of Korea Air Force trainee now needs only nine sorties in the KF-16 (the South Korean-produced F-16 Fighting Falcon) to fully qualify. This greatly reduces the number of flight hours put on F-16s – meaning those hours can be used for other missions, like combat training or keeping current pilots up to speed.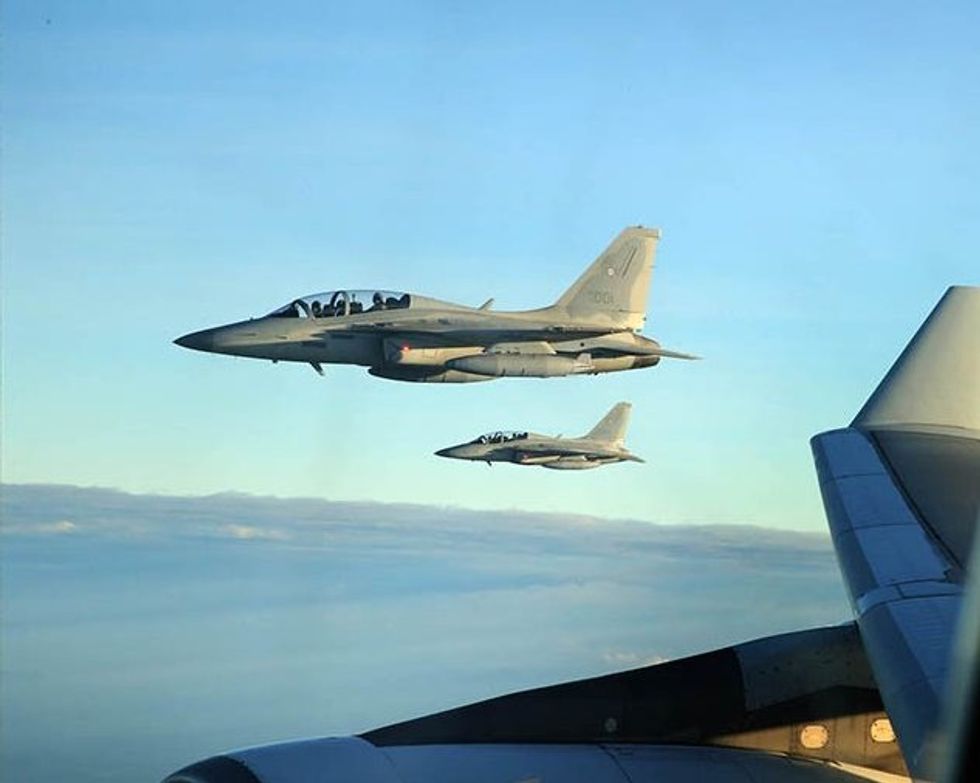 Two of the FA 50 Golden Eagle jets that are part of PAF's modernization effort during the Aquino administration escort the Philippine president's aircraft. (Wikimedia Commons photo by Gil Nartea/Malacanang Photo Bureau)
In fact, the T-50 is, in some ways, a hybrid between the T-38 Talon, the F-16, and the Northrop F-20 Tigershark. It has a single F404 engine, like the Tigershark. Its cockpit and canopy are much like the F-16's and it is a two-seat trainer that goes supersonic, like the T-38. The FA-50 version is a true multi-role fighter that carries advanced radar and other electronic systems. The plane currently serves with Iraq, Indonesia, the Philippines, and Thailand.
The T-50/FA-50 has a top speed of 990 miles per hour, a maximum range of 1,150 miles, and can carry a wide variety of missiles, bombs, and rockets. It also has a three-barrel 20mm Gatling gun.
To see more about this plane, watch the video below.
(Dung Tran | YouTube)