Let's face it, the new Gerald R. Ford-class nuclear-powered aircraft carriers are pretty damn expensive. According to Popular Mechanics, this ship cost $13 billion to build and also involved another $4 billion in research and development costs.
---
So why not build a smaller, cheaper carrier?
Well, let's lay it out. The British were able to use the Invincible-class carriers, which came in at about 20,500 tons, according to naval-technology.com. It could carry up to 24 V/STOL aircraft and helicopters, including nine Sea Harriers or Harriers.
These ships were enough to win the Falklands War, but it was still a close call.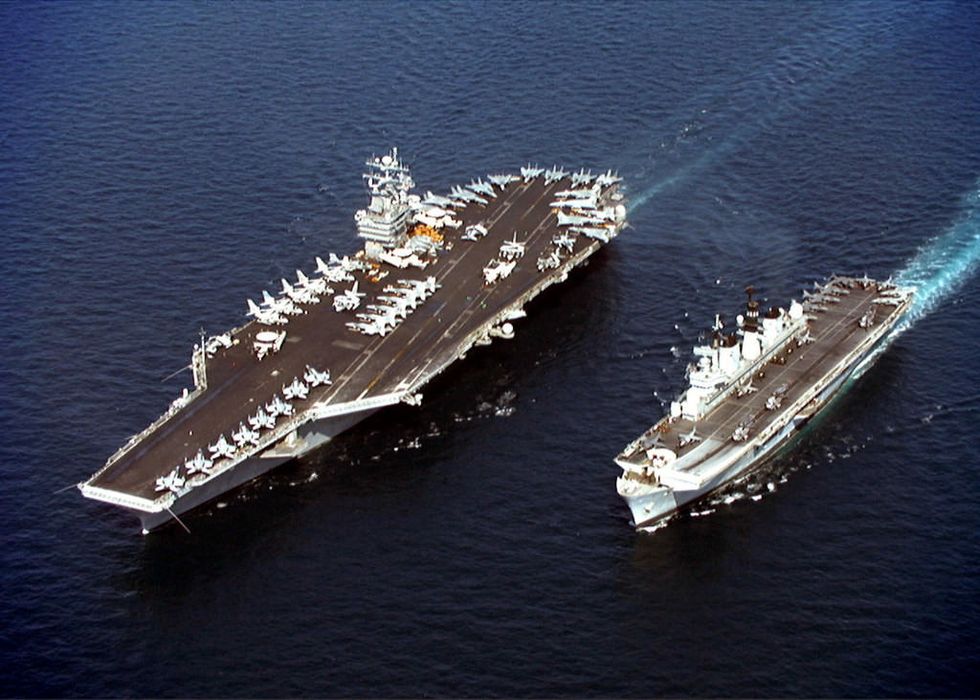 An Invincible-class light carrier with a Nimitz-class CVN. (Photo: US Navy Airman Robert Baker)
Here's what a Ford-class carrier displacing about 100,000 tons (according to a Navy fact sheet) can bring to the table: Four squadrons of multi-role fighters (one with 12 F-35Cs, three with 12 F/A-18E/F Super Hornets), plus an electronic warfare squadron (five EA-18G Growlers), an airborne early warning squadron (four E-2D Hawkeyes), and a pair of C-2 Greyhound cargo planes. There's also a helicopter squadron with a mix of MH-60R and MH-60S helicopters.
So, what about a somewhat smaller carrier, like France's Charles de Gaulle or the Russian Kuznetsov? Well, naval-technology.com notes that the 42,500-ton de Gaulle can carry up to 40 planes, including the Rafale M, Super Etendard, and three E-2C Hawkeye, plus helicopters. The 58,500-ton Kuznetsov carries 18 Su-33 Flankers and 17 Kamov Helix helicopters according to MilitaryFactory.com.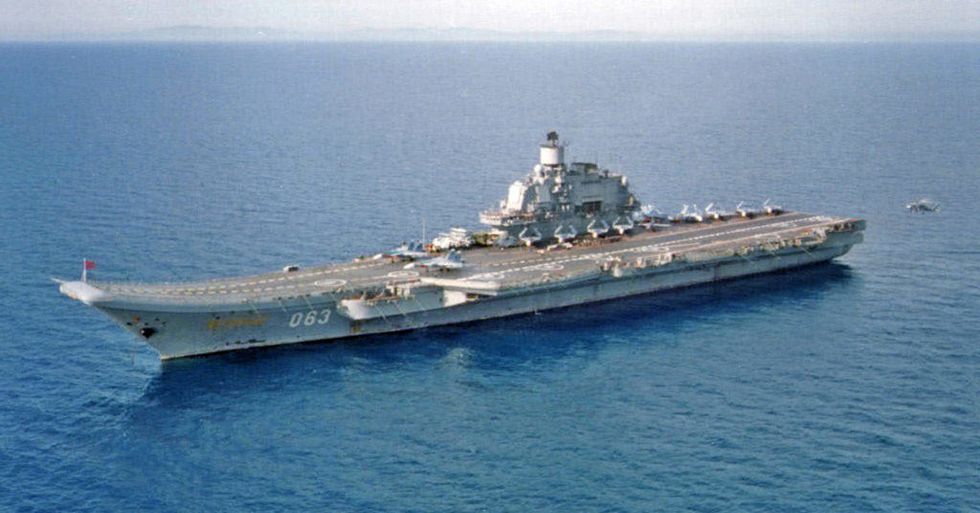 Russian aircraft carrier Admiral Kuznetsov. (Department of Defense)
How long would either carrier last in a fight with the Ford? Well, after the Kuznetsov Follies, it's hard to give a wooden nickel for the Russian carrier's chances. Hell, a Midway-class carrier would likely take the Kuznetsov down. The French carrier would be toast as well.
Why? Because their air wings would still be much smaller than what a Ford-class carrier could bring to the fight. That is ultimately why the United States is sticking with its big carriers. A carrier's primary weapon is its air wing. The bigger the carrier, the more planes it can have in the air wing.
An F/A-18E Super Hornet attached to the "Argonauts" of Strike Fighter Squadron (VFA) 147 takes off from the flight deck of the aircraft carrier USS Nimitz (CVN 68) in support of Operation Inherent Resolve. (U.S. Navy photo by Mass Communication Specialist Seaman Jose Madrigal/Released)
You can see this video that also helps explain why small carriers are a stupid idea.