After enduring countless hardships and overcoming unimaginable obstacles, Airman 1st Class Guor Maker, a dental assistant currently in technical training, found his way out of war-torn South Sudan, Africa and into the U.S. nearly 20 years ago.
---
Surviving
As one of roughly 20,000 children uprooted by the gruesome Second Sudanese Civil War, Maker's childhood was far from normal. After losing 28 family members, including eight of his nine siblings, 8-year-old Maker set out on foot from South Sudan to live with his uncle.
"The country I came from was torn apart by war," said Maker. "It was all I knew growing up, nothing else. I've seen people die in front of me, but I knew no matter what, I had to make it."
During his harrowing journey, Maker was captured and enslaved twice: once by Sudanese soldiers, and once by herdsmen.
"When I was captured, I was forced to be a slave laborer," said Maker. "I would wash dishes or do anything else needed to get by. I slept in a small cell and rarely got to eat… but not always."
Both times, Maker successfully escaped from enslavement and was finally able to join his uncle in Khartoum after three perilous years. However, his journey to safety was far from over.
During a nighttime attack on the perceived safety of his uncle's home, Maker sustained serious injuries when he was beaten unconscious by a soldier who smashed his jaw with a rifle.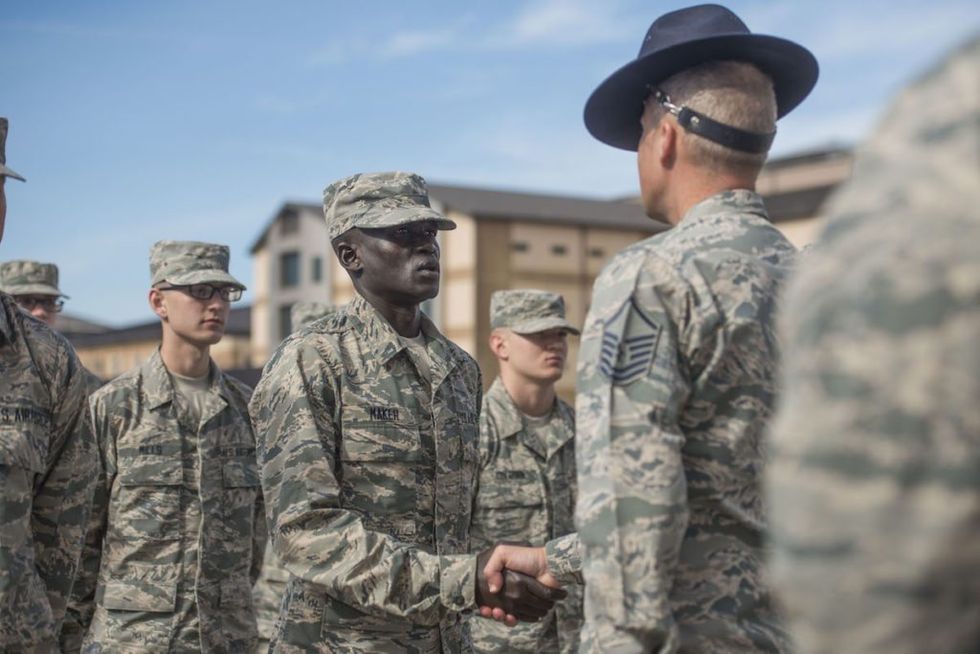 Gour Maker, a trainee at Air Force Basic Military Training, stands in formation at the Coin Ceremony Feb. 1, 2018 outside the Pfingston Reception Center at Joint Base San Antonio-Lackland, Texas. During the BMT Coin Ceremony Trainees are given "Airman's Coins' signifying the final transition from trainee to Airman. (Photo by Airman 1st Class Dillon Parker)
In addition to Maker's Olympian status, his unique personal story also stood out Lippolis.
"I was just absolutely floored when I talked to him about what he went through to get to where he is today," said Lippolis. "Not only did he get survive, he wanted to better himself and he has accomplished so much. He has an amazing story and the drive he has displayed to succeed like that in the face of such adversity is truly inspiring."
Maker not only inspired Lippolis, but other members of his flight were inspired too.
"All of his wingmen said the same things when I talked to them," said Lippolis. "They told me what an inspiration he was within the flight; that the flight rallied around him and he doesn't do anything he's supposed to do for himself until he helps out everybody else."
While Maker has accomplished a great deal in his lifetime, he's not done dreaming.
Maker hopes to join the Air Force World Class Athlete Program, a program designed to allow elite athletes the opportunity to train and compete in national events to make the Olympics. He also wants to make the 2020 Olympics where he'll have the opportunity to represent his new home and the country that gave him so much.
"Joining the greatest Air Force in the world has been an absolute miracle," said Maker. "I can't wait to see what this next chapter holds for me."