In the US, Thanksgiving is a time for family, parades, lots of delicious food, and, oftentimes, intense travel snarls.
---
American schoolchildren are usually taught the tradition dates back to the pilgrims, English religious dissenters who helped to establish the Plymouth Colony in present-day Massachusetts in 1620.
As the story goes, friendly local Native Americans swooped in to teach the struggling colonists how to survive in the New World. Then everyone got together to celebrate with a feast in 1621. Attendees included at least 90 men from the Wampanoag tribe and the 50 or so surviving Mayflower passengers, according to TIME. The bash lasted three days and featured a menu including deer, fowl, and corn, according to Smithsonian Magazine.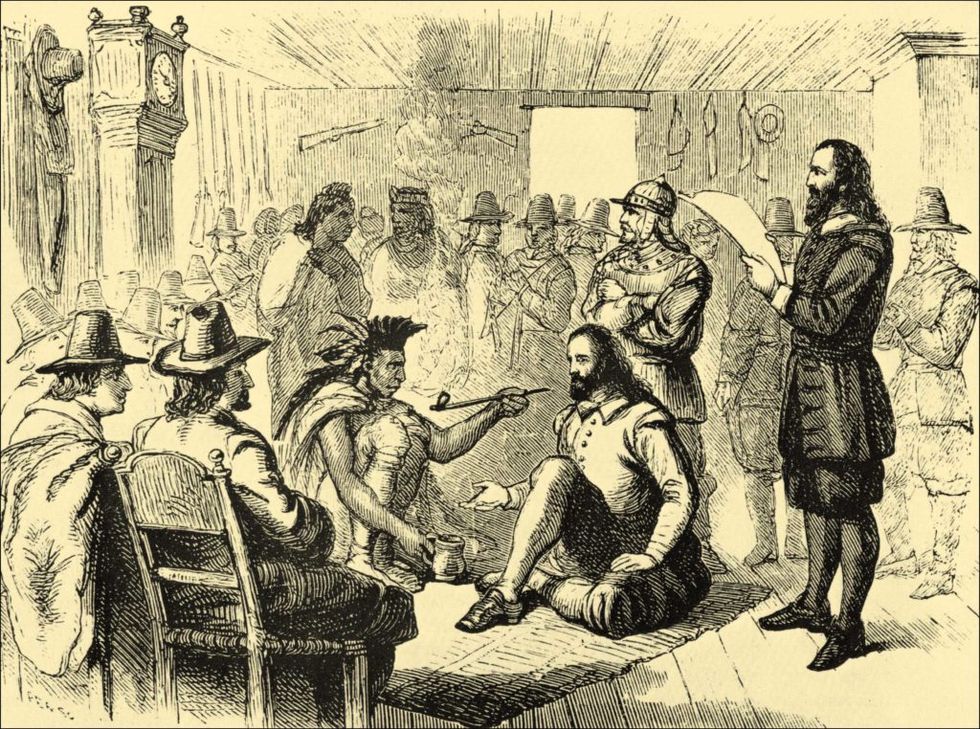 Metacomet (also known as King Philip of Wampanoag) works with neighboring Wampanoags, Narragansetts, Nipmucks, Mohegans, and Podunks and leads a military action against the English. They respond violently, capturing and assassinating him. King Philip's War begins. (Image National Library of Medicine)
Meanwhile, Metacomet was dealt a staggering blow when he crossed over into New York to recruit allies. Instead, he was rebuffed and attacked by Mohawks. Upon his return to his ancestral home at Mount Hope, he was shot and killed in a final battle. The son of the man who had sustained and celebrated with the Plymouth Colony was then beheaded and dismembered, according to "It Happened in Rhode Island." His remaining allies were killed or sold into slavery in the West Indies. The colonists impaled "King Phillip's" head on a spike and displayed it in Plymouth for 25 years.
In an article published in The Historical Journal of Massachusetts, Montclair State University professor Robert E. Cray Jr. said the war's ultimate death toll could have been as high as 30% of the English population and half of the Native Americans in New England.
The war was just one of a series of brutal but dimly remembered early colonial wars between Native Americans and colonists that occurred in New England, New York, and Virginia.
Popular memory has largely clung to the innocuous image of a harvest celebration, while ignoring the deadly forces that would ultimately drive apart the descendants of the guests of that very feast.
Modern day Thanksgiving may be a celebration of people coming together, but that's not the whole story when it comes to the history of the day.