Parachutes, manufactured and packed en masse during World War II to accompany Allied aviators on missions, had a very important job to do: open.
Lucky for me, my grandfather's did. He was a 23-year-old US Army Air Corps pilot shot down over France a month before D-Day. He bailed out over central France, after his seven crewmates and moments before their B-24 Liberator exploded in the sky.
---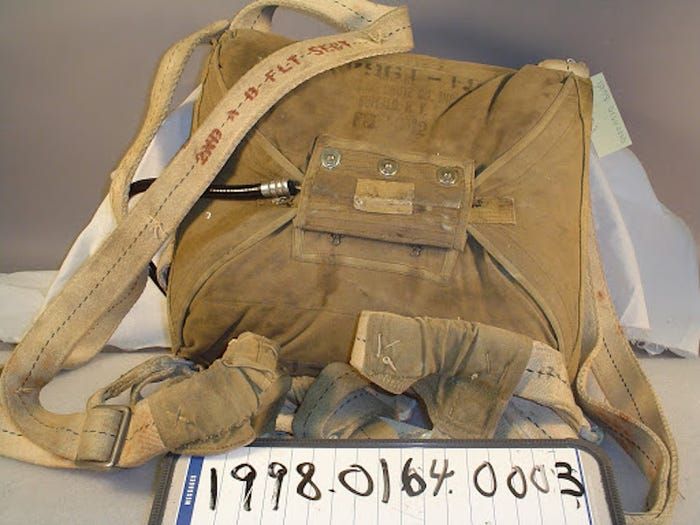 Chest packs like the above were among the most common American parachutes.
Leo Kerns Collection/National Museum of the Mighty Eighth Air Force
They all hit the ground on better terms than their plane, thanks to their parachutes (and, in a longer story, they all survived their respective journeys through occupied France, thanks largely to French patriots and resistants who helped them).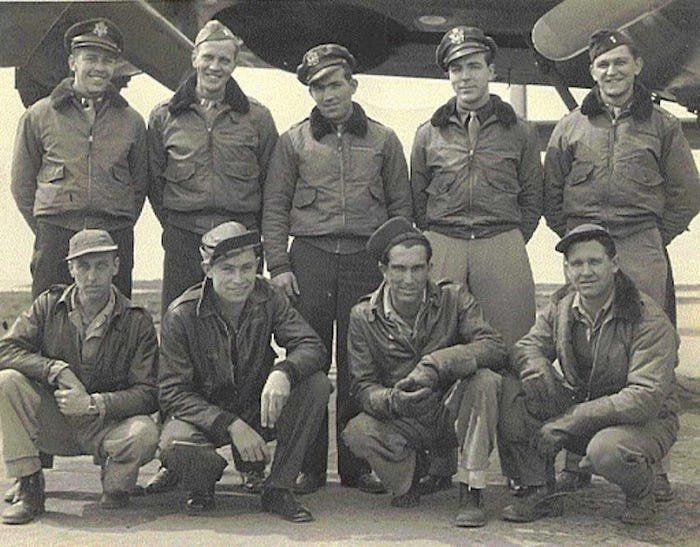 The author's grandfather, then-2nd Lt. Murray Simon, top right, and his crew.
801st/492nd Bomb Group/Carpetbagger Association
I never met my grandfather, but I have his "Caterpillar Club" membership and the packing log of the parachute that saved his life.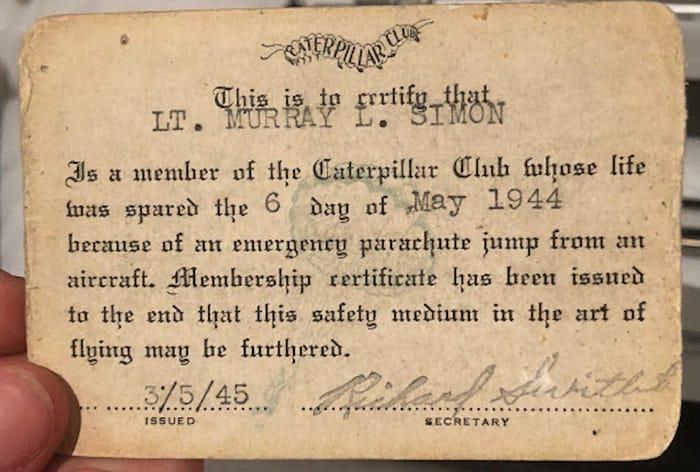 And last May, I traveled to his crash site in Mably, France, for a beautiful 75th anniversary commemoration event. A Frenchman came up to me and explained that he'd been a baby in a village near the crash site during the war, and that his mother recovered one of the airman's parachutes and made it into a swaddle and carrier for him.
He recalled converting the material into a hammock — a swing he played in even after the war, when shortages and hardship from the devastation of the battles, air raids, and Nazi occupation persisted throughout Europe. This is one of many examples of how people made use of the life-saving silk, canvas, and nylon canopy contraptions falling from the sky during World War II everywhere from France and Yugoslavia to Japan and the Philippines.
Here are more ways parachutes' function and form extended beyond the time they hit the ground.
People in war-torn Europe and Asia during WWII turned parachutes into baby carriers, body bags, and bras.
This nightgown, or "peignoir" — is made from parachute silk.
When the D-Day invasion came, paratroopers cut their way out of their jump harnesses and left thousands of deployed chutes strewn throughout Normandy. Among the uses for the material: burial shrouds for the dead and slings and bandages for the injured.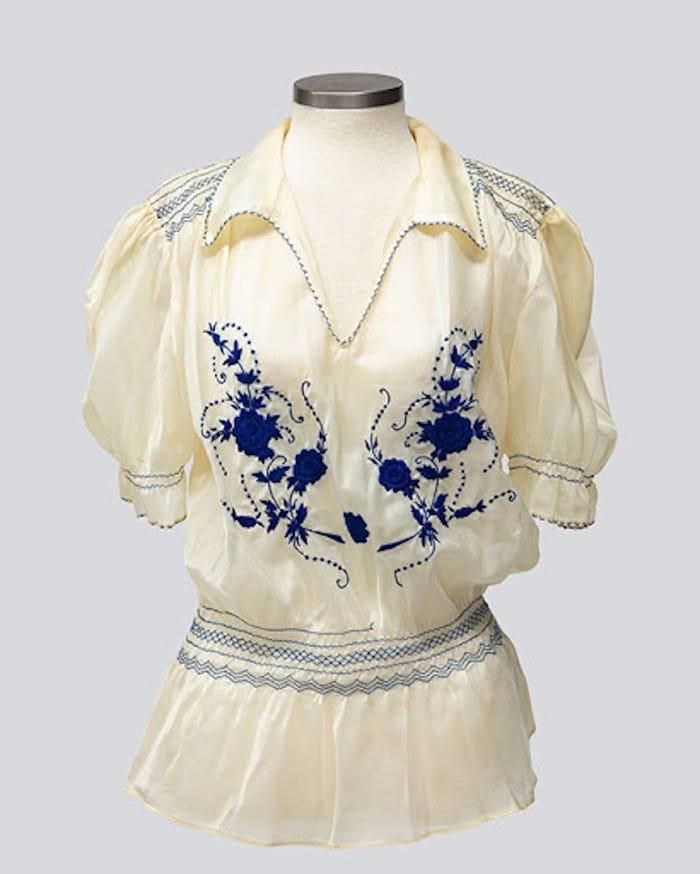 A silk shirt embroidered with dragon and floral designs.
Some were picked up by French civilians, who, under the Nazi occupation, had been stripped of their belongings and access to supplies, including textiles.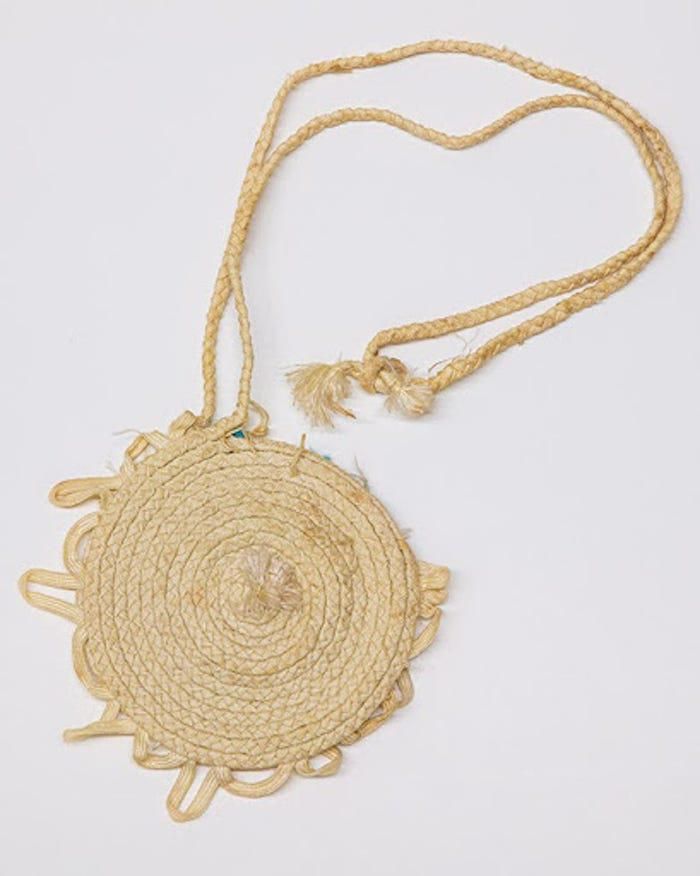 A woven purse made from US Navy parachute material in the Pacific.
Deconstructed parachutes became a commodity to make things they needed for everyday life, says Toni Kiser, vice president and assistant director for collections management at The National WWII Museum in New Orleans.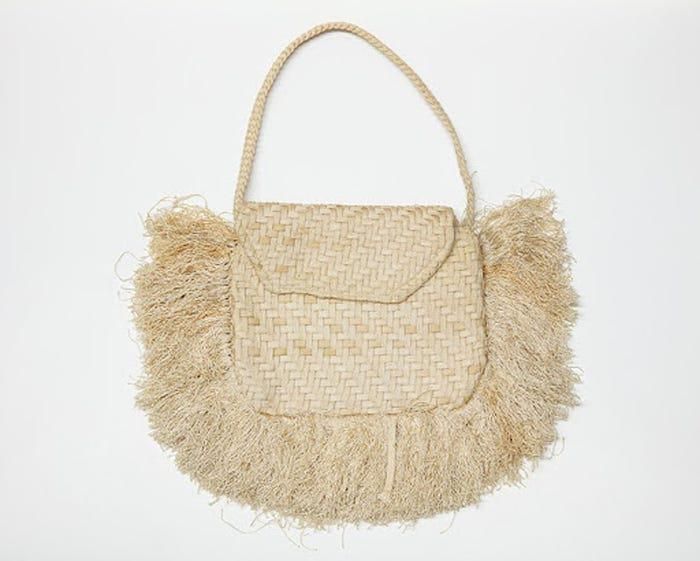 A woven purse made from US Navy parachute material in the Pacific.
Salvaged parachutes also made their way back to the American homefront.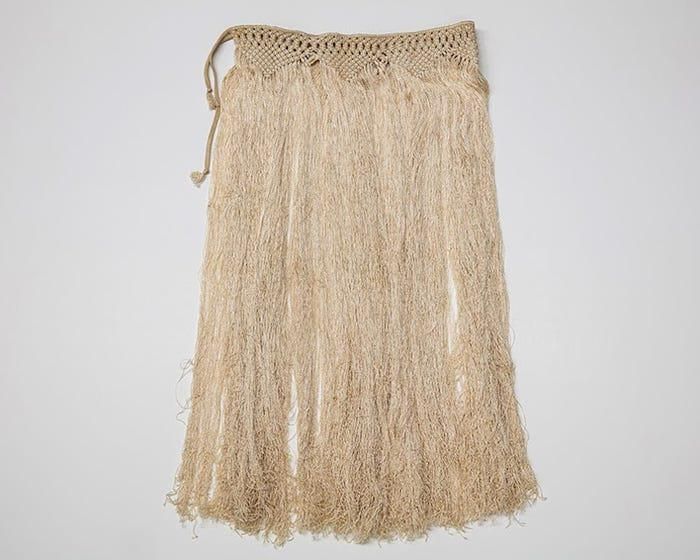 A woven skirt made from parachute material from the US Navy.
Practically, parachute material could also be used for luxurious everyday items, like this large quilt: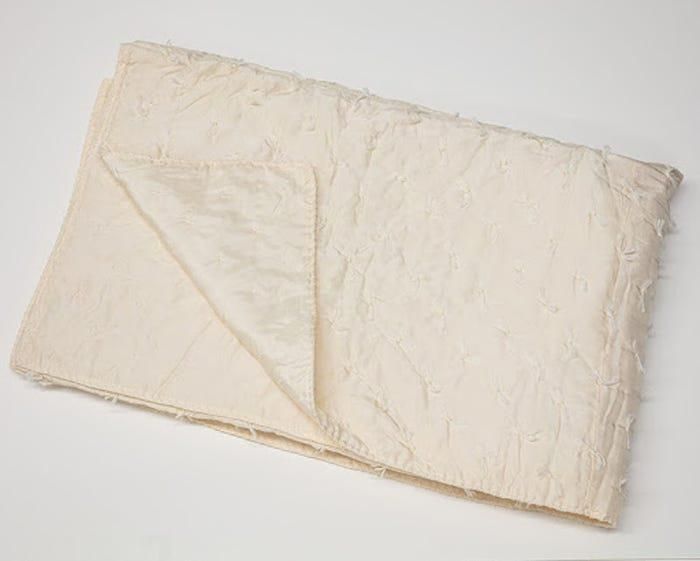 This parachute silk became a light and airy quilt, with knots of yarn knitted throughout.
As war raged in the Philippines and on other Pacific Islands, civilians realized that American troops on the ground wanted souvenirs.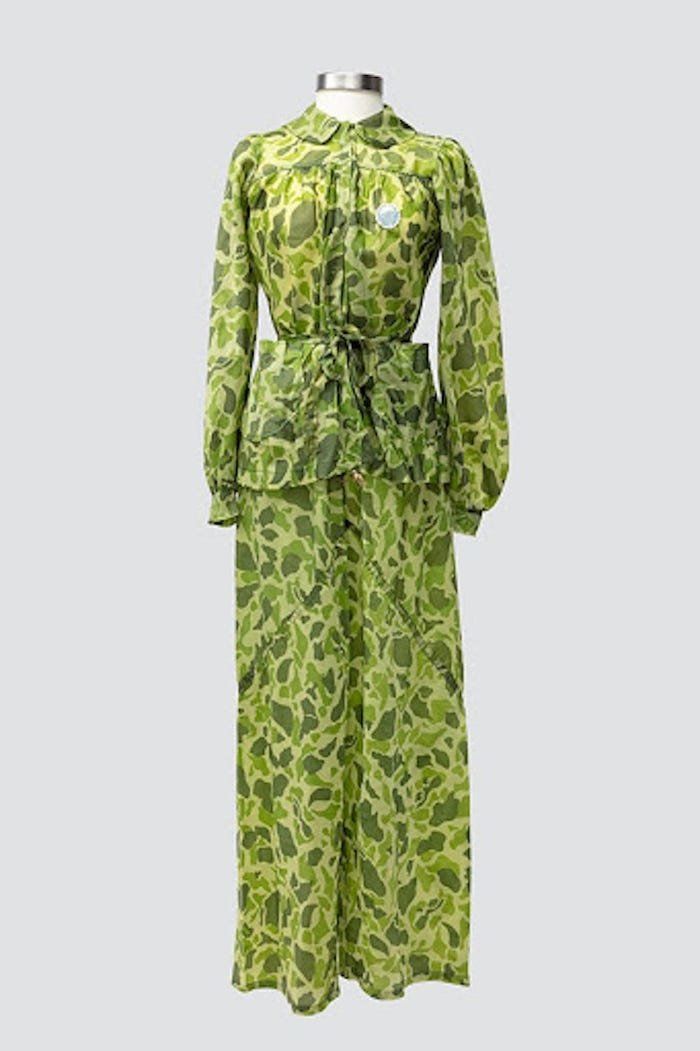 This silk camouflage parachute pajama sets came from the 17th Airborne Division.
"They essentially sold them back their own things," says Kiser of silk shirts and string bags that locals sewed, painted, and embroidered from parachutes.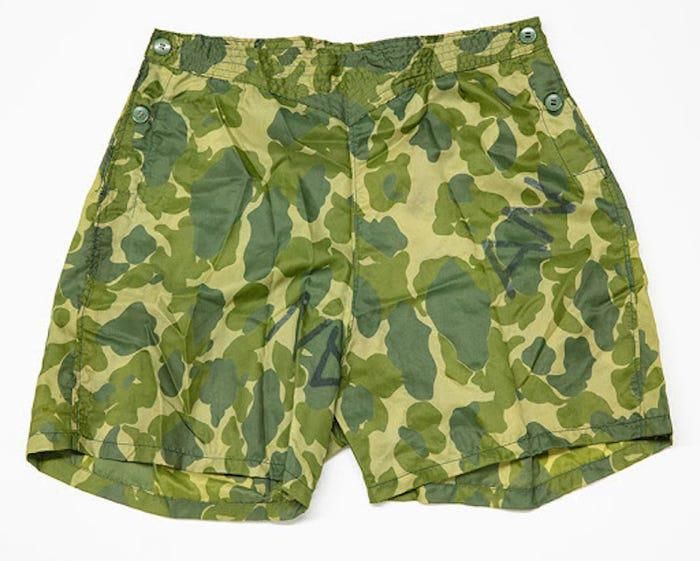 These silk camouflage parachute boxer shorts came from the 17th Airborne Division.
At home, salvaged parachutes were made into wedding gowns and other formal event wear.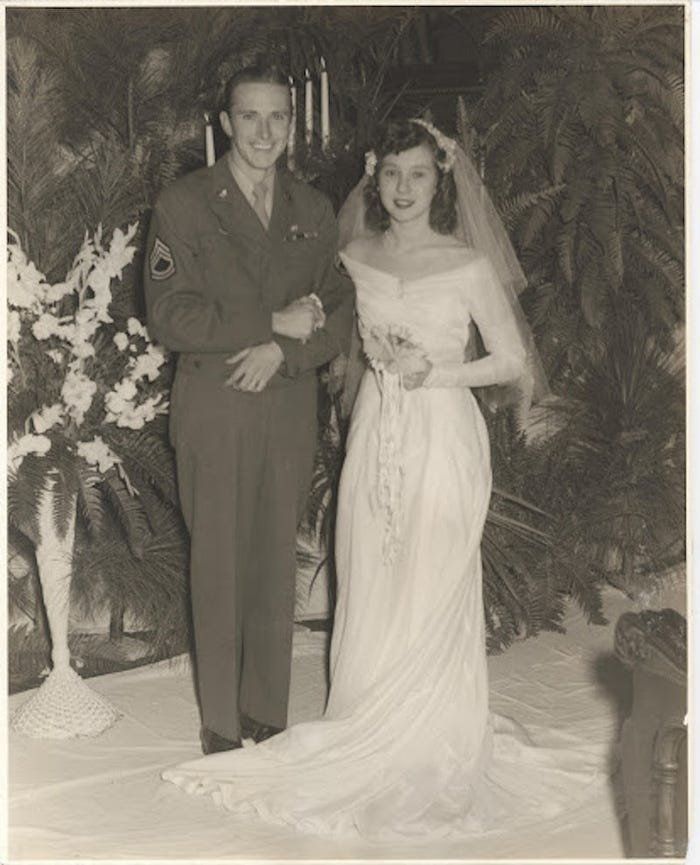 Hilda Galloway and Robert Ellsworth Wickham at their wedding on October 14, 1945. Ellsworth Wickham flew 22 missions, including one bail out over France in January 1945. He gave pieces of his parachute to the doctors and nurses who helped him after he jumped.
With the war ending and millions of deployed GIs reuniting with loved ones back in the United States, there was a lot to celebrate.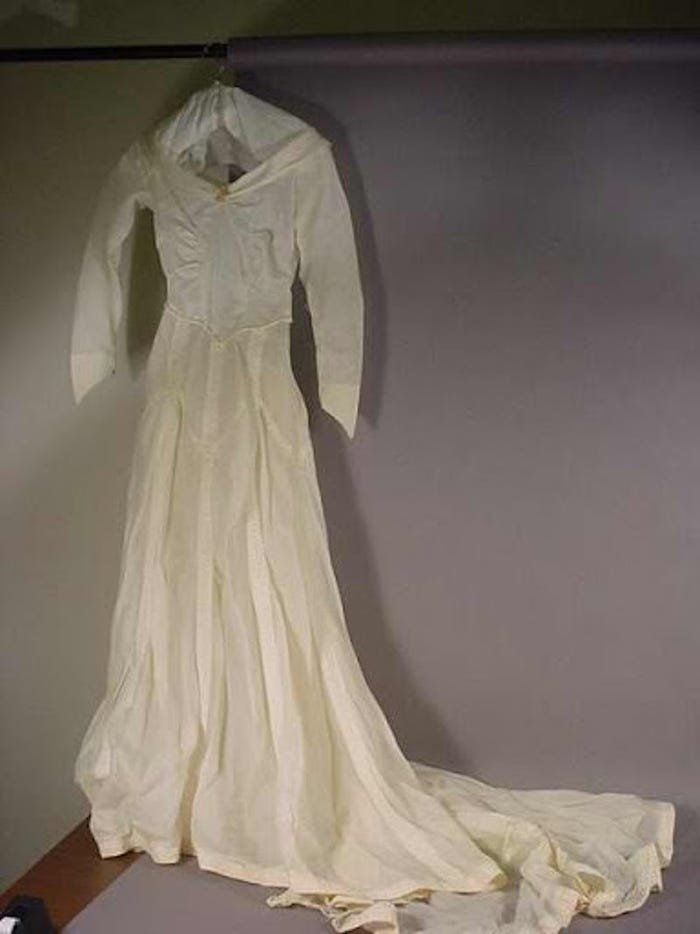 Galloway's wedding dress.
Americans married in record numbers, though big, fancy weddings remained a rarity; a lot of people still said "I do" in their Sunday best, with white gowns reserved for the upper class.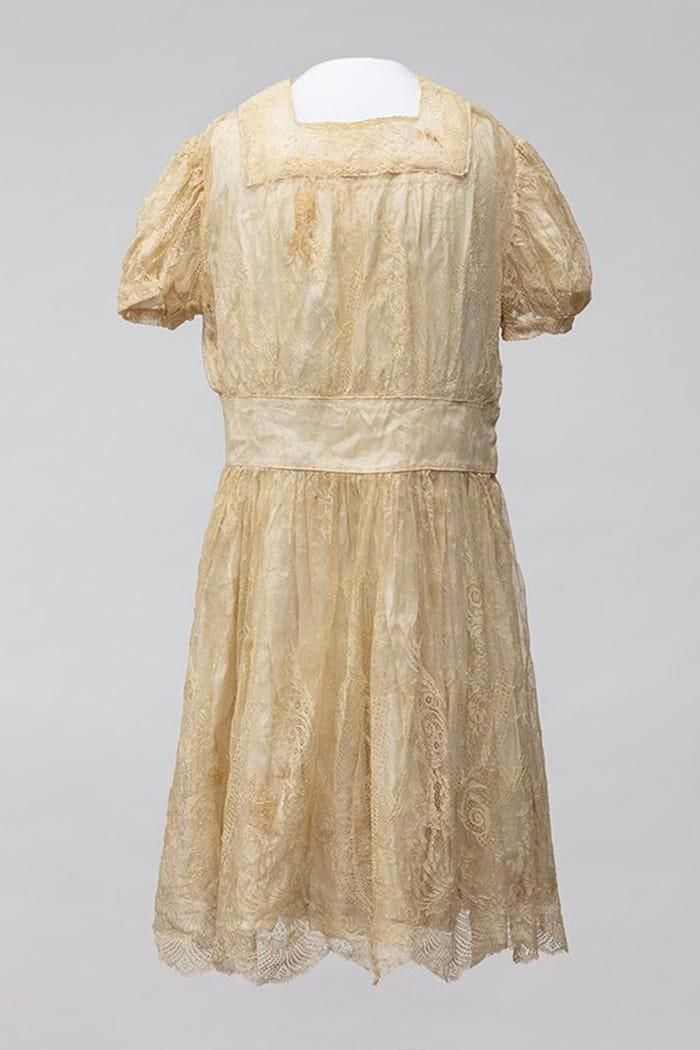 An American sergeant in the China-India-Burma Theater sent a white US reserve parachute to his mother, who sewed the nylon into a communion dress for his younger sister in 1944.
Especially as new silk from Japan remained unavailable and unaffordable, military men and women returning from war recognized the value of the nylon and silk, which, even after the ration was lifted, remained expensive and hard to come by.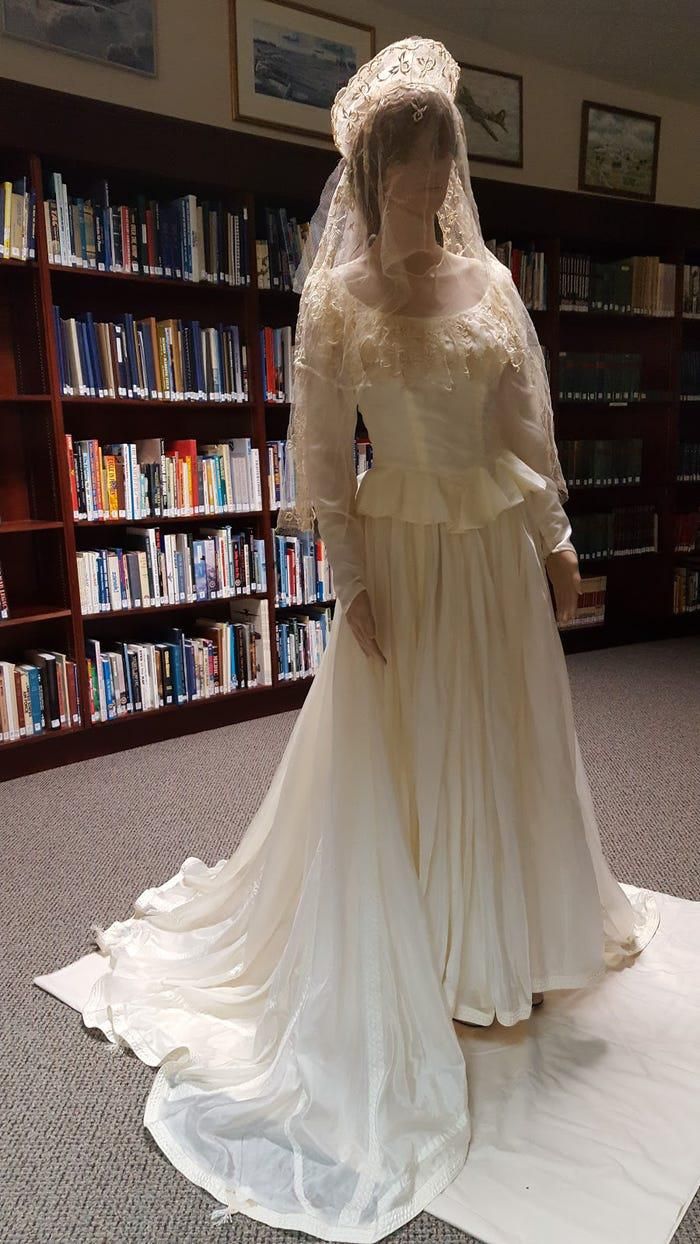 Albert Williamson was a radio operator/gunner with the 384th BG/545th Bomb Squadron. On December 15, 1945 he married his longtime sweetheart, Ruth Glendinning, who walked down the aisle in this gown her cousin sewed using a parachute Williamson brought home.
So began a wave of wedding wear constructed from chutes brought back from war, including ones that fellow American women and men had sewn on the homefront and that had saved their and their enemies' lives.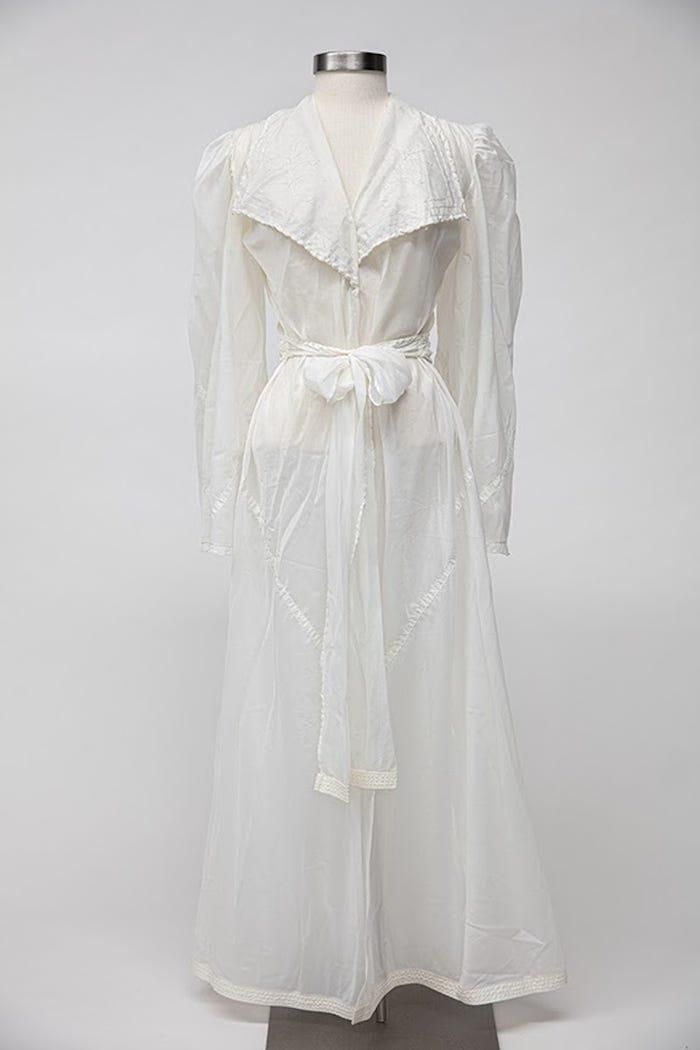 There was the commodity in and of itself, along with the meaning and specialness behind it. Used and surplus World War II parachutes were "a wonderful gift to pass along," Kiser says.