(San Diego Air and Space Museum)
You've just proven yourself to the doubters and in your moment of triumph you turn and ask just one question: "How do you like them apples?" This phrase has been used for decades and has been made popular by films like Good Will Hunting and Rio Bravo, but where does it come from?
While many claim that the origin of this phrase is unknown, others claim that it comes straight from the trenches of World War I.
---
World War I was, at the time, the largest international conflict ever. As such, troops came together from all kinds of backgrounds. As they intermingled, they picked up on dialects from other cities, countries, and continents and, as a result, a large number of new phrases were born from adapting elements of these different languages. It was during this same war that the first armored fighting vehicle was dubbed a 'tank' and anti-aircraft fire was called an 'ack-ack.'
When developing the first armored fighting vehicles, the British didn't want everyone to know what they were working on, so they called them 'water tanks.'
The origin behind "how do you like them apples" actually has nothing to do with apples and everything to do with mortars. Specifically, we're talking about the British-made 2-inch medium mortar, better known as the "toffee apple."
This mortar used a smoothbore muzzle loading (SBML) system that fit a 22-inch shaft with a spherical bomb on the end, which would be exposed from the tube. This mortar, like others, was designed specifically for dropping warheads on foreheads in enfilade, but found use in other areas of the war.
You can still find these on the internet because why not?
The spherical shape and low velocity meant that the warhead wouldn't penetrate the ground prior to detonation, leaving shrapnel to devastate enemy forces. Unfortunately for its operators, the system had a fairly short range. Oftentimes, in order to land an explosion in enemy trenches, this system would need to be used from no man's land — an extreme risk.
Hopefully, your calculations aren't too far off.
In addition, to clearing out enemy infantry, these bombs could be used to cut barbed wire fences and destroy enemy machine gun emplacements.
Though some say this term was used during the first World War, many others will tell you it wasn't used until the 1959 classic, Rio Bravo. In the film, after chucking some explosives, a character remarks, "How do you like them apples?" Since then, it's appeared in (and was arguably popularized by) Good Will Hunting.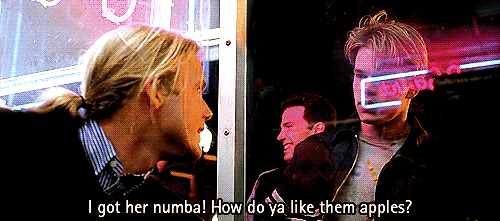 Oh, Matt Damon.