Humor
January 19, 2018 13:04:57 EST
Wherever there is conflict or injustice, there is an opportunity for humor. At its best, laughter is a release of stress and anxiety and, as we all know, serving in the armed forces is wrought with both.
---
Like a modern-day jester (with less ridiculous clothing and much more topical ribbing), Maximilian Uriarte has created an outlet through which junior enlisted feel understood.
Terminal Lance is the vehicle Uriarte utilizes to bring some reflection and a smile to those who would otherwise have no publication to relate to, and this is why we love him for it.
5. Terminal Lance is grounded.
The comic has always taken the perspective of a lower enlisted Marine, despite commenting big-picture subjects ranging from military gender equality and presidential elections to issues as simple as how horrible it is to have porta-john water splash up and make contact.
Throughout, Uriarte maintains the point of view of a young enlisted reacting to the world around him, it just so happens to also be the point of view of the largest demographic in service.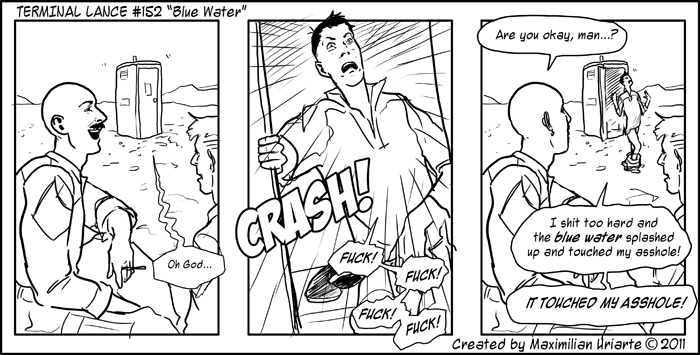 (Source: Terminal Lance)
1. Terminal Lance is written for us by one of us.
Maximilian Uriarte was a "0351" Assaultman stationed in Hawaii. Assaultman is an MOS infamous for having very high cutting scores, creating a situation where very experienced and competent Marines are surpassed in rank by peers simply because of the competitiveness of their job.
Situations like this are the genesis for the term, 'Terminal Lance" and inform Uriarte's perspective in his comics. After serving four years, experiencing multiple combat deployments, and being honorably discharged from the USMC in May of 2010, Uriarte started pursuing a career in animating and storyboarding. We enjoy the fruits of his labor to this day.