Humor
January 10, 2018 22:33:47 EST
Nothing says a young troop is ready to become a hardened badass like a new tattoo. For the connoisseur, tattoo artists spend hours meticulously crafting a beautiful piece of art filled with sentiment. Others, however, will just pick something from catalogs of pre-drawn designs stuck to the wall. Nothing says "deep, personal, and original meaning" like pointing to something you see on Instagram.
---
While tattoo artists laugh at people who ask for cliché images, boots aren't any better. It always seems to be the same things that get inked.
Here are the seven tattoos you're most likely to see after boots enjoy their first free weekend.
7. Anything related to their MOS
You just graduated U.S. Army Infantry School and want to show off to the world. How will anyone believe you if you don't have a blue cord or crossed rifles tattooed on your shoulder? It's the same for every MOS.
Bonus points if you spot a badge or symbol for a military school tattooed on someone who hasn't even yet looked at the paperwork required to get in.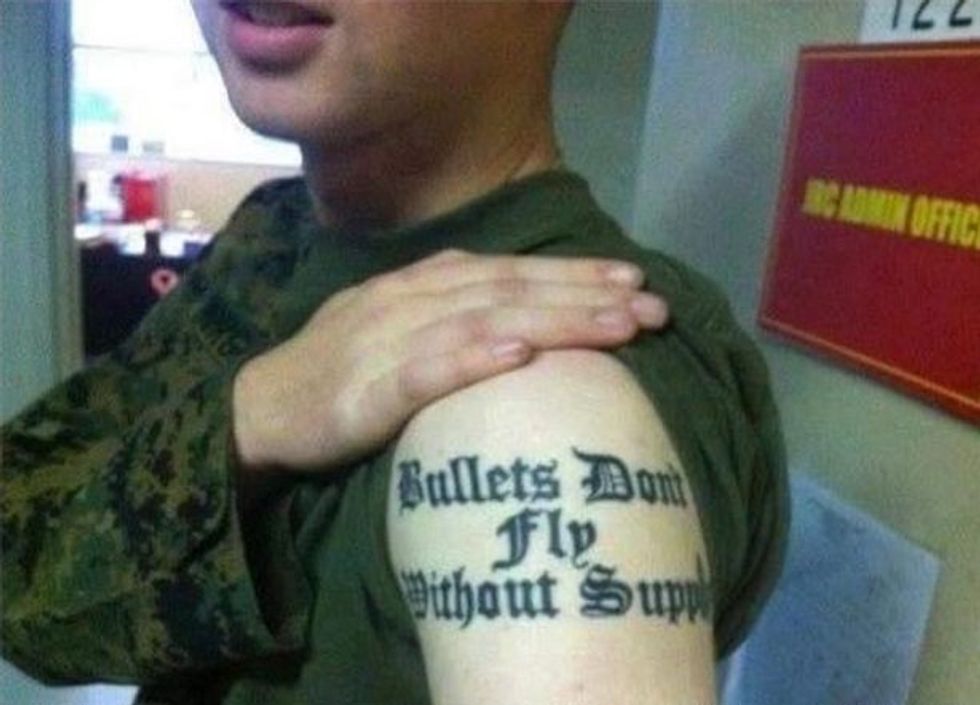 And it's not just combat arms, even though grunt tattoos are cooler... (Image via Reddit)
6. The Eagle, Globe, and Anchor
This one is Marine specific, obviously. The Eagle, Globe, and Anchor looks great as it is, but every now and then someone decides to spice things up by changing the design. Granted, it's usually still an eagle, a globe, and an anchor, but it's not the Eagle, Globe, and Anchor.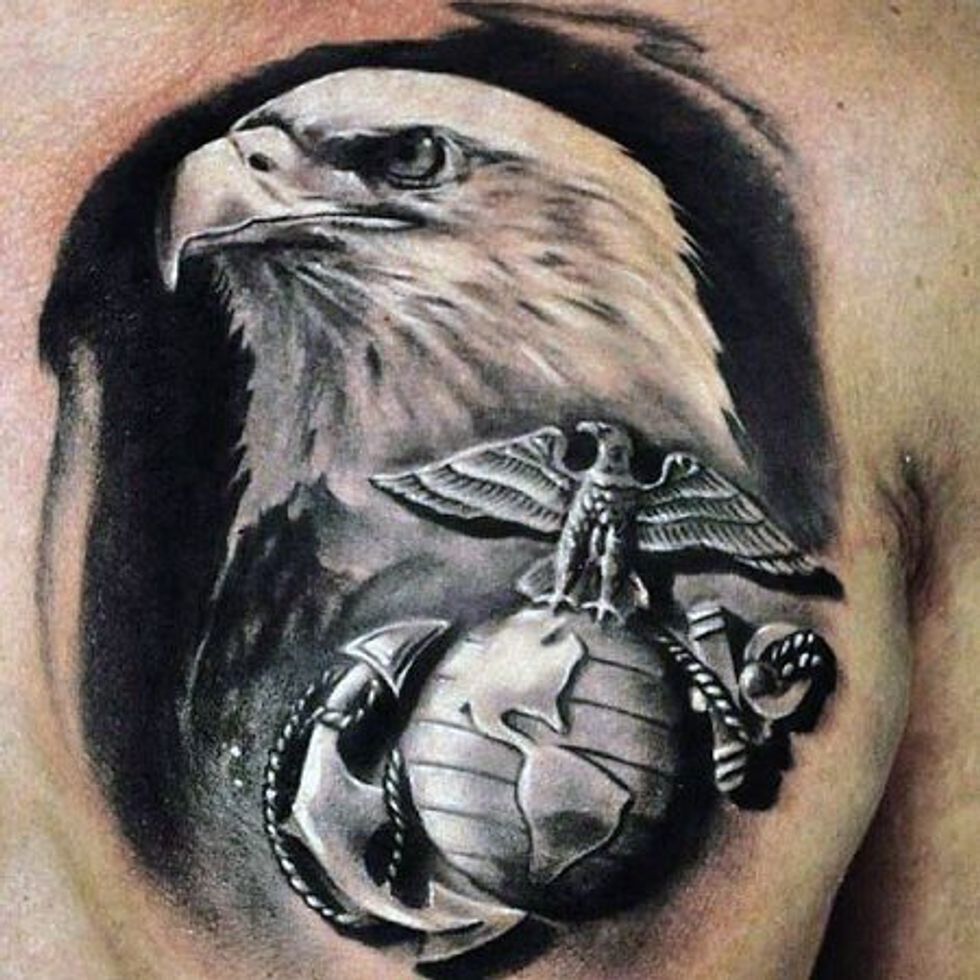 If you're going to get the same exact tattoo as everyone else in the Corps, at least spend the money to get the best-looking one. (Image via Pinterest)
5. Eagles and American flags
But what if they're not a Marine and want to prove how American they are? It can't just be an eagle, no. Plenty of countries around the world have eagles as their national symbol, so it has to also somehow incorporate the American flag into the design. Either it's in front of the flag, holding it, or the eagle has red, white, and blue feathers. Perfect.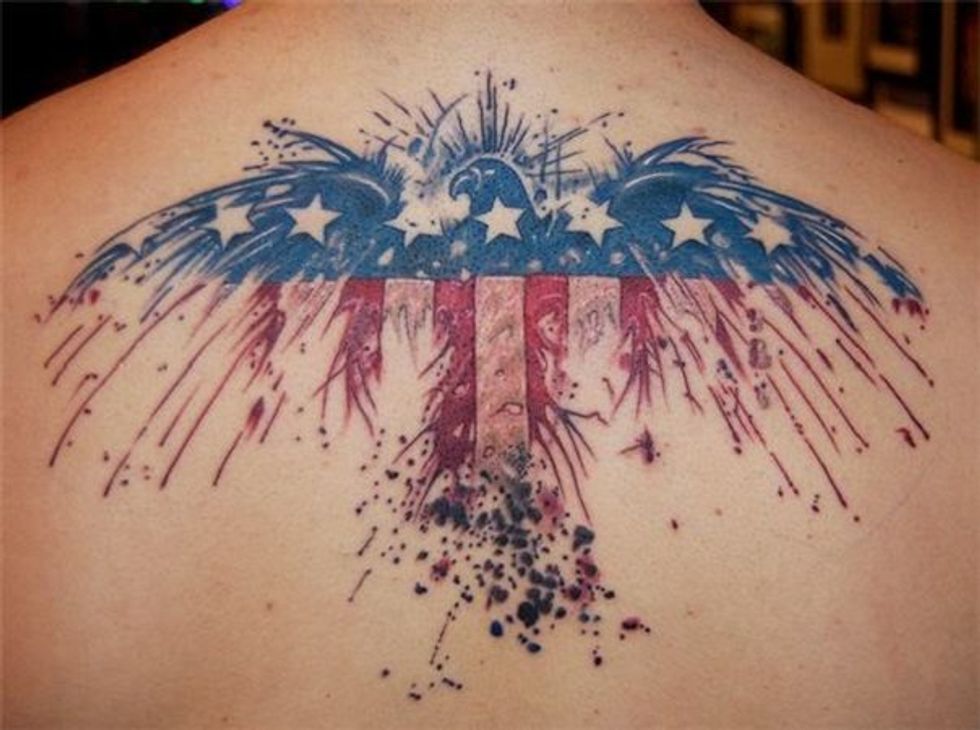 Or they make a star-spangled eagle firework. Which was awesome the first three times I saw it... (Image via Reddit)
4. Skulls
Troops are warriors, which is why they need the internationally recognized symbol for death tattooed on them. In all likelihood, the skull is wearing the headgear the tattooed troop would wear or has been made into a modern recreation of Calico Jack's iconic pirate flag.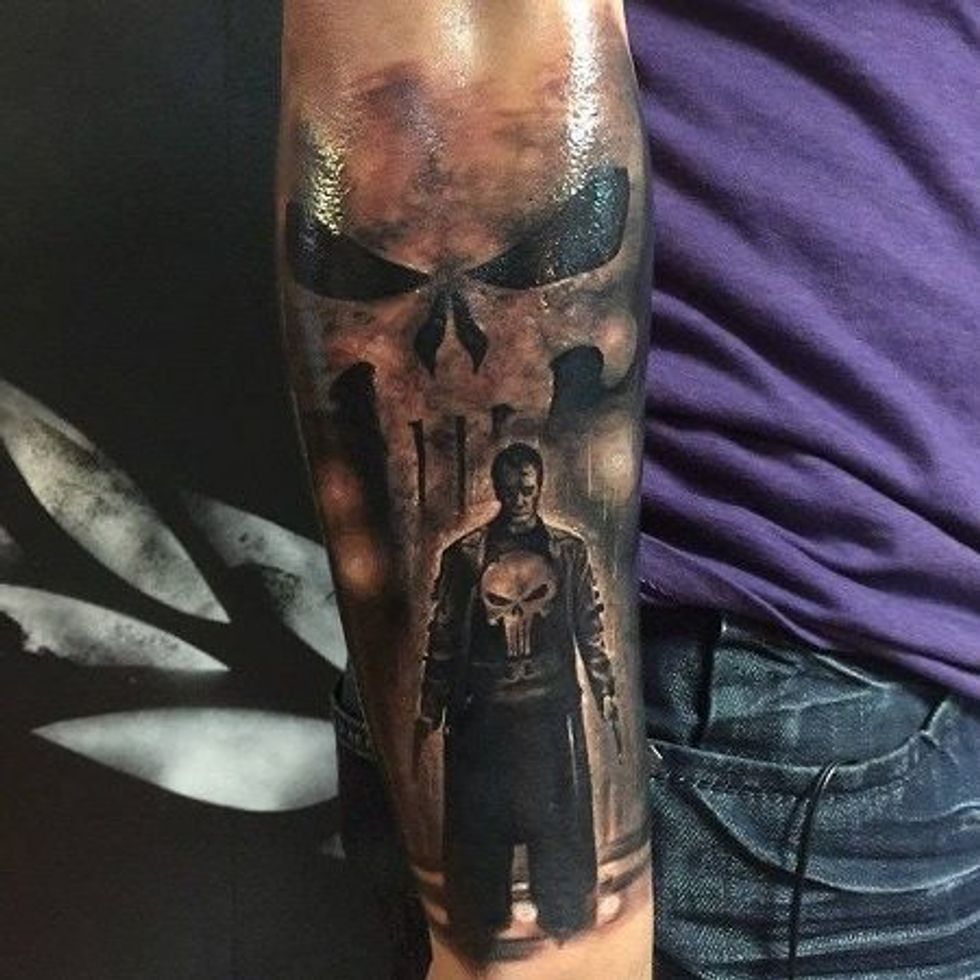 Or they're huge Punisher fans... Which most Marines are... (Image via Pinterest)
3. Shredded skin
Want to show the world what you're really like on the inside? Make it seem like you were cut open by a bear and show them that you don't have muscles, veins, or bone underneath, but something like a flag, knight armor, or a uniform pattern.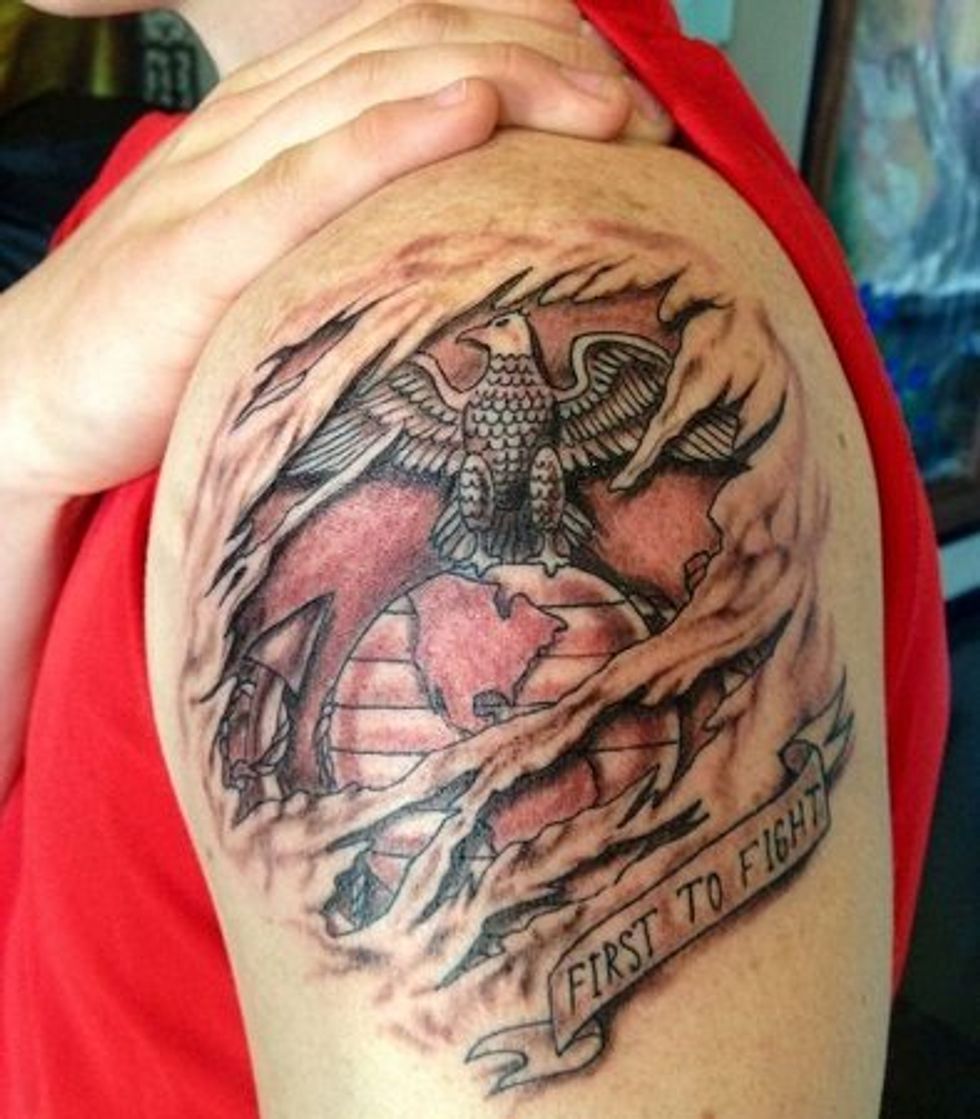 Or you know, mix in a bit of everything else on this list. (Image via Pinterest)
2. 'Infidel,' written in both Arabic and English
There's a bit of a lost-in-translation issue with this one. If you feel the need to get the word "infidel" and its translation, "kafir," written in Arabic script, you do you. However, it's not what many people think. "Infidel" literally means "atheist, pagan, or anyone unfaithful to their own religion." If that still describes you, knock yourself out.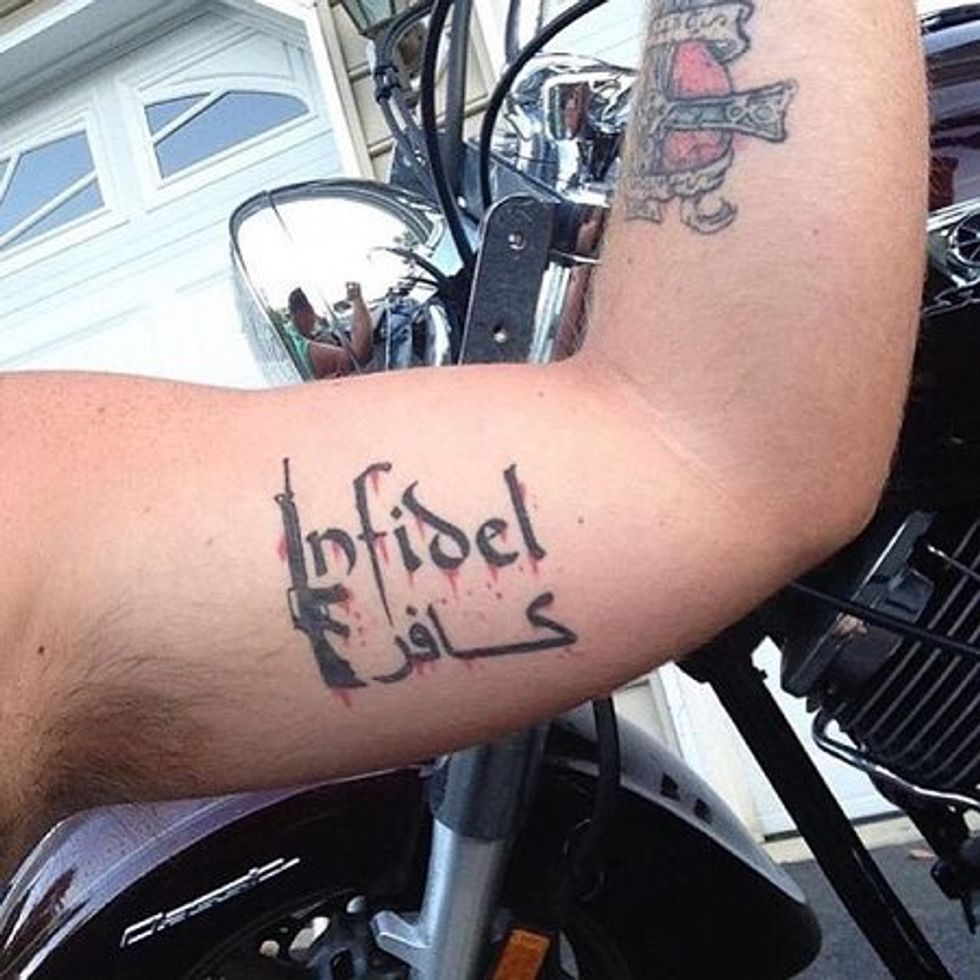 But when it's right next to a cross...you can see the irony, right? (Image via Reddit)
1. Letters saying, basically, "something, something, freedom!"
If you want the world to know that "freedom isn't free, you paid for it" or that "on the 8th day, God created the (whatever MOS you are)," but you're not in your truck, so your bumper stickers can't do the talking for you, this is for you! Doesn't matter if you've only been in the military for a whole ten minutes — show everyone the phrase that you totally came up with and didn't just grab off the back of your Basic Training T-shirt.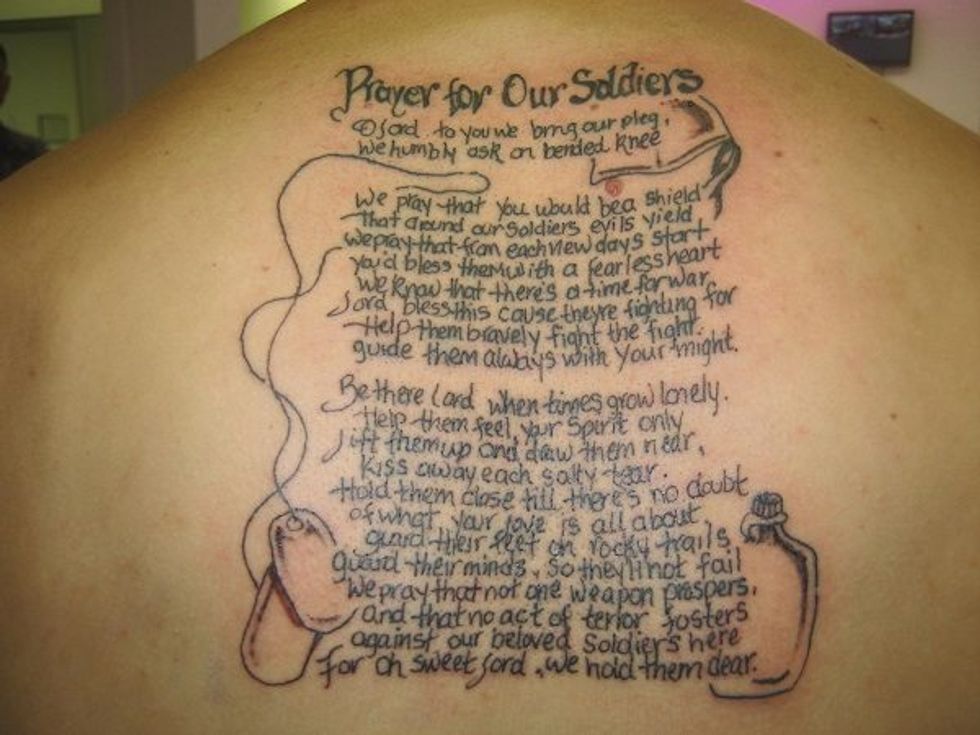 If you make it longer than one sentence, people will stare at your back every time you go to the beach. (Image via Reddit)