Lists
February 28, 2018 13:35:44 EST
Chris Kyle, formerly a Navy SEAL, was America's top sniper of all time with 255 kills, displacing Adelbert Waldron, who racked up 109 kills with the 9th Infantry Division in the Vietnam War. He's earned so much recognition that his autobiography, American Sniper, became a hit Hollywood blockbuster. But before his untimely death, he had finished a second book, in which he listed the ten firearms that helped define America's history. Here are the picks he made for his book, American Gun: A History of the U.S. in Ten Firearms.
---
1. Kentucky Long Rifle
During the era of the American Revolution, the typical arm for an infantryman was a musket, like the famous Brown Bess. These smoothbore muskets had an effective range of anywhere from 50 to 100 yards. The Kentucky rifle doubled that range, easily. While its rate of fire was slower, British troops didn't do so well when their officers were taken out early.

The Kentucky Rifle allowed American militia to engage the Redcoats at twice the distance of the effective range of the Brown Bess. (Wikimedia Commons photo by Antique Military Rifles)
2. Spencer Repeating Rifle
The muzzle-loaded musket gave way to the muzzle-loaded, rifled musket by the time of the Civil War. In 1860, though, Christopher Spencer developed a rifle that used a metallic cartridge. The Spencer Repeating Rifle held seven rounds. Only 100,000 of these rifles got to Union troops, but the rifle made a big difference at Gettysburg, where Union cavalry used it to great effect.

The Spencer Repeating Rifle provided a firepower advantage over the rifled musket. (Wikimedia Commons photo by Hmaag)
3. Colt Single-Action Army: 'The Peacemaker'
As the old adage states, "God made all men – Sam Colt made 'em equal." The Singe-Action Army was one of the first mass-produced revolvers to make use of the metallic cartridge. It provided cowboys with portable firepower for self-defense. It also was, sadly, used by outlaws, like Butch Cassidy.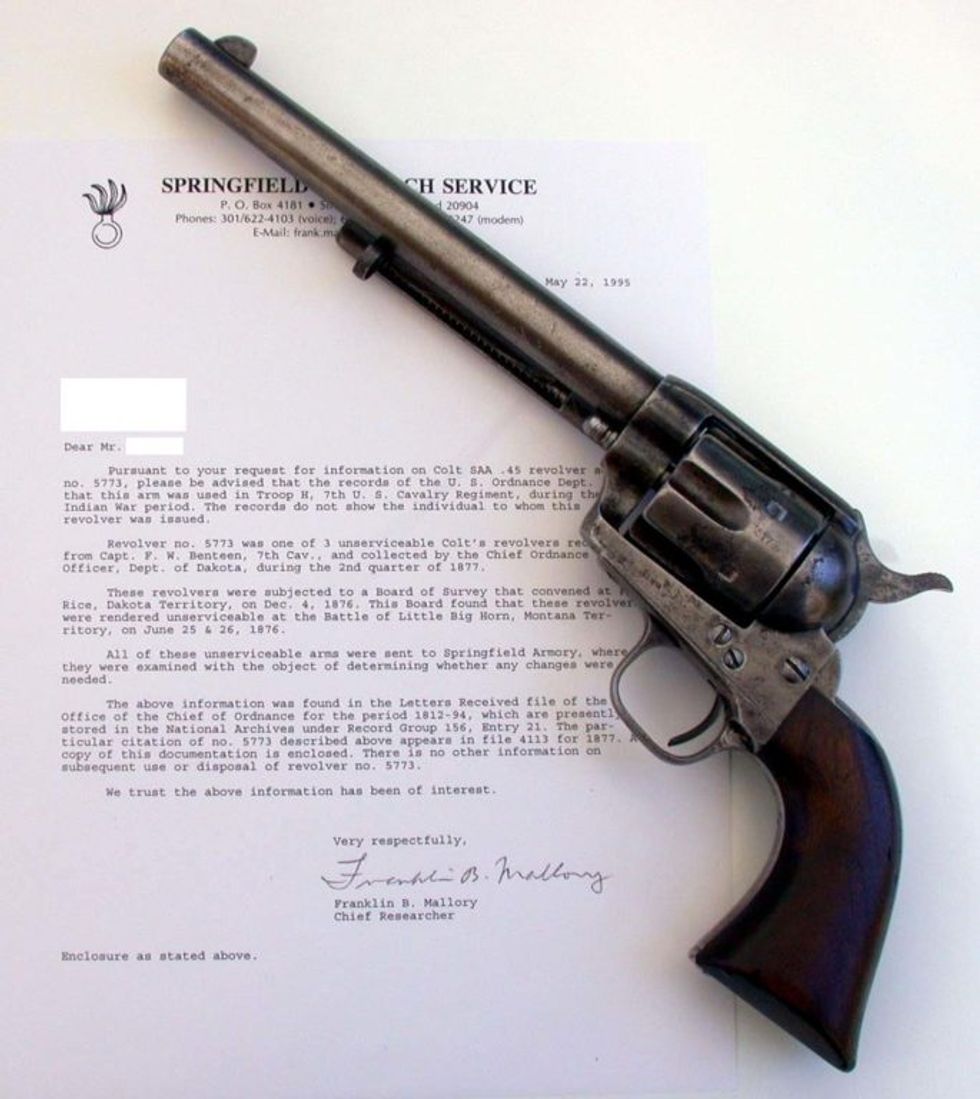 The Colt Single-Action Army revolver gave cowboys, soldiers, and outlaws hand-held firepower. (Wikimedia Commons photo by Hmaag)
4. Winchester Model 1873
This rifle was, arguably, "the gun that won the West." It was a reliable rifle, and the lever-action allowed its user to fire 14 rounds very quickly. It also was chambered for the same round used by the Colt Single-Action Army, which not only provided ease of logistics for a rancher but added more range and accuracy as well.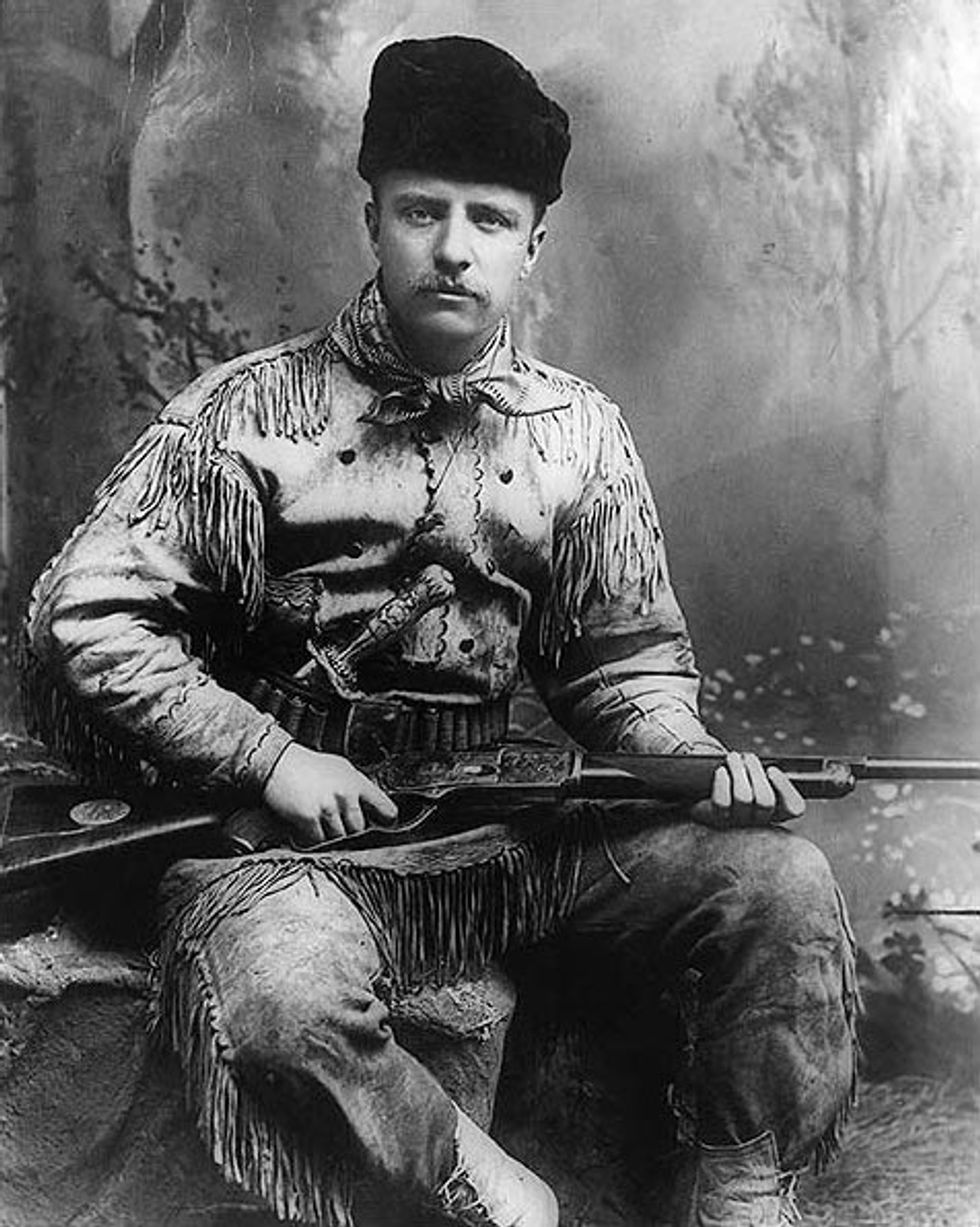 Theodore Roosevelt holding a Winchester rifle. The Winchester 1873 could fire the same round as the Colt Single-Action Army. (1885 photo by George Grantham Baine)
5. M1903 Springfield
This rifle replaced the "trapdoor" Springfield and Krag-Jorgenson rifles, giving American troops a rifle that used smokeless powder. It really came into its own with the arrival of the .30-06 Springfield cartridge, which added accuracy due to the advanced shaping of its bullet.
Marines with M1903 Springfield rifles, which they used to devastate German forces at Belleau Wood. (DOD photo)
6. Colt M1911
This pistol has been the icon of American GIs since World War I. It still hangs around today within some special operations units. Unlike most pistols of its time that used 9mm rounds (or weaker ones), its .45 ACP round could stop an enemy soldier cold.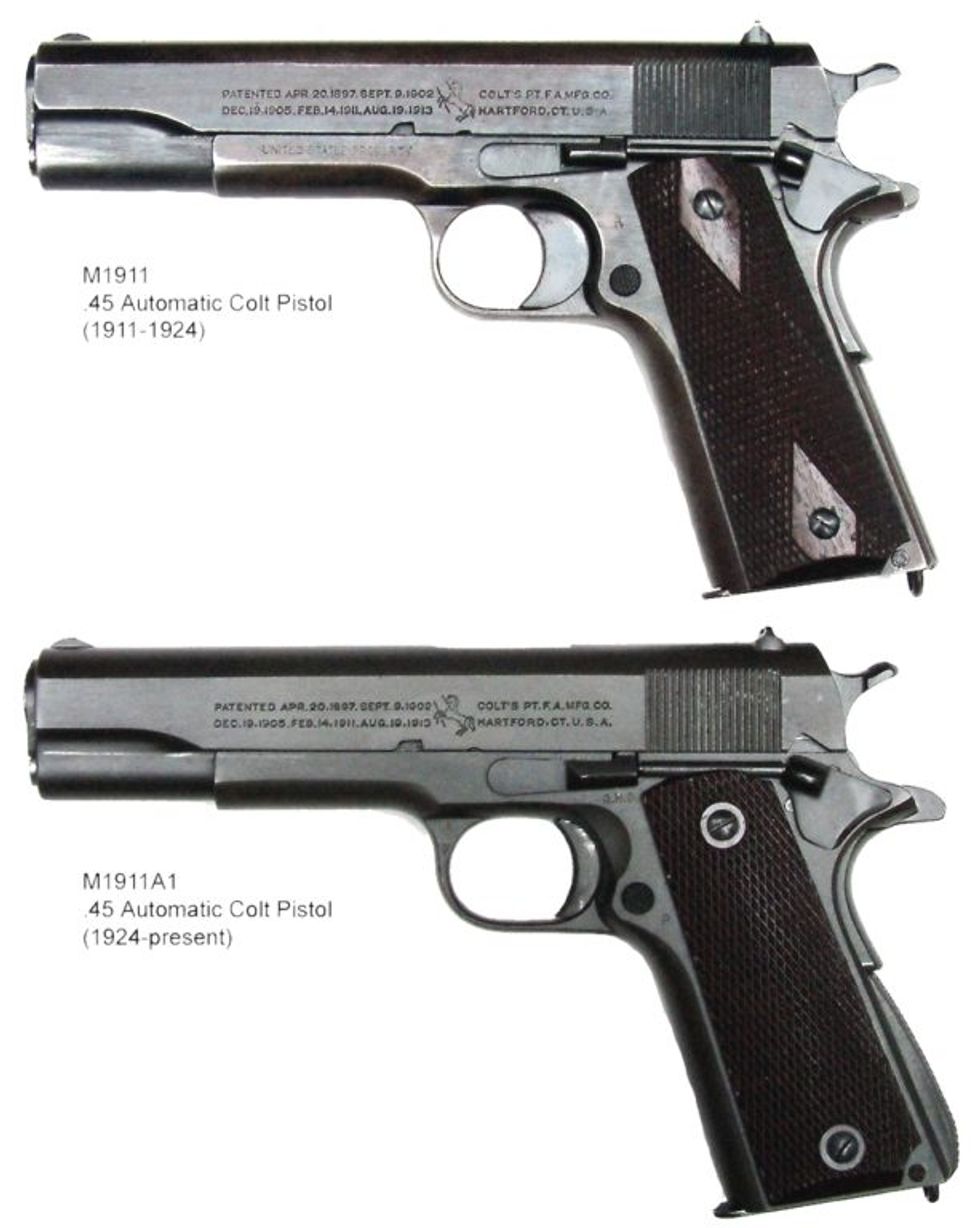 The M1911 is still going strong, 107 years after entering service and 33 years since it was "retired" as the standard issue pistol. (Wikimedia Commons photo by Dkamm)
7. Thompson Submachine Gun
The gun that "made the Twenties roar" earned its reputation in the hands of Al Capone's thugs. It packed the same .45 ACP punch as the M1911, but it had a bit more range. Over 1.5 million were made, and the gun's firepower made it a favorite of the American GI.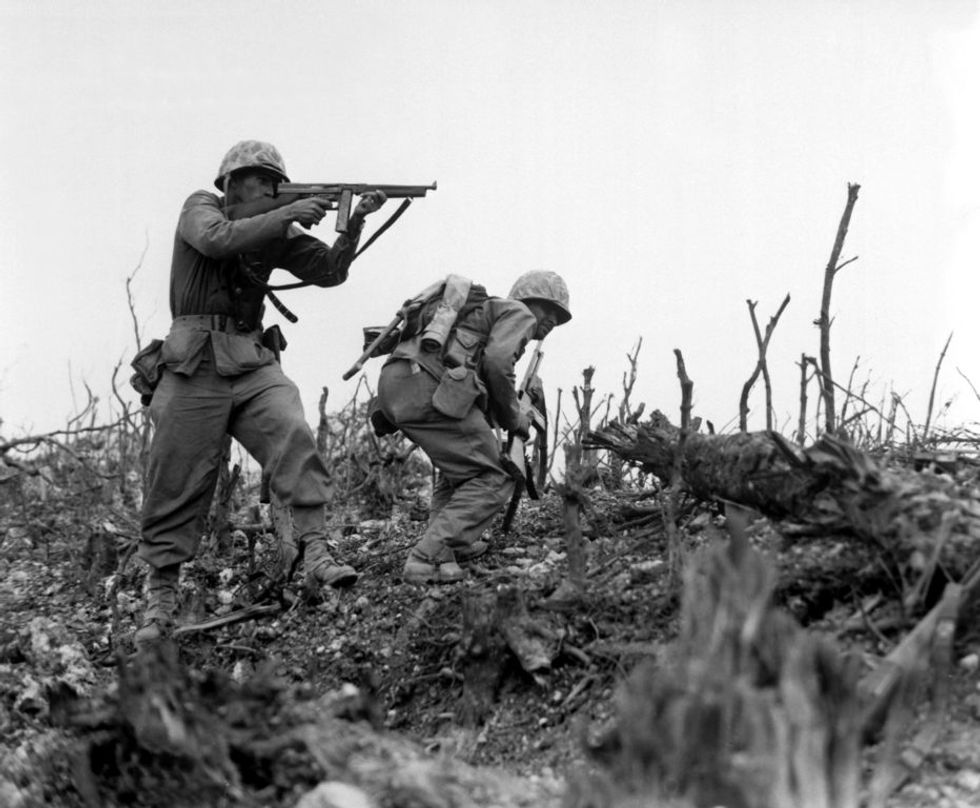 A Marine of the 1st Marine Division draws a bead on a Japanese sniper with his Tommy gun as his companion ducks for cover. The division is working to take Wana Ridge before the town of Shuri. Okinawa, 1945. (USMC photo)
8. M1 Garand
While the United States Army adopted the M1903 to simply maintain parity with the rest of the world, the M1 Garand gave American infantryman an advantage. This time, it allowed rapid follow-up shots. This rifle was praised by many, including George S. Patton. Its one drawback, a "ping" sound that told people that it needed to be reloaded.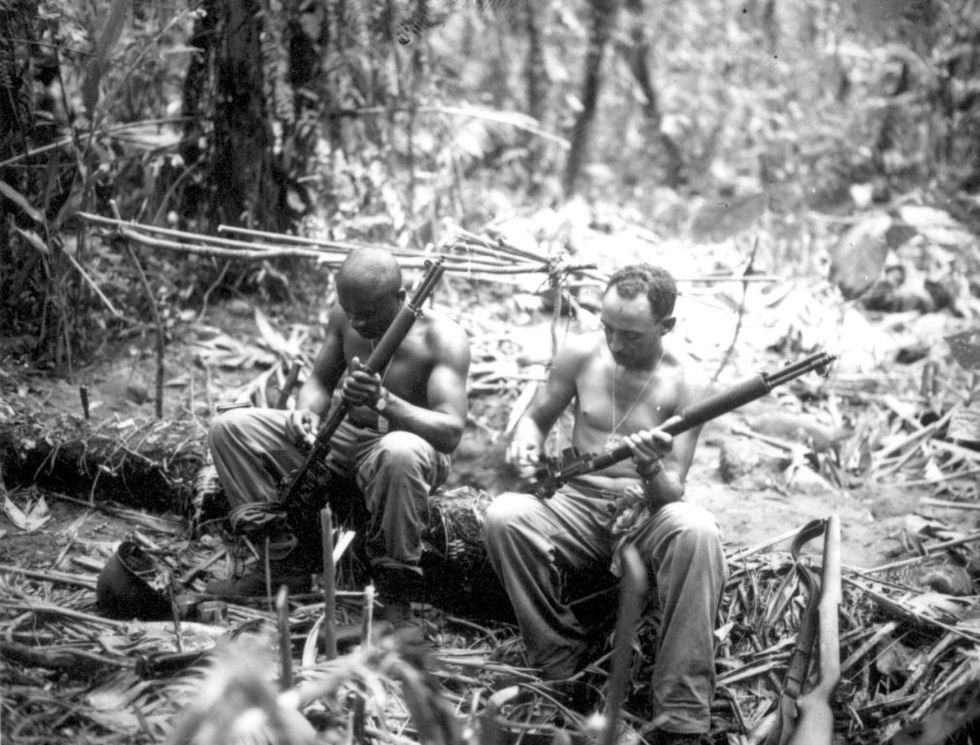 Two soldiers take time to clean their M1 Garand rifles on Bougainville. (US Army photo)
9. .38 Special Police Revolver
The .38 Special didn't become a primary service weapon (it was passed out to pilots as part of their survival kit in some cases), but it was the first gun that was a standard-issued sidearm for police officers. While the revolver is not used often today, it has become an icon.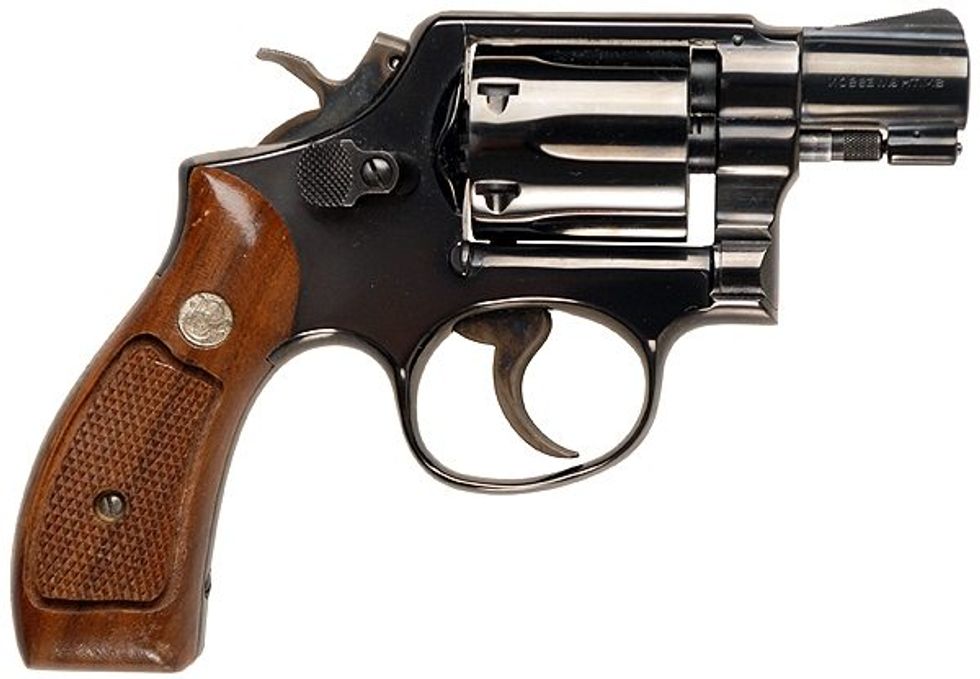 The .38 special revolver, like this Smith and Wesson Model 10, became a standard sidearm of police officers. (Wikimedia Commons photo by Cdcarpeti)
10. M16 Rifle
This rifle changed the way rifles were made. Prior to its introduction, rifles usually were made with wood and heavy steel, but the selective-fire M16 used plastics, composites, and aluminum. When it entered service, it came in two and a half pounds lighter than the M1 Garand but held almost four times as many rounds in a detachable magazine. The hotly-debated AR-15 bears a resemblance to the M16, but it is only capable of semi-automatic fire — civilian sales of the M16 have been strictly regulated since 1934.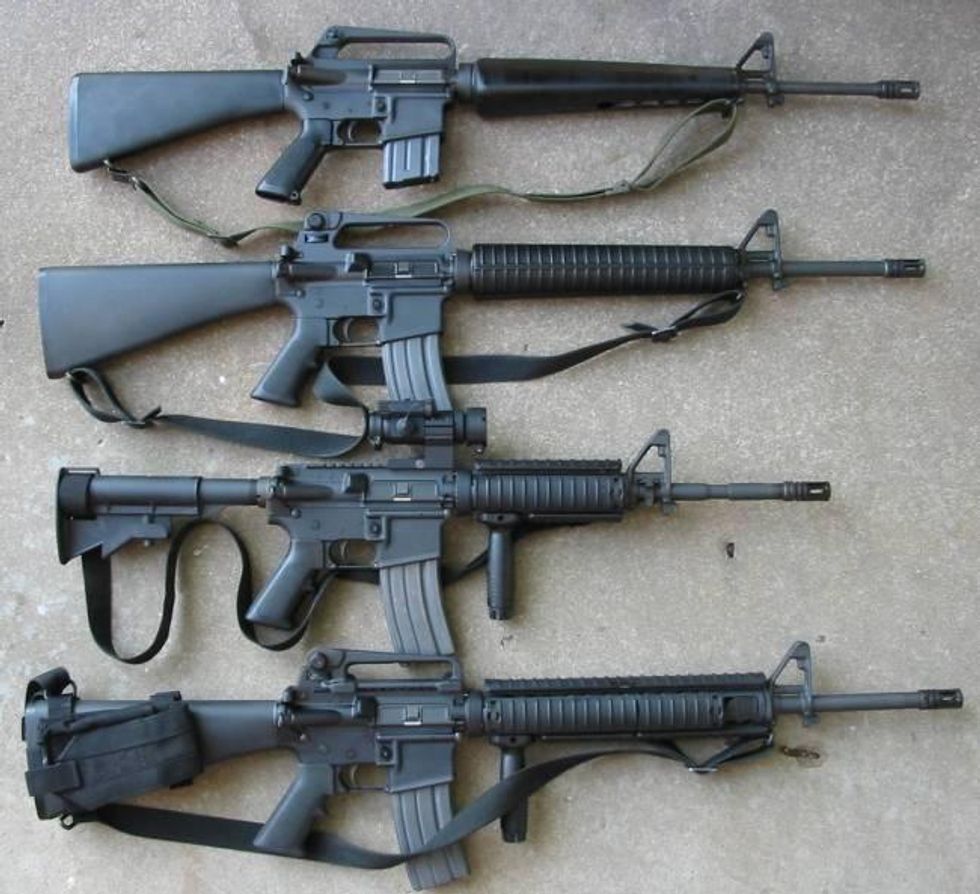 The M16 was first introduced in 1956 and, since then, has served. The selective-fire rifle has been strictly regulated under laws dating from 1934. (Wikimedia Commons photo by Offspring 18 87)
Which guns do you think have helped define American history? Let us know in the comments.