Mighty Moments
January 12, 2018 15:50:37 EST
Atlanta Falcon offensive lineman Ben Garland knows the meaning of service, but he took the NFL's Salute to Service program to the next level.
---
Each year for Veteran's Day, the NFL pays tribute to our nation's servicemembers in a number of ways, but one of the most meaningful is during November's Salute to Service. Players wear the initials of the fallen on their uniforms, the NFL donates money to non-profit organizations like the Pat Tillman Foundation or TAPS, and military families are invited to meet their favorite teams and experience some VIP fun.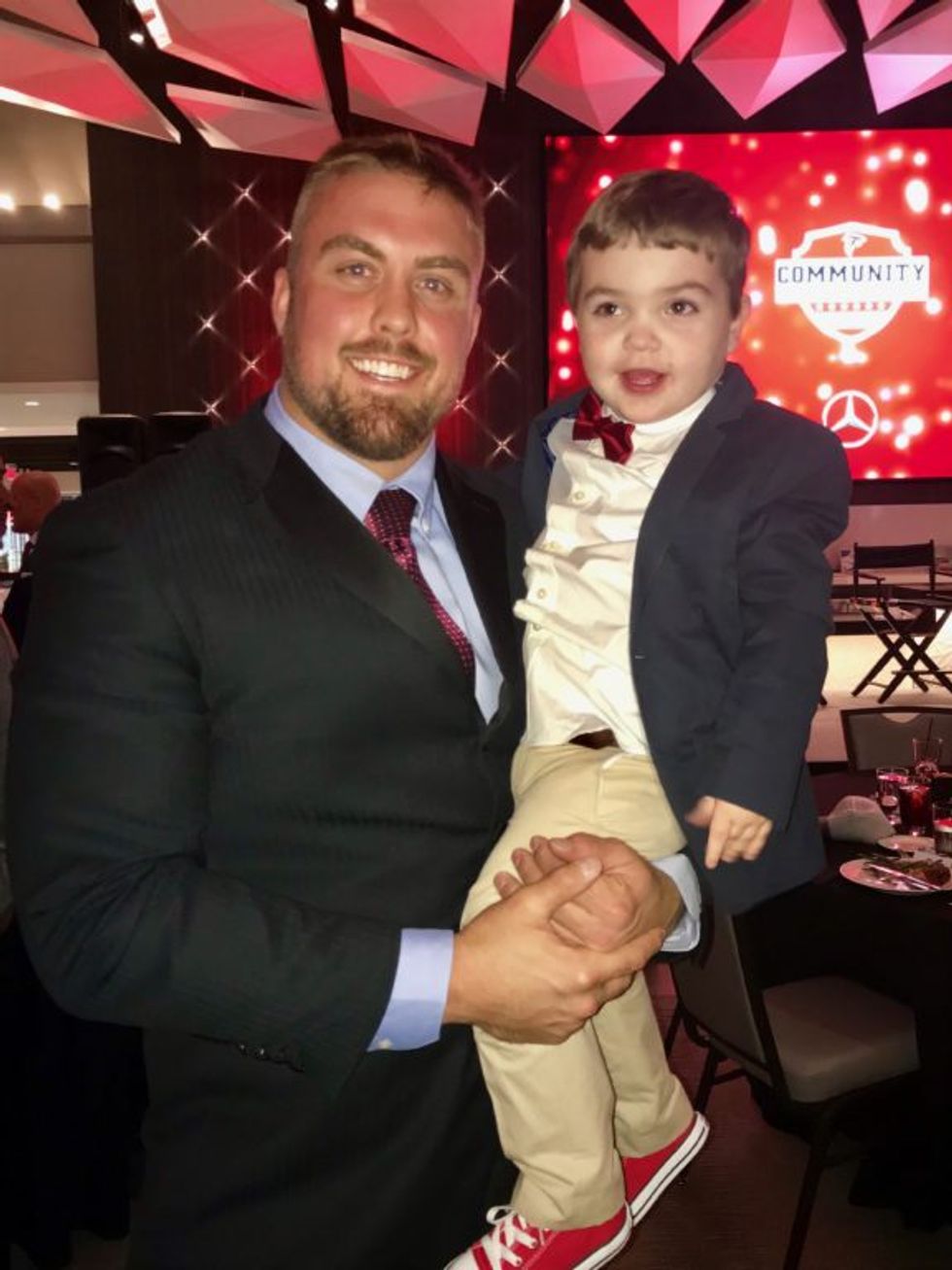 3 year-old Cooper Dean with his new BFF, Ben Garland. (Image via TAPS)
A captain in the Colorado Air National Guard, the Veteran's Day events are particularly meaningful to Garland. In 2017, he wore the initials of Air Force veteran Robert Dean, who took his own life in June 2016. At the game, Garland met Dean's wife, Katie, and their 3 year-old son, Cooper, and the meeting left a lasting impression on him.
On Dec. 11, Garland was honored for his community service with his team's Walter Payton Man of the Year Award and he decided to invite Katie and Cooper as his guests — what they didn't know was that he had a big surprise in store for them.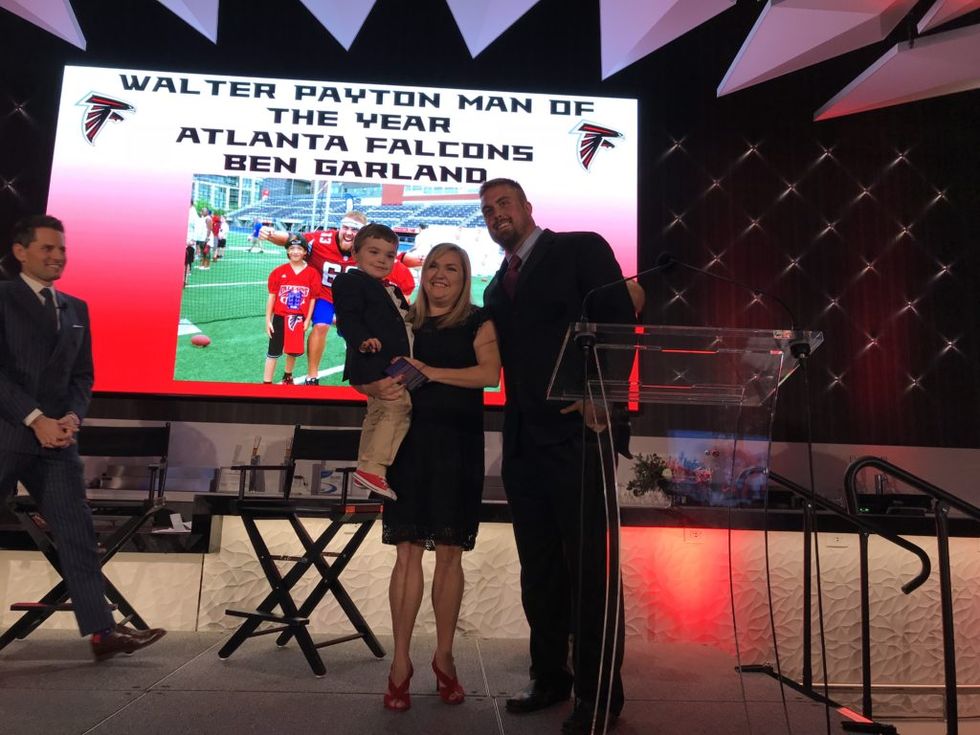 Ben Garland surprises military widow Katie Dean and her son, Cooper, with Super Bowl tickets. (Image via TAPS)
When accepting his award, Garland invited them onstage and presented them with tickets to the 2018 Super Bowl.
"No matter what I'm doing, I give my full effort to that," said Garland in an interview with CNN.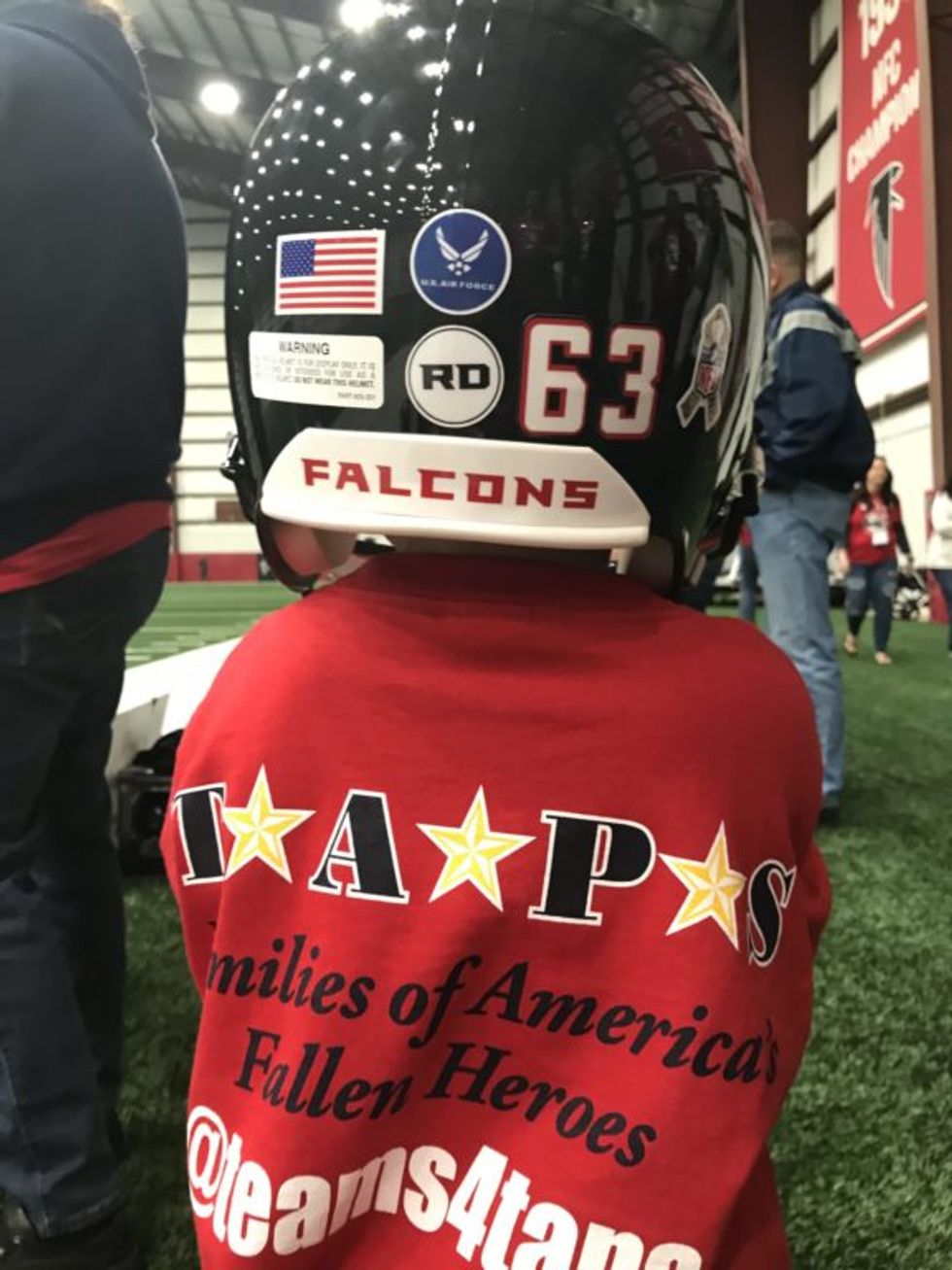 3 year-old Cooper Dean wears a helmet with his father's initials, borrowed from Atlanta Falcon Ben Garland. (Image via TAPS)
Whether in the military, on the field, or helping others, it's clear Garland lives by the Air Force Core Value of "Service Before Self." From visiting cancer patients in hospitals, to fighting human trafficking with SōDE Solution, to helping families like the Deans, Garland proves how impactful service after service can be.
"This incredible connection with Ben Garland and the Dean family is just extraordinary and means so much to Katie and Cooper," said Diana Hosford, vice president of sports and entertainment at TAPS. "Ben being in the Air Force just like their fallen hero and also being so kind, caring and thoughtful just like the man they loved and lost, makes this bond even stronger."