Military Life
December 15, 2017 13:09:56 EST
The military has very talented photographers in the ranks, and they're always capturing what life as a service member is like during training and at war. Here are the best military photos of the week:
---
Air Force:
Firefighters begin creating fire lines to combat the wildfire in Custer State Park, S.D., Dec. 13, 2017. Ellsworth Airmen worked with more than 330 firefighters from four surrounding states to combat the wildfire covering 55 square miles of the park.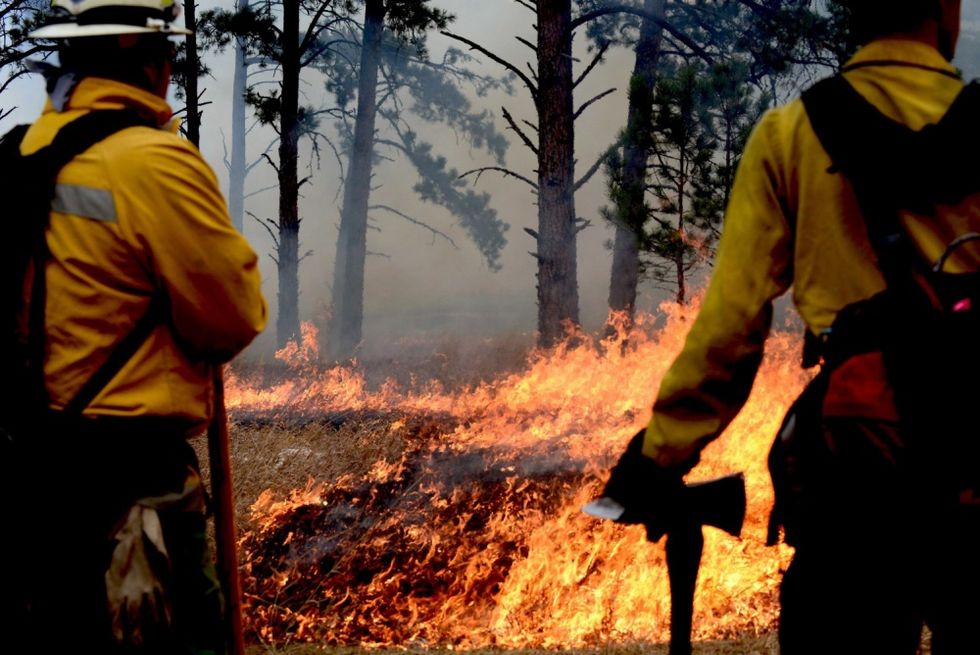 (U.S. Air Force photo by Airman 1st Class Donald C. Knechtel)
U.S. Air Force Airmen sit on the back of a C-130 cargo aircraft during Operation Christmas Drop 2017, Dec. 15, 2017, at Mariloa Atoll, Chuuk. Over the course of 12 days, crews will airdrop donated food, supplies, educational materials, and tools to 56 islanders throughout the Commonwealth of the Northern Marianas, Federated States of Micronesia, and the Republic of Palau.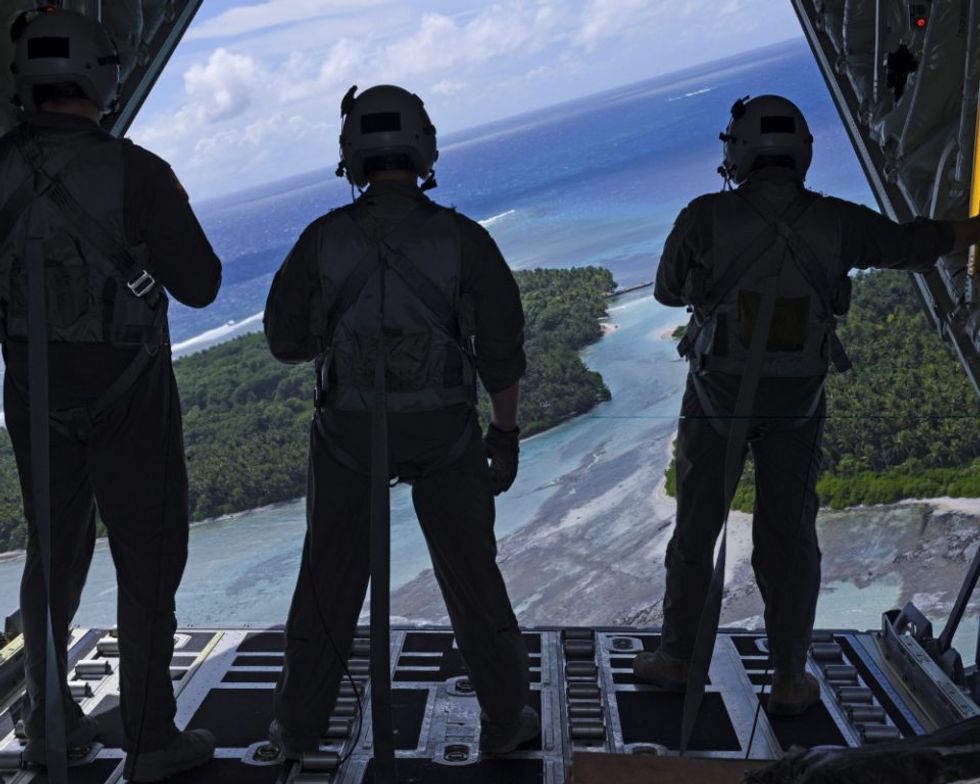 (U.S. Air Force photo by Airman 1st Class Gerald R. Willis)
Army:
Pfc. Brandon DeFlippo, a Rolla, Mo. native and a tank systems maintainer with 5th Squadron, 4th Cavalry Regiment, 2nd Armored Brigade Combat Team, 1st Infantry Division, performs maintenance on a Bradley fighting vehicle during training in Adazi, Latvia Dec. 9, 2017.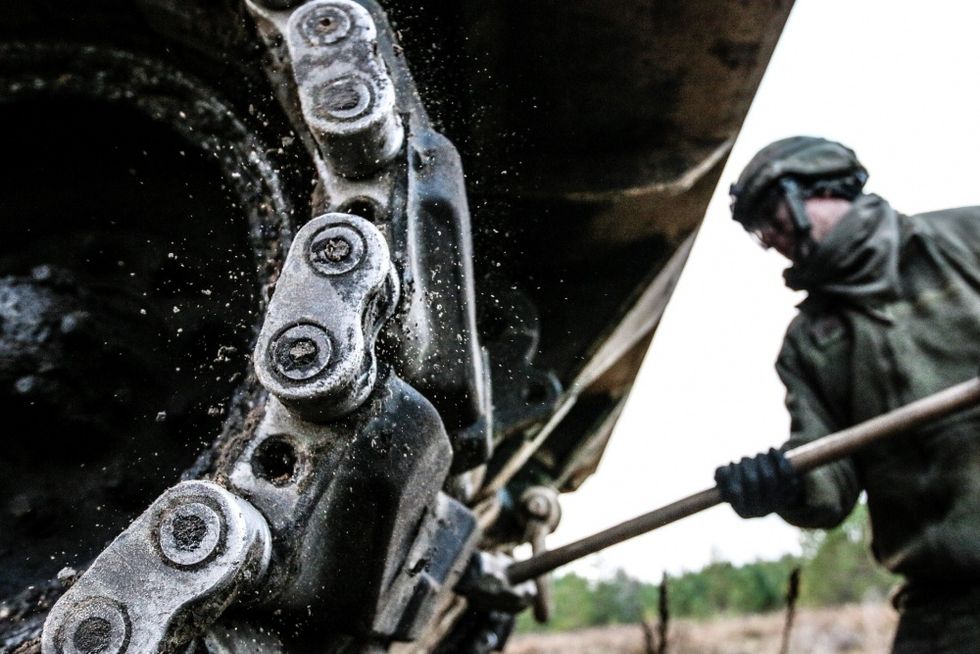 (U.S. Army photo by Spc. Hubert D. Delany III/22nd Mobile Public Affairs Detachment)
U.S. Soldiers assigned to the 3rd Squadron, 2nd Regiment Cavalry bound forward and find cover behind a berm as support fire is being provided by another team during a live fire exercise at the Guadnek training range in Orzysz, Poland, Dec. 14, 2017. These Soldiers are a part of the unique, multinational battle group, comprised of U.S., U.K., Croatian and Romanian soldiers serve with the Polish 15th Mechanized Brigade as a deterrence force in northeast Poland in support of NATO's Enhanced Forward Presence.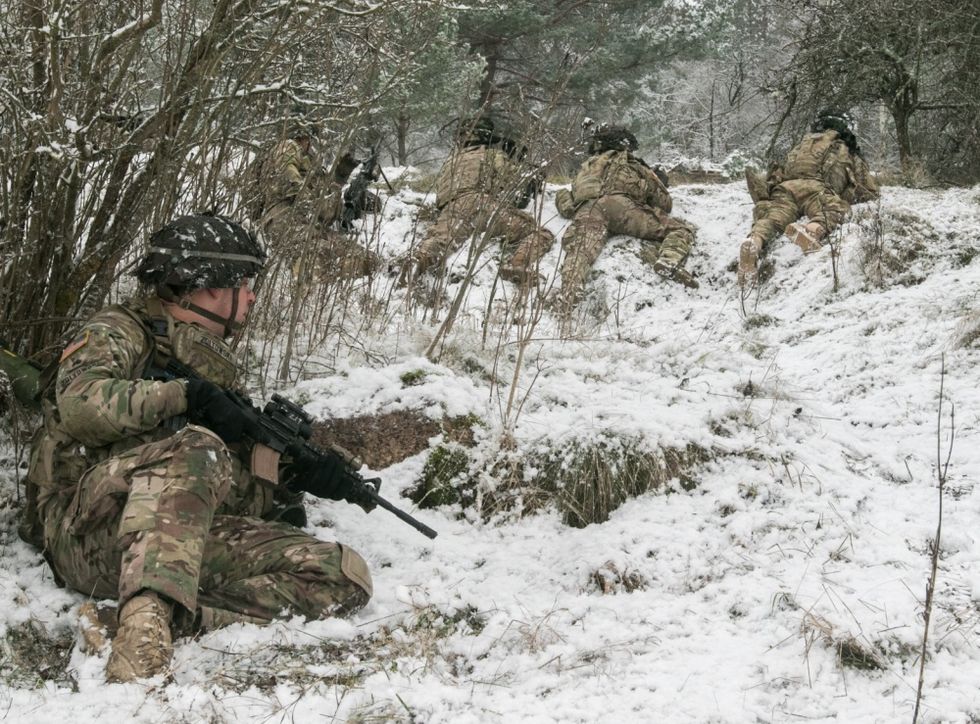 (U.S. Army photo by Spc. Andrew McNeil / 22nd Mobile Public Affairs Detachment)
Navy:
Los Angeles-class attack submarine USS Key West (SSN 722) returns to its homeport of Guam following a four-month forward-operating period in the Western Pacific. Key West is one of four forward-deployed submarines homeported in Apra Harbor, Guam.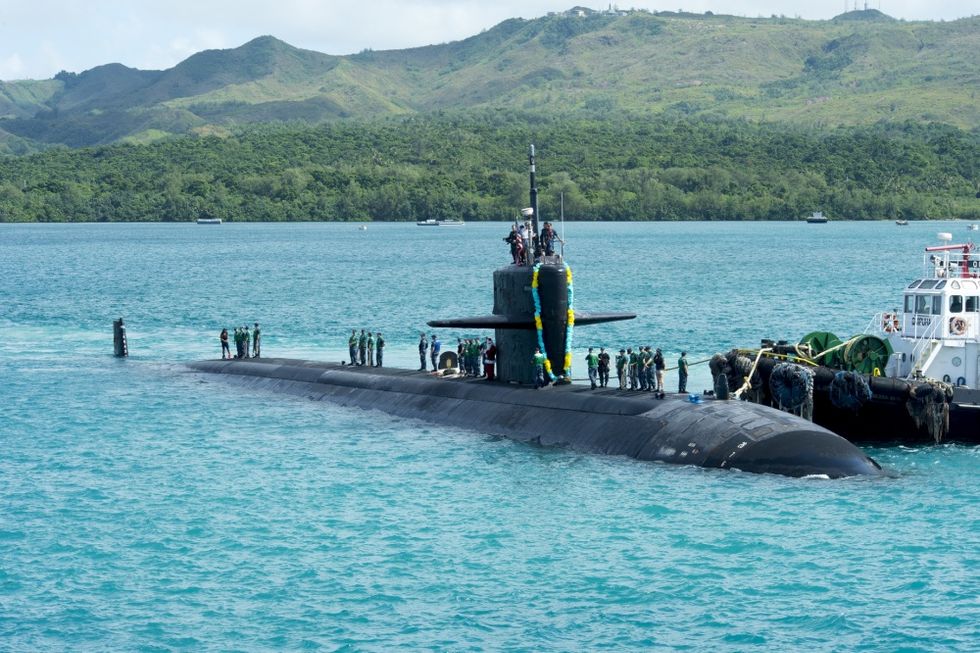 (U.S. Navy photo by Culinary Specialist Submarines Seaman Jonathan Perez)
USS Gerald R. Ford (CVN 78) transits the Atlantic Ocean at night. Ford is underway conducting test and evaluation operations.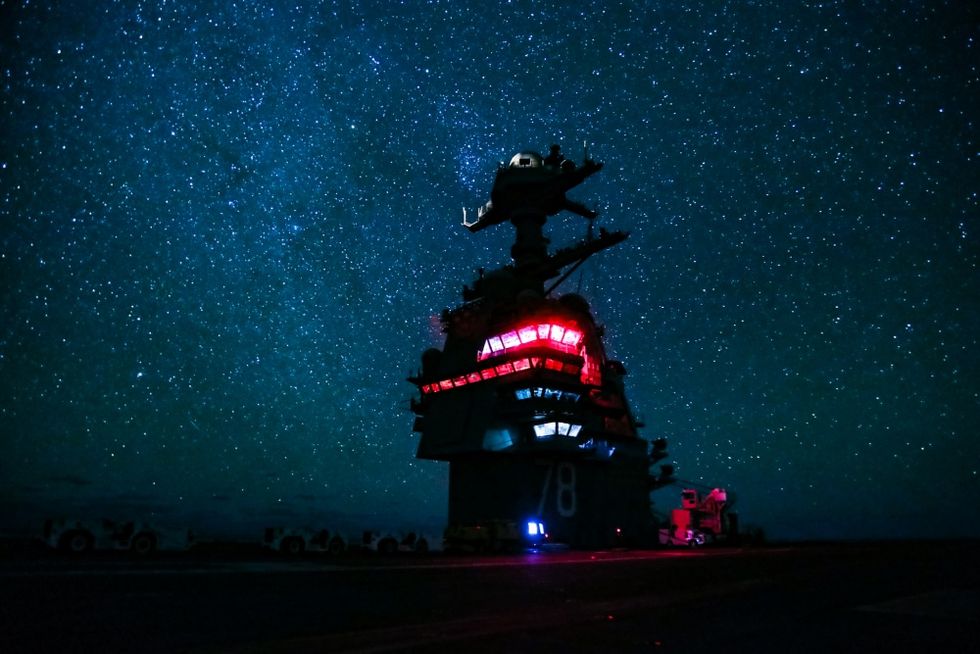 (U.S. Navy photo by Mass Communication Specialist 1st Class Joshua D. Sheppard)
Marine Corps:
Gunny Claus poses with children after the 2nd Marine Division (2d MARDIV) holiday concert at the base theater, on Camp Lejeune, N.C., Dec. 9, 2017. The program included a variety of traditional and modern Christmas and holiday music performed by the full concert band, jazz ensemble, party band, and soloists.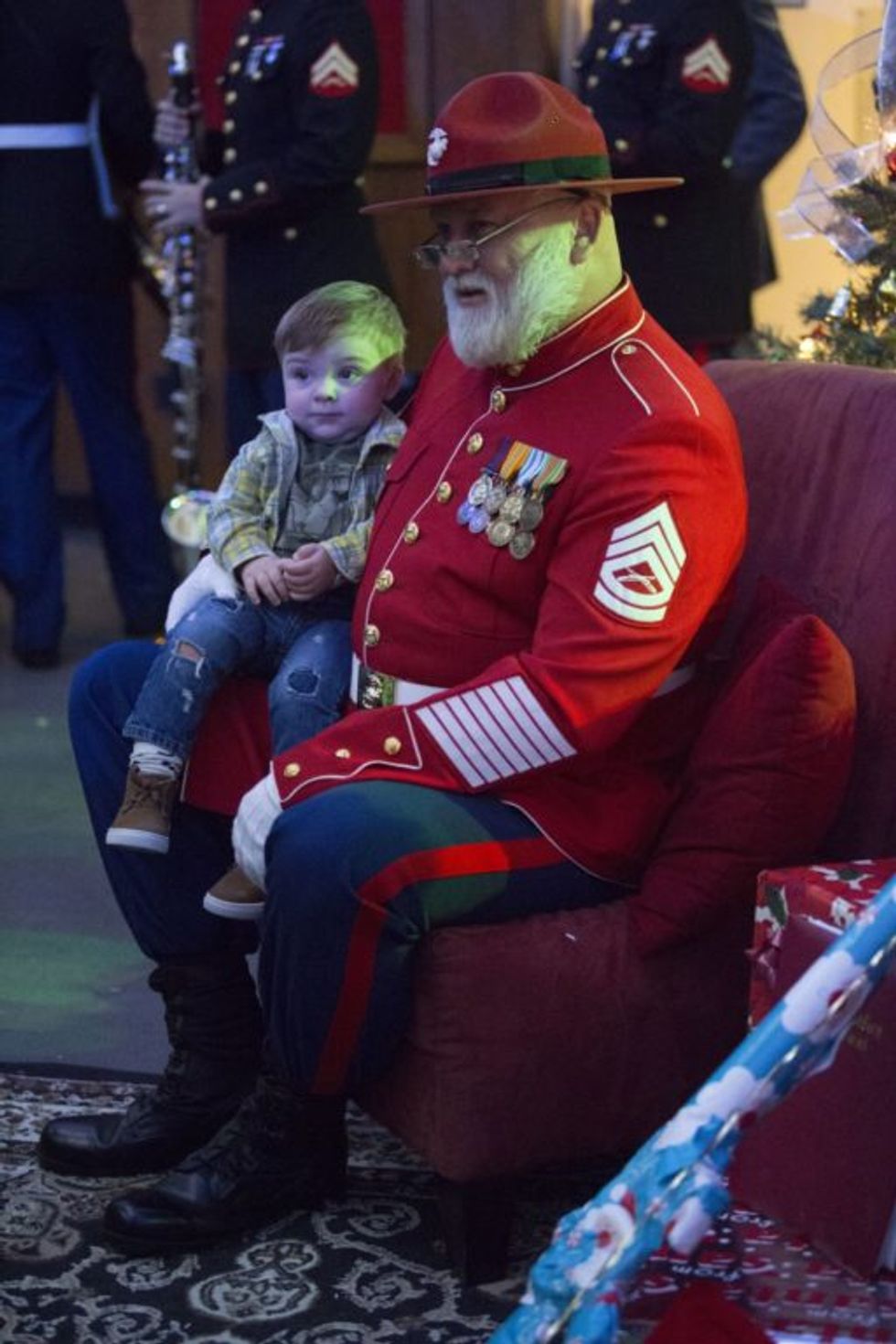 (U.S. Marine Corps photo by Lance Cpl. Michaela R. Gregory)
U.S. Marines with 1st Combat Engineer Battalion, 1st Marine Division, observe a beach after a simulated amphibious breach in support of exercise Steel Knight 2018 at San Clemente Island, Calif., Dec. 9, 2017. Steel Knight is a 1st Marine Division led exercise enabling Marines and Sailors to operate in a realistic environment developing necessary skill sets to maintain a fully capable Marine Air Ground Task Force.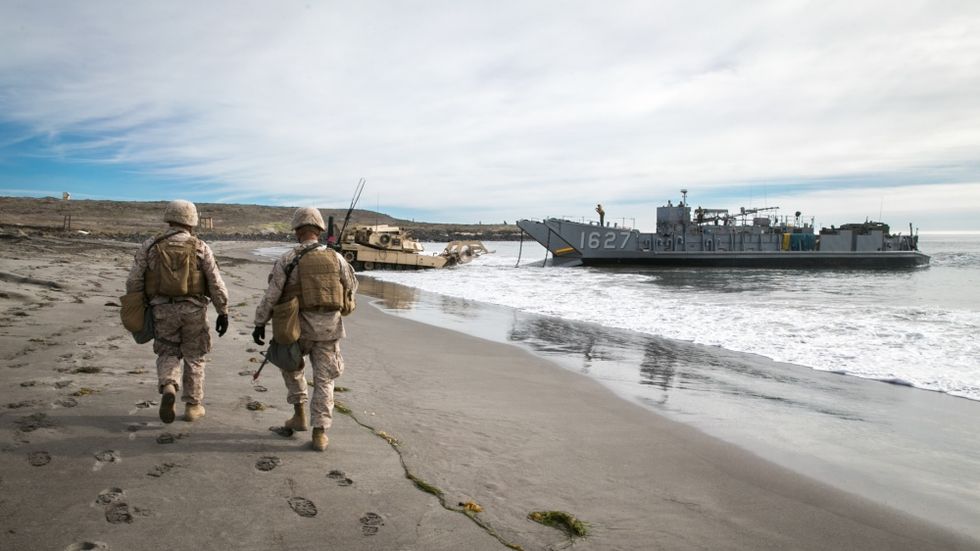 (U.S. Marine Corps photo by LCpl. Rhita Daniel)
Coast Guard:
Members of the Hurricane Maria ESF-10 Puerto Rico response examine a vessel wrecked by Hurricane Maria, Fajardo Puerto Rico, Dec. 13, 2017. The ESF-10 is offering no-cost options for removing vessels stranded by Hurricane Maria; affected boat owners are asked to call the Vessel Owner Outreach Hotline at (786) 521-3900.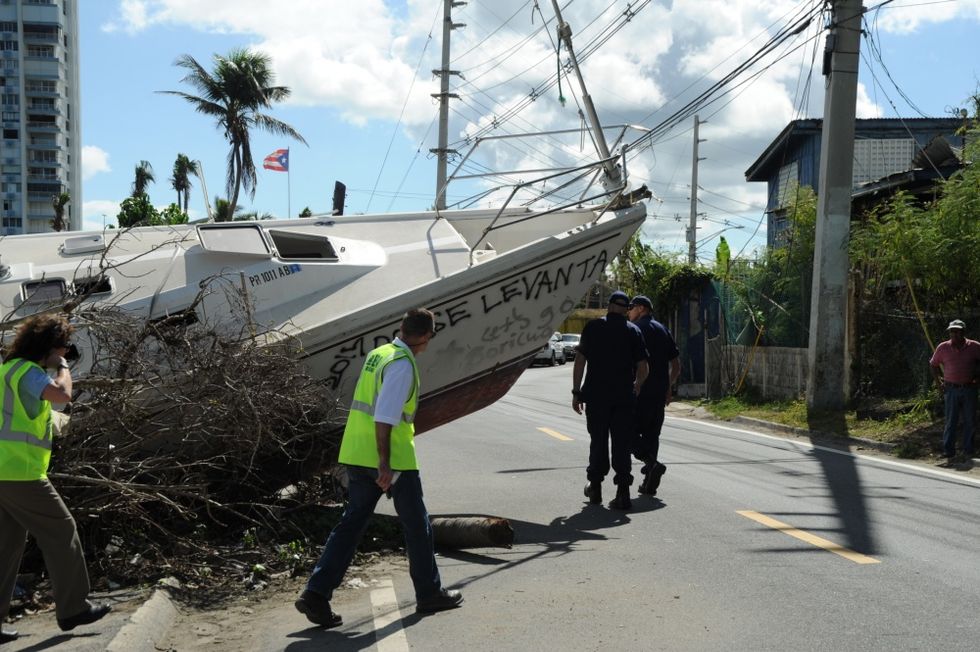 (U.S. Coast Guard photo by Petty Officer 2nd Class Lisa Ferdinando)
A Coast Guard boat crew aboard the Triumph II, a 52-foot Motor Life Boat from Coast Guard Cape Disappointment, conducting a tow off the Pacific Northwest coast, Dec. 10, 2017. The Triumph II is one of only four 52-MLBs in the Coast Guard and is specially designed for the deep water bars of the Pacific Northwest.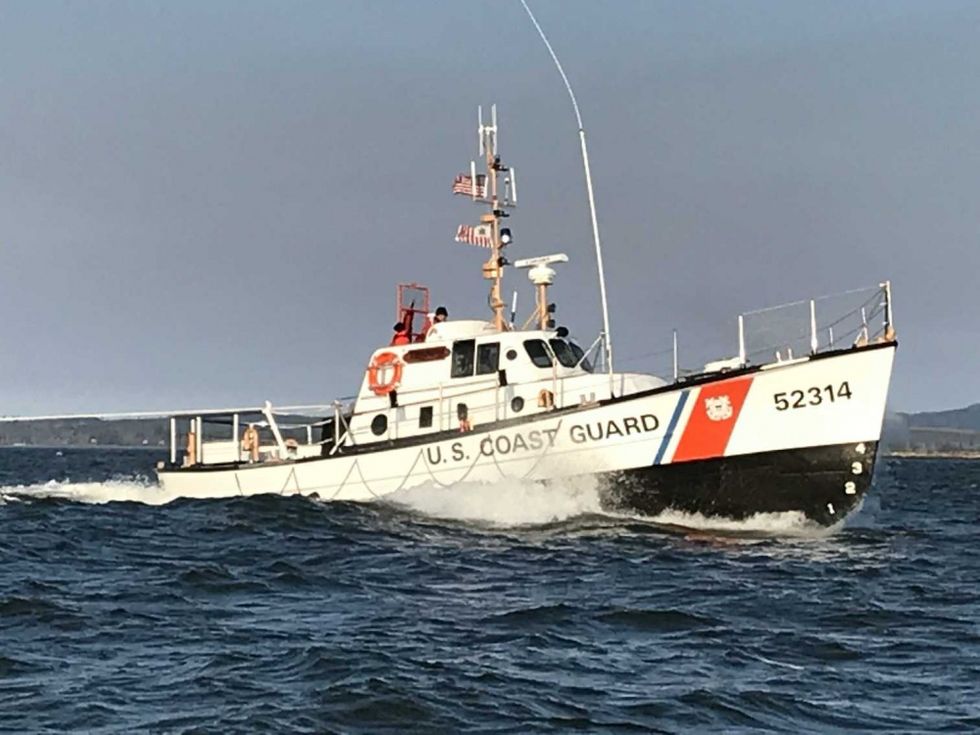 U.S. Coast Guard photo by Petty Officer 2nd Class Matthew Fishler