Military Life
December 22, 2017 13:29:24 EST
The military has very talented photographers in the ranks, and they're always capturing what life as a service member is like during training and at war. Here are the best military photos of the week:
---
Air Force:
U.S. Air Force Master Sgt. Apphia Gomes, 336th Air Refueling Squadron, refuels a C-17 Globemaster III aboard a KC-135 Stratotanker near March Air Reserve Base, Dec. 18, 2017. The C-17 carried Elinor Otto, better known as Rosie the Riveter, on her first C-17 flight.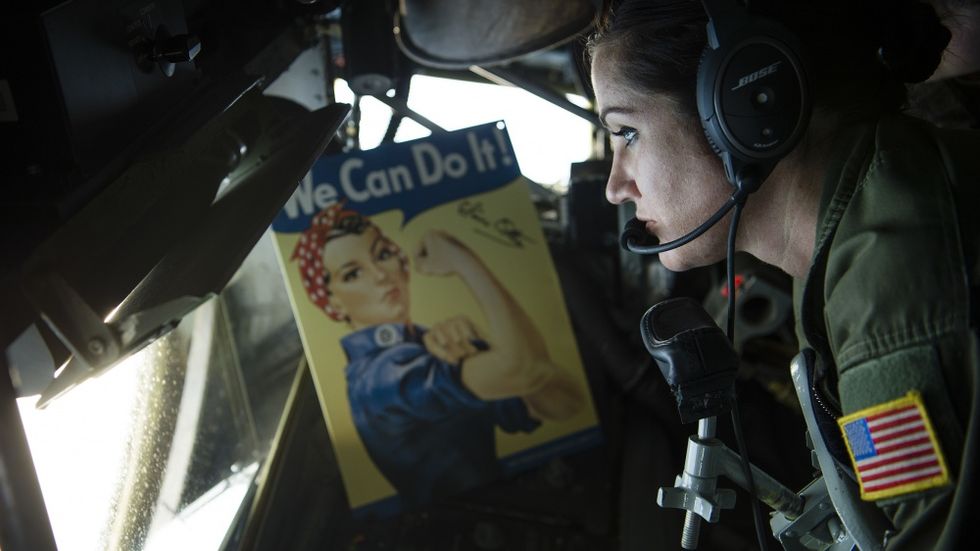 (U.S. Air Force Photo by Master Sgt. Eric Harris / Released)
An Air Force medium sized robot approaches a simulated Improvised Explosive Device during a response training exercise, Dec. 21, 2017, at Moody Air Force Base, Ga. The EOD Airmen were evaluated on their ability to respond to a distress call, locate, identify and neutralize an improvised explosive device.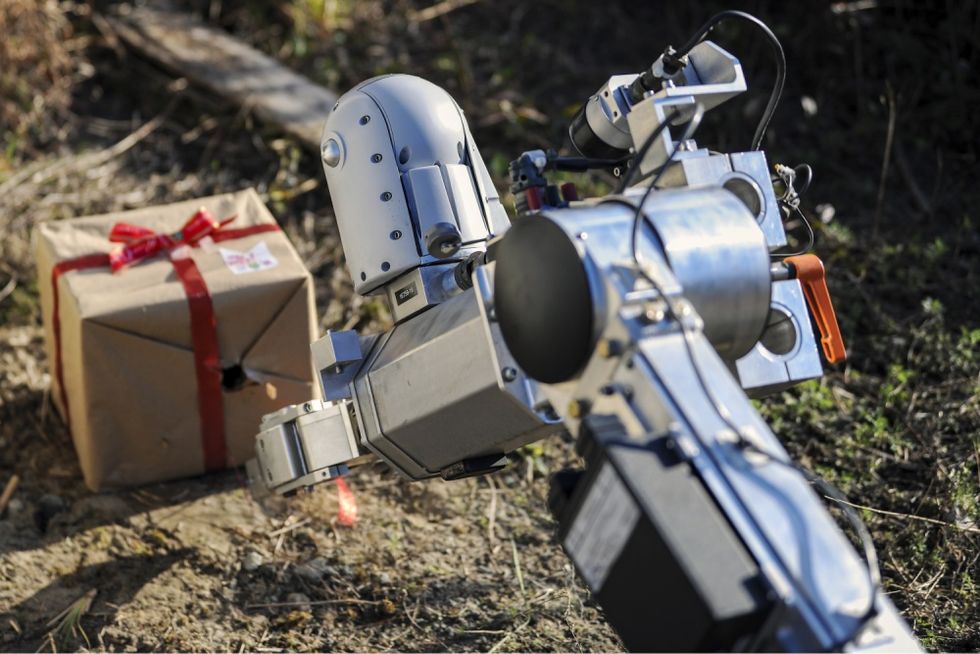 (U.S. Air Force photo by Airman Eugene Oliver)
Army:
Command Sgt. Maj. Dana S. Mason, Jr. salutes the formation during the Military Surface Deployment and Distribution Command Change of Responsibility Ceremony.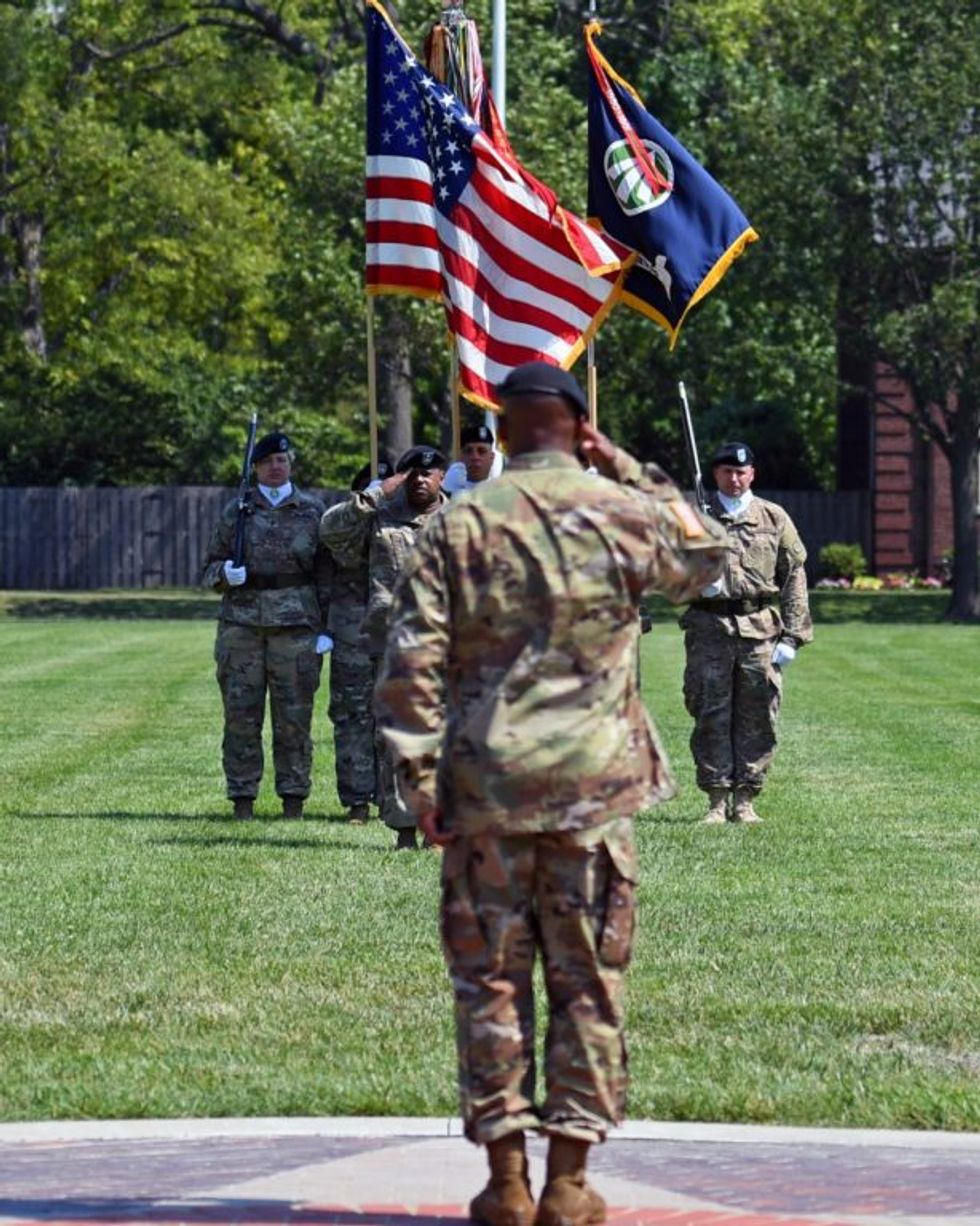 (U.S. Army courtesy photo)
Helicopters from the 1st Air Cavalry Brigade arrived to Chièvres Air Base, Belgium. The brigade, which is in the 1st Cavalry Division, stationed in Fort Hood, Texas, deployed with 89 helicopters, including Apaches, Chinooks and Black Hawks. The helicopters arrived by ship Oct. 19 at the port of Zeebrugge, Belgium, and were then staged at the base before they move forward to support missions in Europe.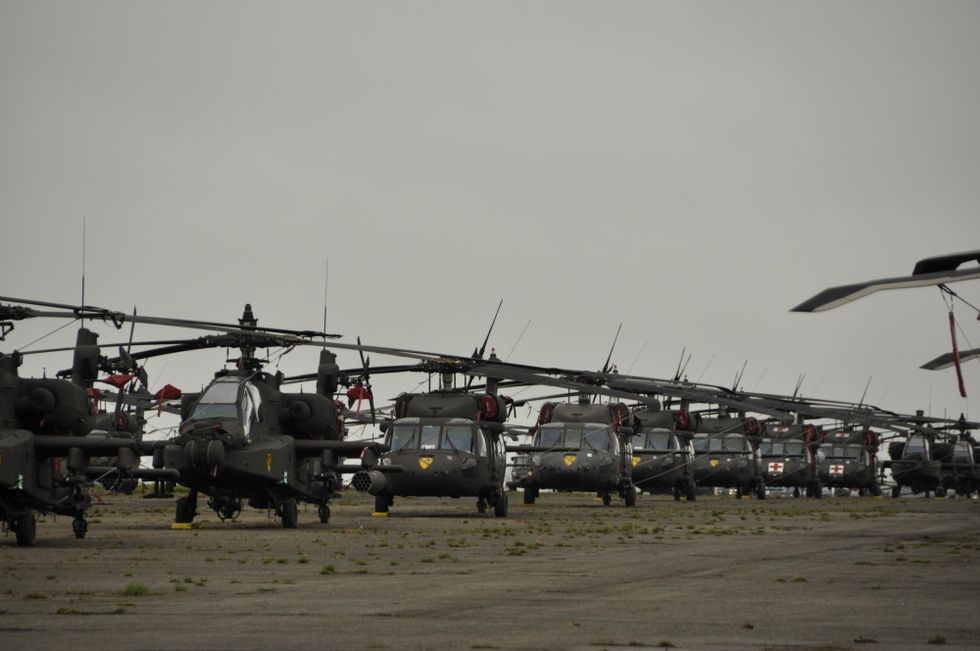 (U.S. Army photo by Jessica Ryan)
Navy:
The superstructure of the aircraft carrier USS George H.W. Bush (CVN 77) lights up during sunset in the Atlantic Ocean, Dec. 16, 2017. The George H.W. Bush was underway conducting routine training and qualifications.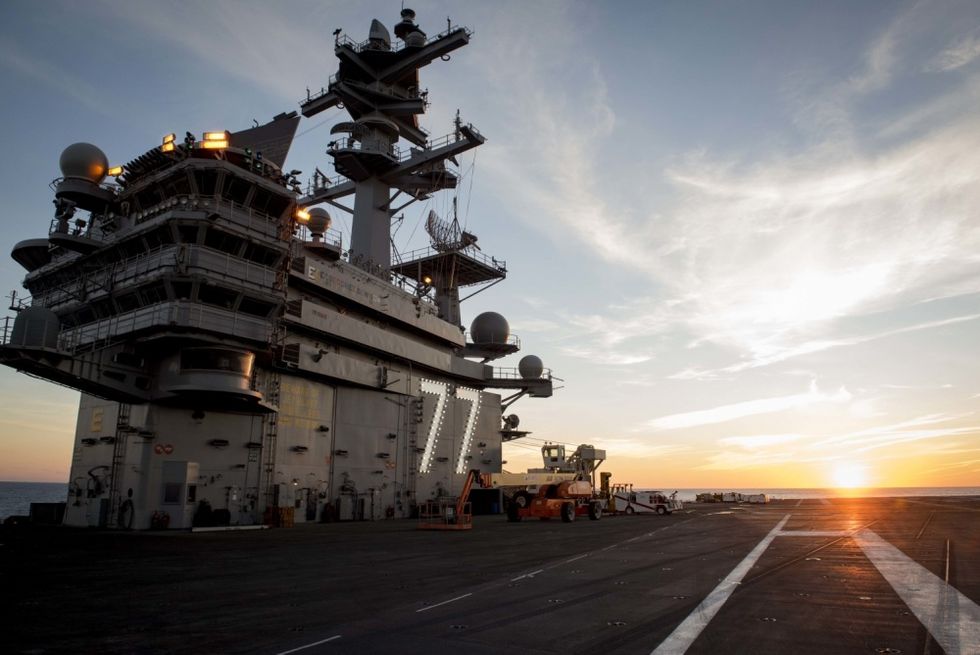 (U.S. Navy photo by Mass Communication Specialist 3rd Class Joe Boggio)
Lt. j.g. Cory R. Cameron recovers the "Oscar" dummy during a man-overboard drill aboard the Arleigh Burke-class guided-missile destroyer USS Preble (DDG 88). Preble is deployed with the Theodore Roosevelt Carrier Strike Group to the U.S. 5th Fleet area of operations in support of maritime security operations to reassure allies and partners and preserve the freedom of navigation and the free flow of commerce in the region.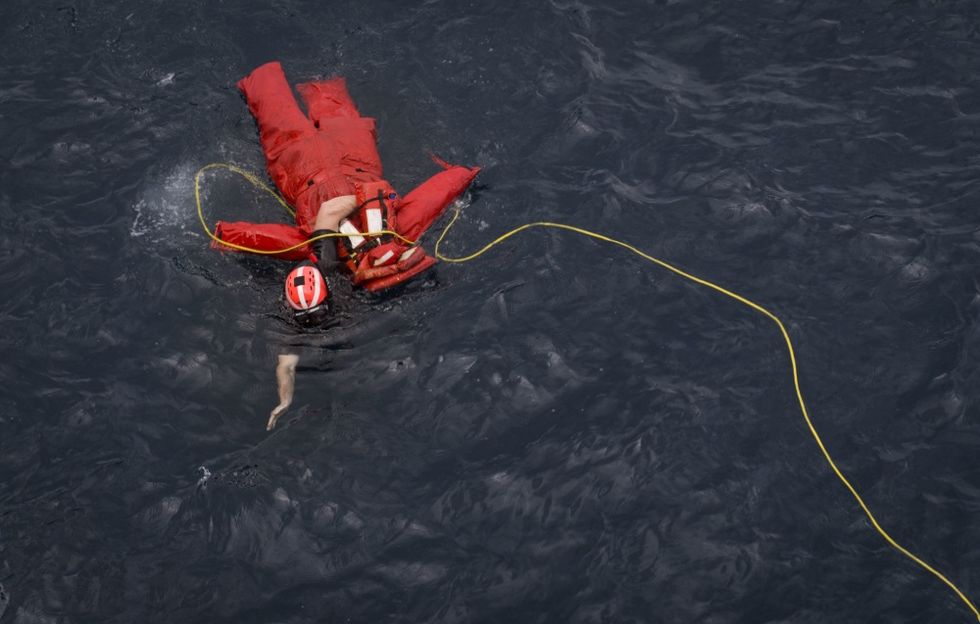 (U.S. Navy photo by Mass Communication Specialist 3rd Class Morgan K. Nall)
Marine Corps:
U.S. Marine Capt. Timothy Denning, company commander of Alpha Company, 7th Engineer Support Battalion, 1st Marine Logistics Group, runs alongside his Marines during the 7th ESB Holiday Run at Camp Pendleton, Calif., Dec. 22, 2017. The Marines and Sailors of 7th ESB showed their holiday spirit by dressing up and singing holiday songs during the run.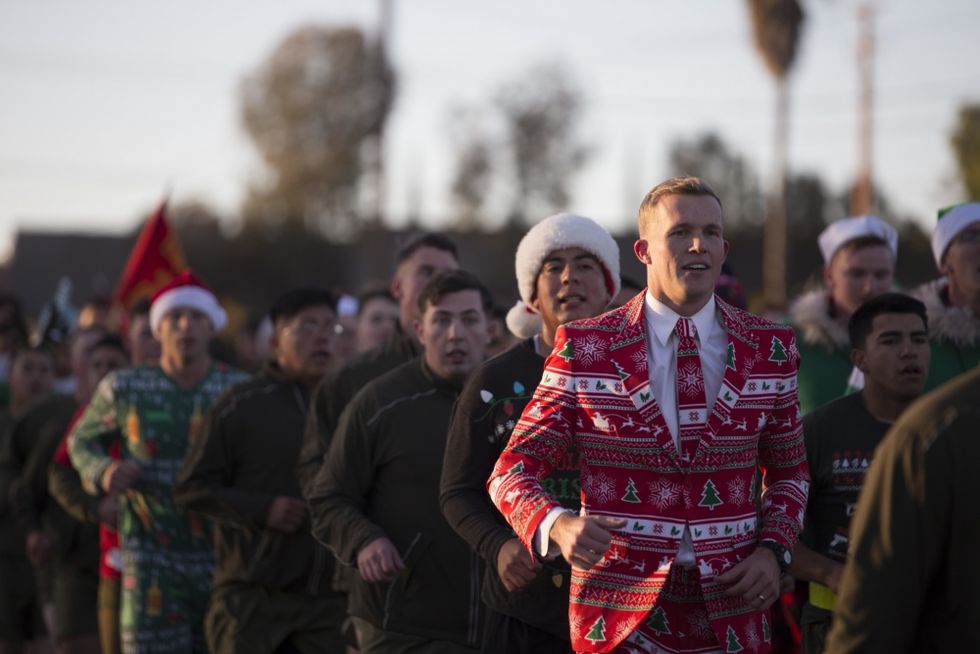 (U.S. Marine Corps photo by Lance Cpl. Timothy Shoemaker)
Hawaii's first three AH-1Z Vipers arrive aboard Marine Corps Air Station, Kaneohe Bay, Dec. 19, 2017. The arrival of the 4th generation attack helicopters enhances the capabilities and power projection of Marine Light Attack Helicopter Squadron 367, Marine Aircraft Group 24, 1st Marine Aircraft Wing and MCBH.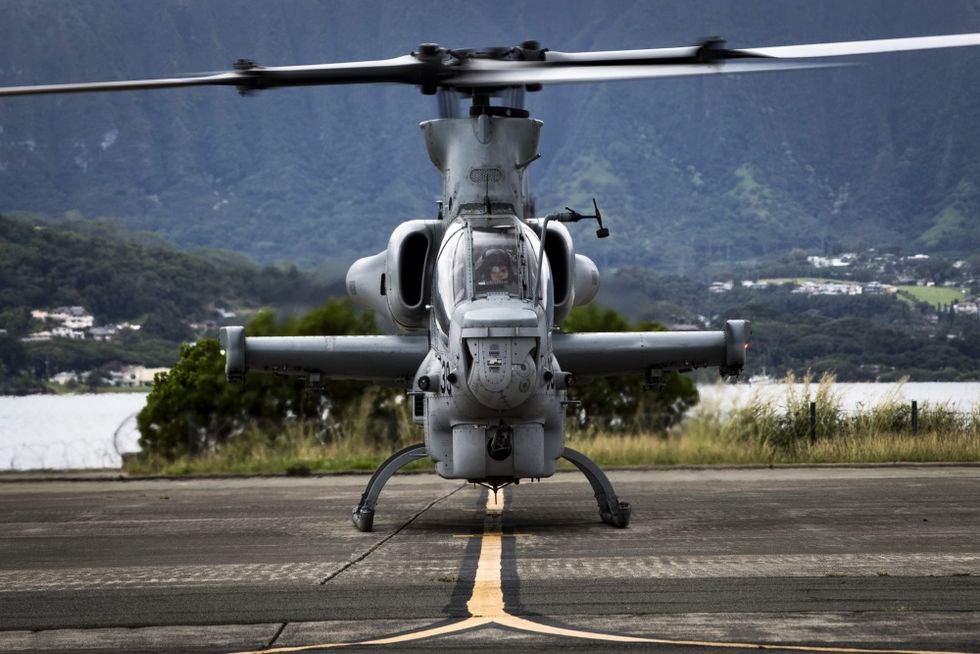 (U.S. Marine Corps Photo by Sgt. Alex Kouns)
Coast Guard:
Salvage crews working with the Hurricane Maria ESF-10 Puerto Rico response remove a wrecked vessel from Hurricane Maria in Sardinera, Puerto Rico, Dec. 21, 2017. The ESF-10 is offering no-cost options for removing vessels damaged by Hurricane Maria; affected boat owners are asked to call the Vessel Owner Outreach Hotline at (786) 521-3900.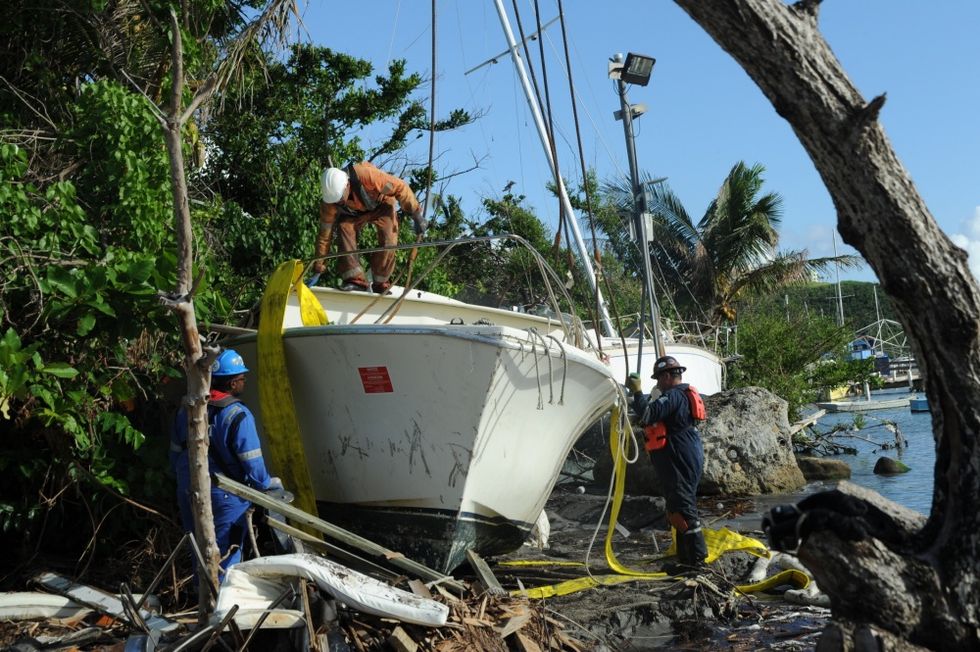 (U.S. Coast Guard photo by Petty Officer 2nd Class Lisa Ferdinando)
Petty Officer 1st Class Jeffrey Crews, a marine science technician for Coast Guard Sector Anchorage, places a wreath for a fallen service member during the Wreaths Across America ceremony at the Fort Richardson National Cemetery on Joint Base Elmendorf-Richardson in Anchorage, Alaska, Dec. 16, 2017.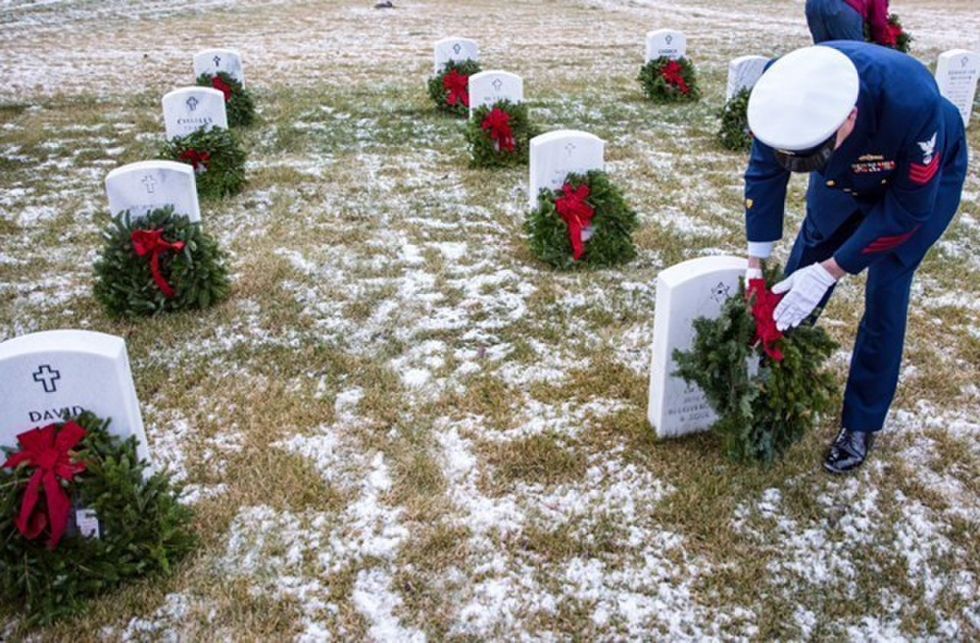 (U.S. Coast Guard photo by Lt. Jacob Gamble.)