Military Life
February 09, 2018 15:01:38 EST
In the military, it's impossible to say what the next week will bring. Thankfully, the ranks are chock-full of talented photographers that are always capturing what life as a service member is like, both in training and at war.
---
These are the best photos of the week:
Air Force:
U.S. Air Force Chief of Staff Gen. David L. Goldfein, left, greets Airman 1st Class Jessica Provencal, a fire team member assigned to the 736th Security Forces Squadron during his visit to Andersen Air Force Base, Guam, Feb. 8, 2018. The contingency response Airmen of the 736th SFS provide first-in force protection for the 36th Contingency Response Group during airbase opening, contingency, and humanitarian assistance operations throughout the Indo-Pacific area of operations.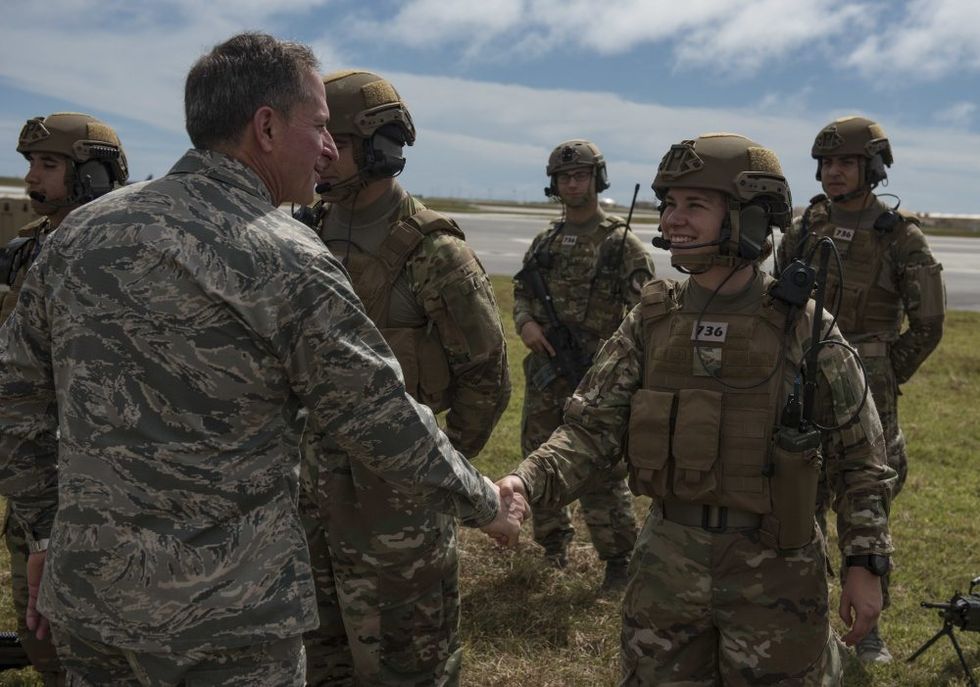 (U.S. Air Force photo by Staff Sgt. Alexander W. Riedel)
U.S. Air Force 2nd Lt. Stone Williford, 20th Civil Engineer Squadron real property specialist, removes dirt to level the ground at Shaw Air Force Base, S.C., Feb. 6, 2018. Volunteers worked together and combined their various skills to rebuild the overflow bridge at Memorial Lake.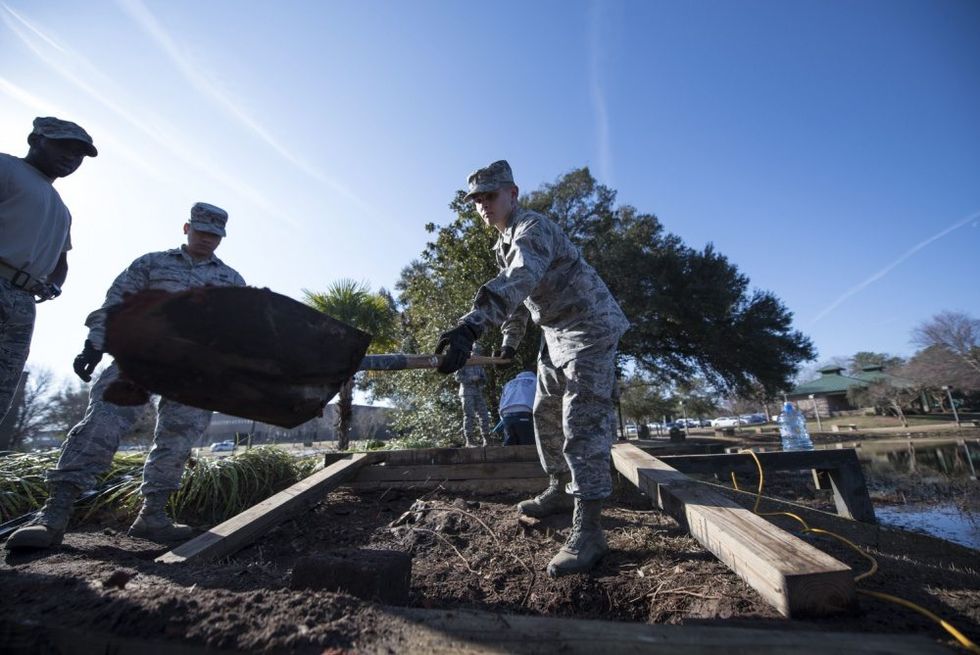 (U.S. Air Force photo by Senior Airman Destinee Sweeney)
Army:
Pfc. Hunter Wood (left), military policeman assigned to the 287th MP Company, 97th MP BN, 89th MP BDE, deployed in support of Battle Group Poland receives a 2nd Cavalry Regiment coin of excellence from Command Sgt. Maj. Kevin Muhlenbeck, 2CR senior enlisted advisor, for his unwavering work ethic as a gunner and initiative on being accountable for his military vehicle's maintenance and progress while simultaneously ensuring mission success, near Bemowo Piskie Training Area, Poland Feb. 8, 2018. Battle Group Poland is a unique, multinational battle group, comprised of U.S., U.K., Croatian and Romanian soldiers who serve with the Polish 15th Mechanized Brigade as a deterrence force in northeast Poland in support of NATO's Enhanced Forward Presence.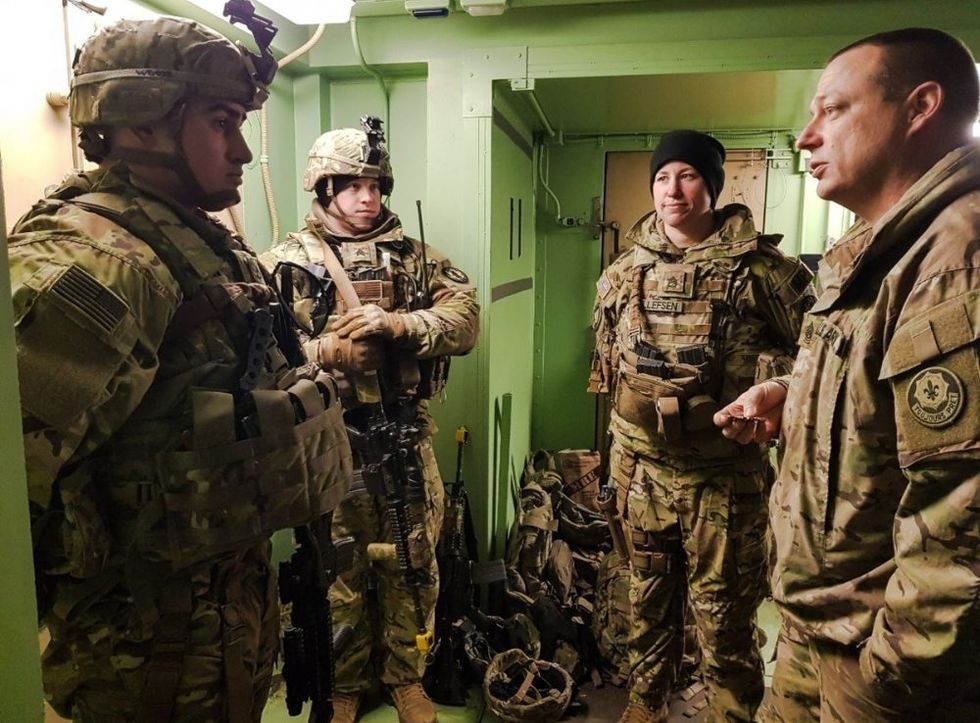 (Courtesy photo by 2nd Lt. Francine Alba, 287th MP Company)
2nd Lt. Isaac Bandfield, infantry officer, 1st Battalion, 77th Armored Regiment, qualifies on the M240B to obtain an Expert Infantry Badge Feb. 6 at Fort Bliss, Texas. The qualification includes three steps, which are disassembling the weapon, assembling the weapon, and clearing then firing the weapon.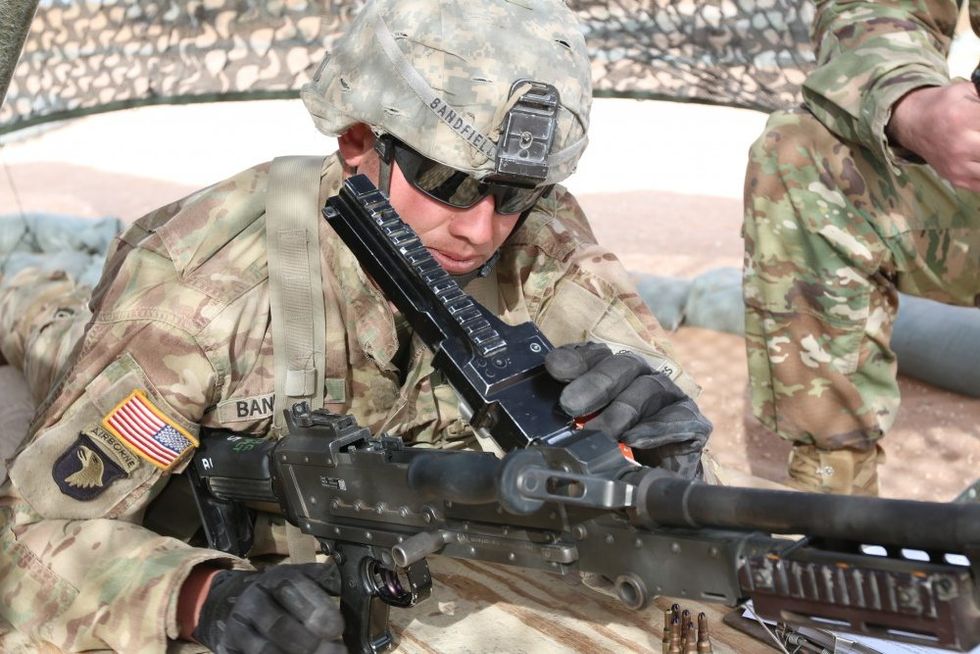 (U.S. Army photo by Staff Sgt. Felicia Jagdatt)
Navy:
Rear Adm. Steve Koehler, second from left, commander, Carrier Strike Group (CSG) 9, speaks with members of the Qatar Emiri Naval Forces and U.S. Army in the hangar bay of the aircraft carrier USS Theodore Roosevelt (CVN 71). Theodore Roosevelt and its carrier strike group are deployed to the U.S. 5th Fleet area of operations in support of maritime security operations to reassure allies and partners and preserve the freedom of navigation and the free flow of commerce in the region.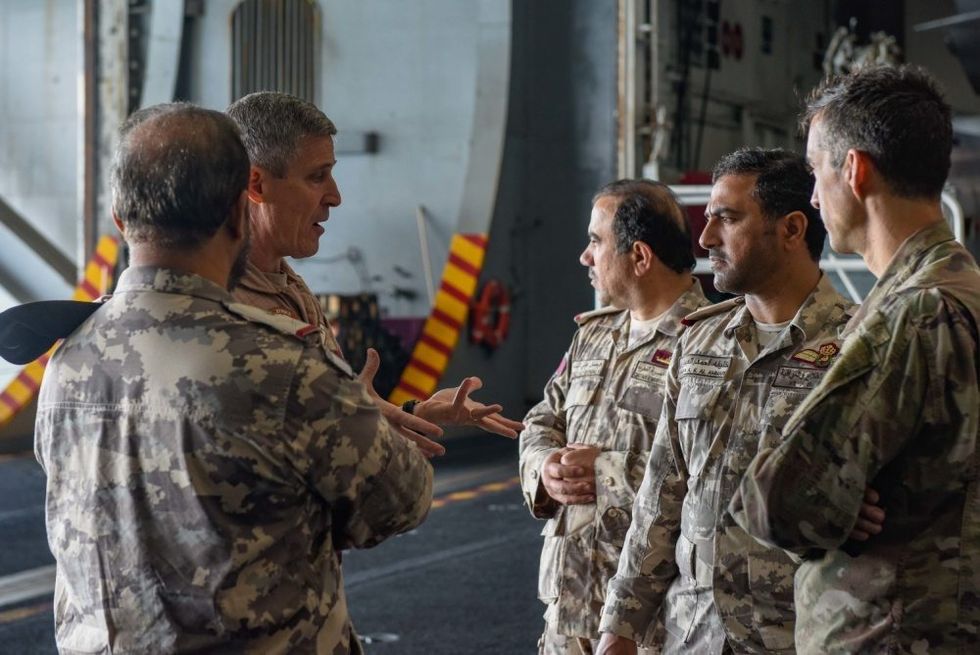 (U.S. Navy photo by Mass Communication Specialist 3rd Class Alex Perlman/Released)
Sonar Technician (Surface) 2nd Class Samuel Wellington helps Fire Controlman 1st Class John Willman practice aiming down the sight of an M4 rifle during a small-arms gun shoot aboard the Arleigh Burke-class guided-missile destroyer USS Ross (DDG 71). Ross, forward-deployed to Rota, Spain, is on its sixth patrol in the U.S. 6th Fleet area of operations in support of regional allies and partners and U.S. national security interests in Europe.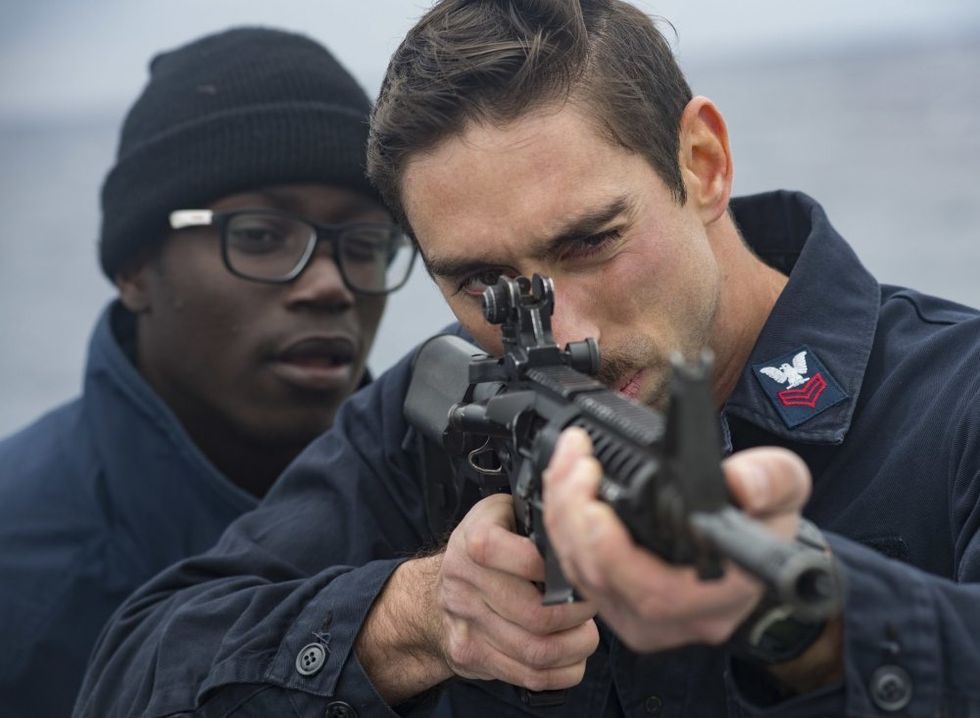 (U.S. Navy photo by Mass Communication Specialist 1st Class Kyle Steckler/Released)
Marine Corps:
Commandant of the Marine Corps Gen. Robert B. Neller shakes hands with Marines during a visit to Recruiters School aboard Marine Corps Recruit Depot, San Diego, Calif., February 8, 2018. Neller addressed the Marines about his latest Message to the Force: Execute and answers questions.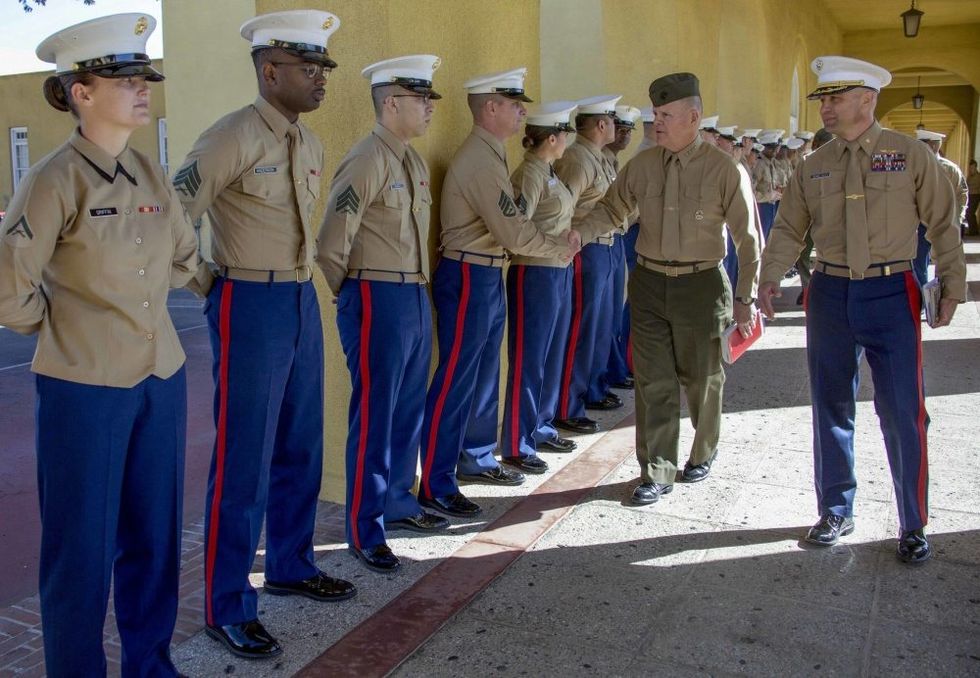 (U.S. Marine Corps photo by Sgt. Olivia G. Ortiz)
Marines with Company F, 4th Tank Battalion, 4th Marine Division, pause to check the scheme of maneuver before a platoon formation rehearsal during exercise Winter Break 2018 near Camp Grayling, Michigan, Feb. 8, 2018. Winter Break 18 challenges Marines of Fox Co., 4th Tank Bn. to contend with employment problems caused by extreme cold weather and snow and adapt to the operational challenges of a severe climate.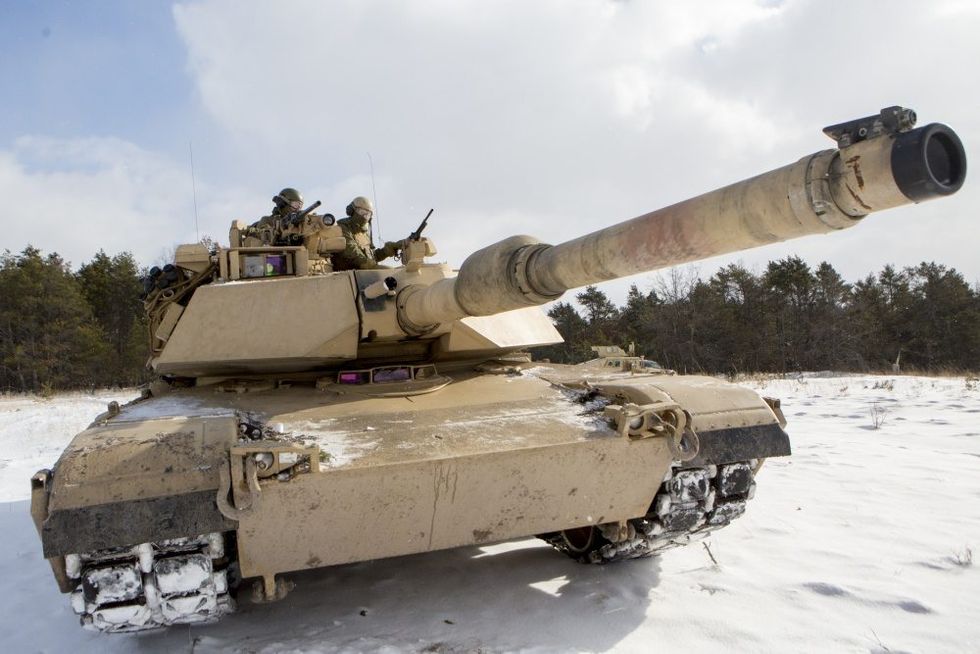 (U.S. Marine Corps photo by Cpl. Dallas Johnson)
Coast Guard:
Leighton Tseu, Kane O Ke Kai, gives a Hawaiian blessing during the arrival of the Coast Coast Guard Cutter Joseph Gerczak (WPC 1126), at Coast Guard Base Honolulu, Feb. 4, 2018. The Joseph Gerczak is the second of three Honolulu-based FRCs that will primarily serve the main Hawaiian Islands.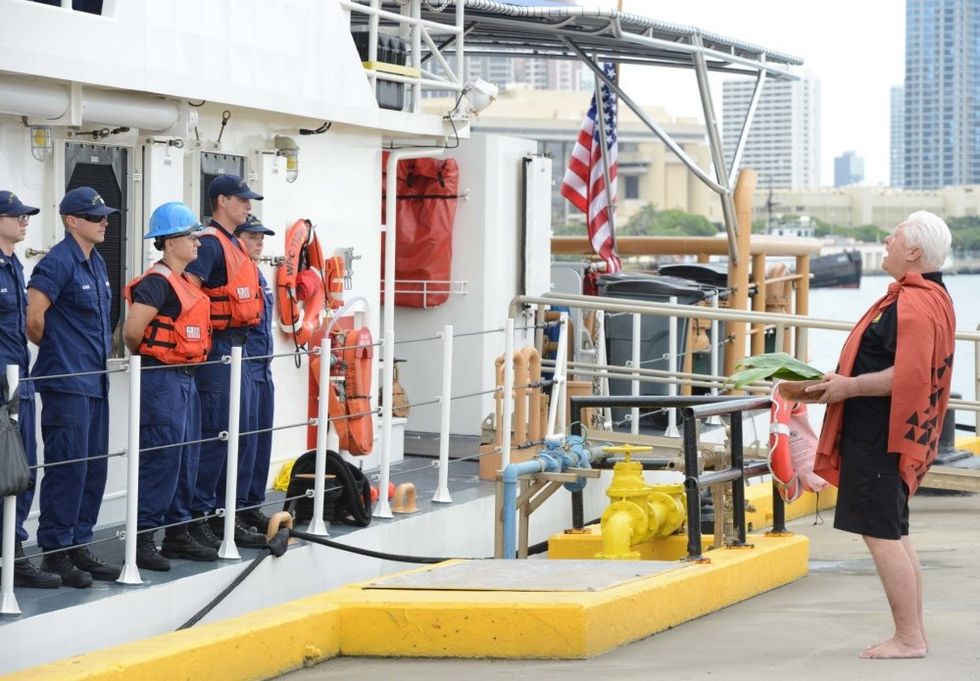 (U.S. Coast Guard photo by Petty Officer 2nd Class Tara Molle/Released)
A Coast Guard Air Station Clearwater MH-60 Jawhawk helicopter crewmember medevacs a 42-year-old man suffering from stomach pains from the cruise ship Koningsdam Saturday, Feb. 3, 2018 approximately 46 miles east of the Bahamas. Coast Guard 7th District watchstanders launched the aircrew who hoisted the patient with his nurse and transferred them to local emergency medical services at Nassau, Bahamas.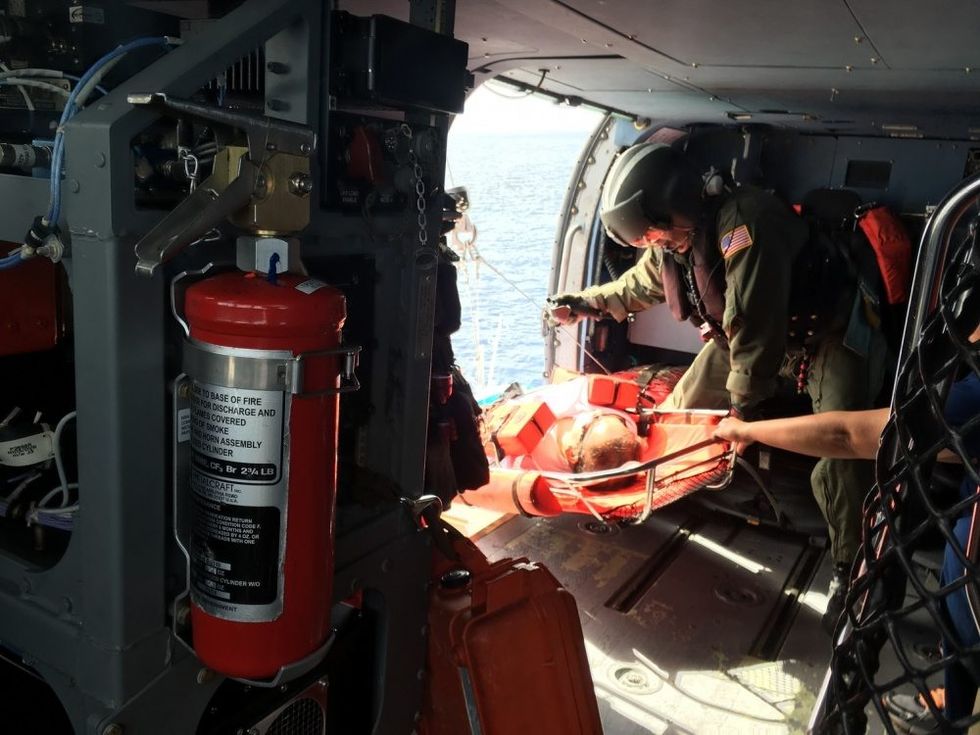 (U.S. Coast Guard photo by Lt. Cmdr. George Menze)