Military Life
January 19, 2018 12:36:07 EST
In the military, you never know what the week will bring. Thankfully, there are some very talented photographers in the ranks and they're always capturing what life as a service member is like, both in training and at war. Here are the best military photos of the week:
---
Air Force:
Defense Secretary James N. Mattis speaks with Col. Joseph Kunkel, 366th Fighter Wing commander, after a town hall meeting at Mountain Home Air Force Base, Idaho, Jan. 16, 2018. Mattis met with base leadership and fielded questions from Airmen during the town hall.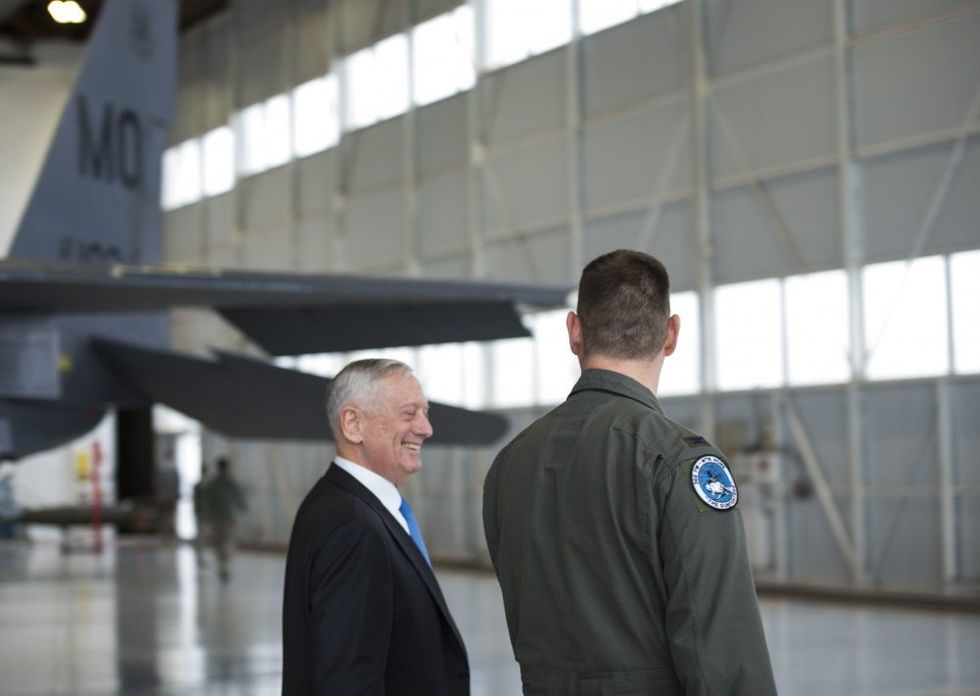 (U.S. Air Force photo by Senior Airman Malissa Armstrong)
A B-52 Stratofortress navigator, assigned to the 23rd Expeditionary Bomb Squadron, provides overview of different radars during a strategic bomber mission over Europe, on Jan. 16, 2018. The deployment of strategic bombers to RAF Fairford, England, helps exercise United States Air Forces in Europe's forward operating location for bombers. Training with joint partners, allied nations and other U.S. Air Force units help the 5th Bomb Wing contribute to ready and postured forces.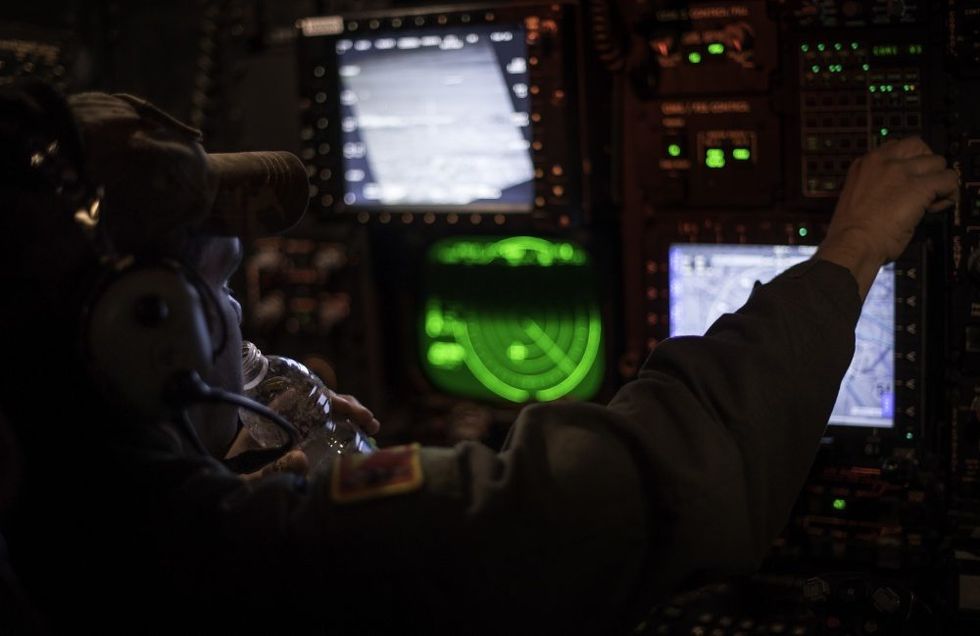 (U.S. Air Force photo by Staff Sgt. Trevor T. McBride)
Army:
Cpl. Kevin Johnson (right), a Norfolk, Virginia native and a human resource specialist assigned to the Headquarters and Headquarters Company, 2nd Armored Brigade Combat Team, 1st Infantry Division, Fort Riley, Kansas, shows photos from his hometown to a group of students at an elementary school in Nowa Sol, Poland on Jan. 17, 2018. The purpose of the visit was to give the students the opportunity to learn more about the U.S. military and its involvement in Atlantic Resolve.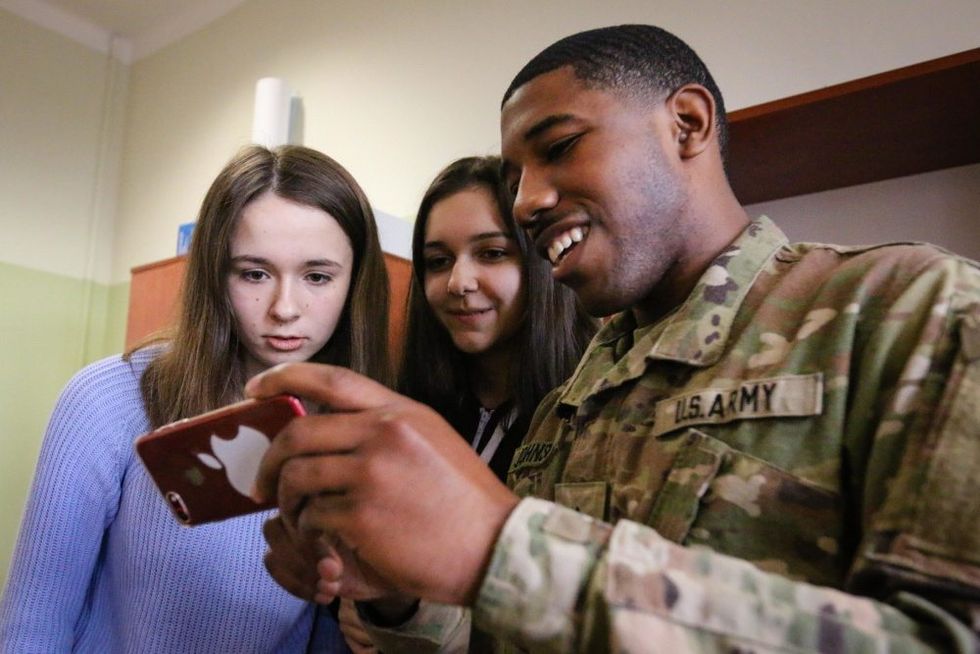 (U.S. Army photo by Spc. Hubert D. Delany III / 22nd Mobile Public Affairs Detachment)
U.S. Army Paratrooper assigned to the 1st Battalion, 503rd Infantry Regiment, 173rd Airborne Brigade engages a pop-up targets with M249 light machine gun during the marksmanship training at Cao Malnisio Range, Pordenone, Italy, Jan. 16, 2018. The 173rd Airborne Brigade is the U.S. Army Contingency Response Force in Europe, capable of projecting ready forces anywhere in the U.S. European, Africa, or Central Commands' areas of responsibility.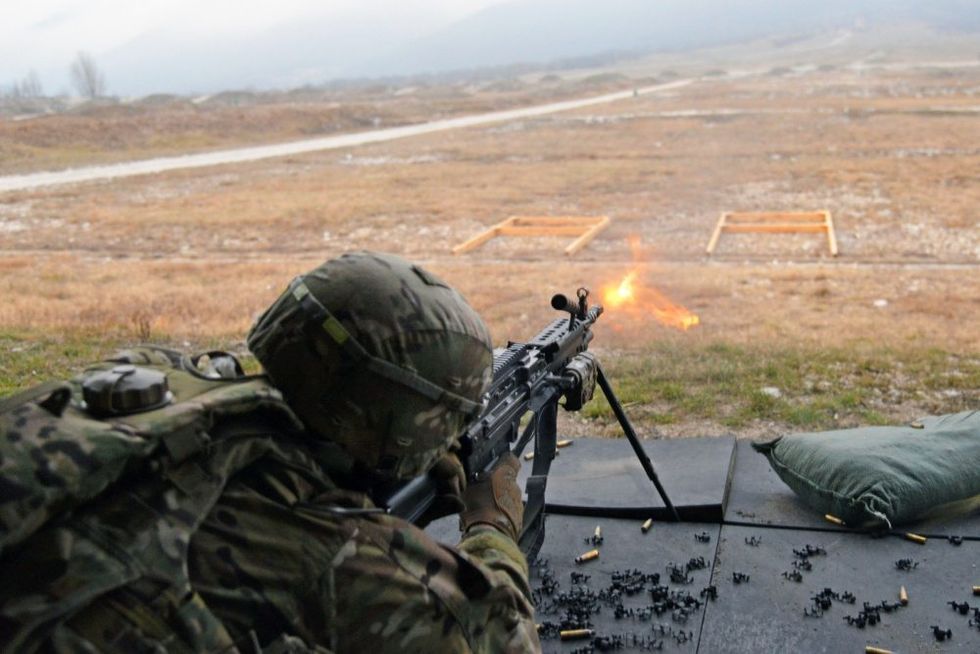 (U.S. Army Photos by Davide Dalla Massara)
Navy:
Belgian Commander Peter Ramboer (L), incoming Standing NATO Mine Countermeasures Group One (SNMCMG1) Commander, congratulates outgoing SNMCMG1 Commander Gvido Laudups as he receives the NATO Flag representing the conclusion of his command during the SNMCMG1 operational handover ceremony at Zeebrugges Marine Base, in Belgium.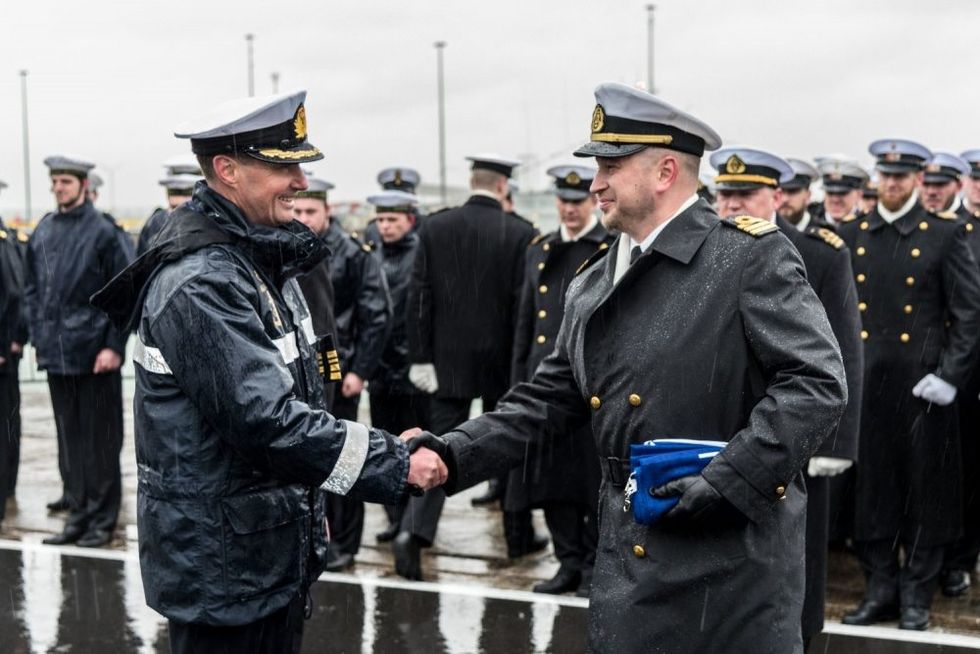 (Photo by FRAN CPO Christian Valverde/Released.)
Capt. Robert Jacoby, right, and Hospital Corpsman 1st Class Raymond Bedard, from Expeditionary Resuscitative Surgical System 19, prepare medical supplies aboard Royal Fleet Auxiliary ship Cardigan Bay during exercise Azraq Serpent 18. Azraq Serpent 18 is a bilateral exercise between the U.K. Royal Navy and the U.S. Navy dedicated to developing interoperability between partners across the medical domain in the U.S. 5th Fleet area of operations.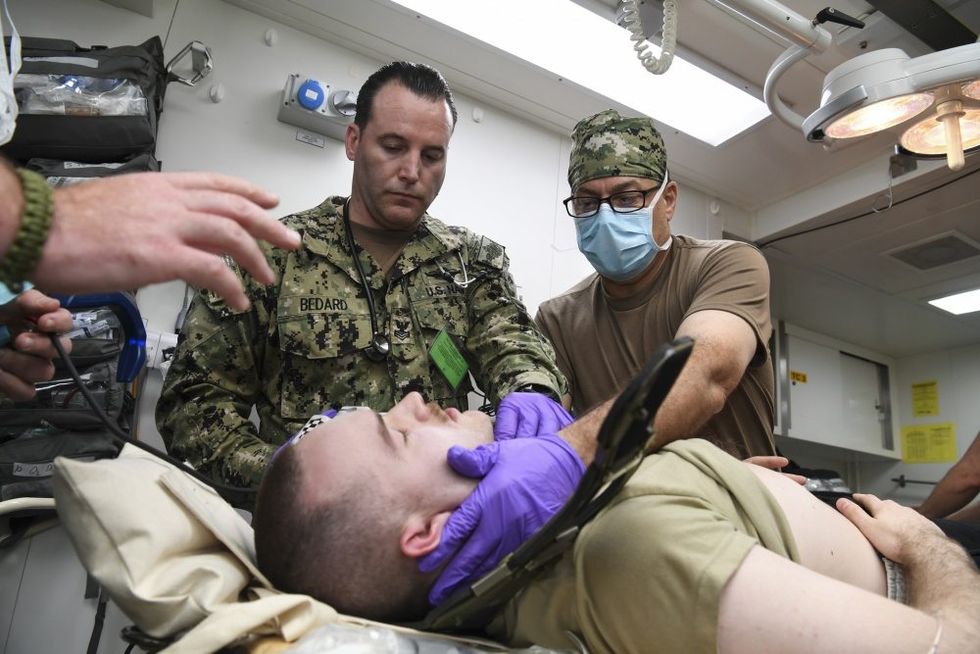 (U.S. Navy photo by Mass Communication Specialist 2nd Class Kevin J. Steinberg/Released)
Marine Corps:
Hospital Corpsman Petty Officer 2nd Class Jonathan High, a Combat Skills Training instructor, teaches Soldiers with the Japan Ground Self Defense Force how to applying gauze to a simulated wound during Exercise Iron Fist, January 16, 2018. Exercise Iron Fist is an annual bilateral training exercise where U.S. and Japanese service members train together and share technique, tactics and procedures to improve their combined operational capabilities.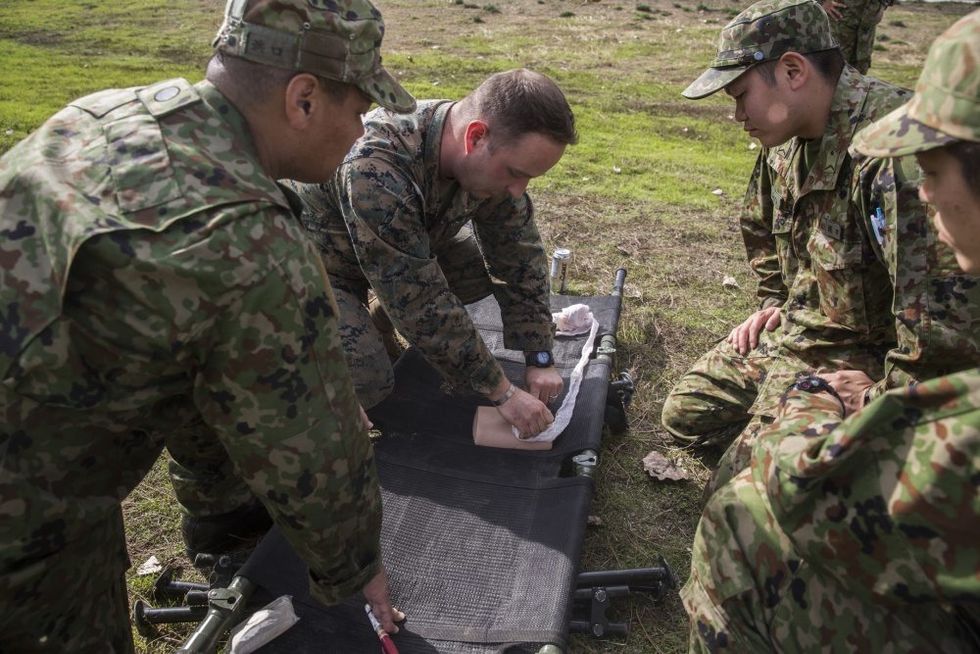 (U.S. Marine Corps photo by Lance Cpl. Robert Alejandre)
A Japan Ground Self Defense Force soldier leaves a pool during a Marine Corps intermediate swim qualification as part of exercise Iron Fist Jan. 16, 2018. Iron Fist brings together U.S. Marines from the 11th Marine Expeditionary Unit and Soldiers from the Japan Ground Self Defense Force, Western Army Infantry Regiment, to improve bilateral planning, communicating, and conduct combined amphibious operations.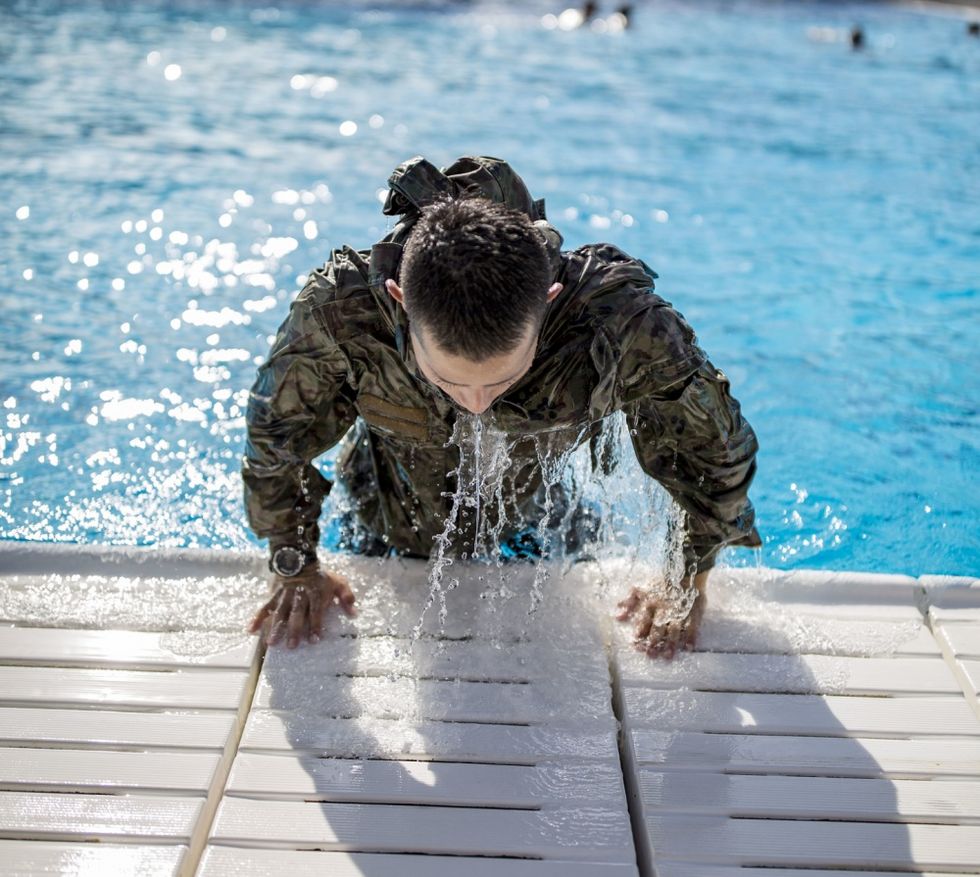 (U.S. Marine Corps Photo by Cpl. Jacob A. Farbo)
Coast Guard:
A 45-foot Response Boat-Medium boat crew from Station Maui patrol off the coast during Operation Kohola Guardian, Jan. 16, 2018. Operation Kohola Guardian is a cooperative effort between state and federal agencies to reduce risk to mariners and whales in Hawaiian waters while supporting conservative efforts to ensure future generations have the opportunity to experience these animals in their natural habitat.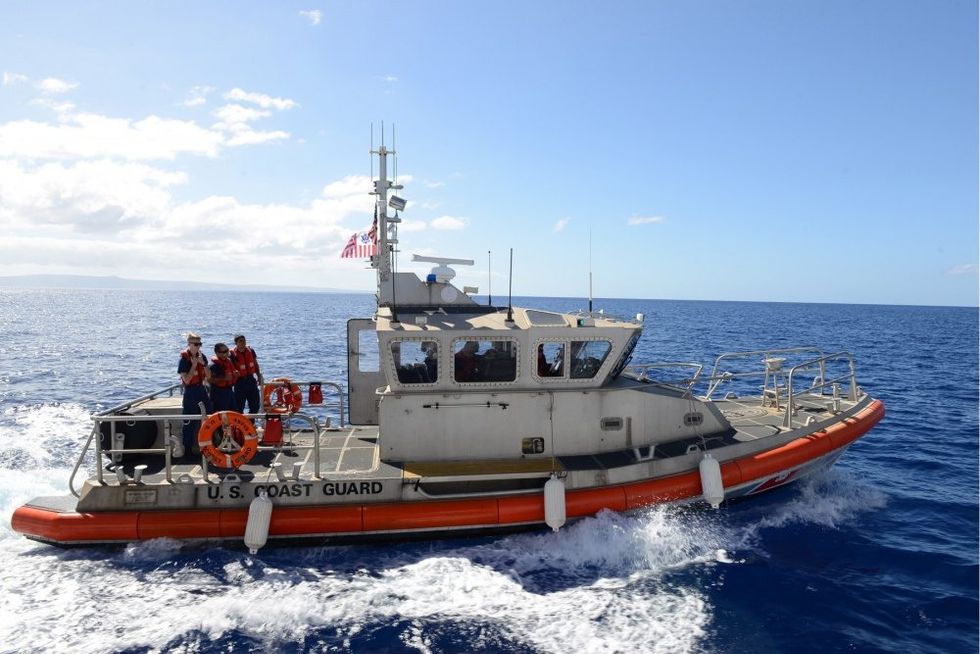 (U.S. Coast Guard photo by Petty Officer 3rd Class Amanda Levasseur/Released)
Members of the Hurricane Maria ESF-10 response work to dewater vessels impacted by the hurricane in Palmas del Mar, Puerto Rico, Jan. 16, 2018. The team was comprised of members of the Coast Guard and local salvage crews, working in the ESF-10 effort to remove the boats that were stranded in the hurricane. The ESF-10 is offering no-cost options for removing these vessels; affected boat owners are asked to call the Vessel Owner Outreach Hotline at (786) 521-3900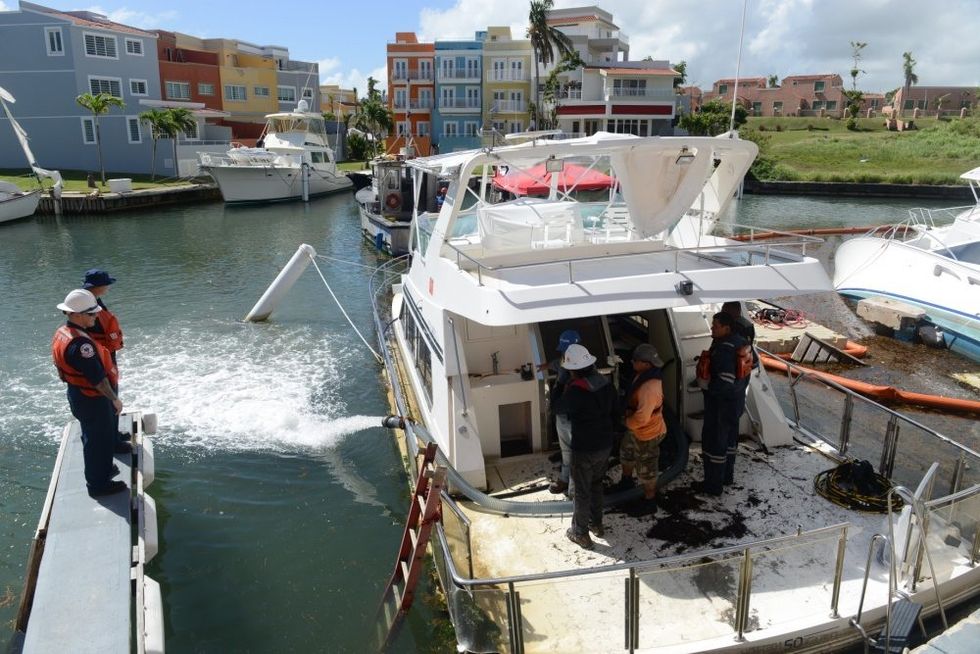 (U.S. Coast Guard photo by Petty Officer 2nd Class Lara Davis)