Military Life
March 09, 2018 14:11:03 EST
In the military, life is unpredictable. There's no telling what's in store service members during a given week. Thankfully, there are photographers among the ranks who have perfected the art of capturing the daily life of troops, both in training and at war.
---
These are the best military photos from this week:
Air Force:
Lt. Col. Alexander Heyman, Commander, 71st Student Squadron, and 2nd Lt. Mitchel Bie, Vance student pilot, walk out to a T-6A Texan II, March 8, 2018, Vance Air Force Base, Okla. The T-6A Texan II is a single-engine, two-seat primary trainer designed to train student pilots in basic flying skills common to U.S. Air Force pilots.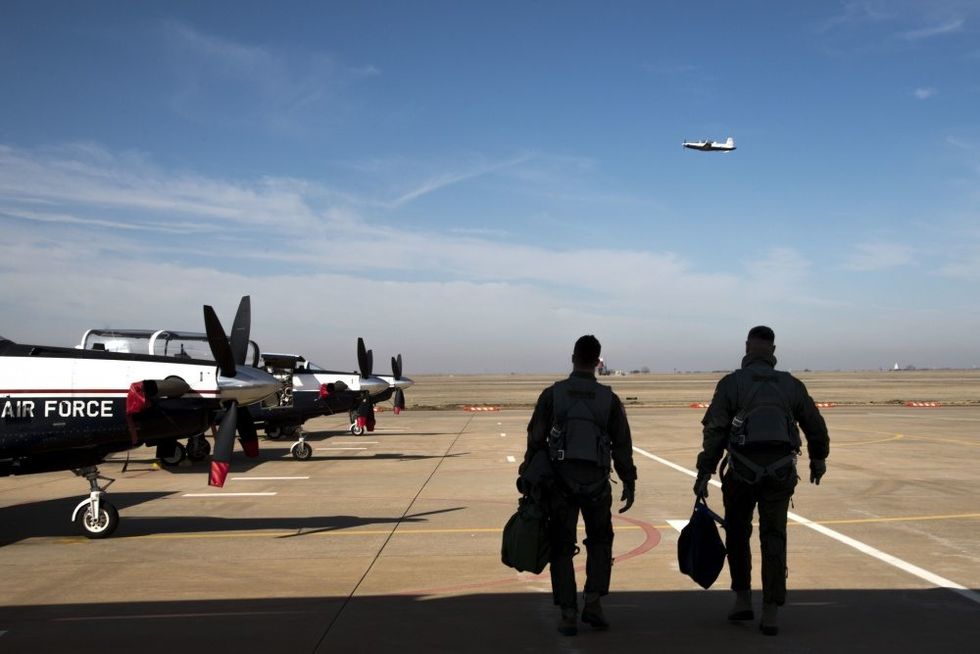 (U.S. Air Force photo by Airman Zachary Heal)
A U.S. Air Force pararescueman jump master, assigned to the 83rd Expeditionary Rescue Squadron, Bagram Airfield, Afghanistan, stands to conduct a drop zone survey before a high altitude, high opening military free fall jump working with a C-130J Super Hercules flown by the 774th Expeditionary Airlift Squadron, Bagram Airfield, Afghanistan, March 4, 2018. Guardian Angel Team members conduct training on all aspects of combat, medical procedures and search and rescue tactics to hone their skills, providing the highest level of tactical capabilities to combatant commanders.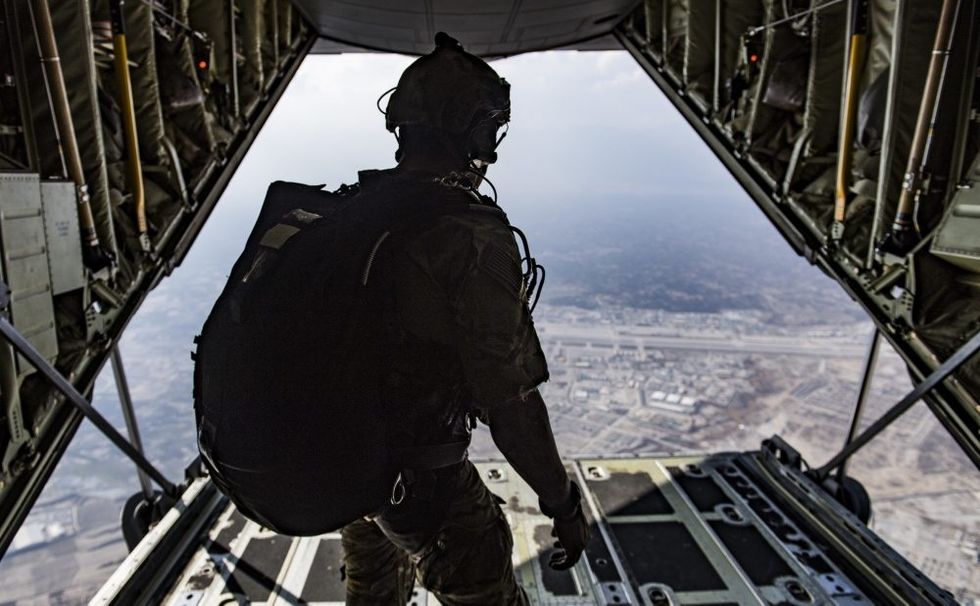 (U.S. Air Force Photo by Tech. Sgt. Gregory Brook)
Army:
Artillerymen with Battery B, Field Artillery Squadron, 2nd Cavalry Regiment, transport and prepare artillery rounds as they await the arrival of their M777 howitzers by a CH-47 Chinook helicopter crew from Company B, 2nd General Support Aviation Battalion, 227th Aviation Regiment, 1st Combat Aviation Brigade, inside of the Grafenwoehr Training Area in Germany, Mar. 8, 2018. Soldiers of both units came together to train and strengthen relationships during an artillery raid training exercise as part of Dynamic Front 18, an annual U.S. Army Europe exercise focused on enhancing interoperability of U.S. Army, joint service and allied nation artillery and fire support in a multinational environment.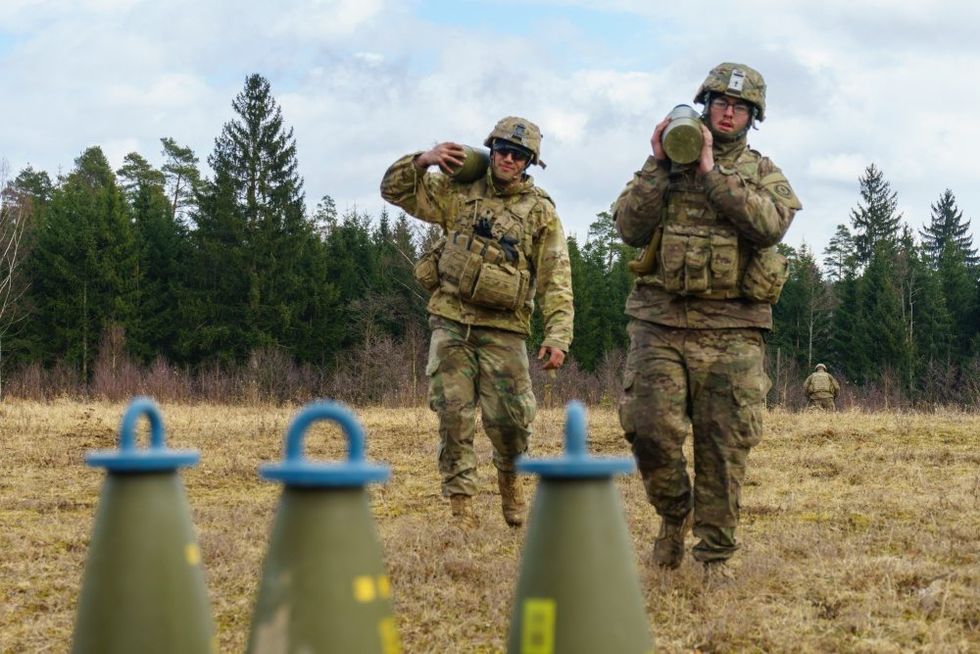 (U.S. Army photo by Sgt. Gregory T. Summers, 22nd Mobile Public Affairs Detachment)
U.S. Army paratroops, assigned to the 16th Sustainment Brigade, are preparing for convoy live fire route as part of the Vanguard 360 at Pocek Range in Slovenia, Mar. 06, 2018. Exercise Vanguard Proof is a combined exercise between the 16th Sustainment Brigade and the Slovene Armed Forces focused on enhancing interoperability NATO operational standards and developing individual technical skills.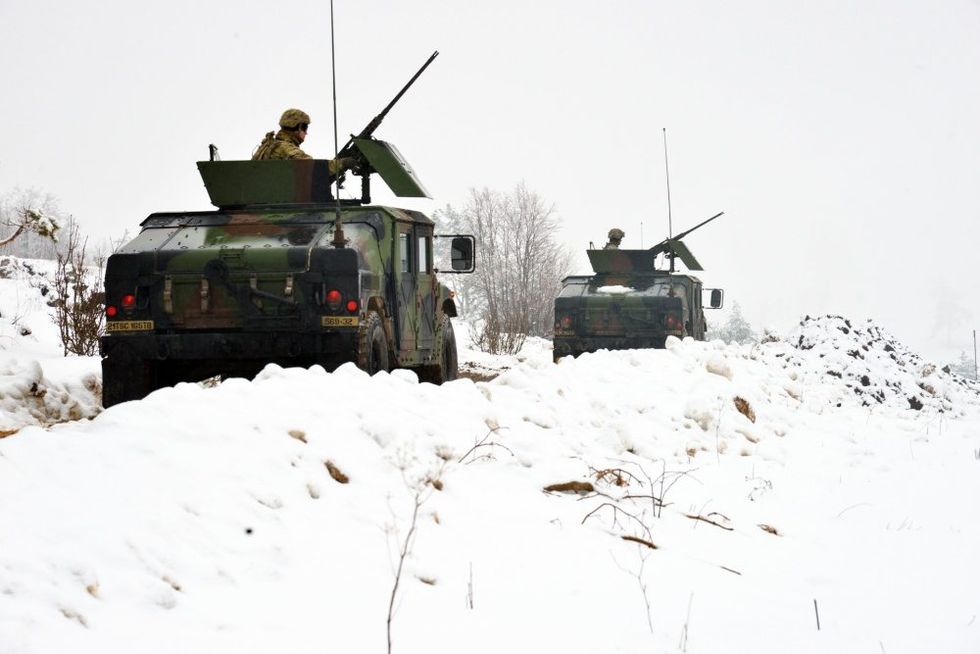 (U.S. Army photo by Antonio Bedin)
Navy:
The amphibious assault ship USS Bonhomme Richard (LHD 6) transits Manila Bay following a scheduled port visit. Bonhomme Richard is operating in the Indo-Pacific region as part of a regularly scheduled patrol and provides a rapid-response capability in the event of a regional contingency or natural disaster.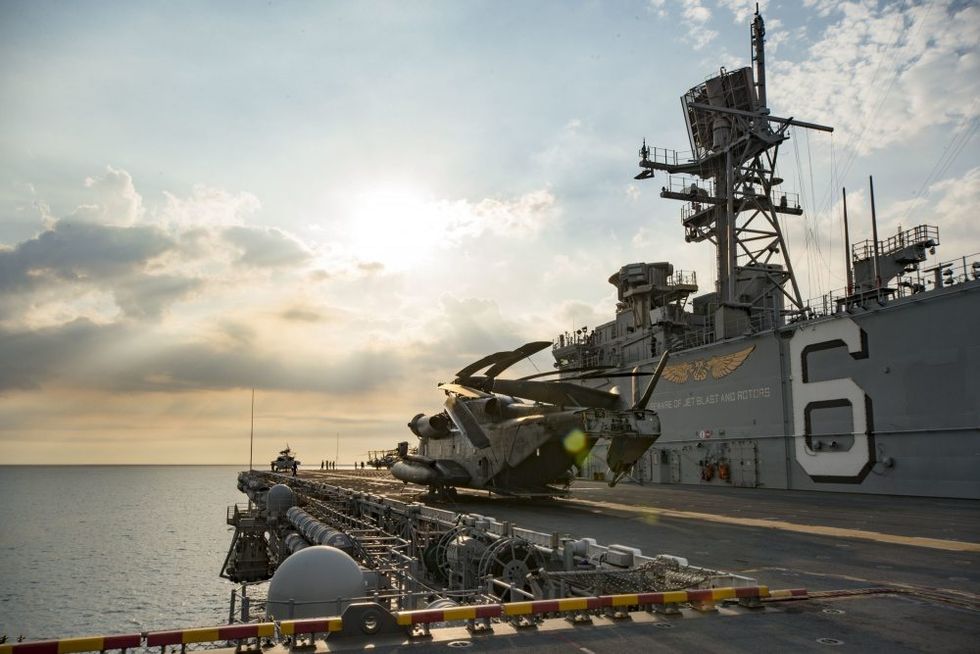 (U.S. Navy photo by Mass Communication Specialist 2nd Class William Sykes)
An Ice Camp Skate resident sets up communication equipment for Ice Camp Skate during Ice Exercise (ICEX) 2018. ICEX 2018 is a five-week exercise that allows the Navy to assess its operational readiness in the Arctic, increase experience in the region, advance understanding of the Arctic environment, and continue to develop relationships with other services, allies, and partner organizations.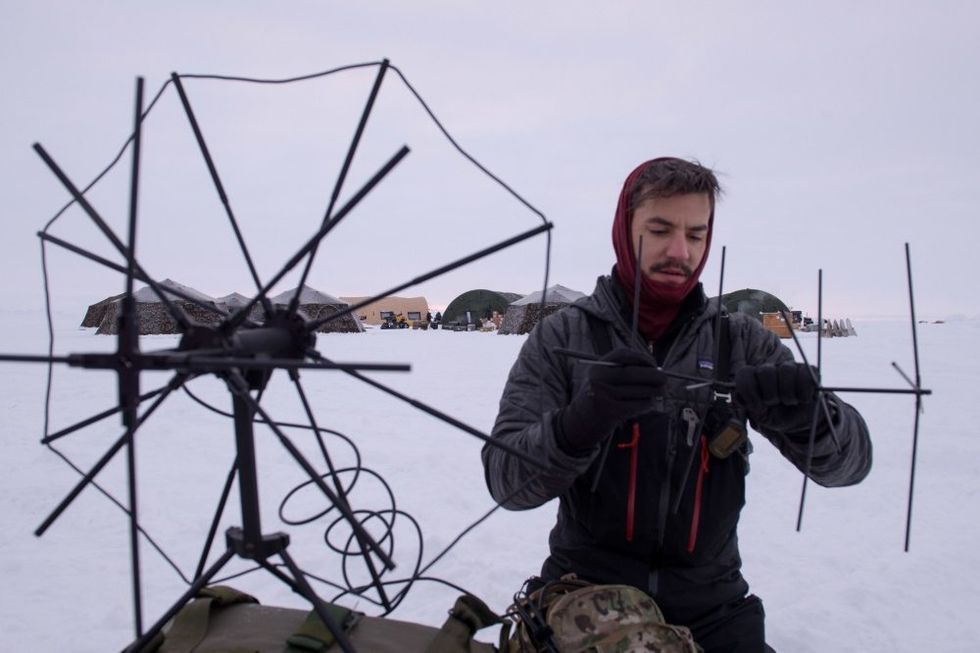 (U.S. Navy photo by Airman 1st Class Kelly Willett)
Marine Corps:
Marines from Mountain Warfare Training Center, Bridgeport, Calif., prepare to compete in the First Annual International Mountain Warfare Training Patrol Competition at the Chiemgau Arena in Ruhpolding, Germany. The competition is a challenging international competition that focuses on the mountain infantry's capabilities.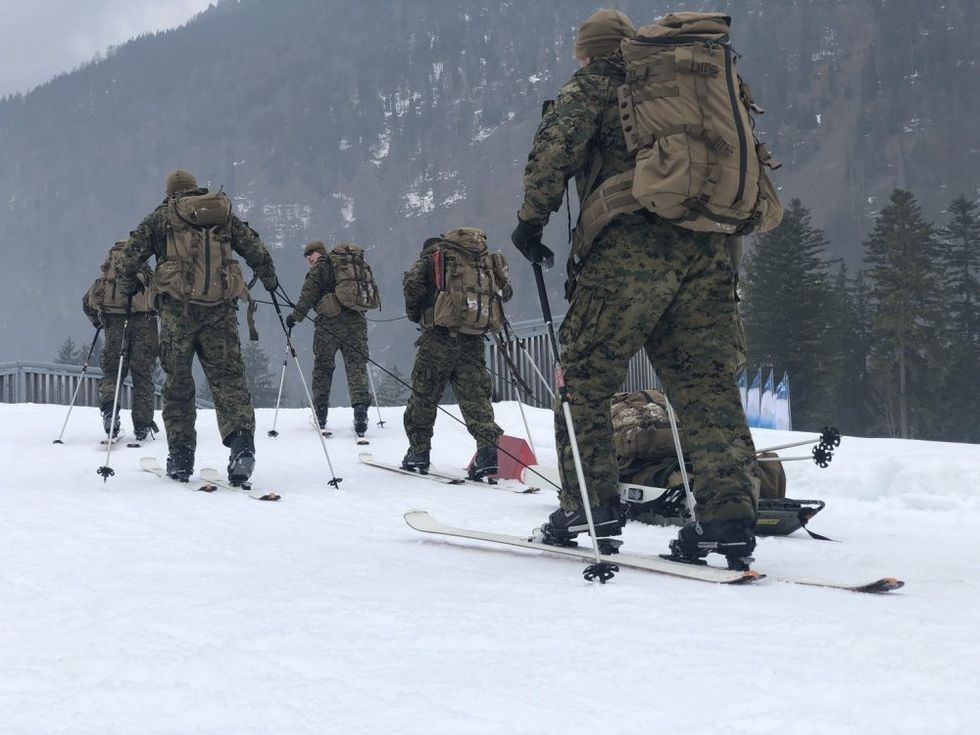 (U.S. Marine Corps photo by Capt. Karen Anne Holliday)
U.S. Marines Corps with India Company, 3rd Battalion, 2nd Marine Regiment, 2nd Marine Division, provide suppressive during a live-fire platoon attack at Range G-29 on Camp Lejeune, N.C., March 7, 2018. 2nd Marine Division provided funding and material for the creation of Range G-29 and tasked Marines with 2nd Combat Engineer Battalion to finalize the production of the range.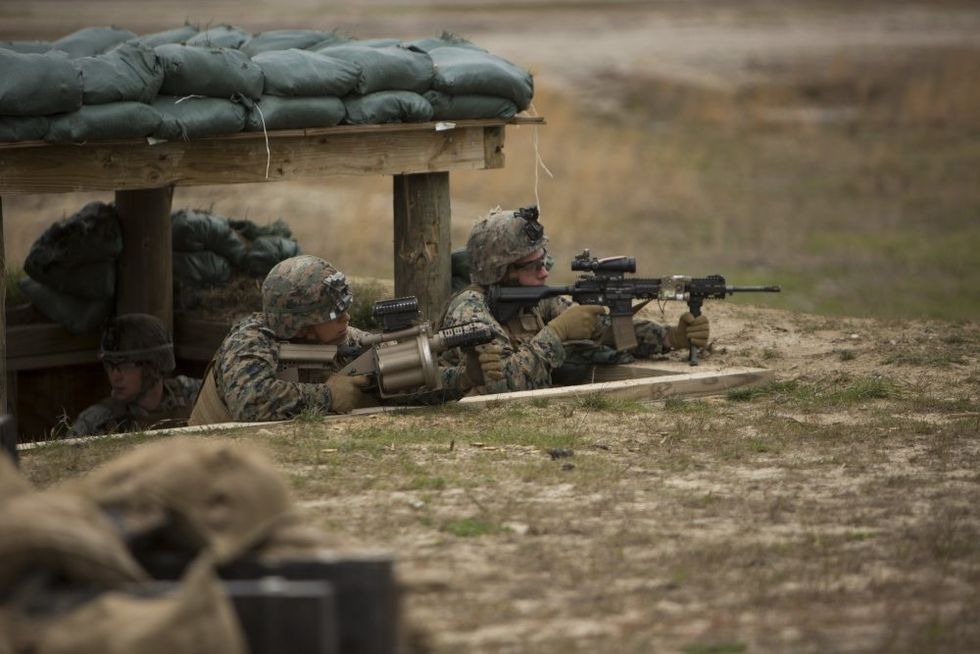 (U.S. Marine Corps photo by Cpl. Justin X. Toledo)
Coast Guard:
Coast Guard Sector Boston Response Petty Officers look for damage to shoreside infrastructure March 5 in Swampscott, Massachusetts. A powerful nor'easter hit the area over the weekend causing damage along the shore.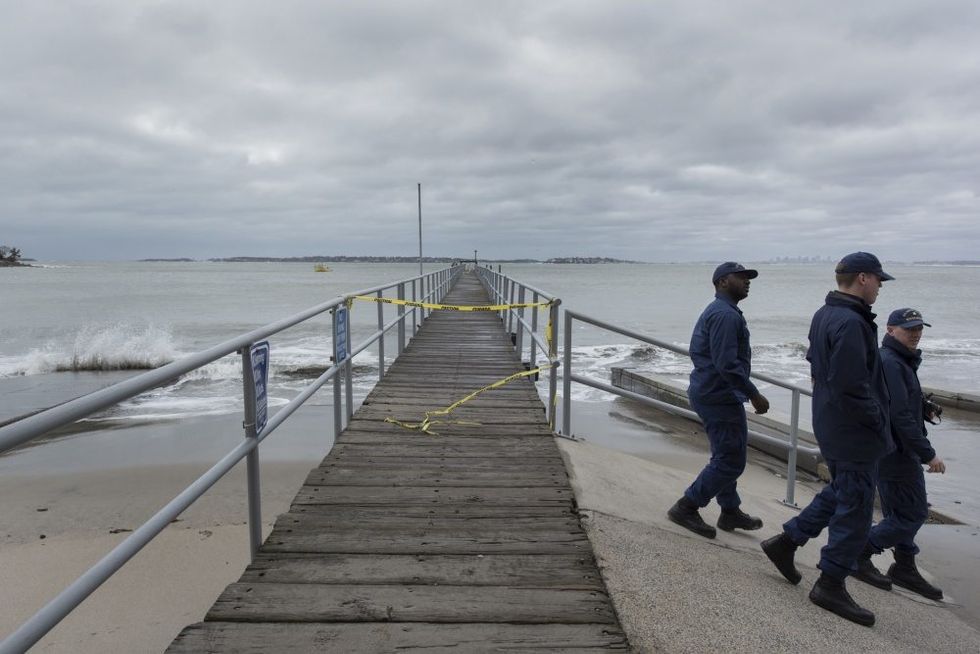 (U.S Coast Guard Photo by Petty Officer 3rd Class Andrew Barresi)
Lt. Joe Brewan, the supply officer and the helicopter control tower operator aboard the U.S.S. Kidd, watches a Coast Guard MH-65 Dolphin helicopter, from Air Station Port Angeles land on the flight deck of the ship, which was transiting the Strait of Juan de Fuca, in order to conduct a medevac of a sick Navy sailor, March 4, 2018. The 23-year-old Navy sailor was transported to Navy Air Station Whidbey Island, Washington in stable condition.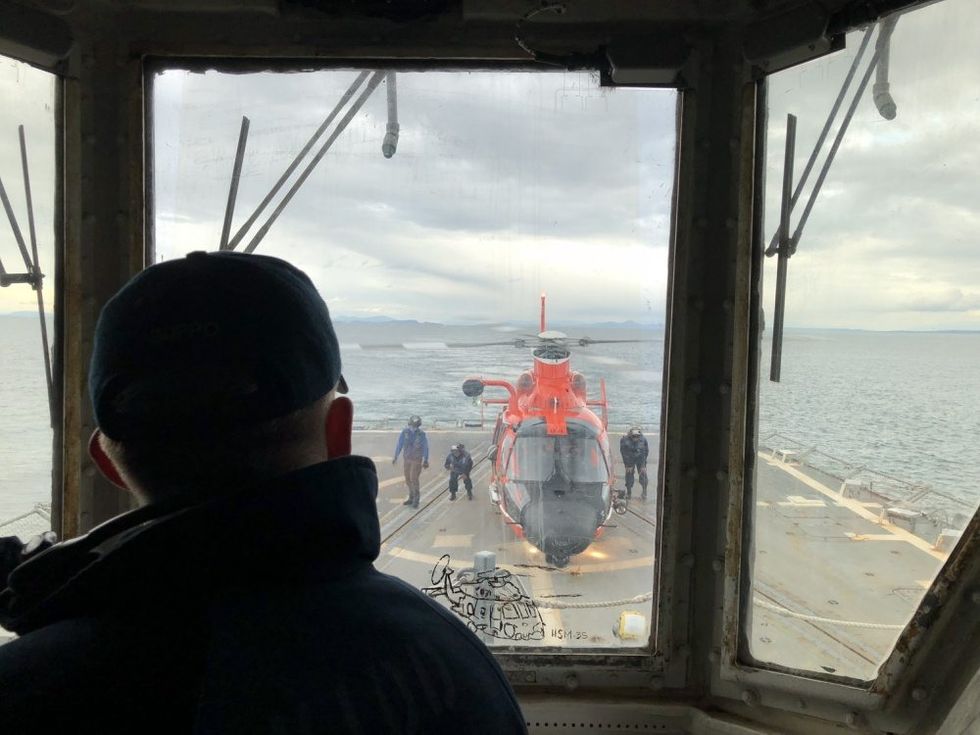 (U.S. Navy photo by Ensign Selby Arnold.)